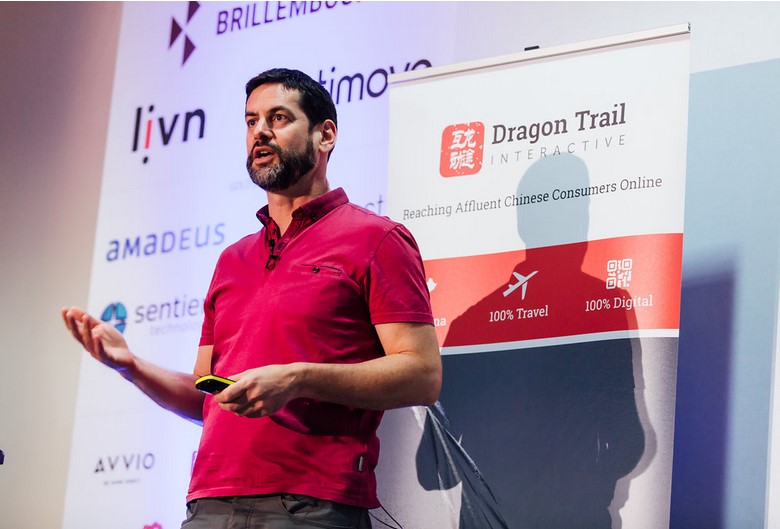 Dragon Trail's Managing Director – EMEA, Roy Graff led a workshop on B2C tools to reach independent Chinese tourists (all photos courtesy of EyeforTravel/JMP Photography)
Dragon Trail brought fresh insights on Chinese travel and technology to Europe's largest forum on travel distribution, EyeforTravel's 2018 Travel Distribution Summit Europe in London. Dragon Trail's Managing Director – EMEA, Roy Graff joined Thomas Magnuson from Magnuson Hotels for a panel discussion on hospitality, partnerships and digital distribution, and Roy also delivered a training to consumer-oriented brands on the most important digital tools used by Chinese tourists, from the inspiration phase through to research, booking and in-destination resources. Here are five takeaways about the Chinese outbound tourism market from the summit:
1) There are different ways to have a digital presence
Competing with Chinese OTAs is not a viable option, agree both Roy and Thomas Magnuson, but there are other ways for brands both big and small to establish a digital presence in China. Magnuson Worldwide, which has over 1,000 hotels on four continents, was approached by China's Jin Jiang Hotels Group to form an alliance – thus helping Jin Jiang to globalize and get into the US and UK markets, and in turn, linking Magnuson to 120 million Jin Jiang Rewards users. "It's unrealistic to think we will displace OTAS, but having an online distribution channel could be meaningful," says Magnuson.
On a smaller scale, Roy adds that while Western OTAs are on the fringes in China, the market is fragmenting quickly, and travelers are increasingly looking for niche, unique products and experiences – to reach them, it's important to have online representation, which includes a Chinese-hosted, Chinese-language website, as well as social media presence. Websites hosted outside of China risk being blocked by China's "Great Firewall," no matter what their content, if they share the same server with any website containing sensitive content. But even if your site isn't blocked, issues of bandwidth alone will mean that websites hosted outside China will be slow to load, and this will affect SEO on Chinese search engines like Baidu. A site with English-only content is also going to be ranked lower on Chinese SEO.
2) Prioritize payment options
Chinese tourists might be the world's top overseas spenders, but they are still unlikely to have foreign credit cards. Instead, they will have China UnionPay debit cards and – more recently – mobile payment apps Alipay and WeChat Pay. Being able to accept payments easily from Chinese tourists is crucial, stressed Roy: "The more flexible we can be with payment options, the more of their money we can help ourselves to."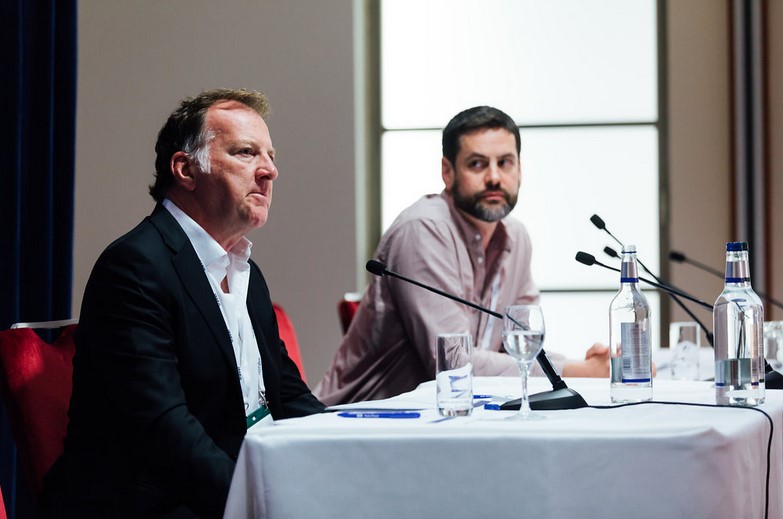 Dragon Trail's Roy Graff joined Thomas Magnuson from Magnuson Hotels to talk about hospitality, partnerships and digital distribution
3) Digital tools can help overcome language barriers
Lack of Chinese-speaking guides and other tourism professionals is an issue in many places around the world, and with the rise of smaller FIT groups, there's growing demand for Chinese-language services in touring and hospitality. This constitutes a formidable challenge – in the US, finding Chinese-speaking staff might be possible in coastal cities, says Thomas Magnuson, but for places like Montana or the Grand Canyon, it's much harder. Thankfully, new digital tools offer solutions to help alleviate this problem, and can be implemented more easily than training or moving staff. For hotels especially, virtual assistants, such as Dragon Trail's KanKan Talk, can provide guests with Chinese-language booking, reception and concierge service, all on China's no. 1 mobile app, WeChat.
4) Travel is increasingly planned on the go
With the rise of FIT and SIT (semi-independent travel), travelers are more likely to make bookings and decisions on the go, and use in-destination tools like WeChat mini-programs or Ctrip's Virtual Travel Manager. This creates new opportunities for smaller businesses, who can increase their visibility through partnerships and Chinese social media presence – though here again, Chinese payment adoption is key. For small businesses like attractions or restaurants, an easy way to start might be to focus on the Chinese diaspora, including students, who are more likely to use Western digital tools and payments, but can help you establish positive word of mouth in the Chinese community.
5) The market is fragmenting
As the Chinese outbound tourism market grows and becomes more independent, it is also increasingly fragmented. "You can't market to them all the same and give them the same kind of service," says Roy. But while not having a set of "rules" for all Chinese guests can feel complicated, it also creates opportunities for lots of different kinds of travel brands. For example, Chinese millennials aren't going for the same name-brand hotels as their parents would, and won't care so much about Asian superstitions like the unlucky number 4 – but they will want a unique experience, are interested in boutique hotels, and will expect free Wi-Fi. But no matter the generation or market segment, Roy stresses that it's important to be sensitive to cultural differences and understand that Chinese living in China are not exposed to the same news or historical world view as in the West.