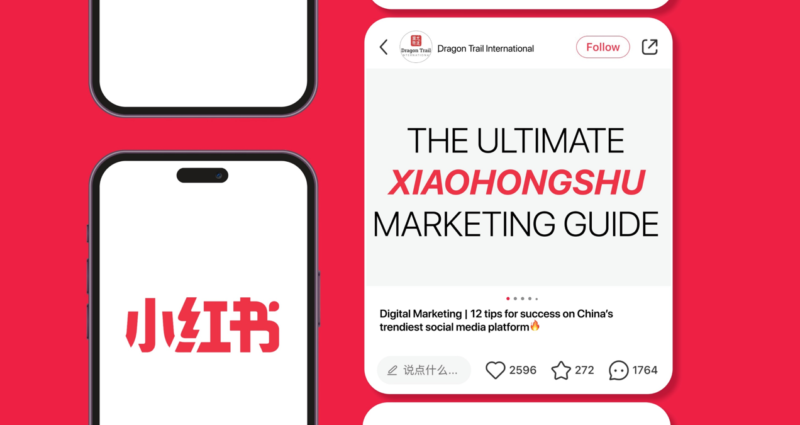 Xiaohongshu – also known as Little Red Book or more simply RED – is a lifestyle-focused Chinese social media platform that has been rapidly gaining prominence in recent years. Initially launched as an online forum for users to share their overseas shopping experiences, Xiaohongshu has evolved into a comprehensive lifestyle and travel platform that combines user-generated content, social networking, and e-commerce.
With its visually appealing interface and comprehensive features, Xiaohongshu has become an essential tool for tourism in China, and it has revolutionized the way Chinese travelers research, plan, and document their trips. Travel-related posts were up by 193% year-on-year in 2022 according to Xiaohongshu's report. In Dragon Trail International's January 2023 survey, Xiaohongshu stood out as the social media platform that respondents said they were most likely to use to plan outbound travel, chosen by 36%.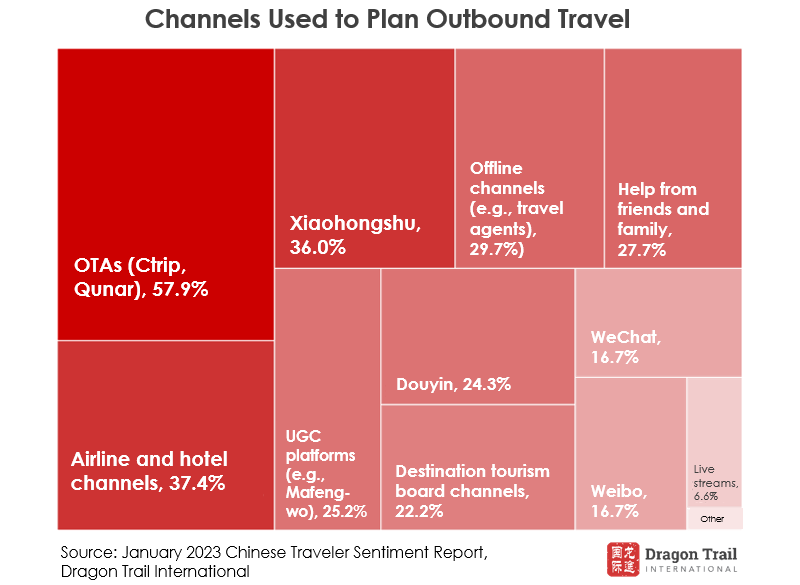 What sets Xiaohongshu apart from other social media platforms is its emphasis on authentic and user-generated content. Users are encouraged to provide detailed and reliable information about their travel experiences, including but not limited to hotel reviews, local attractions, shopping recommendations, and dining suggestions. For many Chinese travelers, especially the Gen-Z population, Xiaohongshu serves as a search engine, providing reliable and personalized information about their destinations.

There are two ways for travel brands to use Xiaohongshu. One is to open an account. The other way is to partner with KOLs who are already active on this platform. If you are considering the former, or already have an account and want to optimize its performance, here are 12 tips from Dragon Trail's social media team:
1. Video goes viral
As on other Chinese social media platforms, video drives content views on Xiaohongshu. In 2020, Xiaohongshu introduced its own Video Channel, which allows users who have more than 500 followers to sign up and post video content of up to 15 minutes. Despite the 15-minute limit, most popular videos on the platform tend to be relatively short, typically ranging from 15 seconds to 3 minutes. Keep in mind that the attention span of viewers on social media platforms is usually shorter, so it's crucial that content is visually appealing, concise, and entertaining. While shorter videos are more common, longer-form videos can also be successful on Xiaohongshu, especially if they tell a compelling story or provide valuable information. In-depth travel guides, destination showcases, or behind-the-scenes content can be well-received and engaging. Analyze the performance and engagement metrics of your videos to determine the optimal length of your content.
2. It's another opportunity for live streaming
Live streaming on Xiaohongshu has become an independent department, which integrates live streaming content and e-commerce management. Consider hosting live stream sessions showcasing destinations or products, Q&A sessions, or behind-the-scenes tours. Interact with viewers, answer their questions, and provide valuable insights.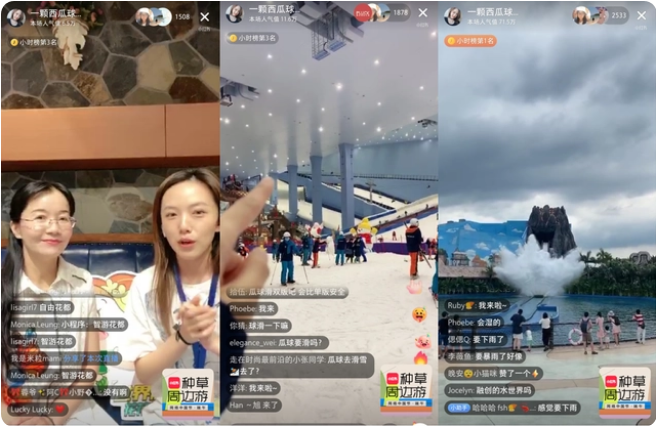 Live streaming from Guangzhou's Ruochang Park as part of a Xiaohongshu and Ministry of Culture and Tourism promotion, June 2020. Images via China Daily article
In June 2020, Xiaohongshu ran a tourism live streaming event over two days, featuring 18 different live streamers spread across China. Produced in partnership with the Ministry of Culture and Tourism to promote local area tourism during Dragon Boat Festival, the live stream lasted for over 1,500 minutes and comments exceeded 200k.
3. Picture perfect
Photos and text are equally important on Xiaohongshu, with each complementing the other to create impactful content. When crafting your posts, keep in mind that you can include up to 18 images and 1,000 characters. For photos, you should adhere to a few guidelines. Firstly, photos should be vertical, in a 3:4 ratio. While photos can be in any ratio, vertical images tend to be more visually appealing and user-friendly, especially on mobile devices, which are the primary platform for Xiaohongshu. Secondly, put some effort into designing an appealing cover image (also the first image) for your post. A popular approach is to create a collage of photos or choose one photo from your post, accompanied by a title. Don't be afraid to be creative! Lastly, ensure consistency in the filters you use to establish a cohesive brand identity and maintain a harmonious visual feed.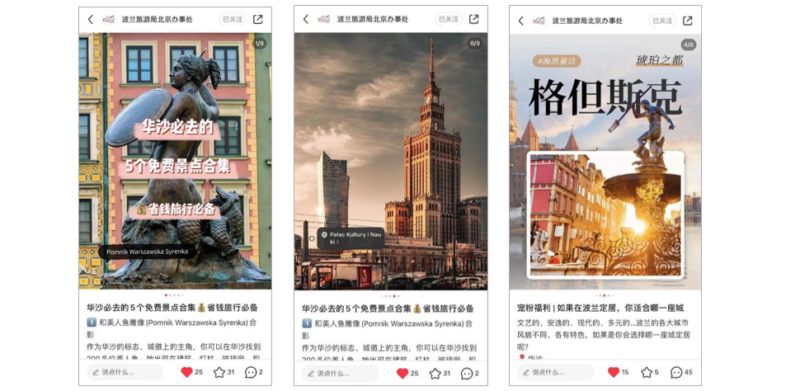 The Polish Tourism Board's XHS account offers a cohesive visual identity through cover images and post photos
4. Deliver value through text
If photos are the visual hook that grabs users' attention, text provides be the compelling narrative that keeps them engaged. Text should provide context and give additional information that enhances the understanding of the visual content. For instance, you can provide tips, recommendations, or insights related to the topic of the post. The combination of photos and text is ideal for creating content known as "干货" or highly valuable and informative content full of resources and takeaways. This could include travel guides, hotel reviews, dining suggestions, or other types of content that users would like to collect and refer to easily.
Note: In addition to Like, Comment, and Share, another key metric for content creators on Xiaohongshu is the number of "Collects" or how many users have saved the post to a board on their account (similar to pinning content on Pinterest). The number of Collects indicates the value and usefulness of a post.
5. Focus on SEO
The Xiaohongshu system automatically extracts key data from your post, such as locations, topics, and key phrases that are frequently searched by users, and uses it to tailor content to users who might be interested based on their previous searches. Therefore, maximizing the use of keywords in your content is a quick path to success. Conversely, users might not be able to find your content if it lacks the relevant keywords. It's also critical to find out what keywords are trending on Xiaohongshu and figure out how they can be incorporated into your posts as well. For instance, many users look up "Outfit", "OOTD", or "Look" on Xiaohongshu. So, if you are marketing a specific destination, show users what they can wear there, and use the keyword "Outfit". This will expose your content to users who did not search for the destination.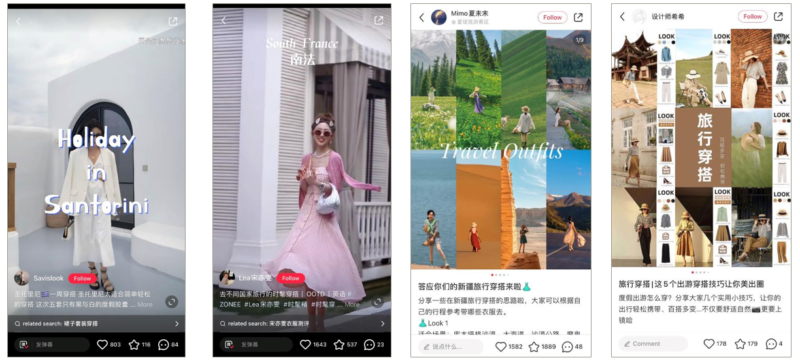 Search results for "Look" or "OOTD" (outfit of the day) include lots of travel-related content
6. Optimize the title
In addition to the cover image, the title of your post plays a crucial role in improving clicks and click-through rate (CTR). There's a 20-character limit, so you'll need to keep the title straightforward and concise. Including trending keywords that users are likely to search for is essential. Take some time to consider relevant keywords that are aligned with your content and incorporate them naturally into your title. It is crucial to ensure a strong connection between the title and the cover image, enabling users to instantly understand what your post is about. If the title is obscure and lacks valuable content, users may quickly swipe away from it. Another tip is to use emojis in titles, to organize your content, communicate the topic instantly, and stand out visually.
7. Xiaohongshu for Creators and Xiaohongshu Business Pro

Xiaohongshu for Creators is a platform that offers a range of additional features and tools, and it's open for any Xiaohongshu user. Using Xiaohonshu for Creators, you'll have access to content management, trend insights (including trending hashtags), and report data about your content and fans.
The next step up is Xiaohongshu Business Pro, which includes agency services such as media buy, monetization for live streaming and e-commerce, and giveaway/lucky draw functions. Upgrading to a Business Pro account involves a manual verification procedure and RMB600 fee. Businesses such as hotels will be able to upgrade directly to a Pro account this way, but tourism boards will need to first go through a separate verification process for overseas government entities before they can apply to upgrade to Pro.
8. Hashtags
Similar to Weibo, effectively using hashtags can drive traffic, attract new audiences, and strengthen your brand presence. You can include hashtags about your brand, location, relevant industry, and more. As a Creator on Xiaohongshu, you gain access to the latest trending hashtags. Utilizing these relevant trends can greatly improve the discoverability and engagement of your posts on the platform. Additionally, leveraging trending hashtags helps target users more effectively and precisely.
9. Pick a persona
Users are more likely to follow accounts that have a distinct angle, theme, or persona. Examples of such angles could include adventure, luxury, food, family, or wellness and health. Consistently sharing content that aligns with a specific theme or persona allows you to establish yourself as an expert or authority in that particular area. This expertise not only fosters trust among your audience but also positions you as a reliable resource for valuable information, helping to attract and retain a loyal following.
As a travel brand, such as a destination or a hotel, you will of course already have a distinct angle and identity. But it's still worth considering who your audience is, and what exactly might resonate best with them, to choose a particular focus area. This might also become more clear over time. For example, a tourism board might discover that content related to natural scenery consistently performs the best, and therefore decide to focus more on nature tourism.
10. Posting tips
Users tend to be more active on Xiaohongshu on Thursdays and Fridays, when they turn to the app for ideas on outings, activities, restaurant recommendations, and more to plan their weekends. Additionally, there are specific peak hours during the day that are optimal for posting: 7-9am in the morning, and 6-10pm in the evening. To ensure a smooth posting experience, use a 4G network instead of Wi-Fi. This helps avoid any potential misjudgment of your account as a bot or a part of a bulk shared account operation, which can occur when multiple accounts are connected to the same Wi-Fi network. By using a dedicated 4G connection, you can maintain the individuality and authenticity of your account, minimizing the risk of being flagged by the system. Lastly, if you intend to like your own post, wait at least five minutes. Liking your own post too quickly may trigger the spam detection system.
11. Giveaways
Amplify brand exposure and enhance follower loyalty through engaging campaigns and exciting giveaways. This actively encourages audience engagement and interaction, as participants are often required to complete specific actions such as sharing, commenting, or following. Furthermore, giveaways can foster brand loyalty by rewarding existing customers and delivering positive experiences. Winners often become enthusiastic brand advocates, sharing their positive experiences with others, and increasing word-of-mouth promotion.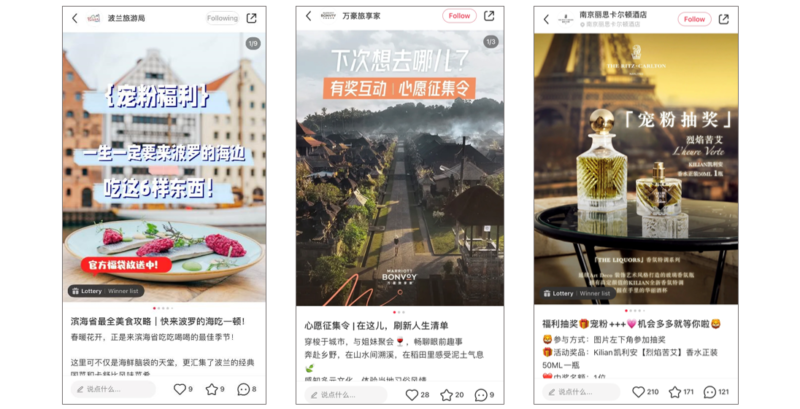 Giveaway posts by the Polish Tourism Board, Marriott Bonvoy, and Ritz-Carlton Nanjing
Giveaways can be only be run by verified accounts, with Business Pro accounts (see tip 7), and more than 1,000 followers. Please note that verification is not available to businesses whose licenses are as an institution or NGO (this can apply to museums, for example). Verification for overseas tourism boards is possible, but it will take time to be approved, and requires a two-step verification process to upgrade to a Business Pro account.
12. Keep testing
Determining the exact factors that make a post go viral on Xiaohongshu can be challenging. Therefore, it is essential to constantly test out different content styles. Even with very similar content, employing different styles can lead to significant variations in outcomes. If a post has low engagement, consider incorporating a keyword into the title, altering the text layout, or even adding emojis. These simple adjustments have the potential to transform a post into a viral sensation. By experimenting and adapting, you increase the chances of capturing the attention and interest of the Xiaohongshu community.
Learn more by watching the recording of our June 2023 webinar on Xiaohongshu Marketing for Travel.

Thinking about marketing on Xiaohongshu? Dragon Trail's social media team is experienced in Xiaohongshu account management for overseas destinations, hotels, and attractions, as well as in KOL marketing. Contact us to discuss how we can help.