Xiaohongshu – or Little Red Book – has evolved from a shopping-oriented social media channel into a platform for travel and lifestyle inspiration for young Chinese women. What does this mean for travel marketers?
From a social media platform that used to be oriented around cross-border commerce and overseas shopping, Xiaohongshu has evolved into a digital destination for travel inspiration and social sharing of travel and lifestyle experiences. According to the platform's latest report, travel-related posts were up by 80% during the recent May Labor Day holiday, compared to the year before and compared to 2020's October holiday.
While at a slower pace than other platforms such as Douyin, Xiaohongshu's user base continues to grow. It now has 100 million monthly active users, up from 30 million in 2018. Women still make up the overwhelming majority, which is one area where Xiaohongshu has remained very consistent. A user base predominately born in the 1990s is also one of the reasons behind the growth of travel content, as younger millennials and older Gen-Z Chinese are emerging as the new core of the tourism market.
Fashion and makeup are also still key topics on Xiaohongshu, which has a separate section of the app purely for e-commerce, and the social content remains aspirational. This is still a good platform for luxury brands, including hotels and the hospitality industry – you'll find plenty of posts of elegant-looking afternoon teas, for example.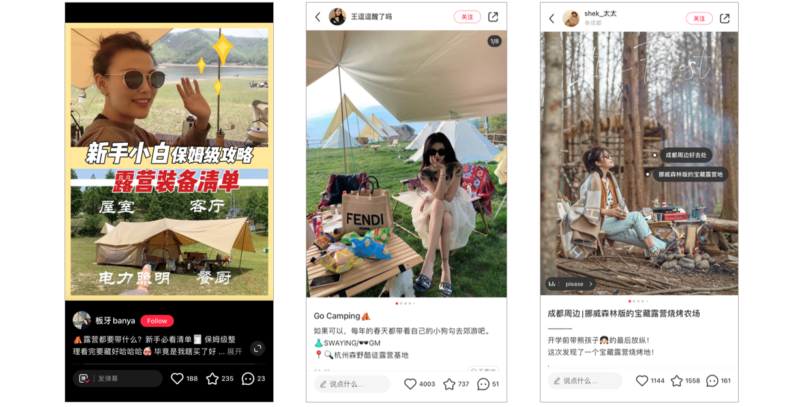 Glamping is a leading post-pandemic content trend on Xiaohongshu
But it's not all traditional luxury anymore. Some of the May holiday's biggest content trends included camping, campervan travel, and picnics. According to Xiaohongshu's report, between 1-3 May 2021, searches for "camping" were up by 230% compared to the same period in 2020. Don't be fooled into thinking this represents a total cultural shift in Xiaohongshu content: Many of the top posts that come up when you search for "camping" could be better described as "luxury glamping," with designer clothing and fashion magazine-style photo shoots
This May, Changsha, Shanghai, and Nanjing proved the most popular travel destinations for Xiaohongshu's users, based on content posted. Macau also stood out as an outbound destination, with searches for "Macau" nine times higher than in 2020, and even 30% above 2019's pre-pandemic levels.
Popular tourist destinations like The Bund and Disneyland in Shanghai, Tian'anmen Square in Beijing, and Xi'an's Datang Everbright City were popular places to "check in" on Xiaohongshu over the holiday period, but newer, more special, and unique travel experiences were also trending. These included a new double-decker train between Lijiang and Dali in Yunnan Province, and a natural bioluminescent phenomenon off the coast of Pingtan Island known as "blue tears." Music festivals like Beijing's Strawberry Festival – which have always been known for fashion as well as music – also stood out.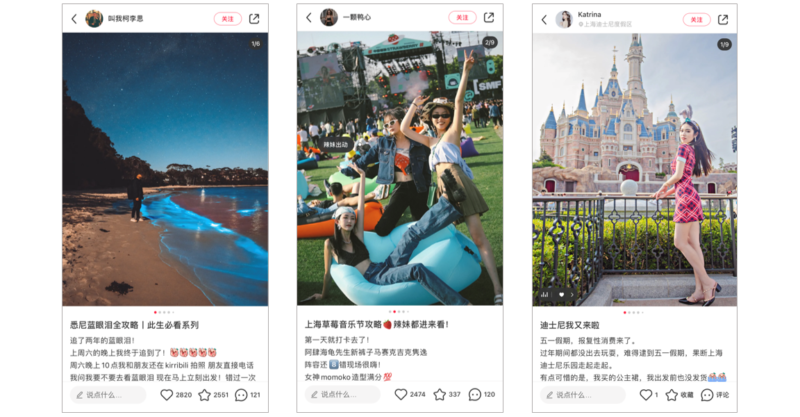 Other travel destinations that were popular on Xiaohongshu during the May Labor Day holiday in 2021 included Pingtan Island and its "blue tears" bioluminescence, music festivals like Strawberry Festival, and tourism hotspots such as Shanghai Disneyland
Like with all Chinese social media, video has also become more prominent on Xiaohongshu, and much of this is quite amateur vlog content, although professionally made KOL and marketing videos are also a good fit. We've long advised that Xiaohongshu is a good place to get an understanding of how young, female Chinese FITs travel, and what they see as an ideal travel experience – photos and videos posted here are chosen and edited to show off the best of a trip. In addition to consumer insights, Xiaohongshu also remains a good platform for working with KOLs to reach an important consumer segment, and for encouraging UCG.
What's different about Xiaohongshu now compared to a few years ago is content that's more diverse and perhaps a changing view of what aspirational lifestyle content really means, including many new definitions of what can be "glamorous," such as camping and train travel. This opens up the platform to more destinations and brands that have something aesthetically pleasing to offer, whether or not it's traditional "luxury."