PromPeru and Dragon Trail are pioneering new ways of using digital channels to promote and sell travel, with a series of WeChat-hosted pop-up stores. Increasingly, Chinese travel agents use WeChat as their primary means of communication with their clients, so this kind of event creates a unique opportunity for Chinese consumers and the travel trade to exchange information and promote travel on the digital platform that they both find most convenient and comfortable.
The Pop-Up Stores
Held on 23 December, 2018, and 22 March, 2019, the pop-up stores lasted three and two hours, respectively. During their opening times, consumers could log on to connect directly with Chinese travel agents selling tour packages to Peru, to learn more about the itineraries, ask questions, and receive additional materials. In total, 14 travel agencies from Beijing, Shanghai, Guangzhou, Jiangsu, and Zhejiang, presented 36 tour products. The agencies – including Caissa, CITS, Tuniu, and Spring Travel – were selected together by Dragon Trail and PromPeru's Chinese PR company, Create Consulting. All participating agencies were required to have experience in selling qualified Peru-themed itineraries/products, and to offer special itineraries or discounts for customers who connected via the online pop-up store. In total, 21 agents were on hand to chat to clients over Dragon Trail's KanKan Talk customer service interface, an intelligent messaging platform featuring AI-assisted technology and data capture.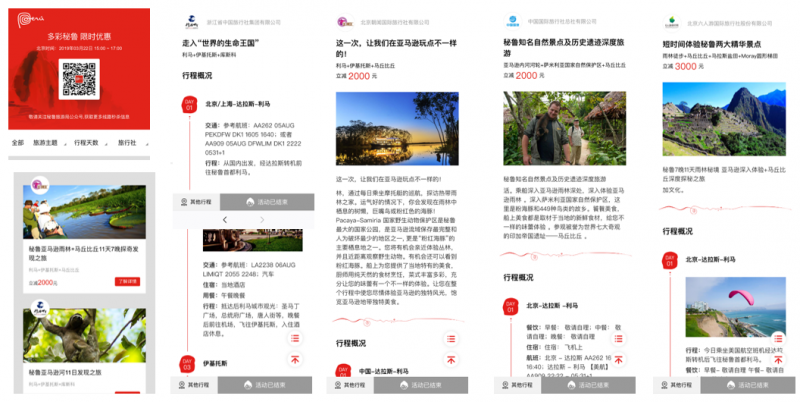 The pop-up stores promoted a range of different travel itineraries for both Peru-only and South American tourism
The pop-up store's landing page included itineraries for travel in Peru and South America (11 of the 36 itineraries were Peru-only, to match the general Chinese market preference of visiting several South American countries on one trip). Itineraries included standard Lima-Cusco packages, Amazon rainforest and river cruises, nature tours, and history-themed tours. Users with additional questions about the itineraries could then log in to the pop-up store and chat directly with the agents. In addition to live chat, the KanKan Talk interface also supports image and document file transfers.
Promotion
The pop-up stores were promoted over PromPeru's WeChat and Weibo accounts, as well as through KOLs and participating travel industry WeChat accounts and directly from the travel agents to their clients. The first pop-up store was also promoted through an H5 Chinese New Year travel-themed game that PromPeru offered through its WeChat account at the time.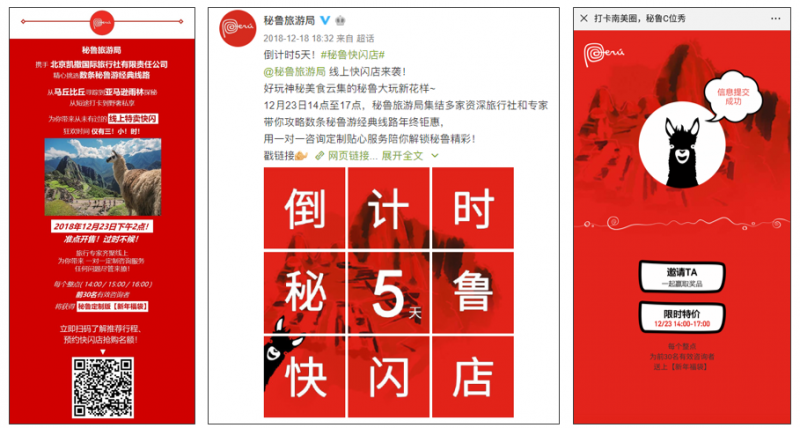 Peru's first pop-up store was promoted through (left to right) participating travel agents, Weibo, and a WeChat-based H5 game, among other channels
In both pop-up store sessions, WeChat proved to be the most effective promotion channel, though results from other channels were also significant. For the first pop-up store, a series of five Weibo posts got over 15,000 views altogether, and the KOL promotion for the second pop-up store attracted over 1,400 visitors to the store's landing page. To further incentivize customer participation, prizes were offered to the first 30 page visitors every hour.
Results
The first pop-up store attracted nearly 1,500 landing page visitors, 13% of whom progressed to the online consultation stage, which resulted in 1,346 messages between agents and clients. In addition to requesting additional information about itineraries, travelers also asked more general questions about travel to Peru, especially in regard to visa requirements.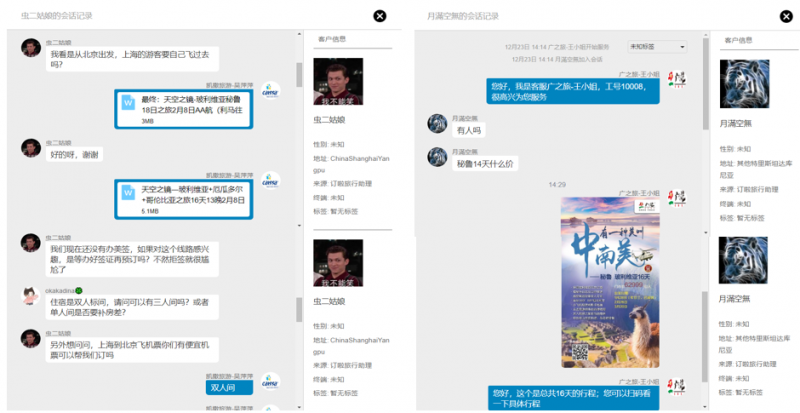 Agents could answer customers' questions, and share documents, images, and web links through the pop-up store's chat interface, using Dragon Trail's KanKan Talk customer service tool

The second pop-up store not only saw more agencies, agents, and tourism products, but also a noticeable increase in consumers. The landing page received over 2,700 visitors, an 80.7% increase, with a 58.2% increase in the number that progressed to the online consultation. The number of messages more than doubled, to 2,778.
As the first-ever online pop-up store for travel that has been integrated with a WeChat-based intelligent conversational service platform, this platform provides a fresh way for travel brands to work together with the Chinese travel trade and Chinese consumers at the same time. It is especially suitable for destinations with a mature B2C WeChat account, which can easily promote the pop-up stores to their target audience of interested Chinese travelers.