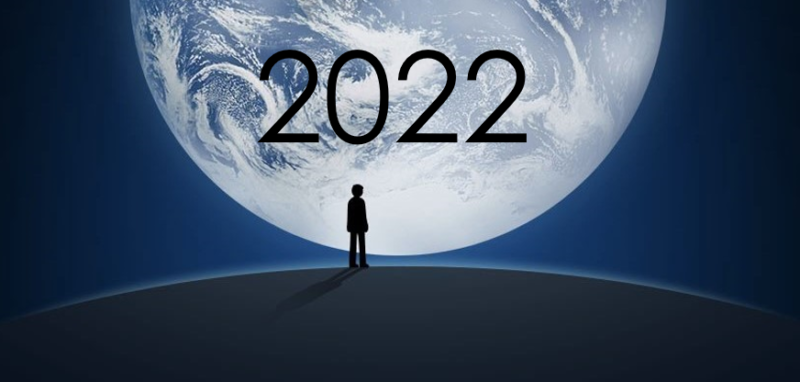 Which WeChat articles by overseas tourism destinations got the most views in 2022? Here are the top 10 most-viewed articles by national, regional or municipal tourism boards published on WeChat this year. The ranking is based on the number of views the article received the week it was published (as catalogued in Dragon Trail's WeChat rankings).
The destinations were geographically spread out across three continents, and the three accounts to make it to the top 10 list with more than one article were Visit Korea (Guangzhou Office), the Philippine Department of Tourism, and the Singapore Tourism Board.
Article topics varied significantly from pop stars to entry requirements, but many included interactive features and giveaways. Read on for the full list…
10. Singapore Tourism Board
24,435 views
28 January: Year of the Tiger red envelopes (View)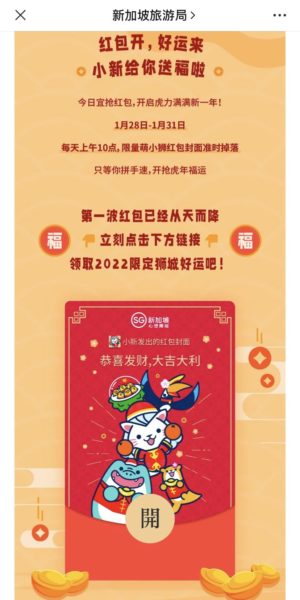 From 28-31 January, the Singapore Tourism Board released a limited number of cute, branded digital red envelope covers each day. At the same time, they also ran a Lunar New Year competition, with prizes for those who got the most likes for their comments on the STB WeChat post.
9. Singapore Tourism Board
26,361 views
14 August: Team Wang Design's summer garden. (View)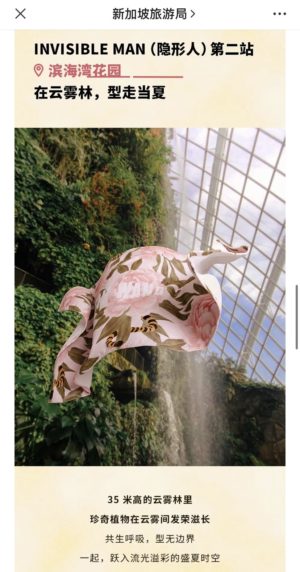 The second most-read NTO article of the quarter was by Singapore Tourism Board, about a pop-up fashion space at Voco hotel, by singer, record producer, and fashion designer Jackson Wang. The article also showed the fashion designs in various locations around Singapore
8. Tourism Authority of Thailand – Chengdu Office
27,319 views
15 February: Chinatown Bangkok's virtual Lantern Festival (View)
A highly creative and interactive virtual Lantern Festival. This post required viewers to turn their phones horizontally, and scroll through illustrated scenes, tapping on certain areas to reveal fireworks, Lantern Festival riddles and more.
7. Forever Edinburgh
29,259 views
29 November
Happy graduation – our story with Edinburgh will continue (View)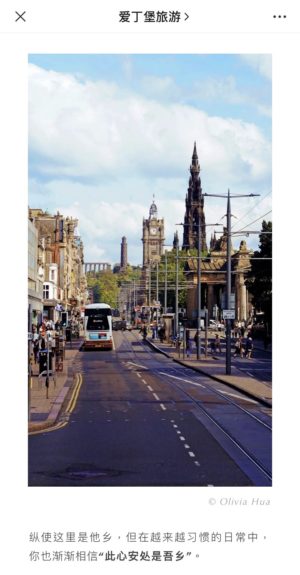 With an essay about student life in Edinburgh, and dozens of UCG photos, this post tells the story of settling in to Edinburgh, including its sights, experiences, and impact on self-development.
6. Tourism Authority of Thailand – Shanghai Office
30,964 views
18 February: Amazing New Chapters campaign launched (View)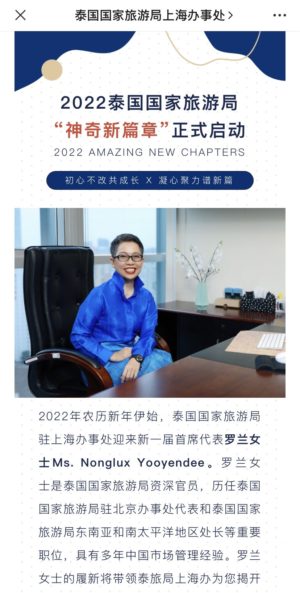 The Tourism Authority of Thailand's Shanghai office had the highest average views per post among any national tourism board on WeChat in 2022. Its top-performing article, launched Thailand's Amazing New Chapters campaign with a WeChat Channels video, and introduced new Chief Representative Nonglux Yooyendee.
5. Visit Korea – Guangzhou Office
32,515 views
7 June: 30 years of Sino-Korean relations | Vote in the Korean spoken-language competition (View)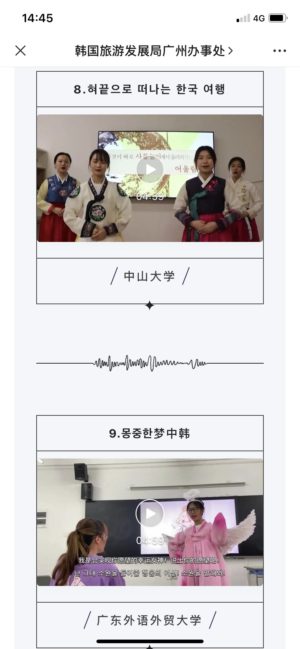 To celebrate 30 years of diplomatic relations between South Korea and the PRC, the tourism board ran a spoken-Korean competition, where contestants recorded videos of themselves speaking Korean, and WeChat viewers got to vote for their top choice.
4. VisitScotland
45,359 views
7 March: Scotland is calling (View)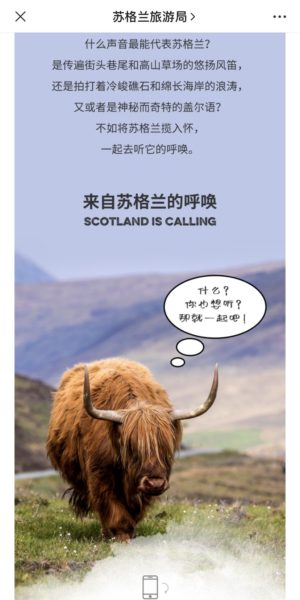 Part of the months-long "Scotland is calling" campaign, this interactive, video-laden post was the most-viewed NTO article on WeChat in Q1 2022.
3. Philippine Department of Tourism
73.4k views
31 March: The Philippines Officially Opens to Chinese Tourists with No Quarantine (View)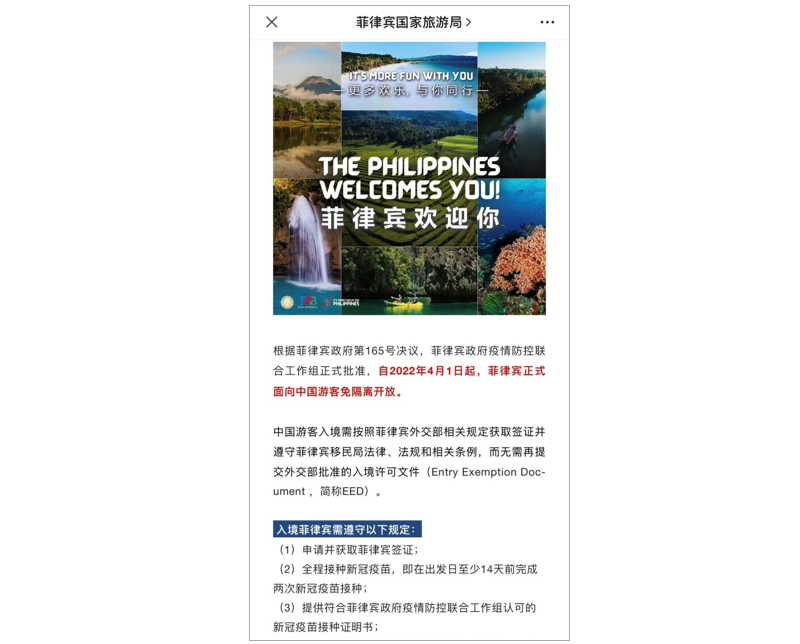 From 1 April 2022, the Philippines welcomed Chinese visitors with no quarantine requirements. The article set out the rules for entry into the country, including COVID vaccination and testing requirements.
= 1. Philippine Department of Tourism
100k+ views
30 May: The Philippines Entry Requirements Get One Step Simpler, International Visitor Numbers Reach New Heights (View)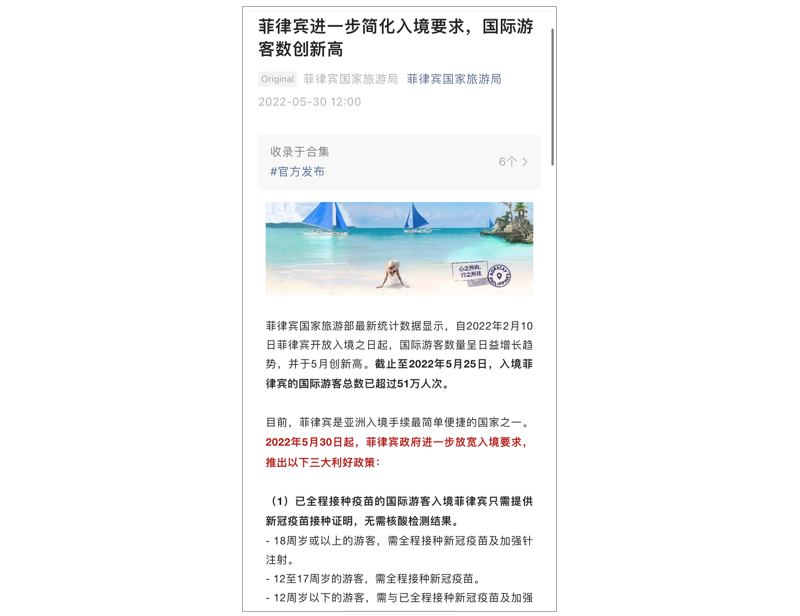 As of 25 May, the Philippines had welcomed 510k international visitors, with new entry rules relaxation from 30 May. Testing requirements were removed for fully vaccinated arrivals.
= 1. Visit Korea – Guangzhou Office
100k+ views
21 August: Vote for your favorite Korean pop star to be featured in October's "Korean Style Holy Land" event at Korea Plaza (View)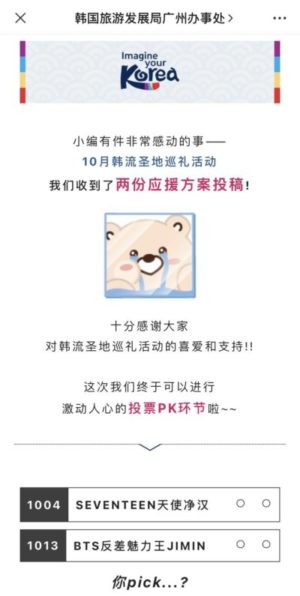 This article asked readers to vote for the pop idol they wanted featured at October's monthly event at Korea Plaza in Guangzhou, supported by the tourism office. The choices were Seventeen's Jeonghan and BTS's Jimin. Jimin won with 51% of the vote.
Macao Government Tourism Organization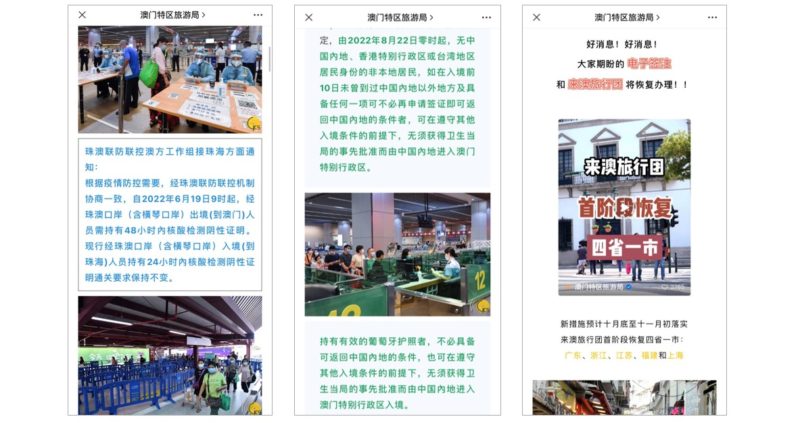 For years, as the only outbound destination to which mainland Chinese can travel without quarantine on return, Macau has been a significant outlier among WeChat accounts. Actually, 42 of the top 50 destination WeChat articles in 2022 were published by the MGTO, but in the interest of showing what other content from around the world was popular with WeChat users, we took the account out of the above top 10 list. In 2022, Macau published five articles that surpassed 100k views each, and they were all news about changing travel regulations between the mainland and Macau.