2020 was a very different year for the travel and events industries, with countless cancellations and challenges. But the unprecedented circumstances also pushed forward innovation in the field of virtual events – for various industries, and for Dragon Trail as well. During the past eight months, we used our virtual events platform to hold around 20 industry exhibitions, roadshows and conferences.
As we move into 2021 and a future where virtual events are now the norm, let's look back on 13 of our online events from May to December, 2020.
7 Destination Roadshows
May: Lucerne Tourism Roadshow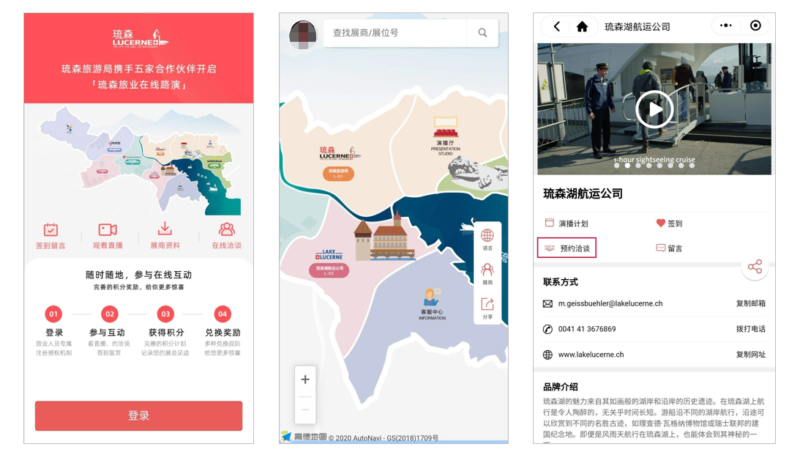 The Lucerne Tourism Board took the lead in moving a traditional offline travel industry roadshow online, building a platform for communication between five local tourism partners and the Chinese travel trade with destination presentations and three months of matchmaking and 1-on-1 virtual meetings. Read more about the event here.
June: Hong Kong Virtual MICE Exhibition
The Hong Kong Tourism Board brought together more than 80 HK MICE suppliers to conduct business meetings and share information with more than 200 MICE buyers in mainland China, with virtual meetings, live presentations, and extensive informational resources to access and download on meetings, incentives, conventions, and exhibitions in Hong Kong. More than 1,300 1-on-1 virtual meetings were completed over two months. View and download the case study here.
September: Vienna Tourism Online Roadshow
The Vienna Tourism Board's online roadshow featured a diverse array of partners, including hotels, museums, music festivals, and the aviation industry. Sharing rich, multimedia resources laid the groundwork for future opportunities for Chinese tourism.
November: 2020 Atout France Virtual Travel Mart


45 French tourism suppliers teamed up with Atout France for this 2020 virtual travel mart, meeting and sharing information on both leisure travel and MICE with more than 200 travel buyers from mainland China, Taiwan and Hong Kong markets. Buyers from mainland China participated via the TNTM WeChat mini-program, while buyers from Taiwan and Hong Kong joined via the web version. Buyers and sellers conducted more than 1,600 1-on-1 virtual meetings by video and chat over seven days.
Watch a guided video walk-through of the TNTM WeChat mini-program for the Atout France event below:


December: Austrian Travel Online Roadshow
The Austrian Tourism Board brought together each of the country's state tourism boards – a total of 15 suppliers – to launch this online event for the Chinese travel trade, the first time holding an online event for tourism stakeholders to meet, maintain contacts, share information on Austrian tourism resources, and strengthen cooperation within the industry.
December: 2020 Philippine Tourism Online Roadshow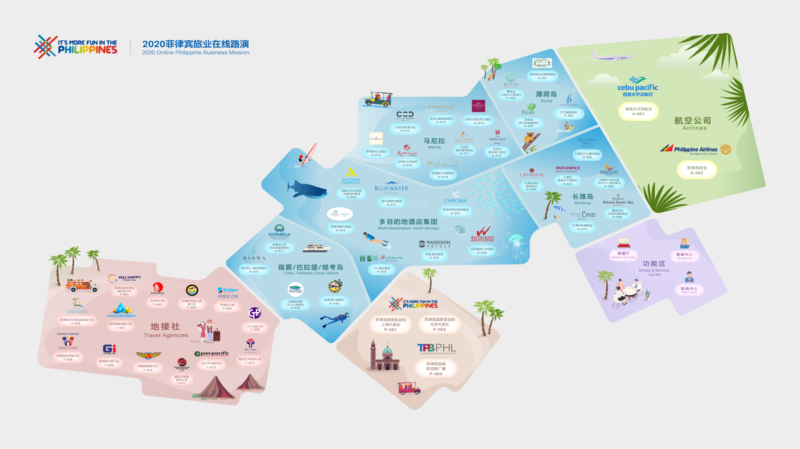 The Philippines Department of Tourism (PDOT), together with 45 of the Philippines' leading tourism providers – including airlines, local DMCs, hotels and resorts – launched their five-day online roadshow with a live-streamed broadcast from PDOT via TNTM's in-built conference system on WeChat. Suppliers completed more than 1,500 1-on-1 meetings via video chat, with more than 380 buyers recruited and managed by Dragon Trail and PDOT. View and download the case study here.
December: 2020 China-Japan Tourism Summit
The third China-Japan Tourism Summit, organized by the China-Japan Tourism Business Consortium (CJTC), centered on the topic of post-virus recovery for travel, with a forward-thinking program including industry leaders and experts from the China National Tourism Administration (CNTA), the Japan National Tourism Office (JNTO) and the Trip.com Group. This was the first time the summit was held online, with live streaming broadcast and two-way translation and interpretation between Japanese and Chinese. The second half of the summit was an online travel fair, with 25 Japanese enterprises and more than 80 Chinese buyers conducting 1-on-1 virtual business meetings via video call.
Four Travel Exhibitions
August: IT&CM China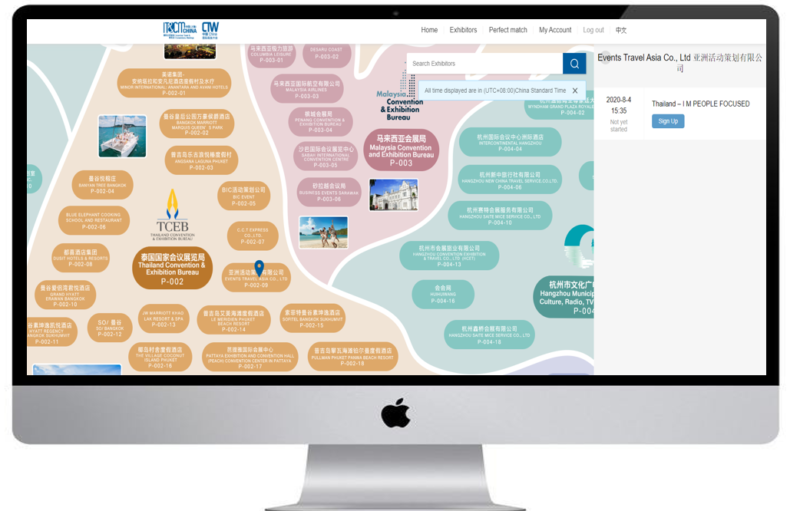 IT&CM China and CTW China offered an opportunity for destinations and sellers of MICE and business travel to come together to shape the industry's "new normal" in August 2020. The online exhibition – a partnership between event organizer, TTG, and Dragon Trail – bridged the gap between international and Chinese MICE and business travel industry professionals, facilitating partnership and business development, knowledge sharing, and networking. The event boasted 242 suppliers from 26 global destinations, meeting with more than 380 buyers to complete nearly 3,000 online business meetings in just two days. With a 90% meeting completion rate and even higher meeting satisfaction rates, the event exceeded expectations. It also featured an extensive, multi-track conference program, industry networking sessions, and a gamified buyer engagement scheme. See the official IT&CM results here.
September: Virtual PTM 2020
PATA Travel Mart is the Pacific Asia Travel Association's (PATA) premier B2B event, bringing together international buyers with suppliers from across the Asia Pacific region. In 2020, PTM became Virtual PTM, taking place on Dragon Trail's virtual event platform. In partnership with the Leshan Government (a tourism region in Sichuan Province, China), Virtual PTM took place alongside the Sichuan International Travel Expo (SITE) held in Leshan as a hybrid trade show. More than 200 suppliers joined the virtual exhibition, conducting virtual meetings with buyers from mainland China and other key Asian markets (India, Southeast and East Asia) in both Chinese and English. Alongside matchmaking and 1-on-1 appointments, vPTM featured an extensive conference and networking program with industry leaders and other stakeholders. In addition to hosting the virtual event, Dragon Trail worked with PATA to deliver hybrid event elements, including live streaming of the SITE opening ceremony and SITE awards ceremony onto the virtual event platform.
June-August and November-February: COTTM Online
The organizers of COTTM, one of China's leading exhibitions on outbound tourism, launched COTTM as a three-month online platform at the beginning of June, in order to connect suppliers around the world with the Chinese travel trade. The platform features opportunities for online meetings, information sharing, and an online conference section. The second installment of the virtual exhibition was launched on 2 November and runs through 10 February, 2021.
Three Exhibitions Beyond the Travel Sector
In 2020, Dragon Trail Interactive expanded the use of our TNTM virtual events platform beyond the travel industry, to help a wider array of brands and businesses to meet, exhibit, and communicate.
November: Canada Virtual Trade Show


As an online platform to showcase Canada's best products and services, the Canada Virtual Trade Show was launched to promote trade exchanges and cooperation between Canada and China. In 2020, 32 Canadian exhibitors covering three sectors – aerospace, natural health products, and infrastructure – participated in the trade show. Hosted by the Canadian Embassy in China and with invited guests from the construction and aviation industries, the event also included conference sessions on sustainable building design, and creating green aviation hubs. The latter conference session was co-hosted by Beijing Daxing International Airport. Matchmaking and appointments will take place in early 2021; to date, there are already 112 registrations from Chinese trade professionals, including verified buyers and other representatives from the Chinese aerospace, natural health products, and infrastructure industries.
November: Pet Link Asia @ North America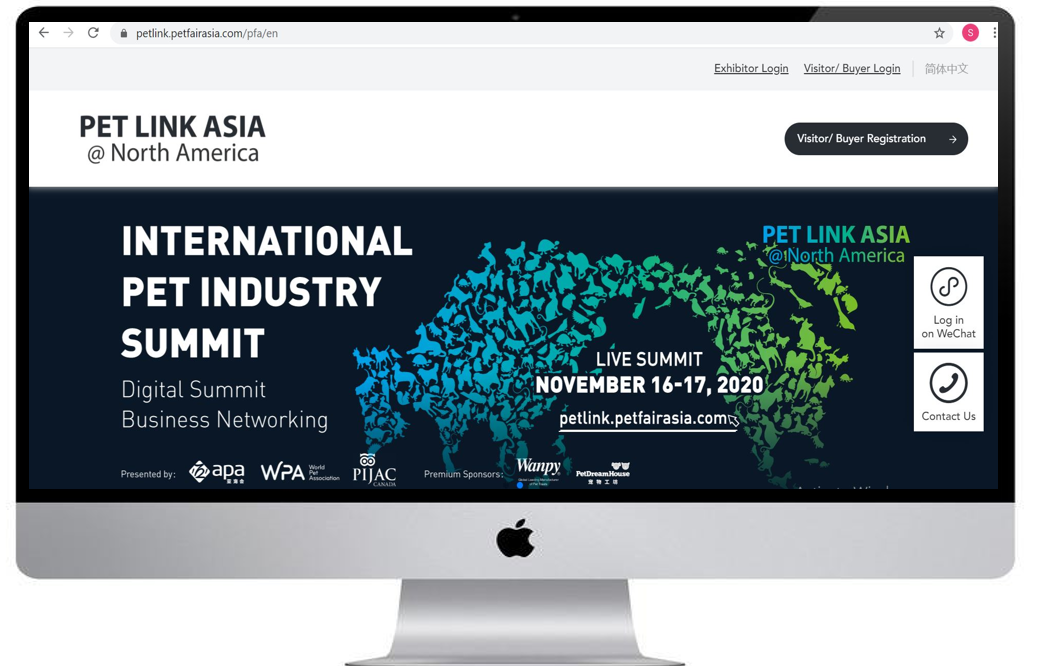 This two-part event included a conference and business matchmaking for the pet industry, with 93 pet care suppliers from across Asia and all industry segments – pet foods, vitamins and supplements, surgical equipment, and accessories – completing 176 1-on-1 meetings with more than 220 buyers from North America. The conference, broadcast on multiple platforms, attracted thousands of viewers in Asia and North America.
November: New Zealand Education Week


This five-day virtual conference was attended by more than 1,200 Chinese and New Zealand education industry professionals working in the university, vocational and early childhood education sectors. The event featured an extensive, multi-track conference program with live and pre-recorded presentations, panel discussions and breakout sessions. It also featured a virtual exhibition of 45 New Zealand educational institutions and pre-scheduled appointments with Chinese international education agents, completing more than 300 virtual 1-on-1 meetings via video call and chat.
Thinking of organizing a virtual event in 2021? Contact Dragon Trail at communications@dragontrail.com to learn more about our experience and capabilities hosting sales missions, trade shows, conferences, hybrid events and more, including case studies and platform demos.
Related videos:

If you are unable to view this video, please click here.