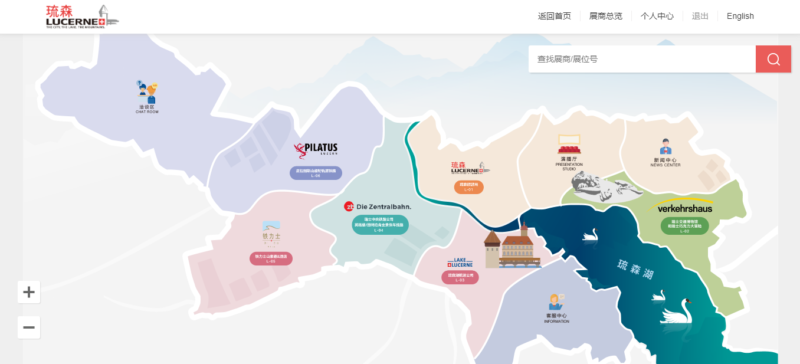 On 7 May 2020, the Lucerne Tourism & Convention Bureau launched an online roadshow for China, in collaboration with the Lake Lucerne Navigation Company, Pilatus Railway, Mt. Titlis Cable-Car and Hotel, Die Zentralbahn railway, and the Swiss Museum of Transport & Swiss Chocolate Adventure.
The Lucerne Online Workshop is a digital update to the traditional offline roadshow, building a platform for Lucerne's local travel industry partners and Chinese travel professionals to share information and promote product planning and sales. Chinese buyers and travel agents can access the Lucerne Online Workshop on either desktop or mobile, through both WeChat mini-program and website.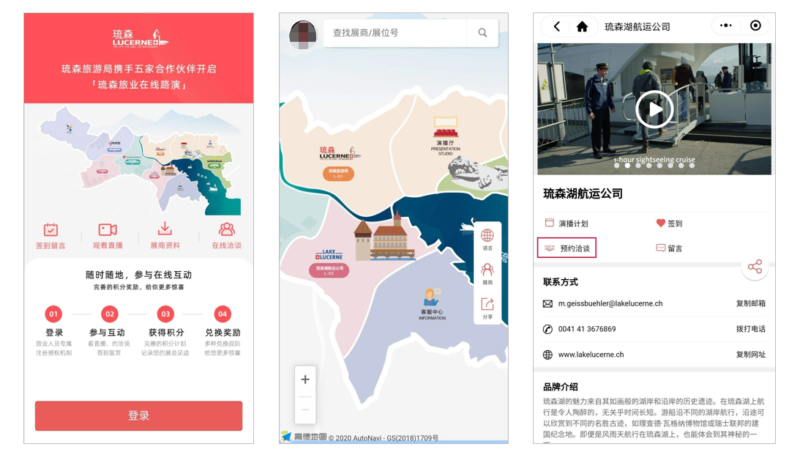 Easy navigation allows visitors to discover Lucerne tourism businesses, view their profiles and contact information, download product materials, and request online appointments
Lucerne Tourism's partners in the online roadshow cover a range of travel-related industries, including attractions and experiences, transportation, and accommodation. As part of the roadshow, they will share the latest travel industry trends and product information, and explore cooperation opportunities with the Chinese buyers through the exchange of industry information, live presentations, and live chat. Chinese visitors can register as invited buyers in advance and make appointments with interested exhibitors to conduct one-on-one online business negotiations.
Without the same limits on time and geographic scope as an offline roadshow, the Lucerne Online Workshop will run through the summer of 2020 and is open to Chinese travel trade professionals in any location.
Four highlights of the roadshow:
1. Invitations for selected buyers
In response to the needs of the Lucerne Tourism & Convention Bureau and its partners, special invitations have been extended to selected Chinese tourism professionals, to help the two sides to hold one-on-one meetings by appointment to promote product planning and sales. In addition to communication and document transfer, the live chat also supports translation, video chat, and online presentation of promotional materials to provide more efficient and convenient communication tools for both parties.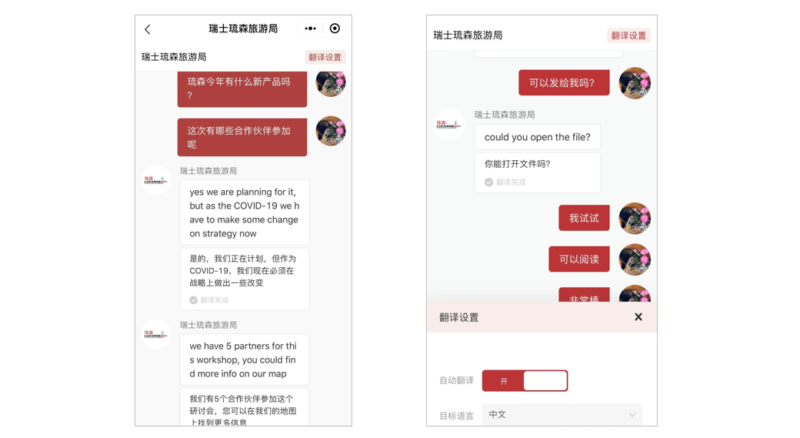 One-on-one meetings with selected Chinese buyers are conducted in private chat rooms, with online translation and video chat tools available
2. Extensive reach in the Chinese travel trade
The workshop is open to all tourism businesses that are or will be operating Lucerne tourism products and sales. Buyers and travel agents throughout China can visit the Lucerne Tourism & Convention Bureau's and its partners' exhibitor portals at any time during the roadshow. The online event has been promoted to Dragon Trail's database of more than 52,000 Chinese travel trade professionals.
3. Live Promotional Events
The Lucerne Tourism & Convention Bureau and its partners will promote the latest tourism resources, products and itinerary planning and sales ideas to the Chinese buyers during the road show through live webinars. During the presentations, Chinese buyers can interact with the presenter in real time through comments and Q&A, and a recording will be available to review through the playback function.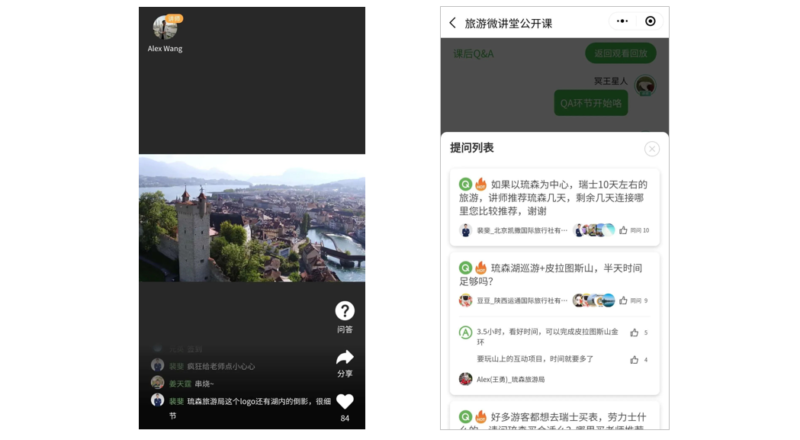 Live webinars allow Lucerne Tourism and its partners to present videos and slides to the Chinese travel trade, and interact through chat and Q&A
4. Product Resource Library
The digital roadshow allows Lucerne Tourism & Convention Bureau and its partners to offer information to the Chinese travel industry in the form of text, pictures, and video, and to provide sales materials for Chinese buyers to forward and download at any time.
Visit the Lucerne Online Workshop at thenextravelmarket.com/lucerne
For inquiries about how Dragon Trail can help you to launch your own online roadshow for the Chinese travel market, please contact us at info@dragontrail.com