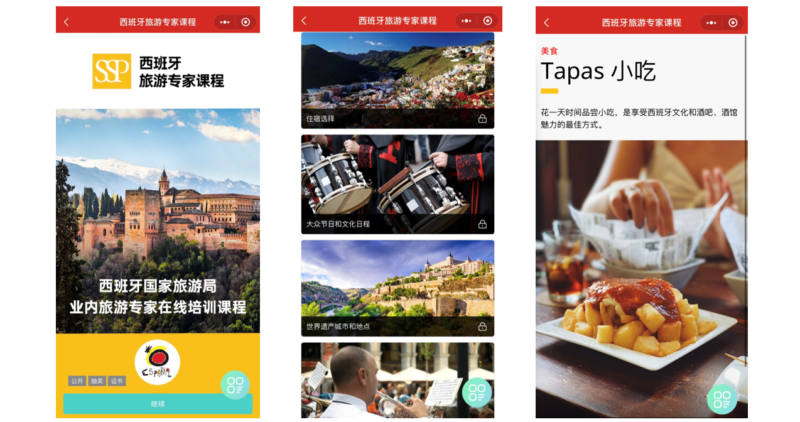 Originally offered for desktop using SCORM e-learning technology, the Spain Specialist Program is now optimized for mobile and available through WeChat
Dragon Trail International has made Turespaña's Spain Specialist Program available to Chinese travel trade professionals by adapting it to mobile devices and integrating it within the WeChat ecosystem. Launched in Chinese in May 2022, the 10-module e-learning course for travel agents introduces Spain's attractions, destinations, culture, cuisine, transport and more. It empowers travel agents to sell Spain as a destination for Chinese visitors, and put together bespoke travel itineraries for their clients.
The Spain Specialist Program was created by Turespaña and launched in a number of languages as an online course for desktop computers. Adapting this course for the Chinese travel trade involved more than simply translating the content – it had to be offered to Chinese travel agents in a way that would be most accessible and easy to use. Because of this, Turespaña decided to work with Dragon Trail to adapt the original SCORM e-learning technology to our China Travel Academy (CTA) platform, via a WeChat mini-program, and promote the course to our database of more than 60,000 registered travel trade professionals.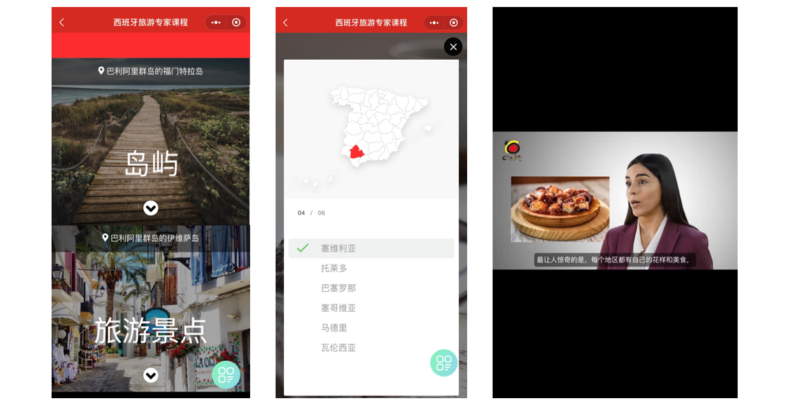 The course features interactive learning modules, frequent quizzes and games, and video content to keep users engaged
The interactive course gives travel agents a well-rounded introduction to Spain, with a total of 10 modules and 70 chapters, filled with interesting facts and practical information, ranging from local festivals to key airports. Videos break up the written content, while fun games and quizzes along the way keep learners engaged. More formal tests at the end of each module ensure that travel agents finish the course as Spain specialists. Those who have successfully completed all modules receive an official certificate from Turespaña, and also have a chance to win prizes including posters, souvenirs, and books.
Additionally, Dragon Trail built a Chinese trade hub for Turespaña with a WeChat mini-program that allows travel agents to take the Spain Specialist Program, review CTA Live webinars about destinations throughout Spain, and access the Spanish tourism board's 2022 virtual roadshow for the Chinese market. In the future, Turespaña plans to add more features and functionalities to this WeChat mini-program, such as updates on the latest trade news.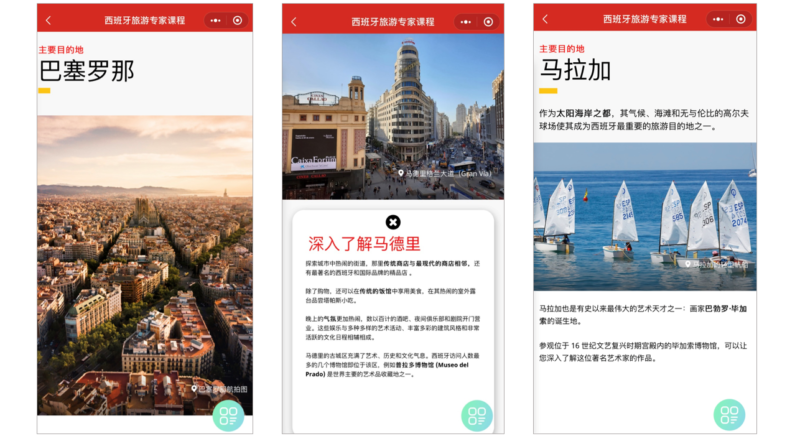 The course thoroughly introduces destinations throughout Spain (featured here: Barcelona, Madrid, and Malaga), including must-see sights, activities, culture, and cuisine
Dragon Trail's CTA platform for WeChat-based e-learning can support any course content created for SCORM, making this desktop-oriented format now easily adapted to WeChat, to be used on mobile in China.
Please contact us with any queries about adapting SCORM e-learning courses to meet the needs of Chinese users.