Skift's new report, WeChat Marketing Strategies for Global Travel Brands 2018, uses Dragon Trail's 2017 WeChat data together with industry interviews to offer a crash course in China's leading mobile app and social media platform as it is used by overseas destinations, airlines, cruise lines and hotels.
The report starts with a broad overview of WeChat's functions and importance. Although the app has nearly a billion active users, knowledge of it outside China remains low, even in sectors such as travel where it is an essential tool for Chinese marketing. "It can be difficult for those outside of the country to fully understand WeChat… because there is no equivalent social media platform anywhere that reaches so far into so many aspects of everyday life as WeChat does," writes the report's author, Meghan Carty. But even for regular WeChat users with a strong understanding of the app, the Skift report offers valuable insights into its uses for travel brands. Here are our top 10 takeaways:
1. Why are travel brands using WeChat?
Based on Skift's interviews with many destinations and travel-related companies, increasing brand awareness is the no. 1 goal for travel brands on WeChat. As a secondary purpose, these brands also use the platform for relationship building, including interactions with followers, answering questions and providing customer service. To offer a few examples: Marriott International offers a WeChat-based concierge service; KLM receives 6-7K messages on WeChat every week; and Peninsula Hotels Beijing uses their mini-program to gather information on customers and provide more personalized service.
2. WeChat's importance to travel is growing alongside FIT
As Chinese tourists start to travel more independently overseas (a recent report by Chinese travel website Mafengwo put FITs at 53%), WeChat is filling in for travel agents and guides in a number of ways. Travelers use WeChat to discover, plan, book and guide themselves though all aspects of a trip. WeChat mini-programs, especially when combined with QR codes, can function as an in-destination digital guide. "These people don't usually have a guide to help them, so to overcome the language barrier and make it easier for them to learn about our attractions and plan their visit, we launched this mini-program," says Lukas Prochazka, Business Development Manager – Asia, for Banff & Lake Louise Tourism. The Skift report also mentions several instances where WeChat has been used by travel destinations to provide important safety information.
3. WeChat as an antidote to overtourism
WeChat can be used effectively to help tourists get off the beaten track, which is of increasing interest to Chinese travelers. Skift provides examples of how Australia and the US states of Hawaii and Oregon have all used WeChat to guide Chinese visitors to destinations they might not otherwise discover on their own. We would suggest that in this way, WeChat offers a good solution to the currently hot topic of overtourism, by encouraging better dispersal.
4. B2B is still important
Despite the surge in independent travel, B2B communications remain crucial when it comes to attracting Chinese tourism, especially during the market entry phase. The Skift report recommends that travel brands launch their WeChat presence by targeting the travel trade to create brand awareness, potentially continuing this as part of a long-term strategy, such as the Los Angeles Tourism & Convention Board does. As WeChat's mini-programs were only launched at the start of 2017 and still suffer from relatively low awareness, it's also important to educate the trade about them, so they can recommend relevant mini-programs to their clients.
5. How to measure success on WeChat?
Looking at your WeChat strategy in a qualitative way means asking: Does your content position your brand where you want it? Measuring success quantitatively is more complex. Skift recommends focusing on post views rather than 'likes' of articles, which are not used very often. You shouldn't worry too much about follower numbers, either – it's more difficult to accumulate followers on a closed platform like WeChat, and it's important to focus on quality over quantity. Potential long-haul Chinese travelers are still a very small minority of WeChat users.
6. Winning content
As we've found in our analysis of WeChat rankings throughout 2017, the most successful kind of travel content on WeChat should be visually appealing and/or useful/practical. Beautiful content should also focus on the natural world, as urban-dwelling Chinese WeChat users are much less impressed by city skylines. Food is another kind of content that works well, as cited by LA, Australia and KLM in Skift's report. We also noticed that Destination Canada got over 10K views on its post this summer about Canada's best dishes. Self-driving is an additional trend in Chinese FIT tourism, and Skift offers several examples of Chinese travel KOLs who are affiliated with car rental businesses. Finally, when planning WeChat content, you don't want to forget about time and distance: it might make sense to tweet about a good snowfall to entice last-minute visitors from the local area, says Banff and Lake Louise's Lukas Prochazka, but a Chinese follower isn't going to book a last-minute flight because of this. When it comes to luring the Chinese traveler to faraway destinations, you need to be thinking 1-3 months in advance.
7. More posts for better results
Skift's analysis reveals that Official Accounts on WeChat that post more will increase engagement, and significantly. We also noticed that increasing the number of posts was one of the reasons that Tourism Australia rose from 4th place for NTOs in Q1 of 2017 to 1st place in Q2.
According to Skift's findings, accounts should post at least three times a week, and in doing so can increase their reach by up to six times. 80% of travel accounts posts less than three times a week, so anything more than that puts your brand in the top 20% – and the top 20% of posters got 60% of page views.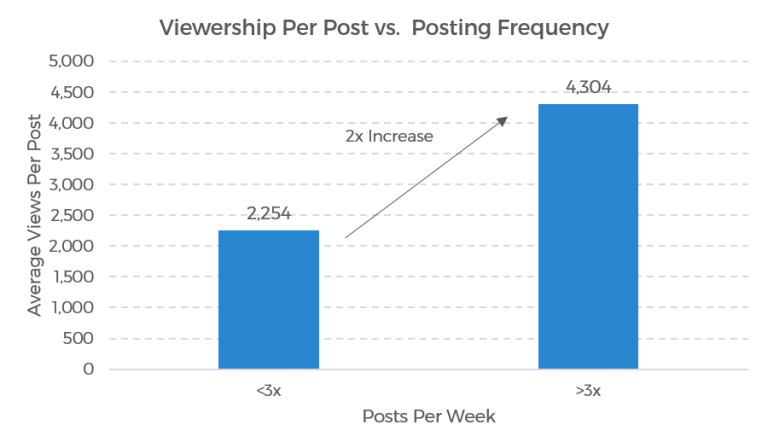 Source: Skift Research + Dragon Trail Interactive  
8. Sharing rules
Social campaigns featuring user-generated content and interaction can do very well on WeChat, and sharing information within one's network is both a strength and goal of the platform. But, like Facebook, there are some strict rules around how a brand encourages this sharing. WeChat regulations do not allow accounts to offer rewards to share posts, and they cannot "threaten or guilt" readers into sharing.
9. WeChat as a website substitute
WeChat is so strong as a digital platform, that some brands are using it as a replacement for, or at least an important complement to, a Chinese website. Even a company as large as hotel giant IHG uses a WeChat account as a substitute for a Chinese corporate website.
10. Reasons to work with an agency
Some travel brands will have the linguistic and industry knowledge to run their own accounts on WeChat. However, Skift lists many good reasons to work with a China-based agency such as Dragon Trail, including language, culture, strategy, networks, buying ads and even time zone differences. Moreover, while it looks like registration rules could be updated in the future to allow companies outside of China to sign up for Official Accounts that will be visible from within China, the requirements are changing constantly, and it's hard to keep track of them – one more thing an agency will be better equipped to keep track of and help with.
Access Skift's full WeChat Marketing Strategies for Global Travel Brands 2018 report.