Dragon Trail International's Weibo Rankings Report tracks and analyzes performance for national tourism organizations (NTOs), destination marketing organizations (DMOs), airlines, cruise lines, museums & attractions, and hotels. Accounts are ranked based on the total number of user engagements with their Weibo content, including likes, comments, and reposts.
Celebrities drove the highest engagement with Weibo posts across the NTO, DMO, airline, and hotel categories in Q3 2022, while live streaming by destinations also attracts an active audience. The most practical popular content were announcements about resumed international flights. Several posts with high engagement show the risks of unintended political engagement or poorly executed advertising on Weibo, while international cruise lines have all but abandoned Weibo as a social media platform.
NTOs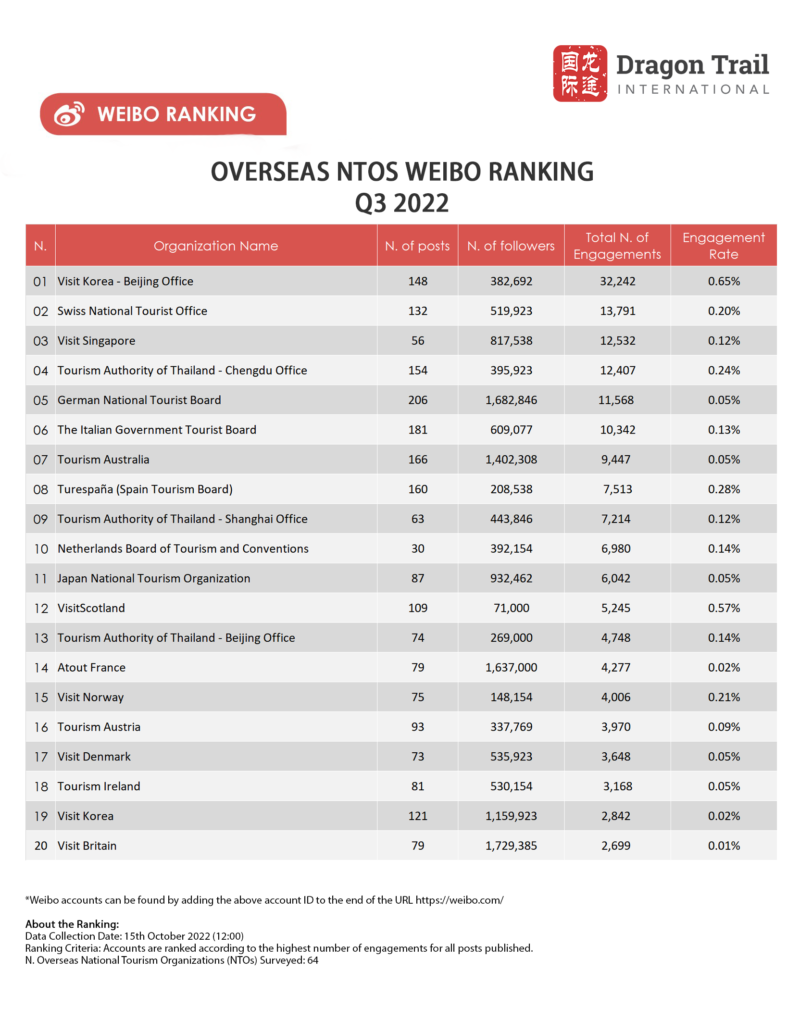 Visit Korea's Beijing Office ranked first this quarter for having the most engagements, up from 19th last quarter. This was driven by the tourism board's partnership with the Chinese K-pop band Boy Story, who featured in a video promoting travel destinations around Korea.
Other Weibo posts by NTOs with the most likes were also connected to celebrities, including content on Jackson Wang's Human Remix party and fashion pop-up in Singapore (plus a video of the singer riding a boat), and a post about BlackPink's Lisa by the Tourism Authority of Thailand's Chengdu Office, after she won the K-pop award at the VMAs this summer. Outside of Asia, the most-liked Weibo posts by the tourism boards of France, Spain, and the Netherlands were all responses to the newest music video released by Mandopop legend Jay Chou, using the viral hashtag, "Thank you Jay Chou for taking me 'cloud traveling''" (#谢谢周杰伦带我云旅行).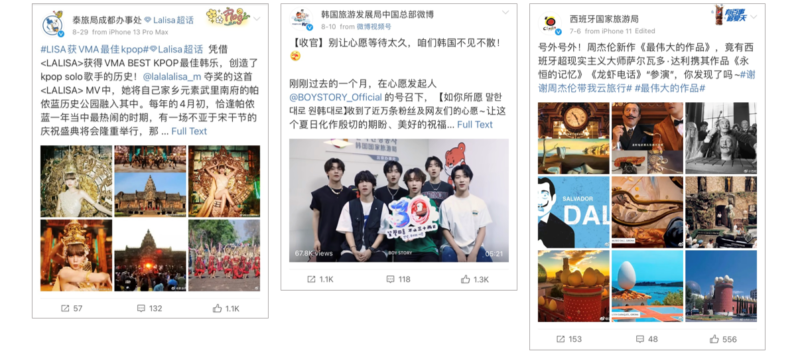 (Left to right) Thailand celebrates BlackPink's Lisa; Korea partners with Boy Story; Spain joins the conversation about Jay Chou's latest music video
Live streams also attracted high engagement in comments – presumably related to giveaways held during the live events. These included a Qi Xi live streaming by the Tourism Authority of Thailand's Shanghai Office, focused on Thai products and giveaways; Ocean and diving-related live streams by the Philippines Department of Tourism, and the German National Tourist Boards "Find Your City Break" live stream.
While the Swiss National Tourist Board didn't publish any of the NTO Weibo posts with the highest likes or highest number of comments, it retains its high ranking for consistently popular content, which is often photos and short videos of the Swiss countryside
DMOs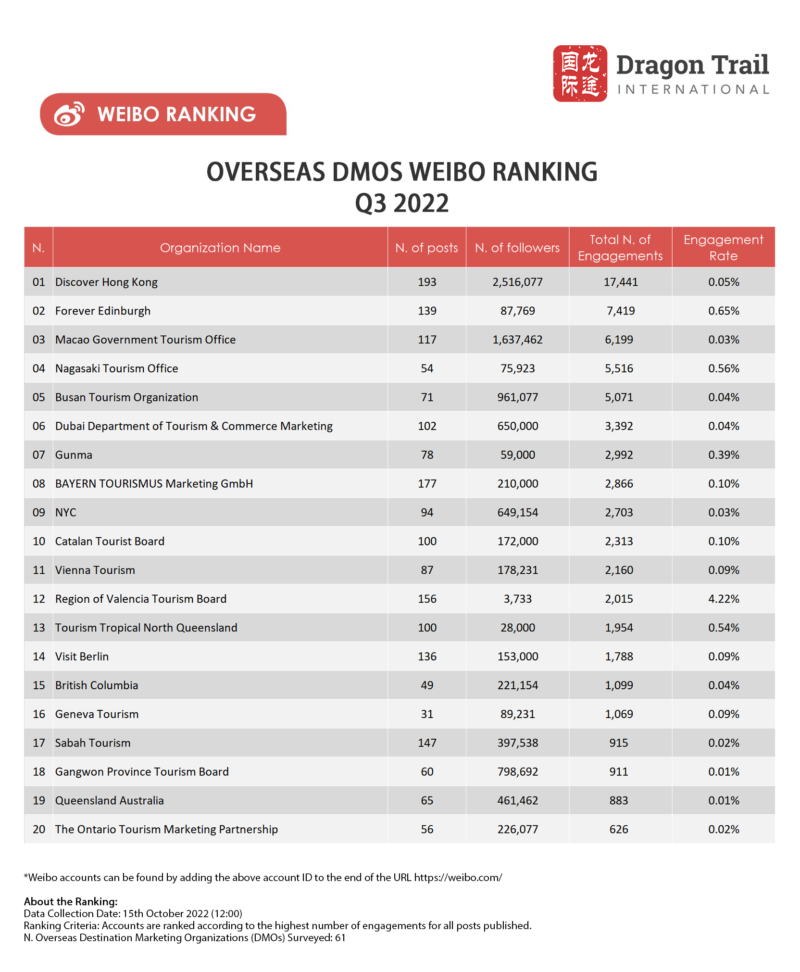 Regional tourism boards show similar patterns to national ones in terms of which kinds of content attract the most likes and comments. The posts with the highest number of likes were a poll by the Busan tourism board about filming locations for TV dramas and music videos; an interview with actor and singer Harwick Lau reposted by the Hong Kong Tourism Board; and a video of Exo singer Suho in Dubai.
While advertising can be used very effectively to boost Weibo content to reach a wider audience, an example by Tourism Tropical North Queensland this past quarter offers a lesson on how this can backfire without the right content. A post by the tourism board featuring a motivational quote on top of a photo of a beach scene received one of the highest number of likes and comments of all DMO posts for the year, but the comments are generally critical, with Weibo users asking how this post could count as a "hot topic" and asking how much money was paid to place it there.
Live streams and giveaways received the most comments, including an Olympics-themed live stream from Barcelona by the Catalan Tourism Board, a live stream from Edinburgh about the city's August festivals, and a giveaway by the Nagasaki Tourism Board to celebrate the opening of a new train line.
Airlines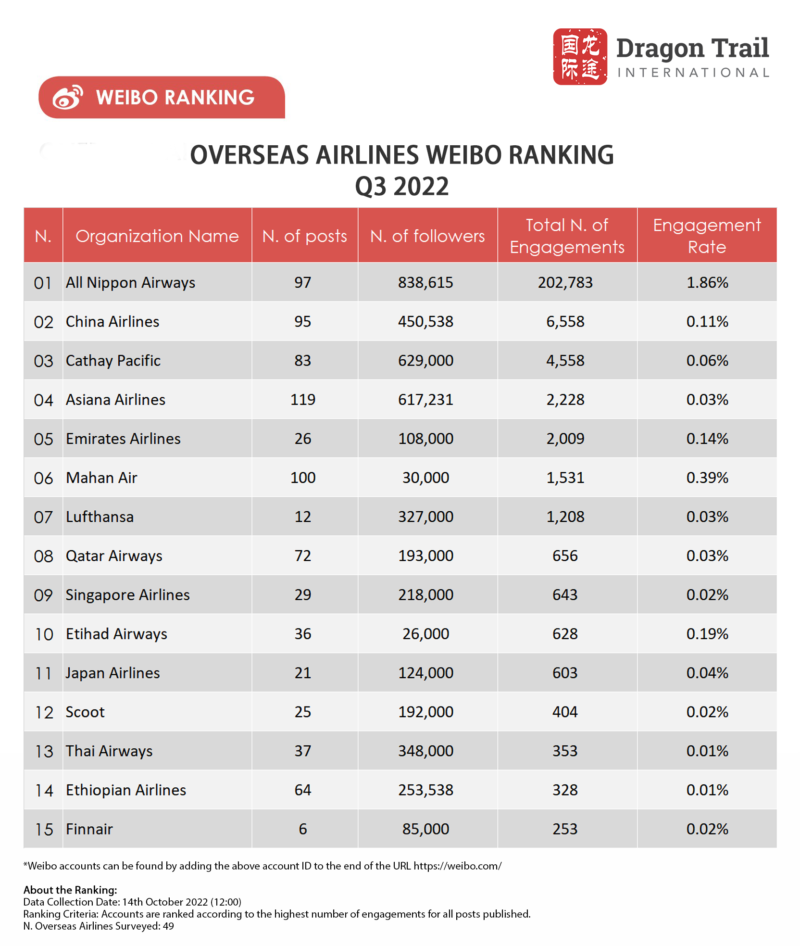 All Nippon Airlines dominated Weibo in Q3, receiving 89.8% of all engagements in the airline category. This was not because of any flight information, but because of the extremely active fan base for figure skater Yuzuru Hanyu, who is sponsored by the airline. A video in which he announced his retirement from competitive ice skating reached 80k likes, and a photo of him at the airport received 22k likes. Like in the previous quarter, posts by All Nippon Airways that have no obvious connection to Yuzuru Hanyu still attract hundreds of comments about the skater.
Another top article for comments and likes was by China Airlines on 19 July, announcing the return of flights between Taoyuan (Taiwan's biggest airport), and Beijing and Chengdu. The comments tended to be political and angry, although the original post made no statement about Taiwan's national status.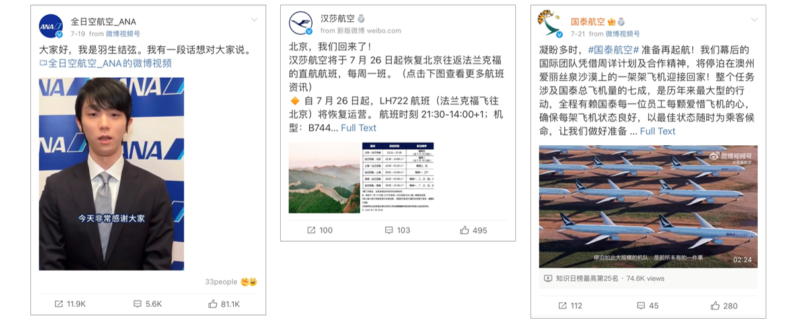 (Left to right) All Nippon Airways shares news of Yuzuru Hanyu's retirement; Lufthansa resumes Frankfurt-Beijing flights; Cathay Pacific's video on maintaining their fleet
In terms of content and reactions that actually relate to flying, Lufthansa's announcements about the resumption of flights from Beijing and Nanjing to Frankfurt were popular, as was Emirates announcement about increased weekly flights between Guangzhou and Dubai. Cathay Pacific also received hundreds of likes for a video about how their fleet of aircraft was maintained during COVID to ensure the planes remain in top condition and safe to fly.
Cruise Lines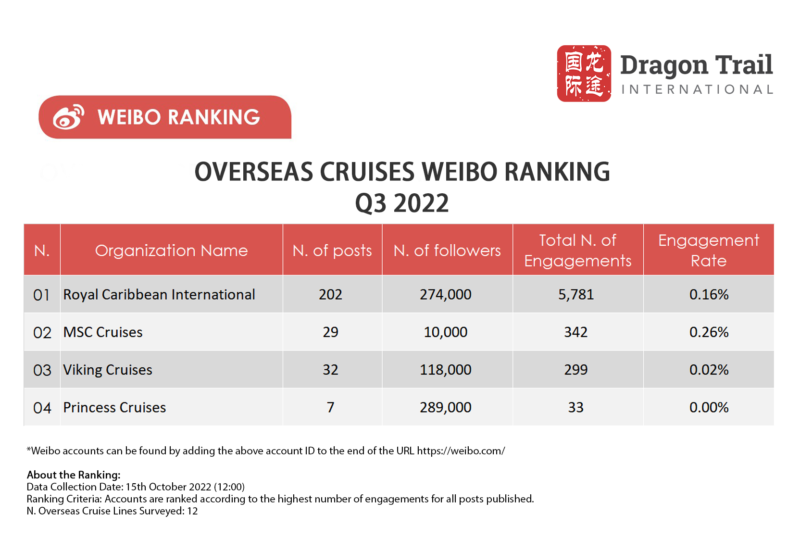 Only four international cruise lines were active on Weibo in Q3 2022, down from five in 2021, and nine in 2020. Of these four accounts, only Royal Caribbean posted more than two or three times a week. Tellingly, Royal Caribbean's top posts for engagement had no relation to cruising. One was a video about washer-driers sold by JD.com, with a giveaway of a JD.com shopping card. The other was a giveaway of Philips cordless earphones. MSC Cruises' top post was a giveaway and photos of Hamburg at night, and Viking Cruises' was a giveaway of teas served on board the China Merchants Yidun.
Museums and Attractions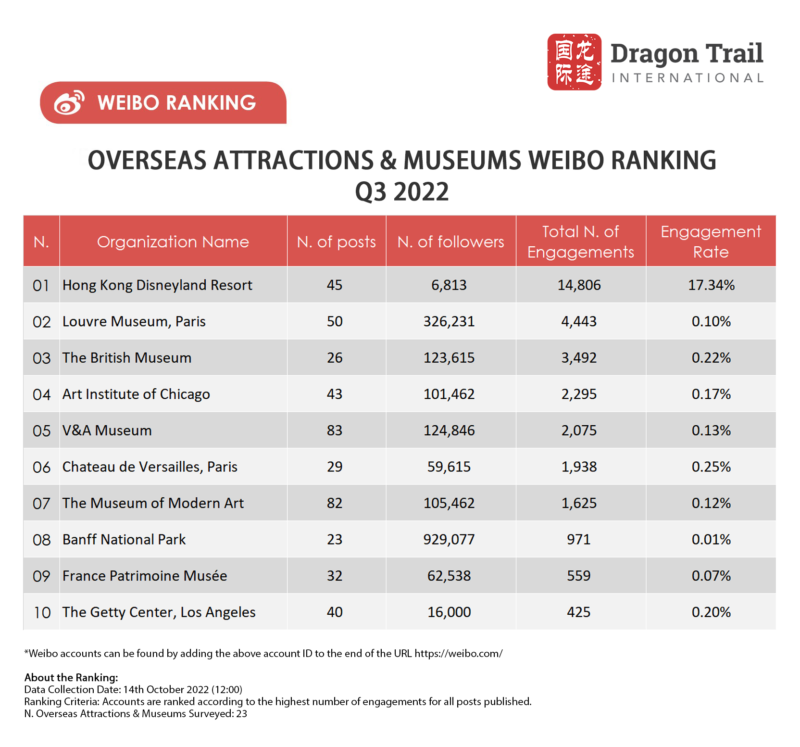 The most popular Weibo posts in the attractions category were about the addition of Disney character LinaBell to the Hong Kong Disneyland cast in early September. This fluffy pink fox made her world debut in 2021 at Shanghai Disneyland, and she enjoys a huge following in China.
Looking at museums, the most engaging Weibo content included an interesting post by the British Museum on reasons for absence from work in Ancient Egypt ("Have you ever missed work to brew beer?" asked the post)) based on the carvings on a stone tablet, a short video from the Louvre on the Gallery d'Apollon, and a giveaway by the Chateau de Versailles of their semi-annual publication, Carnets de Versailles.
Hotels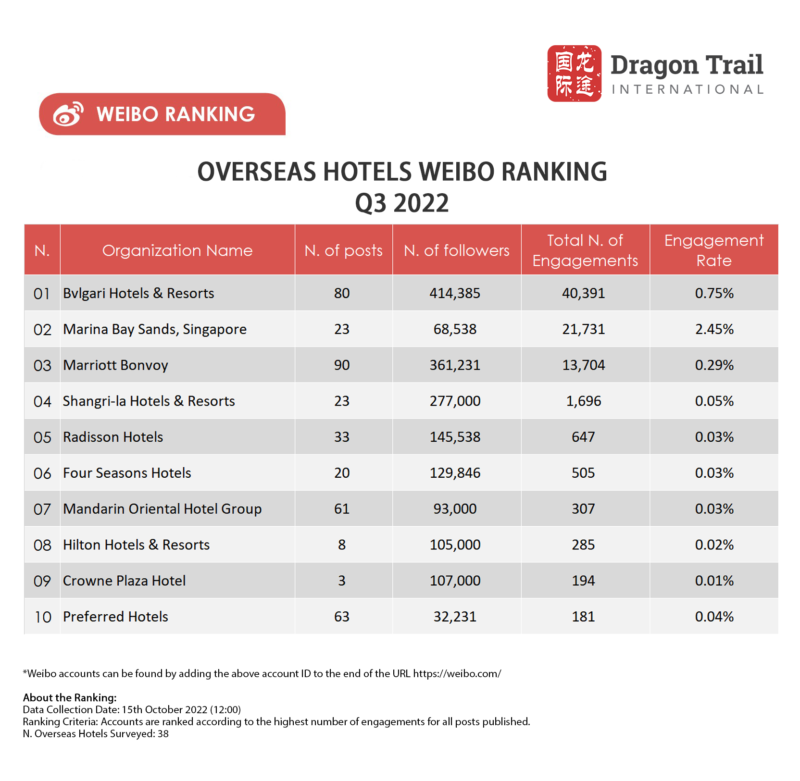 Boasting an extremely high engagement rate of 2.45%, Marina Bay Sands in Singapore got lots of attention in Q3 for posts about Jackson Wang's Human Remix party – which was also successfully promoted by the Singapore Tourism Board. Other top Weibo content by international hotel brands also featured celebrities: Photos and video of actress Vivien/Li Meng at Bulgari Hotel Beijing, a weddings promotion video with actors Guan Yupeng and Li Muchen for Marriott, and photos of Marriott brand ambassador and actress Shu Qi.