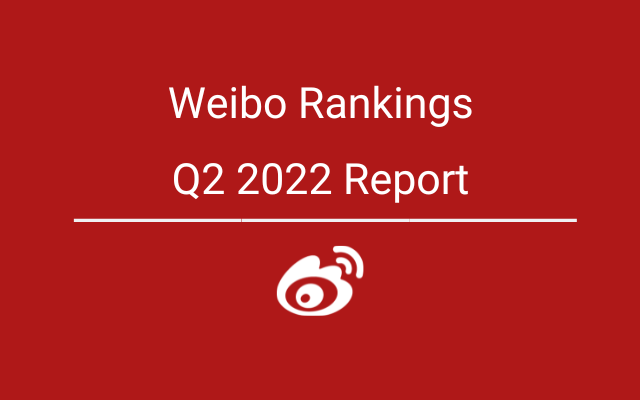 Dragon Trail International's Weibo Rankings Report tracks and analyzes performance for national tourism organizations (NTOs), destination marketing organizations (DMOs), airlines, cruise lines, museums & attractions, and hotels.
Live streaming by European tourism boards emerged as a particularly effective way to drive engagement this past quarter, while celebrities and giveaways proved as popular as ever. Informational resources and videos were keys to the success of the museums and attractions category. Meanwhile, partnerships and promotions of overseas properties did surprisingly well for hotels.
Engagement and activity
Compared to the same quarter in 2021, nearly all categories of accounts pulled back on their Weibo marketing. The DMO category is the only one in which average number of posts per account stayed consistent, with very slight declines for the cruise line, hotel, and airline categories, and a significant reduction in the average account activities for NTOs and museums and attractions.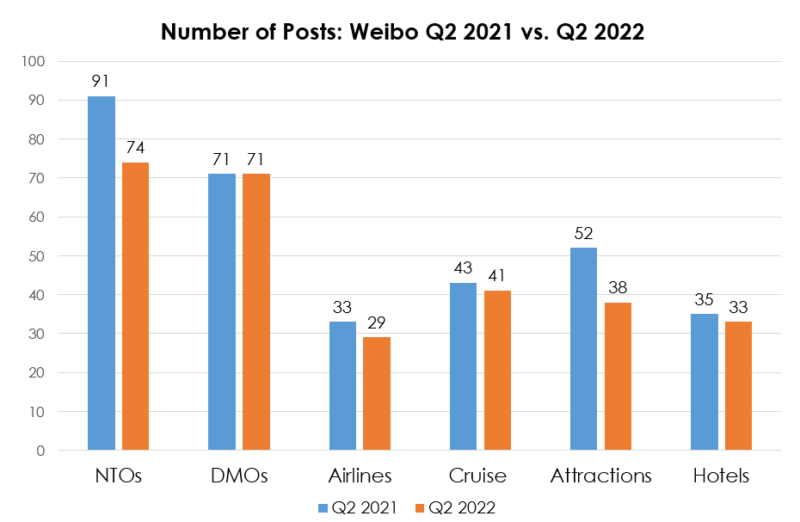 While average account activity has declined, this does not have any significant correlation to the engagement rate for each category. Compared to Q2 2021, the engagement rate rose for museums and attractions, airlines, and DMOs, and it declined to varying degrees for NTOs, cruise lines, and hotels.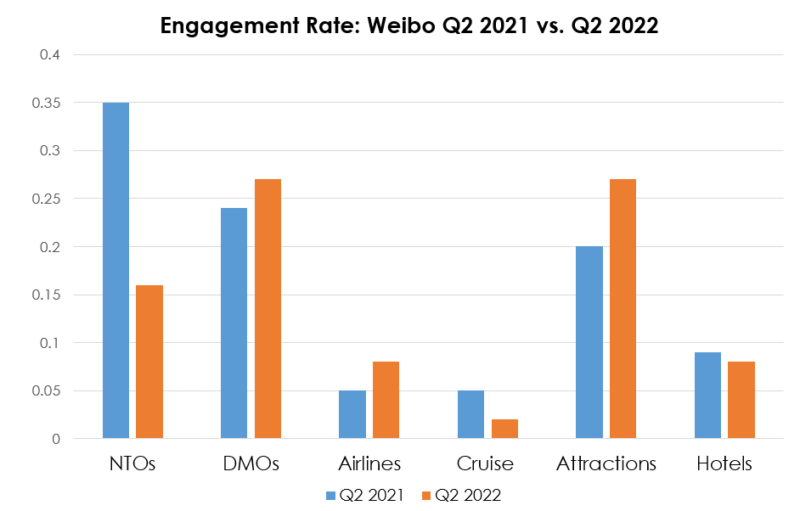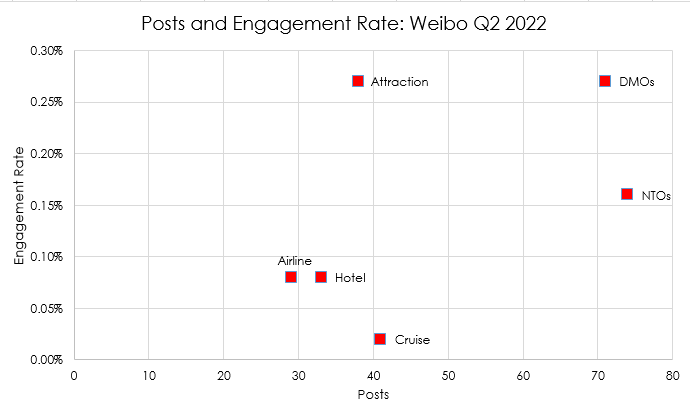 NTOs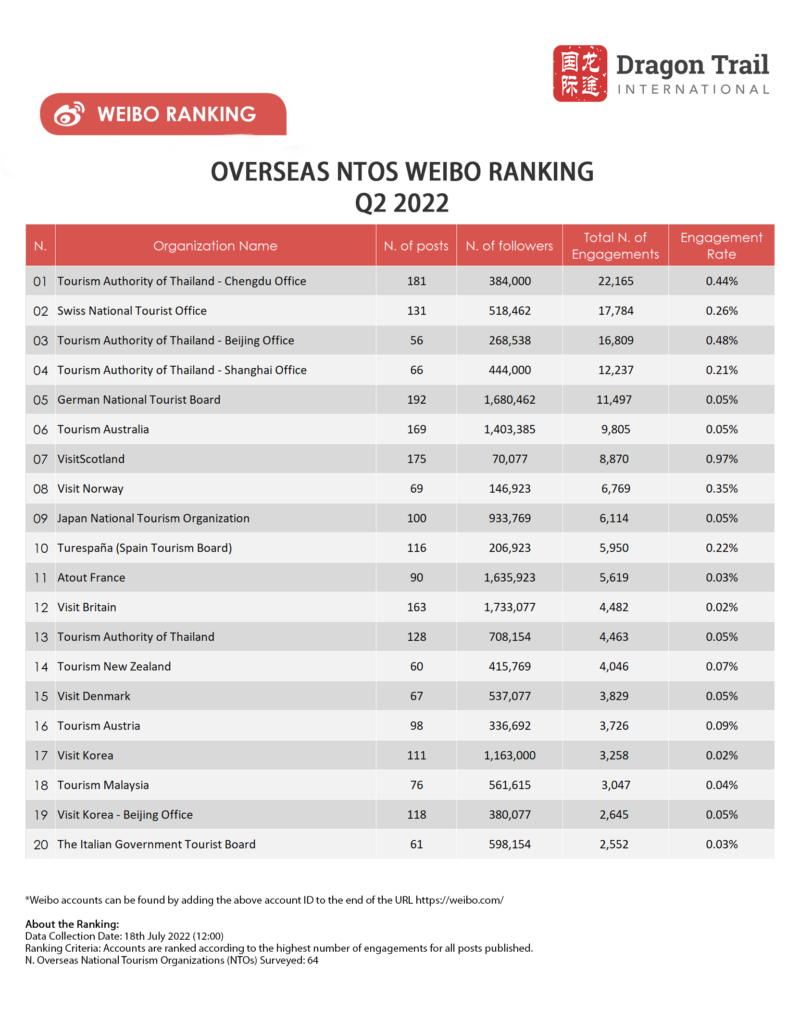 As is usual on Weibo, giveaways and celebrity-related content drove engagement – not just for national tourism boards, but for most categories of accounts. But what is new for both NTOs and DMOs is the popularity of live streaming and its impact on follower engagement.
Looking at the top five NTO Weibo posts with the most comments this past quarter, four of them were European tourism boards' live streaming events, including one from Germany, two from France, and one from Spain. These events attract high viewership numbers, and encourage interaction with engaging content and giveaways.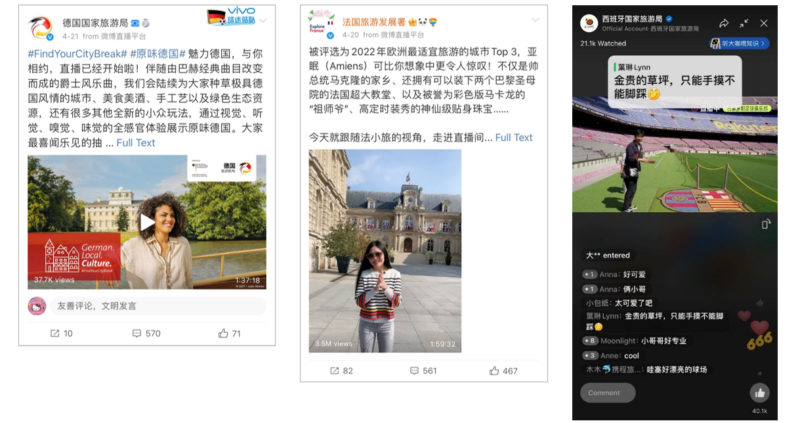 Live streaming from European tourism boards attracted high engagement in Q2 2022 on Weibo. Pictured (left to right): Germany, France, and Spain
The post of the quarter with the most likes and the most comments was by the Tourism Authority of Thailand's Beijing office – a video of Thai celebrities and a giveaway to celebrate 5/20 ("I Love You" Day). Also ranking high for likes and comments was a post by Visit Norway about the opening of their new National Museum of Art. The other top posts for likes were all from the Tourism Authority of Thailand's Chengdu office, including a giveaway for Songkran, a post about a restaurant frequented by Blackpink's Lisa in Bangkok, a video showing that the Bangkok subway now has announcements in Mandarin, and the tourism board's best wishes for students taking the gaokao university entrance exam.
DMOs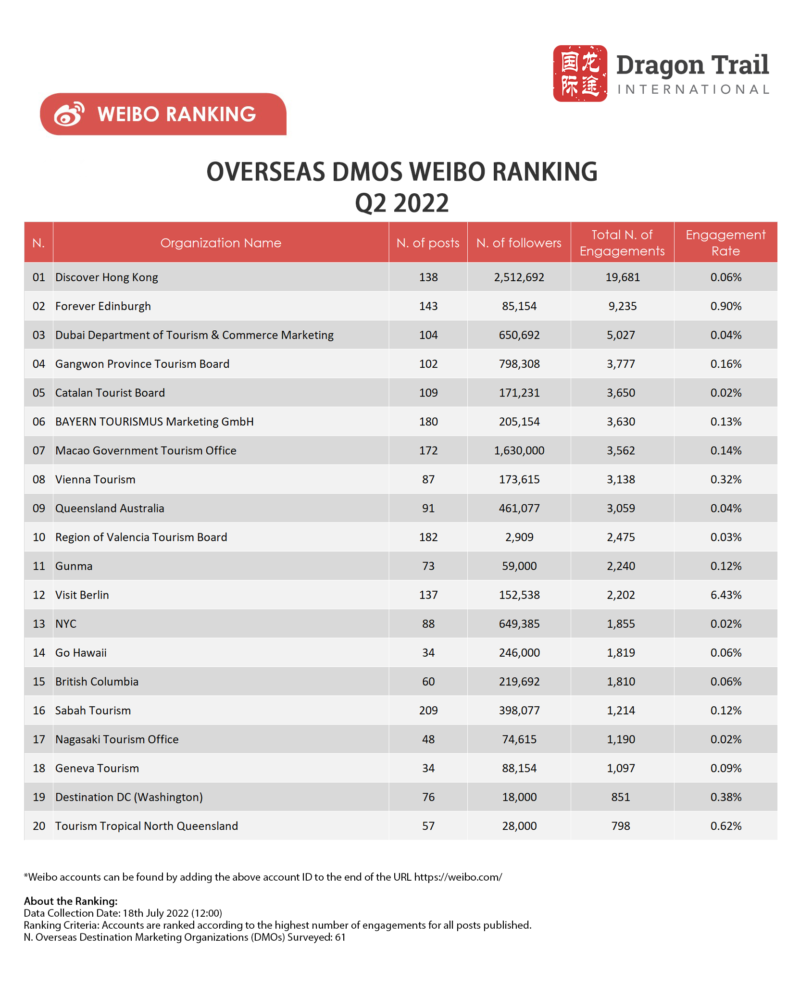 Live streaming also delivered excellent results in the DMO category, with the Catalan Tourist Board moving up from 17th place in Q1 2022 to 5th for total engagements, and from 15th place to 8th for engagement rate, thanks to a number of extremely popular live streams, focusing on Barcelona, Sant Jordi Day, and the Girona Flower Show.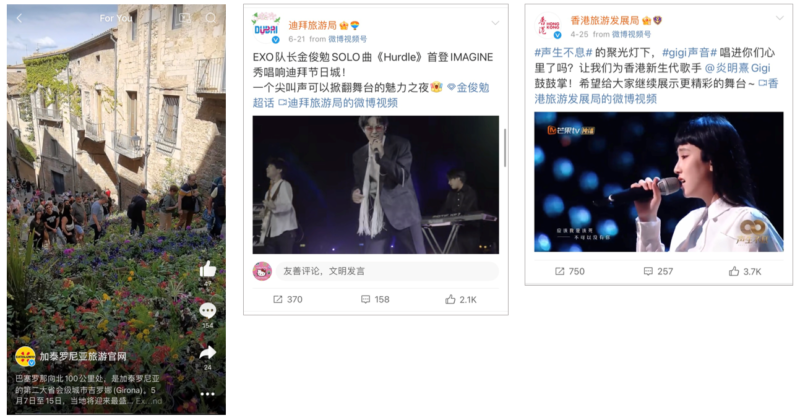 The Catalan Tourist Board reached new heights in the Weibo Rankings thanks to live streaming, while other DMOs like Dubai and Hong Kong focused on popular singers
With by far the most followers of any DMO, it's easier for Hong Kong to attract engagement on Weibo than smaller accounts – Hong Kong's most popular content focused on celebrities, a TV singing competition called The Voice, and quizzes about Hong Kong trivia. Celebrity content also attracted high engagement for Dubai, which hosted a concert from EXO member Suho, and Gangwon Province, which shared photos and a vlog by Jung Yong-hwa, a member of Korean rock bank CNBLUE.
Some examples of high engagement for content published by accounts with fewer followers are meaningful as well, including UGC photos posted by Edinburgh, and a video on art in Vienna.
Airlines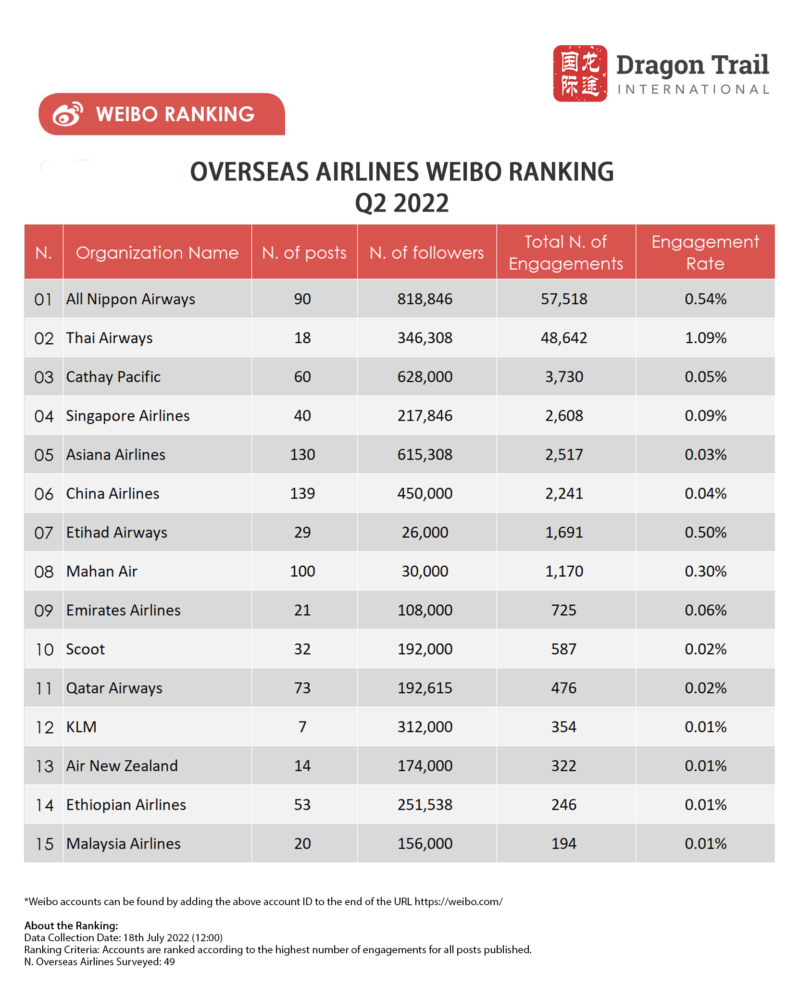 A high engagement rate on Weibo isn't necessarily a good thing, as we've seen in past years with nationalistic spats over Korean chocolate or customers trying to get refunds after COVID-related cancellations. This quarter ended with a viral post by Thai Airways with nearly 2,000 comments and more than 46,000 likes – the post was the airline's official response to an incident where Chinese singer Melody's pet dog arrived in Shanghai dead after a flight from Bangkok. The airline promised that it was investigating the incident and treasured the life of pets.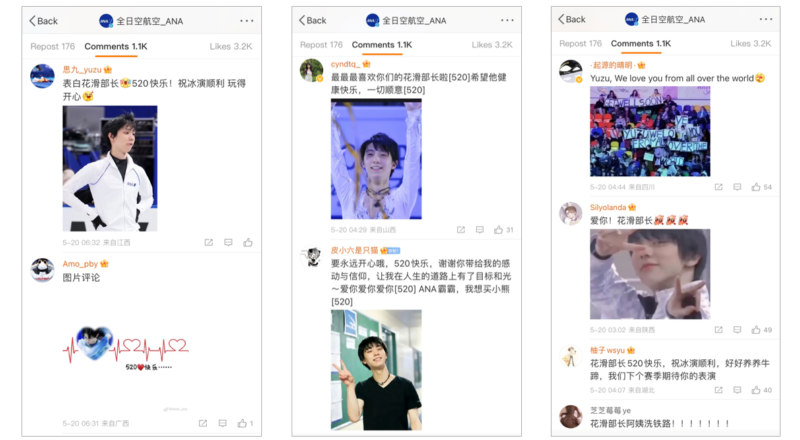 As these comments show, All Nippon Airways' high engagement on Weibo is driven by fans of ice skater Yuzuru Hanyu, who is sponsored by the airline
Apart from this sad occurrence, what drove high engagement for airlines this past quarter was sports enthusiasts. This is particularly true for All Nippon Airlines, which sponsors ice skater Yuzuru Hanyu. Hanyu has a huge fan base in China, and all of All Nippon Airlines' top posts for likes and comments are filled with comments about and photos of the ice skater, even when the post content had no relation to him – for example, photos of wisteria in Japan, or a post about World Health Day featuring a crew member in PPE. Another popular airline post was by Etihad Airways, which shared a video congratulating Manchester City (sponsored by the airline) for winning England's Premier League.
Cruise Lines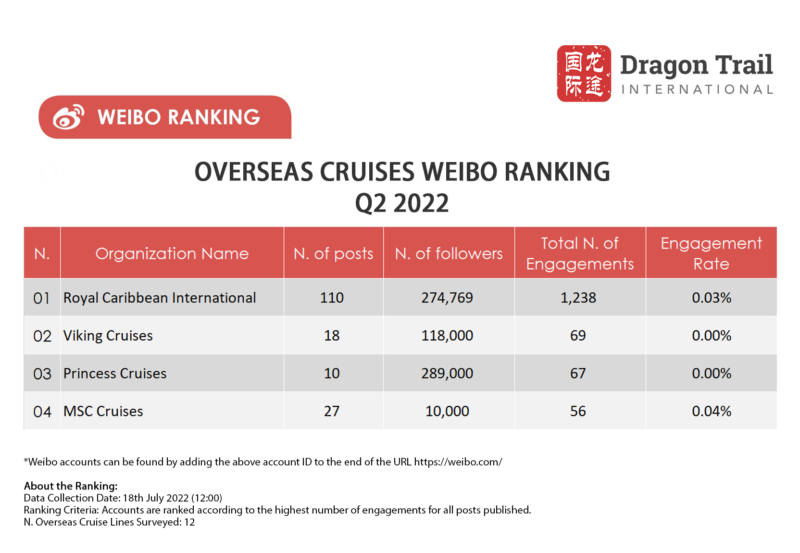 Just four international cruise lines posted content that received any engagement at all in Q2 2022, and those engagements were very limited. The most engaging post of the quarter was a small photo gallery from Royal Caribbean International showing tropical blue seas meeting bright blue skies, with 12 comments and 15 likes. Also popular was a repost of a UGC video shot on one of Royal Caribbean's cruises.
Museums and Attractions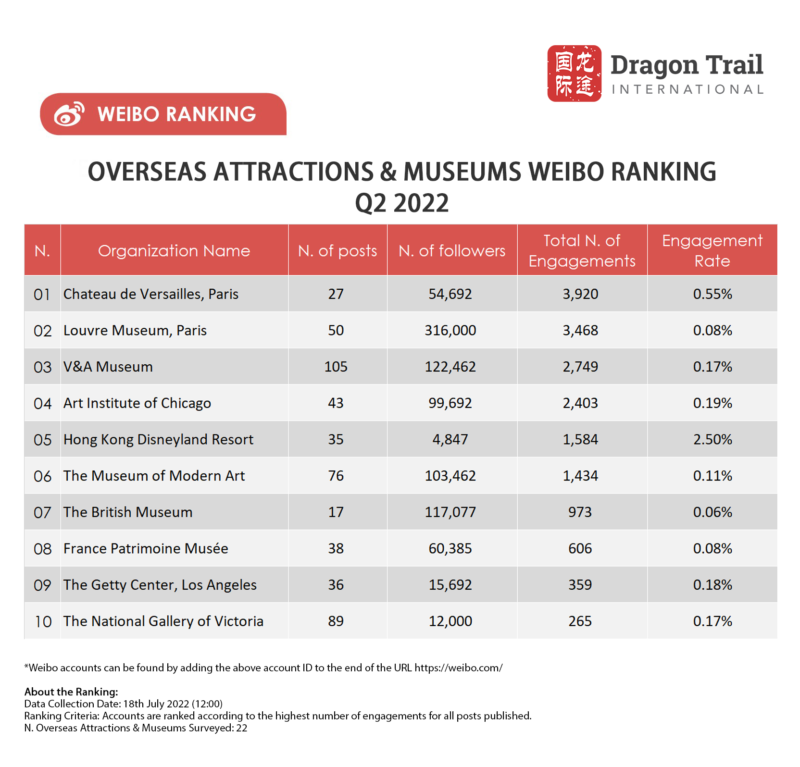 Accounts in the Museums and Attractions category posted 27% less in Q2 2022 than the same period the previous year, but enjoyed a higher engagement rate. The top account for engagements was the Chateau de Versailles, which grew its engagement rate by 10% compared to last year. Its most popular posts were a video of cygnets on the grounds of the palace, a guide to Versailles' garden statues, and the opening of an online exhibition called "The King's Animals."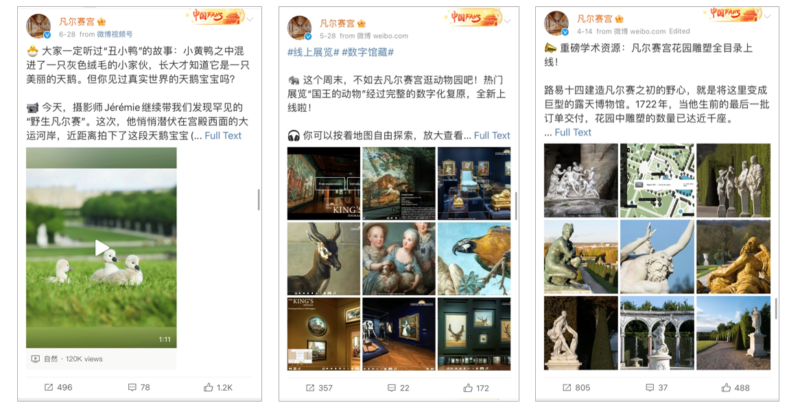 Popular content from the Chateau de Versailles: a video of baby cygnets, the opening of an online exhibition, and the launch of an online database for the Chateau's garden statues
Top posts by other museums included a short video from the Louvre Museum showing the restoration of an 18th century vase, and a post by the British Museum about their audio guide app.
Hotels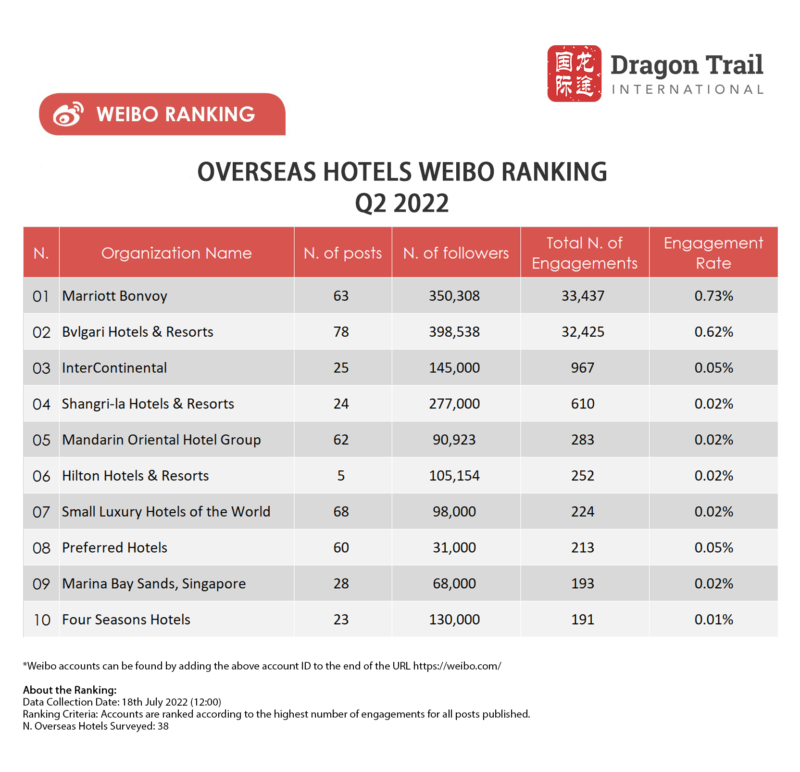 The hotels category differs from others tracked in our rankings, because although the hotel brands are international, most have properties in mainland China. So what's interesting is that despite a particularly challenging quarter for domestic travel, compared to the same time last year, hotels' average engagement rate only dropped slightly. Marriott stood out for the posts with the most shares and likes, all focused on partnerships: One promotion aimed at Alipay members, and other posts about Marriott's partnership with Tencent for the King Power League e-sports competition. Bulgari got 653 likes for a video to celebrate the post-lockdown opening of its Shanghai property, but a post about cocktails in Tokyo was even more popular, and a photo of Bulgari Resort Dubai's pool received 652 likes.