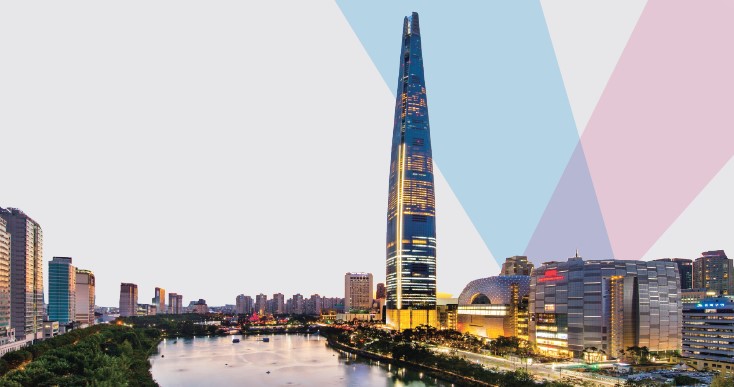 (Originally published in Chinese on TMW)
Korea's vaccination rate is expected to surpass 80% this month, and the country began reopening to international travel from 1 November. In addition to leisure travel, Korea also represents an important MICE market, and the Korea Tourism Organization (KTO) recently worked with Dragon Trail to launch a Korean MICE mini-program on WeChat.
To learn more about the mini-program and Korea's strength in cultural exports, world-class facilities, and advantages for MICE travel, Dragon Trail's sister media outlet, TMW, interviewed Lee Hyunjin, Chief Representative of KTO's Shanghai Office.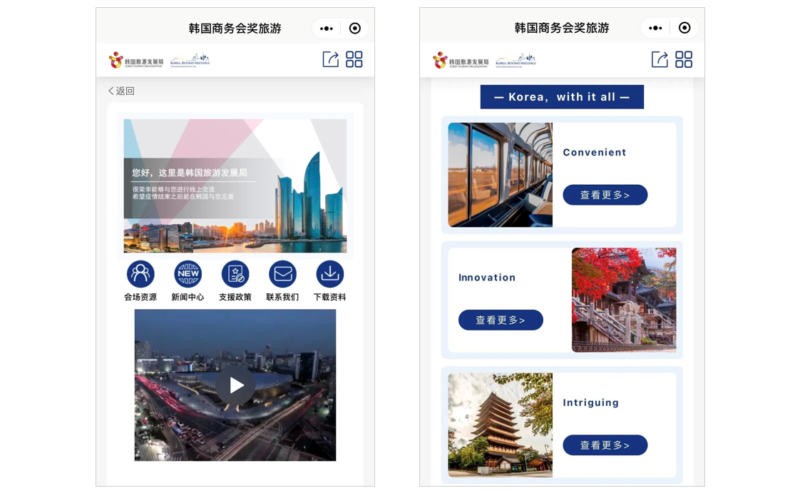 What's the significance of this mini-program for the Korean Tourism Organization's promotion of MICE?
Every year, many visitors come to Korea to travel, and this includes business groups that will go to Korea for team building or annual company outings for Chinese New Year. KTO has always had a policy of supporting business group travel, and the mini-program is intended to help the MICE travel industry understand our policies, to offer even better service, and to make it convenient for the industry to access MICE resources.
What's new or innovative about this mini-program? What's appealing about it?
The mini-program is intended to build a bridge between the industry and the tourism board for direct communication. The most appealing thing about it is definitely KTO's supportive policies. For example, groups of 10 or more people can receive souvenir gifts when they stay in a hotel for two nights or more. The higher the number of people in the group, the more rewards they can receive! For groups of 100 or more, they can go to see a Korean performance for free. Groups of 500 or more are eligible for certain meeting facilities or subsidized banquets.
On the topic of incentive travel, outside of meetings, what's on offer? What products is KTO promoting?
KTO strongly welcomes business group travel to come to Korea for incentive activities. Apart from outstanding meeting facilities, we also have great facilities for social events, as well as rich experience working with groups, organizing innovative cultural programs and more.
Especially in Korea, you can experience the most sophisticated, most fashionable group activities and relaxation programs. If you like to watch Korean dramas, you can organize a trip to visit filming locations. Or if you've seen Korean variety show programs, there are a lot of game activities that can be organized for groups as team building activities, so that you feel like you're on the show.
This year, we're also promoting wellness travel, since everyone has a lot of stress from work. We hope they can come to Korea and really relax.
Korea is always at the top of the list for incentive travel destination countries. How does KTO maintain this position? What kind of new preparations do you have for new arrivals?
Korea is always a youthful country, especially in our cultural exports, such as the dalgona candy, which is a traditional Korean game featured in the recent hit Korean TV show "Squid Game". Through TV shows that people know and like, tradition meets innovation, and we hope this can give visitors an experience that's a little bit different.
Thanks to Korea's high level of healthcare and suppression of the virus, travelers should feel safer and more assured. Through using technology for different kinds of meetings or activities, we can raise the satisfaction levels of organizers and participants.
How are local governments, accommodation providers, retail, and the travel industry working together? What are the new trends and challenges?
Apart from the support from KTO, every local government's tourism board also provides certain support and assistance. The important thing is to try to meet the needs of the guests. To give an example of one large [Chinese] group that came over to hold their annual company party, the local government not only helped them to invite a Korean celebrity, but the officials also turned out to give a personal welcome. Actually, every province and locality in Korea has its own special characteristics, and we hope to bring together local resources to give business groups an unforgettable team experience.
Are there any particular destinations you'd want to introduce for holding special events?
Seoul is Korea's capital, and of course many people have visited. The most distinctive venue is the Floating Island Convention Center. It is a three-petal-shaped island, suspended on the Han River. It's lit up beautifully at night, and many popular brands and well known technology conferences have held events there. At night, the breeze along the Han River is particularly pleasant.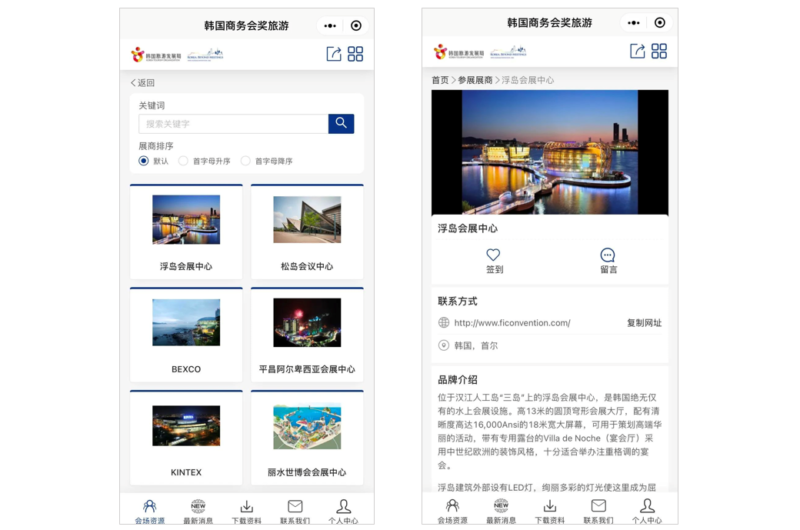 If your focus is conventions, I would recommend the Songdo Convensia in Incheon, which after all is the closest convention center to the airport. It's only a 15-minute drive, and the venue can easily accommodate more than 10,000 people. From the outside, the convention center looks like the Sydney Opera House, which is really special.
For team building activities, I would recommend Gyeonggi Province, which surrounds Seoul. It has a lot of entertainment venues, and ice and water parks. Among these, the well known Everland has the world's tallest wooden roller coaster, and many variety shows are filmed there.
If you come in winter, experiencing skiing in Gangwon Province, which hosted the 2018 Winter Olympics in Pyeongchang, is a great choice. There are many holiday resorts with everything you need to have fun.
What new advantages does Korea have for designing group activities?
Artificial intelligence is a phrase you hear a lot these days, and Korea also has high-tech venues to visit and hold team building activities. For example, Gangwon's modern car museum allows you to see how cars are made, from the steel frame to the painting, as well as the airbag design. At the end of the display, a new car comes out. I've visited myself and thought it was really fascinating.
Thinking especially about male visitors, e-sports in Korea are really advanced, and there are special e-sports centers that you can visit.
There are also some traditional Korean clothing experiences, or Korean cooking classes. You can download information about these on our mini-program to learn more.
Could you elaborate on KTO's supportive policies and what's distinctive about them?
Whether you're traveling with 10, 500, or 1,000 people, we provide a special support system for any sized group. We hope to give every visitor to Korea positive memories. 
What impact has COVID-19 had on Korea's MICE market? What's your forecast for next year?
Korea's vaccination rate is very high, and we forecast that the country will be more than 80% vaccinated by November. We hope this will lead to herd immunity. Korea is already preparing to reopen to international travel, and the strength of our support will definitely be scaled up accordingly. We hope that when the time comes, everyone will choose Korea as their travel destination. If you have overseas MICE event needs, you can contact us through our mini-program, and KTO will certainly support you.
Scan the QR code below to check out Korea's MICE WeChat mini-program, which has selected 39 unique cultural and special events venues from every part of Korea. Through photos, videos and other resources, the mini-program offers a communication platform between Korean businesses and Chinese travel industry partners, and an easy-to-use online resource to meet the new needs of post-pandemic travel.
Please contact us to find out how Dragon Trail can help your destination, organization, or business to create WeChat mini-programs for the Chinese market.