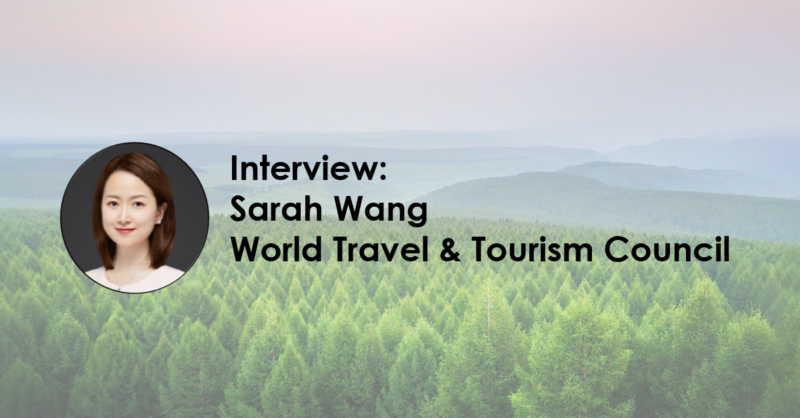 What does it take for tourism destinations and businesses to engage Chinese travelers today? We spoke with the World Travel and Tourism Council's Regional Director for Asia, Sarah Wang, about how to connect with a Chinese audience, top trends in travel and marketing, and which Chinese demographic will be first to travel internationally.
This interview comes from Dragon Trail's 31 August 2022 webinar on best-practice tourism marketing in 2021-2022. The webinar introduces the short-list of 25 campaigns in 2022's TMW Travel Marketing Awards, for which Sarah is one of the expert judges. Click here to view the webinar.
Sarah Wang has 15 years of working experience across industries such as tourism, convention and exhibition, and real estate. She is currently the Regional Director for Asia at the World Travel & Tourism Council (WTTC), and has rich experience in international collaboration and cross-cultural communication. Sarah previously worked at the UNWTO and the China National Convention Center, leading the department of international business development.
From your personal and professional experience, what are some of the current Chinese tourism trends that are most important for destinations and other travel businesses to know about and focus on in their marketing?
Travel in nature has become increasingly popular. People want to get close to nature, to experience the beauty and get a sense of peacefulness. Camping is definitely one of those new trends in China. It's not a wild type of camping, but in a way that is more chilled and relaxed and close to nature, but equipped with convenient facilities and also even stylish supplies. This is quite popular among younger generations. I also see a rise of family trips to nature, with educational elements as well. Many parents are bringing their kids to the rainforest, to mountains, to remote villages and to offer kids the opportunity to experience nature, expose [them] to local culture, and even to learn some outdoor survival skills. So I think that tells us that especially in the context of COVID, people are keen to get connected to nature.
And as we see from several cases, winter sports is also a hot theme, because of the impact of the Beijing Olympics earlier this year. Chinese people are very proud of the success of the Olympic Games, especially in COVID, and it actually provides a very good opportunity for education about winter sports by watching the Games.
Many of the case studies focus on or emphasize sustainability. Is this a topic that you think has become more important to Chinese consumers in the last few years?
Yes, definitely. I think Chinese consumers pay closer attention to their human impact on the environment and also seek more sustainable options in how they live and travel. We collaborated with the Trip.com Group last year on a trends research. The report revealed that over 80% of Ctrip consumers supported hotels that did not provide disposable products, so as to reduce single-use waste and secondary contamination.
Another fact is that the younger generation in China is more informed and educated in a way to conserve our environment and long-term sustainability. I believe the knowledge and mind-set of sustainability is widely accepted by the younger generation.
In particular, we have seen the impact of extreme weather globally this year, including in China. There were high temperatures in many cities like Chengdu, and also devastating mountain fires in Chongqing. I think the actual feeling of the extreme weather has raised people's awareness and concern about our shared environment and sustainable future. I believe that greener and more responsible travel experiences and products will definitely have an impact on their choice.
When you were choosing your top cases, what criteria did you use, or what kinds of things made the case impress you to the most?
When I was reviewing the cases, I firstly put myself in the role of the traveler. So two things I was looking at, is first that I feel connected, and another thing is if the case gave me a "wow" or inspired me in a certain way. To be more specific, when we talk about connection with our target audience or with the market, for me, it's an emotional feeling. Beyond that, it may involve if they have relevant content, if they understand what is happening in China, if they're using the right channels. There's a quite different landscape of social media in China, like we use WeChat, Weibo, Douyin, Xiaohongshu etc., so using the right channels to reach the audience is a key to success. And recently, a combination of short video and live streaming is a widely used format for many campaigns. Language is very important as well. It reflects our understanding of the culture, so I think all these elements will contribute to the overall sense of connection.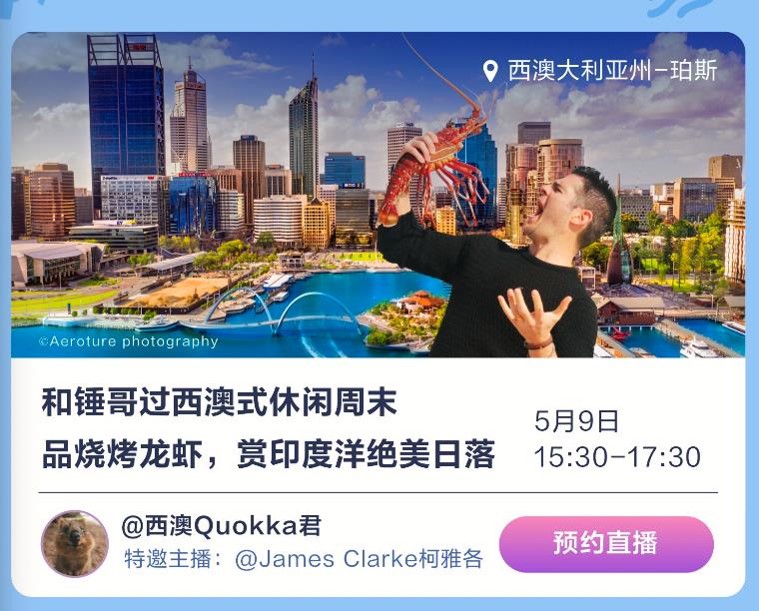 Live streams and short videos by Tourism Western New Zealand featured engaging host James Clarke
I can just mention one of my favorites: The campaign by Tourism Western Australia. For me, a highlight is the choice of the host, James, who's from Australia and speaks extremely local Chinese – not just good Chinese but very local Chinese, by which I mean not only the accent, but the expressions used. I wouldn't be able to tell he's a foreigner if I didn't look at the video. And in the video he was introducing the Western Australian life and activities, but using very local Chinese language. The interesting thing is it looks so exotic, but I feel so connected and surprised.
Based on your experience judging these cases, were there any trends in marketing that stood out to you as particularly interesting, new, or exciting?
There are two trends I see from these cases. One is the wide use of live streaming on social media by many destinations as a way to reach their audience, and this is about how. And another thing is about who; I see many destinations are focusing their efforts on targeting younger generations.
For live streaming, it's definitely a trend, especially during COVID when a lot of Chinese travelers cannot go abroad. On one hand, this enhanced technology makes it much easier to do it, and channels like we just mentioned, those social media platforms are providing good ways to reach their audience. But on the other hand, I think to make it a good [live streaming], we need to provide good quality content such as eye-opening, beautiful scenery or very interactive activities that can reflect local cultures, and to find the right host as I just mentioned. And no matter if they're celebrities or influencers on social media, I think what's essential is that they're able to have engaging interaction and communication with the audience via their content choice and emotional connection.

Campaigns like that by the Tourism Authority of Thailand's Guangzhou Office focused on China's Gen-Z
Another trend that I saw from those campaigns is the focus on younger generations. In China, caution around COVID is still having a big impact. And levels of caution around COVID vary between different age groups. With younger generations, they're showing a greater willingness to travel in the short-term and the mid-term, so they could be among the first groups of international travelers when China reopens, while the older generations who are more risk-sensitive on average are likely to travel after. And when they are planning or booking their next trips, the younger generation will continue to engage and interact with content on social media when choosing where to go.
All in all, the willingness of Chinese tourists to travel won't change in the long term. The good way is that we keep connecting and engaging them with technology and content, and we'll be able to welcome them back in the future.
The 2022 TMW Travel Marketing Awards will be held as a hybrid event in Beijing and online on Wednesday, 21 September. Check back here for forthcoming details on how you can attend, or contact Li Xin at TMW at xin.li@tmwnewmedia.com to register your interest.