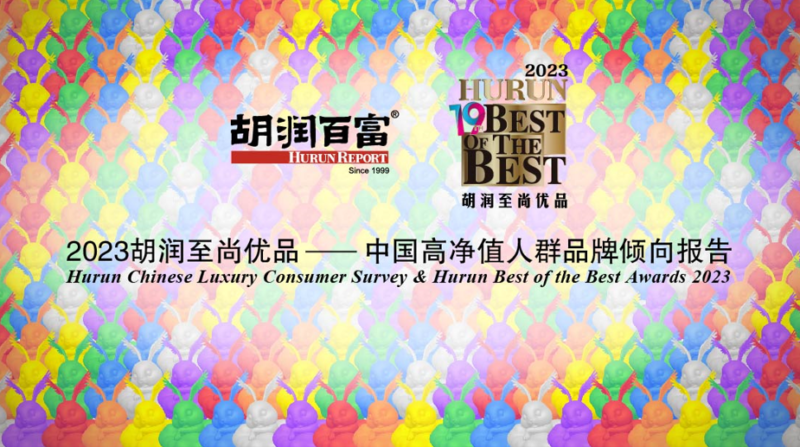 Released on 1 March 2023, the Hurun Chinese Luxury Consumer Survey 2023 includes data on a wide range of consumer preferences from 750 HNWI Chinese. The survey respondents were equally divided between male and female, with an average age of 38. Respondents' average household net worth was RMB45 million, or US$6.46 million.
Click here to read the full original report (in Chinese) on the Hurun website. The following translation is a summary, focusing particularly on the parts of the report relating to tourism.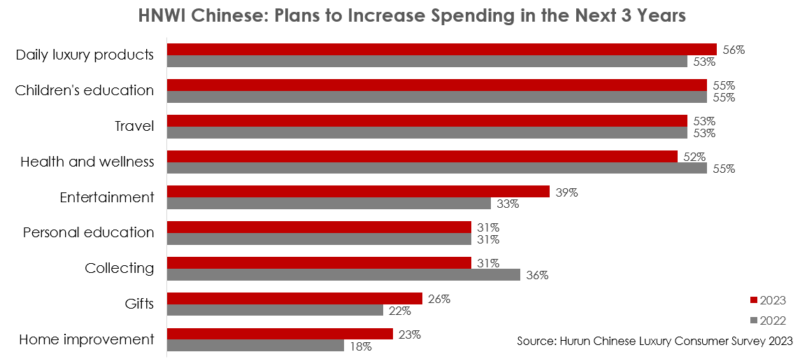 Travel continued to rank as one of the top areas in which Chinese HNWIs plan to increase their spending in the next three years, with more than half of survey respondents saying they will.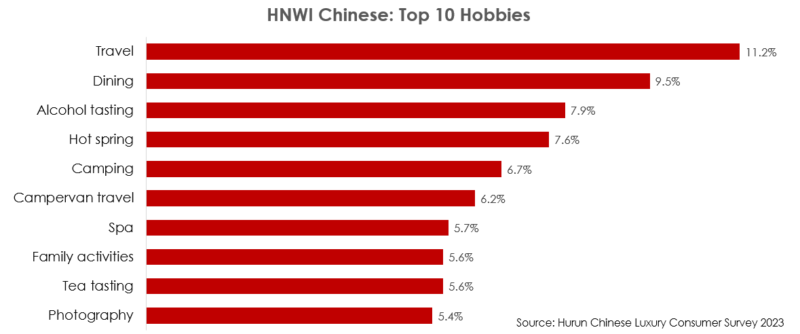 Travel rose up the rankings to become the no. 1 hobby among Chinese HNWIs, from 2nd last year. Camping has  increased in popularity by more than three times since last year. Campervan travel and hot springs were added to the list for the first time, debuting in 4th and 6th place, respectively. In the 2021 and 2021 surveys, campervan travel was the activity that HNWIs wanted to try most.

Water activities are one of the top choices for sports and fitness for wealthy Chinese, among which swimming and surfing are most popular.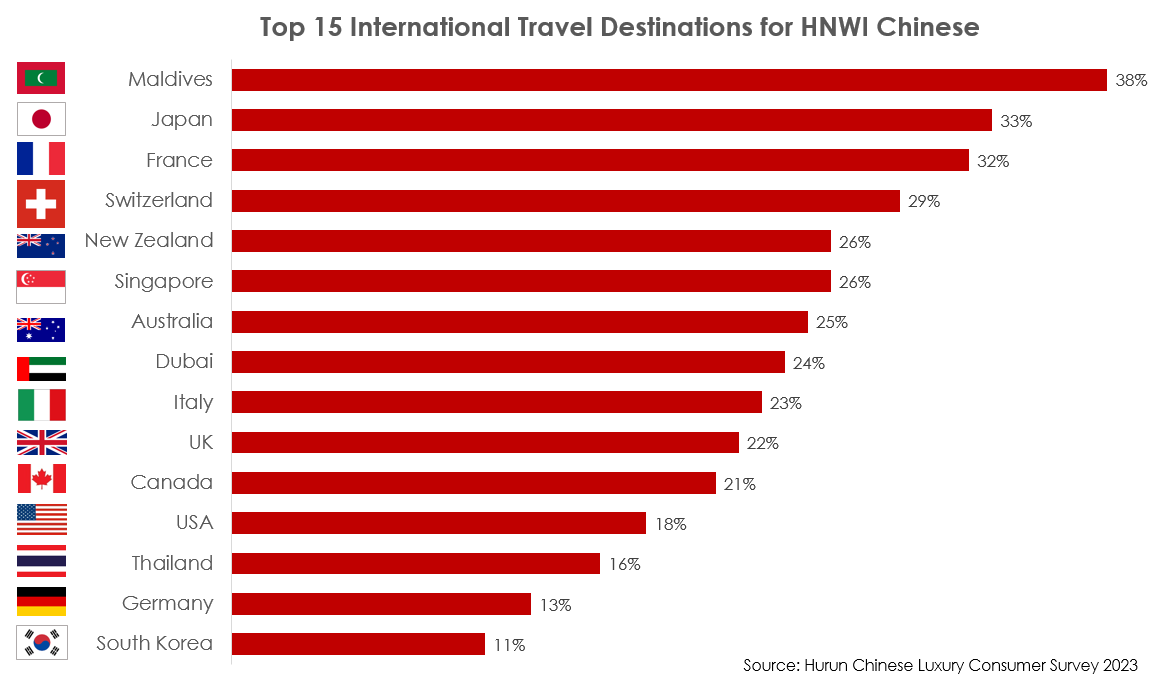 The Maldives, Japan, and France were the top three travel destination countries for another year running. Dubai moved up from 10th place in 2022 to 8th this year, with an increase of 6 percentage points. South Korea also increased its score by 6 percentage points, and Canada went up by 8.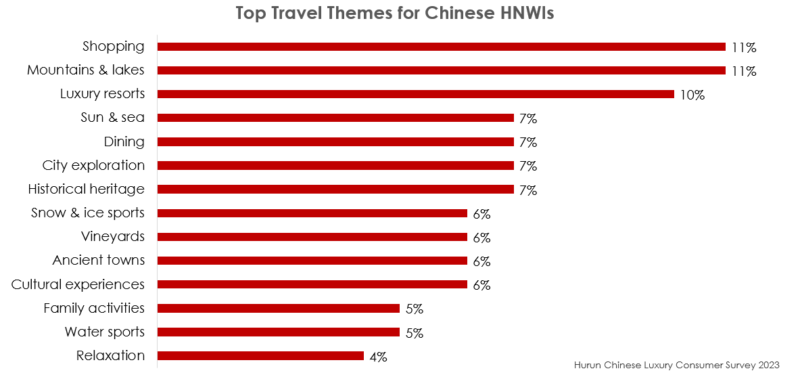 When it comes to travel themes, Chinese HNWIs were most likely to opt for a "shopping paradise" or a destination with the natural beauty of mountains or lakes. Luxury resorts also ranked high.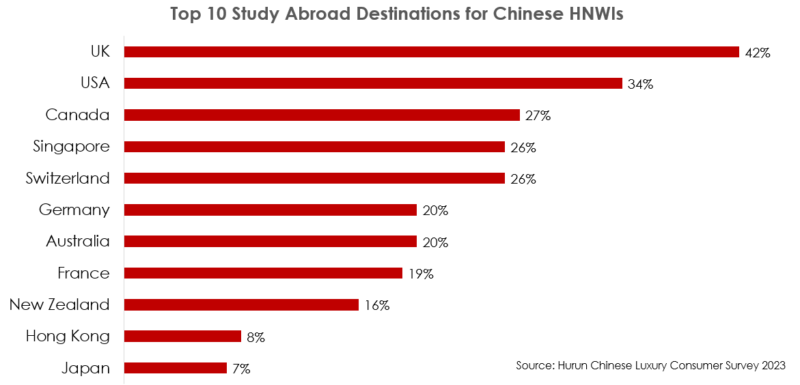 Having overtaken the US last year, the UK remains the top pick for wealthy Chinese to send their children overseas to study.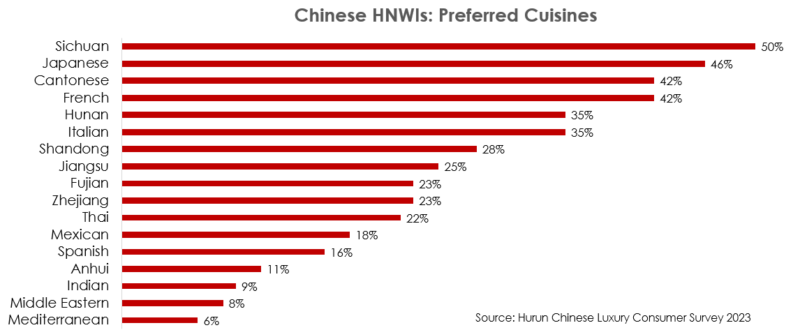 25% of survey respondents said they followed a vegetarian diet, the same as last year. 49% prefer to eat a light, low-fat diet, and 62% buy organic food products. While Chinese cuisines feature prominently among preferred cuisines, the diversity of the list shows that Chinese HNWIs have notably international palates.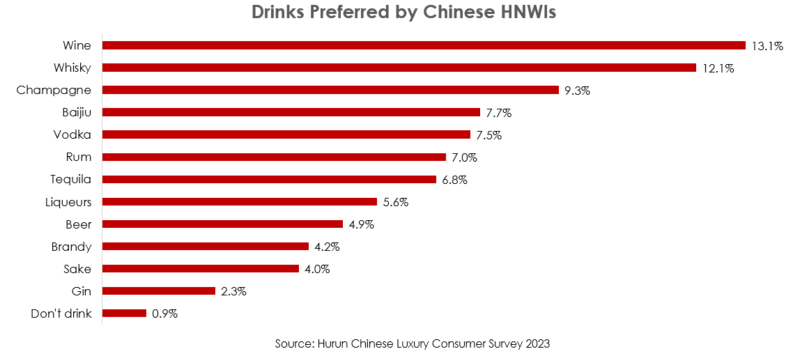 99% of survey respondents said they consumed alcohol, with wine and whisky the most popular types.
Additional findings
Survey respondents wanted to be "financially free" by the age of 46. What will they do then? Traveling around the world was at the top of the list, chosen by 71%. Meanwhile, 67% wanted to engage in philanthropy, 44% wanted to refresh their studies, and 41% planned to build a trust for their family.
On average, survey respondents had 23 days of vacation every year. Around 90% planned domestic travel within the next three years.
Hainan was the no. 1 domestic destination for the 11th year running, chosen by 56% of respondents. Yunnan came in second place at 34%. Major increases in preference for major cities Shanghai (30%, vs. 19% in 2022) and Beijing (25%, vs. 17% in 2022) shows a shift now that COVID-related travel restrictions are no longer an obstacle.