Chinese living overseas are an often overlooked but important and influential tourism market. In the COVID-induced absence of Chinese outbound tourism, some destinations and tourism businesses are now focusing more attention on local Chinese. This is a good move both in the short-term – depending on the destination, many might be traveling again already – and in the long run.
The good news for tourism brands that want to address local Chinese is, you don't need to create a whole new marketing strategy. If you have already established Chinese-language channels and have marketing and informational materials in Chinese, then the next step is simply to build your networks and adapt some of your messaging.
Watch the recording of our webinar on European-based Chinese travelers here.
Here are seven tips for tourism brands to reach Chinese professionals and students living in your country or region.
1. You can use the same online platforms
If you're marketing to Chinese who don't live in China, does that mean you need to open a Chinese-language Facebook account? Not at all. Chinese living abroad are still likely to use Chinese platforms for travel planning. According to Wonderful Copenhagen's 2019 survey of Chinese students in the UK, only 4% said they had used Facebook to research travel in Europe, compared to 54% who used Weibo for that purpose, and 45% who used travel website Mafengwo. The same survey revealed that 68% had chosen the destination of their last European city break by using Chinese travel websites. In a straw poll of around 40 Chinese living in Europe, conducted by Dragon Trail and OTA Kaytrip, 53.8% said they used WeChat to plan travel in Europe, 20.5% said they used Instagram, and 7.7% (three respondents) used Facebook.


Wonderful Copenhagen's 2019 survey revealed that Chinese students in the UK were more likely to use Chinese online sources to find travel information
Which websites and social media platforms Chinese travelers use is not simply about which ones they can access – it's also about which ones are easiest and most helpful. Resources like Mafengwo and Weibo are in Chinese, they're the platforms users will be most familiar with already, and they're the same ones used by friends and family at home. Moreover, there's something to be said for getting information and tips from fellow Chinese people who may have similar cultural backgrounds and travel priorities. For instance, after a week of Italian food, a Chinese visitor to Milan may be craving a Chinese meal – and recommendations for authentic Chinese restaurants on Mafengwo or Dianping are sure to be more trustworthy and plentiful than those on English-language TripAdvisor.
2. Develop networks
Kaytrip is one of Europe's most well-known Chinese travel agencies and travel media, and locally based Chinese are one of their core markets. In addition to a website, official account on WeChat, WeChat mini-program, central Weibo account, and a Chinese-language online travel magazine, Kaytrip also runs some regional Weibo accounts – for example, one specifically for Germany. One key to their local European communications is private WeChat chat groups, which have the capacity for up to 500 members. These groups might include student or alumni groups, employees of a certain company or organization, groups created for people who attended the same live event and registered or signed in through WeChat, or other personal networks. Chat groups like this need to be built up over time, but they can be the perfect way to target your messaging and reach the right audience.
3. Adapt your messaging
Under normal circumstances, locally based Chinese are likely to travel differently than tourists visiting from China. They have more time for in-depth travel and short getaways, and familiarity with local languages and culture can make smaller destinations and attractions more accessible. Kaytrip's WeChat account, for example, might recommend destinations for weekend getaways in Europe, which are clearly not aimed at travelers who would need to take a transcontinental flight. In the COVID-19 era, messaging should be adapted further, to match the demands and realities of the local market. During the summer of 2020, Atout France's WeChat content included one article about the best outdoor restaurants and bars in Paris, and a guide to small towns. Both of these provide practical recommendations to Chinese in Europe looking for open-air venues, or the many that are sticking to self-driving travel and smaller, off-the-beaten-track destinations if they are traveling on the continent.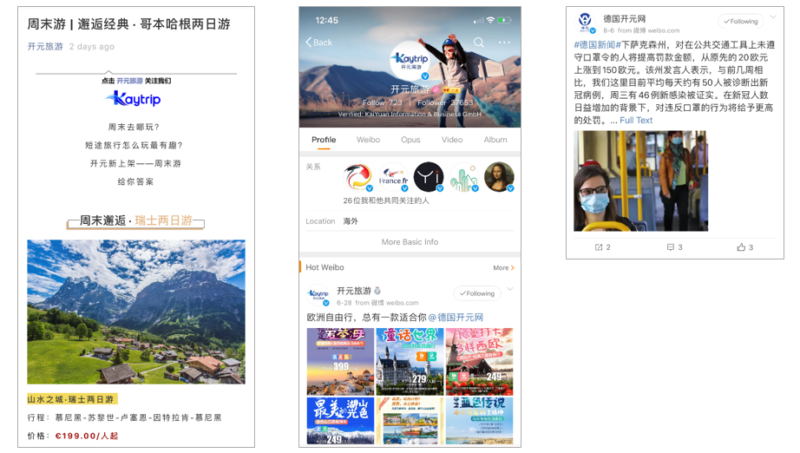 Kaytrip's social media channels during the summer of 2020 (left to right): WeChat article on weekend trips in Europe; main Weibo account, recommending FIT products; Germany Weibo account, with information on face covering rules and coronavirus infection rates in Germany
4. Offer information in Chinese
It's not just digital platforms where you have the opportunity to reach outbound Chinese travelers and local Chinese in the same place – Chinese-language informational materials like signs, audio guides, and printed materials are also likely to be noticed and appreciated by local Chinese visitors. Even if they do have a very strong command of English or another foreign language, using one's native language is still easiest, and it also sends a welcoming message to Chinese speakers. In the context of COVID-19, when rules and restrictions about travel are new and often updated, it's extremely helpful to local Chinese to make this information available in Mandarin. Publishing updates about COVID-19 control measures will also send a reassuring message to future visitors who are in China now, if they see that your destination or business is taking health and safety precautions seriously.
5. Find local Chinese channels
Chances are very good that wherever you are, there are some social media accounts and groups specifically aimed at local Chinese. This might be an official WeChat account for Chinese students at a local university, or a WeChat media account that publishes news and information targeting Chinese who live in or have a very strong interest in a certain country (in the UK, "Red Scarf 委员" is one such popular WeChat subscription account). Your local area may also have private WeChat groups for Chinese residents, or Chinese-language print or online publications. Working with these channels, either through paid promotions, unpaid collaborations, or a mix of the two, can help you target a local audience.
6. Work together with local Chinese
Locally based Chinese can be excellent brand ambassadors and help to share insiders' tips on digital travel platforms that can help inbound visitors to have better experiences and explore new places as well. Ideally, you shouldn't just be marketing to local Chinese, but marketing with them as well. As an example of this, in 2015, train company Eurostar ran a competition on Weibo called "Eurostar to the heart of Europe" (乘欧洲之星赏欧洲之心), in which participants were asked to create a short video about London or Paris. Finalists worked with a camera crew to create another round of professionally shot and edited videos, and one winner from each of the two cities got an all-expenses-paid trip on Eurostar to visit Paris or London, including fine dining, upscale hotel accommodation, and a luxury shopping trip. Each of these trips was filmed, creating even more marketing content. The end result was good promotion of Eurostar both for local and incoming Chinese, significant coverage in Chinese media, and lots of UGC posted to Chinese social media along the way.
Especially relevant now due to COVID-19 travel restrictions, travel brands can also consider working with local Chinese travel KOLs. Apart from being your only option for KOL tourism marketing when travel from China is so restricted, KOLs who live in your city, region, or country will have local expertise that will enhance their work, and they're the first influencers to be able to demonstrate that travel is safe, giving more confidence to future visitors.


Eurostar's 2015 campaign asked Weibo users to submit their own short videos about London and Paris
7. Don't forget students
At least prior to the pandemic, Chinese accounted for anywhere between one quarter to nearly half of all international students at universities in the UK, US, Canada, Australia, and New Zealand. Non-English speaking countries also attract sizable Chinese student populations – in 2019, there were more than 35,000 Chinese university students in Germany, and more than 30,000 in France. Wonderful Copenhagen's 2019 survey of Chinese students in the UK found that 96% of them traveled in Europe during their period of study. Moreover, the European university holiday schedule makes low-season December a particularly popular month for Chinese students, creating a real opportunity for tourism destinations to diversify beyond the summer peak. Most students traveled as FITs, in small groups of two or three, which also suits destinations looking to reach more independent travelers and reduce reliance on traditional coach tours and related problems of overtourism. 60% of the surveyed students also said that they were visited by friends or relatives from China, so this is a key group for VFR tourism.
Destinations that connect with their Chinese student populations can cultivate long-term ambassadors and valuable UGC. Edinburgh is one example of a city that does this very well: Prior to COVID, the Edinburgh Tourism Action Group organized events during orientation week for new Chinese university students in the city, followed by ongoing communications through WeChat, as well as things like internship opportunities (Click here and download "100,000 Opportunities – Chinese Students in the UK" to learn more). These students have become the most active supporters of Edinburgh's Chinese social media accounts, regularly sharing photos and memories that the tourism group uses as marketing content, and re-enforcing positive sentiments about the Scottish capital through likes, shares, and comments. As many universities will have a Chinese students' organization, this can be a good place to start.
Watch the recording of our webinar on European-based Chinese travelers here. Please contact us to request the presentation slides.