WeChat is China's number one social media platform and mobile app, with one billion monthly active users. The app started as a simple messaging platform, but now offers a diverse array of functions, from social sharing to mobile payments. WeChat is used by many international airlines, which have official service accounts, for marketing, ticket sales and more. Here are a few examples of how airlines have tapped into the world of WeChat to inspire, inform and enable China's outbound travelers.
KLM – Functional services
KLM's mobile website is fully integrated into its WeChat account, so users can book a flight, search their flight status or check-in online all through WeChat. Once a flight is booked, travelers receive reminders on WeChat when online check-in opens, and can have their boarding pass sent to their WeChat accounts, too, with a QR code to scan at the airport in place of a paper boarding pass. Like other official airline accounts on WeChat, KLM also offers customer service through the app's chat interface.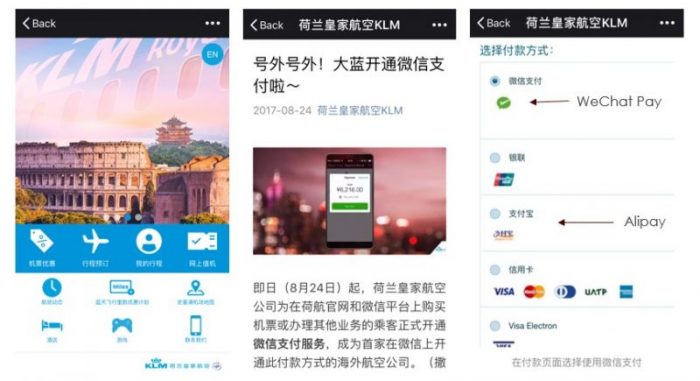 KLM customers can search and book tickets, check in and receive their boarding passes, all on WeChat

Finnair – Mini-program
WeChat launched mini-programs – micro apps that are accessed directly through WeChat – in January 2017, and as of June 2018, there were 270 million daily active users of mini-programs. Mini-programs can be functional, such as those for e-commerce platforms, but many of the most popular are games. Finnair launched a mini-program in April 2018 where users upload a photo of food, and the mini-program then identifies what kind of food it is (e.g., dessert, noodles) through AI, and plays music to "pair" with the food. This all links to an article about Finnair's Chinese in-flight dining options. Finnair's announcement of the mini-program had over 100,000 views – the maximum number tracked on WeChat. This made Finnair the only international airline other than AirAsia to reach this number of article views since Dragon Trail started tracking airlines' WeChat accounts at the start of 2017.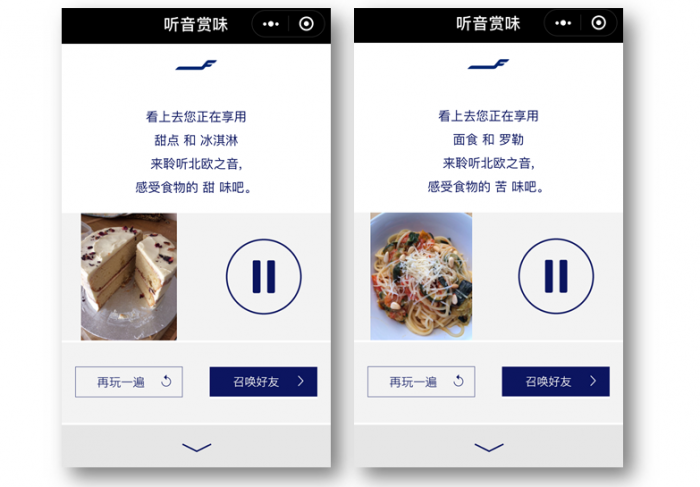 Finnair's mini-program successfully identified these foods as 'dessert' and 'noodles'
Scoot – Branding
Service accounts on WeChat can send out a weekly newsletter with articles to their followers, and airlines' content usually focuses on promotions and sales, as well as practical tips on traveling and destination guides. Low-cost, long-haul carrier Scoot was one of the most successful international airlines on WeChat in 2017, and the airline used their articles to cultivate a fun, millennial-friendly brand image – appealing to the largest demographic of Chinese outbound tourists. Their articles made ample references to trending topics, using trademark cartoon characters to announce deals and promotions, and embedding videos featuring Scoot's crew or a travel vlog. Scoot also promoted their direct flights from Xi'an to Singapore through a FAM trip to Singapore for young and popular Chinese travel bloggers, which was also featured on WeChat. Learn more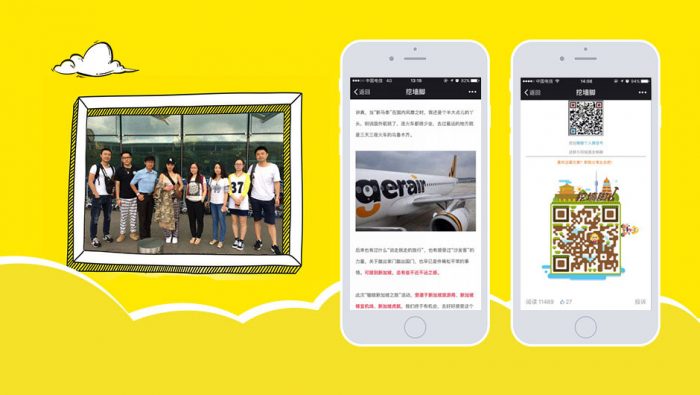 Scoot used a FAM trip for Chinese travel bloggers, plus creative, on-topic WeChat posts and imagery, to cultivate a cool, millennial-friendly image

Air France – Increasing followers
In order to increase brand awareness, follower numbers and interaction with Chinese consumers, Air France launched a competition for Chinese New Year 2018 with an H5 lucky draw landing page on WeChat. Prizes included airline tickets to France, cosmetics bags and model airplanes, and the campaign encouraged sharing, converting participants into WeChat followers – and thus increasing the number of WeChat users who would be familiar with Air France and exposed to future promotional posts. The campaign also supported Air France's branding in China, integrating a French flavor into the design, and inspiring audiences with Air France's destinations and flight offerings from China. To enter the lucky draw, participants needed to follow and message the Air France WeChat account, and share the campaign with least one friend. The H5 page got thousands of views, and also spurred WeChat fan growth. Learn more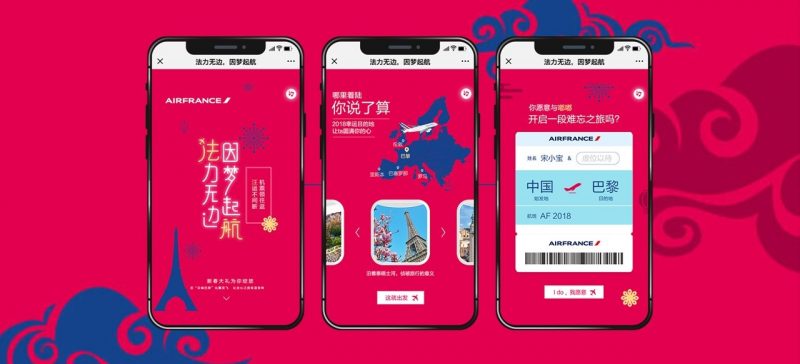 Air France's Chinese New Year lucky draw campaign on WeChat boosted engagement and followers
This article was originally published on Routes Online. Learn more from Dragon Trail's Roy Graff at World Routes 2018 in Guangzhou on 18 September.