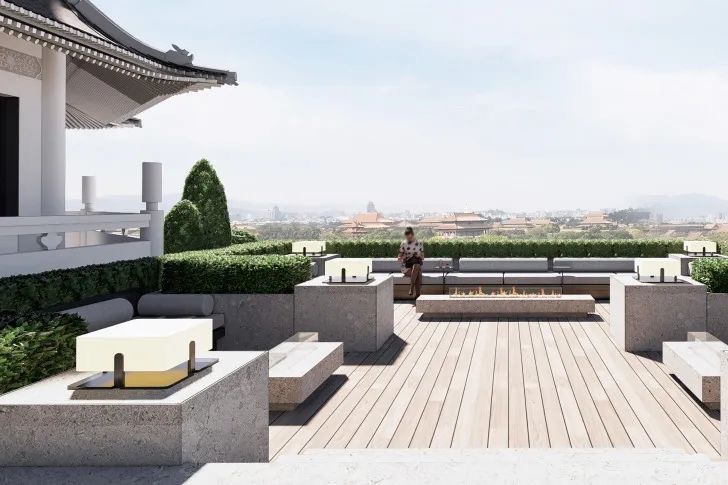 Newly opened UrCove Beijing Forbidden City offers views over Tian'anmen Square and the Forbidden City
While many hotel brands are by nature international – both in their own property map and their clientele – that doesn't mean they can employ a one-size-fits-all approach to marketing, or merely translate campaigns and communications from one language to another. To be successful, international hotel brands must also embrace localization, making strategic choices about marketing, partnerships, and even amenities and design to best suit their target audiences. Let's look at how five different hotel brands are successfully localizing for the Chinese market.
Localized Hotel Brands
Launched in 2019, UrCove is a made-for-China hotel brand created through a joint venture of Hyatt and BTG Homeinns Hotels Group. Dragon Trail has assisted UrCove with bilingual website development for desktop and mobile from the time the brand was first established, and since July 2022 also runs the hotel group's WeChat and Weibo accounts.
While UrCove offers the high-quality facilities common to urban business travel the world over, properties are developed with the contemporary Chinese traveler in mind. With the growing trend for fitness alongside the value of privacy in the pandemic era, UrCove is currently promoting "Wellness Rooms" that have their own fitness equipment such as exercise bikes and weights. Open to all guests, UrCove's "Wellness Floors" also offer healthy amenities such as high-protein snacks, low-sugar drinks, and more.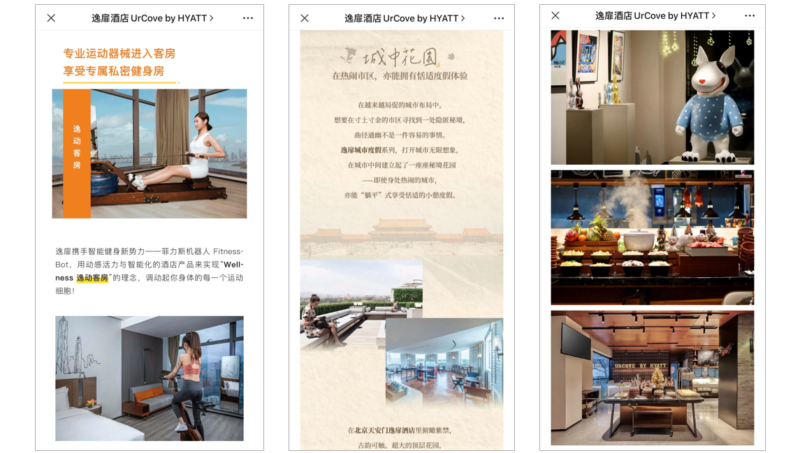 (Left to right) UrCove by Hyatt's Wellness Rooms, new Forbidden City hotel, and Beijing International Exhibition Center hotel's common space with all-day dining and an art gallery
With two new hotels recently opened in Beijing, UrCove is also tapping into the current trend for local area travel and staycations. One of these is the closest foreign-branded hotel to Tian'anmen Square and the south gate of the Forbidden City, which you can see from the hotel terrace. The other, UrCove Beijing International Exhibition Center, embraces the brand's slogan of "UrCove, your friend," with a laid-back, multi-use common space with a café, all-day dining, bar, meeting rooms, a 24-hour gym, and even a small contemporary art gallery.
Localizing B2B Marketing
Eight out of Club Med's 64 properties are located in China, and the global resort brand opened a WeChat Official Account for the travel trade in April 2022. Dragon Trail manages operations for this account, editing content and creating layouts for articles. Dragon Trail also puts together the OA's menu bar, adjusts automatic keyword-based replies, and provide monthly reports on account performance.
The content, published four times a month, highlights promotions and news, with advice and support for travel agents to sell products that suit market concerns and trends. For example, based on the trend of local area travel, Club Med promoted holiday experiences for families and corporate clients at Club Med Joyview properties, highlighting the Beijing Yanqing property – which is within the Beijing municipal area but also surrounded by nature, with its own vineyard and lots of outdoor activities.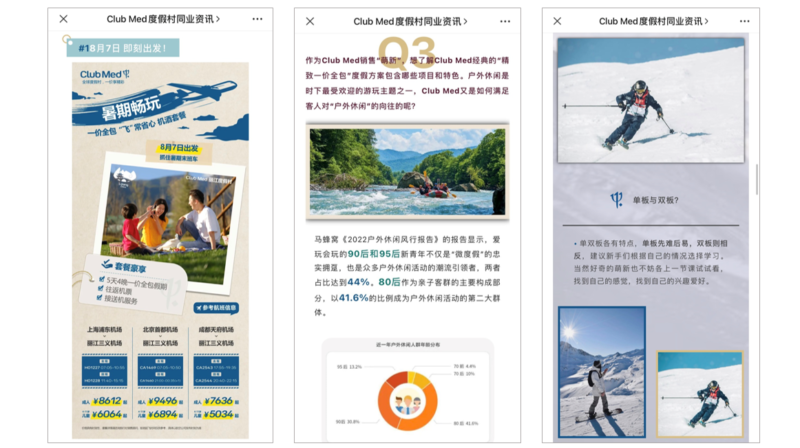 Club Med's next B2B WeChat account offers market research, answers to FAQs, and deals to suit the most up-to-date travel trends
Another article shared must-know market trends based on the latest industry reports, with information about how Club Med products and properties match up – including appealing to millennials, and offering unique experiences and outdoor activities. Getting ready for future sales opportunities, the account has already published a guide for the 2022/2023 ski season, with useful advice on sales and information to share with clients – covering topics like equipment and safety. Club Med has two ski resorts in China, which offer ski instruction as part of their all-inclusive package.
Localizing Global Campaigns
When it comes to marketing campaigns, hotel brands don't necessarily need to start from scratch for the Chinese market, but they do need to consider which tweaks and distribution channels they can use to ensure the campaign reaches its maximum impact.
For example, Preferred Hotels and Resorts' "Where Next" campaign is an ongoing sales and marketing recovery campaign aimed at stimulating travel. It has involved 309 hotels, generated 6k room nights, 2.1M USD revenue, 160 million global media impressions. The campaign includes both marketing and sales promotions, including a global video campaign from 2021 that targeted different market segments around the world, including couples, families, friends, and retirees. There were two sales promotions: one with a unique welcome experience, and various free upgrades, and another block booking promotion at more than 125 destinations – in China, for example, a WeChat article promoted the change to book up the whole swimming pool area at a Shanghai hotel. As well as materials translated into Chinese, the Chinese version of "Where Next" was promoted in partnership with a Chinese short video influencer, with posts across Weibo, WeChat, Xiaohongshu, BiliBili, Tencent Video, and iQiyi.
Small Luxury Hotels of the World's May 2021 global video campaign encouraged people all over the world to reconnect after the pandemic, reflecting on the emotional and restorative aspects of travel, and finding simple and pure joys in life. At the same time, in China, SLH worked with travel influencers and employees to share travel experiences, and encouraged and inspired consumers to enjoy their own lives and the beauty of travel through the creation of customized posters. On Chinese social media, the campaign received 1.6 million views, was shared by 1,500 users, and resulted in the addition of more than 4,000 followers to SLH's WeChat account
Local Partnerships
In 2022, Marriott has gotten its highest views and engagements on Weibo and WeChat through a number of China-specific partnerships with major local brands. One of these was a promotion together with travel platform Fliggy, offering special deals to Alipay mobile payment members. Another is the launch of a joint credit card together with China CITIC Bank. Finally, in an ongoing partnership, Marriott has teamed up with Chinese internet giant (and WeChat owner) Tencent to be the official hotel sponsor for a popular online game called Honor of Kings, including hosting viewing events and meet and greets for the related King Power League e-sports competition.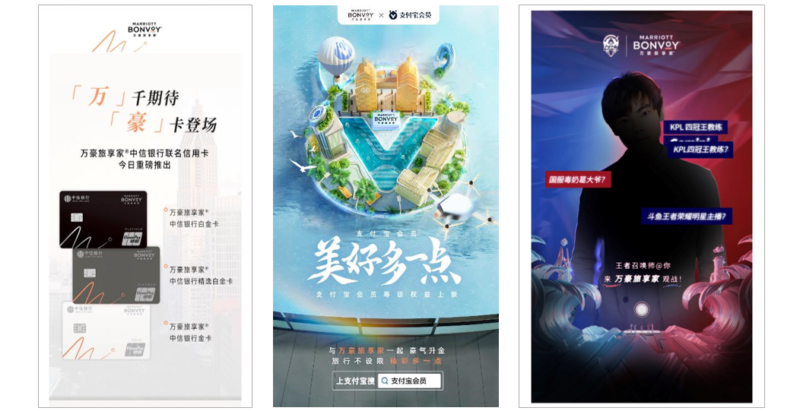 Marriott's 2022 partnerships with (left to right): China CITIC Bank, Alipay, and Tencent's Honor of Kings
Dragon Trail has worked with leading hotel and resort brands around the world on B2C and B2B marketing, KOL collaborations, booking and payment technology, and website development. Please contact us for more information about our work and how we can help your hotel brand's performance with the Chinese market.