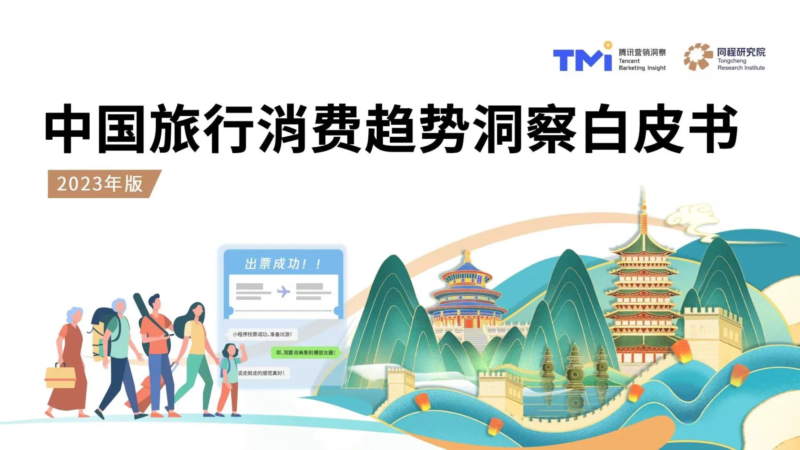 Released on 30 May by Tencent Marketing Insight and Tongcheng Research Institute, the Chinese Travel Consumption Trends White Paper 2023 outlines top consumer trends and preferences for travel, based on a survey of more than 2,000 travelers.
Click here to read the full original report (in Chinese). We've summarized the main trends here.
– 89% of respondents reported increased interest in traveling in 2023.
– 71% were planning to increase the number of trips they took in 2023, compared to previous years.
– 82% were planning to increase their travel budgets compared to 2019, seeking more comfortable accommodation, plus better food and local experiences.
– The top four trends for Chinese travel in 2023 are: 1) Niche and unique; 2) Free and relaxed; 3) New surprises and discoveries; and 4) In-depth local experiences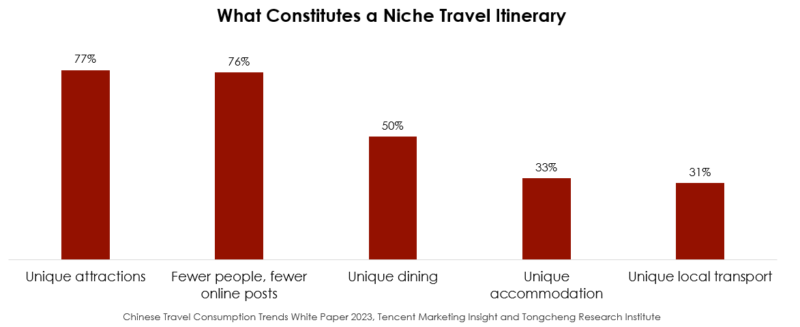 Looking at the 2023 May Labor Day holiday, searches for "niche" or "non-mainstream" (小众) were up by 172%, with searches for "unpopular" (冷门) up by 113%. This shows that Chinese travelers are now actively seeking out off-the-beaten-track destinations and trying to avoid crowds.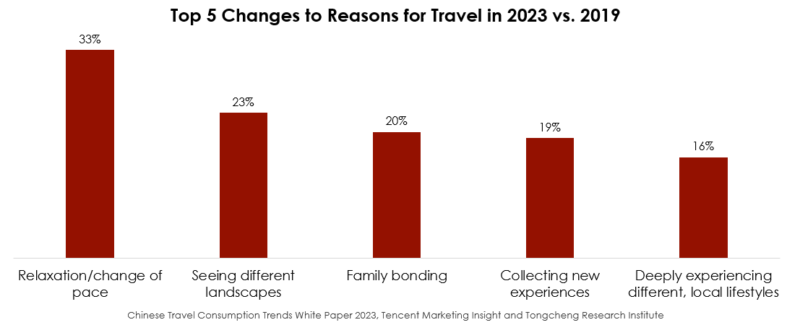 Chinese travelers are increasingly likely to be seeking relaxation when they travel. 65% said they didn't want their travel days to be fully planned with activities. Visiting natural attractions and seeing flowers were popular springtime travel activities this year, and there was also a significant increase in searches for temples.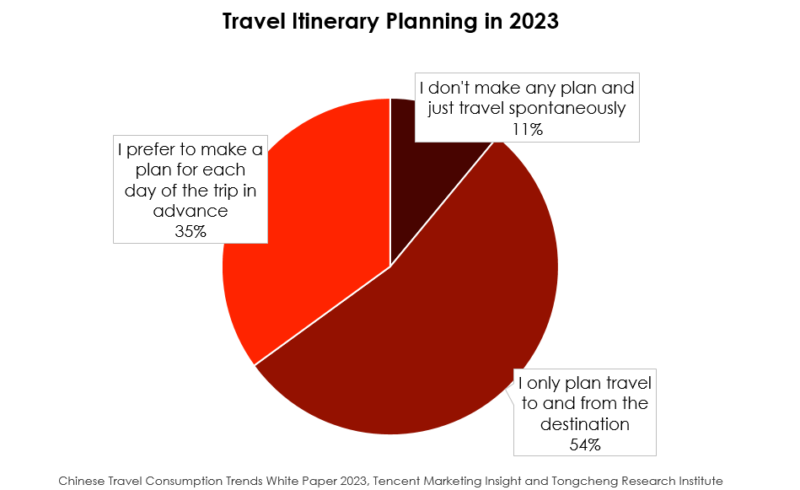 The report also highlighted the value and popularity of WeChat mini-programs for Chinese travelers. 61% of respondents said they use WeChat mini-programs to purchase travel products and services while on trips. 34% said they use mini-programs for accommodation, transportation, attraction tickets, activities, and/or F&B, while 24% each use the mini-programs of travel platforms and travel agencies. 80% of Tongcheng's MAUs come from its WeChat mini-program.

WeChat mini-programs are not only seen as more convenient to use and find than stand-alone apps, but they're also perceived as more reliable and authoritative sources of information because they are on WeChat