Approximately 70,000 Chinese tourists visited Ireland in 2017, an increase of 10,000 from the previous year. But this could just be the start of a surge in Chinese visitors to Ireland, thanks to the launch of direct flights from both Hong Kong and Beijing to Dublin this June, as well as a multi-faceted marketing approach from both Dublin Airport and Ireland's tourism bodies.
Chinese tourism to Ireland
There is already significant segmentation in Chinese travel to Ireland, notes Siobhan O'Donnell, Head of External Communications at Dublin Airport. The largest segment is group tours that come to Ireland as part of a combined trip with the UK. These travelers spend around three nights in Ireland, says Louise Finnegan, Head of Business Partnership at Tourism Ireland, a tourism organization that promotes both the Republic of Ireland and Northern Ireland. This combined UK-Ireland tourism is possible because of a visa scheme that allows Chinese to travel freely within Ireland and the UK using either an Irish or UK short-stay visa.
This kind of group tourist from China is "interested in the world-class famous destinations in Ireland, such as the Cliffs of Moher, Trinity College and Guinness Storehouse," says O'Donnell, noting that "These visitors tend to have lower proficiency in English, and rely therefore on tours and Chinese guides."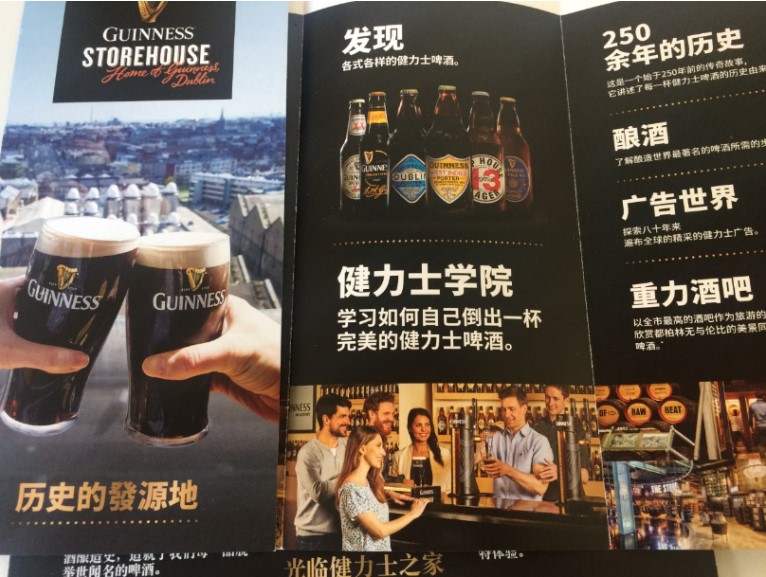 Top Irish attractions like Guinness Storehouse already cater to Chinese visitors
The second largest segment is VFR (Visiting Friends and Relatives), usually Chinese parents visiting their sons and daughters who live or study in Ireland. At an estimated 60,000, Chinese are actually the largest minority ethnic community in the Irish State, explains O'Donnell. "This drives their parents and relatives to come visit, especially during the European holidays, when they can spend more time together," she says. The popular travel times for this segment also helps to disperse the inflow of Chinese tourism throughout the year, so that it's not only concentrated around major Chinese holidays.
The last segment of Chinese tourists to Ireland are the Free Independent Travelers (FITs). "They are usually between 20-40 years old, and tend to be more experienced in international travel, highly influenced by social media and digital content, and to speak English a bit better. Tourism Ireland has been focusing more on these lately, with the latest Game of Thrones and Star Wars online campaigns in China, and the self-drive guides to the ring of Kerry in partnership with DiDi Car Rental," says O'Donnell.
Getting 'China-ready'
On the morning of June 2, 2018, Dublin Airport will welcome the arrival of its first-ever direct flight from East Asia. Cathay Pacific's Hong-Kong Dublin route will have four flights a week in each direction. The announcement of this new flight route last summer has kicked both Tourism Ireland's and Dublin Airport's Chinese marketing and readiness efforts into high gear.
At the same time, there have been rumors about a Beijing-Dublin flight since summer 2017, and this route was finally confirmed and announced on March 15, 2018. Operated by Hainan Airlines, these flights will also take place four times a week from June 12, with two flying directly to and from Beijing, and two with a stopover in Edinburgh. The combination of these two flight routes launching in June works perfectly to attract visitors from both the south and the north of China to Ireland.
Tourism Ireland already has a Chinese website and is active on both WeChat and Weibo. But the organization will be launching a new Chinese website in April 2018 in advance of the new flights. The new website will provide further information on Ireland, including suggested itineraries, ideas for things to do, offers for consumers and information on attractions and service providers. "For example, promoting the beauty of Ireland's countryside, coasts, mountains and towns. There are lots of suggestions for amazing places to visit and things to do whether your interest lies in discovering the past; or getting to know more of Ireland's history; or in Ireland's culinary and food culture; or visiting filming locations for hits like Game of Thrones and Star Wars. There is lots of information to help visitors on their journey," says Finnegan.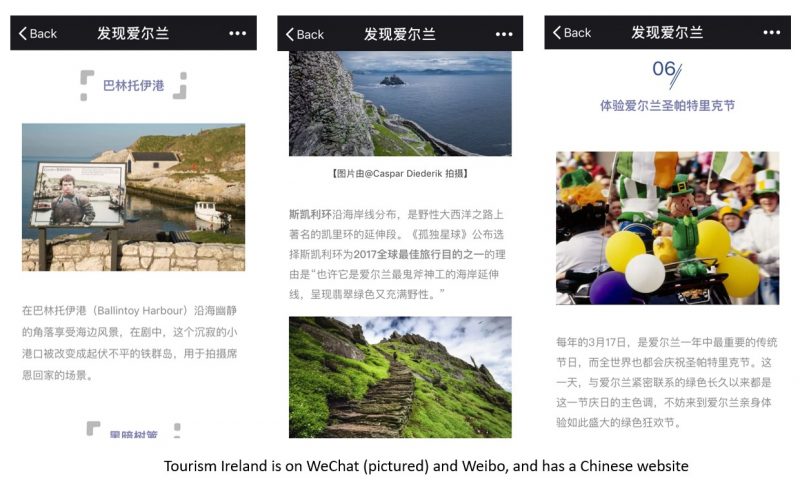 Tourism Ireland is also active in B2B marketing to China, promoting a range of products and itineraries, "focused around our key experience brands of Northern Ireland, Wild Atlantic Way, Ireland's Ancient East, and Dublin," says Finnegan. This B2B marketing will get an extra push in the months leading up to the launch of the Cathay Pacific and Hainan Airlines flights to increase promotion of Ireland as a destination for Chinese tourists. Irish tourism industry and trade partners will visit China on a sales mission in May, stopping in Beijing, Shanghai, Guangzhou and Hong Kong. Back in Ireland, Failte Ireland – the national tourism development authority for the Republic of Ireland – has led a program to help the Irish tourism industry to prepare for Chinese visitors, including COTRI certification.
Dublin Airport has also been diligently preparing for the new flights, with a 'China-Ready' group commissioned by the airport's Managing Director, Vincent Harrison. With the aim of improving the passenger journey for Chinese visitors in particular, the group has brought together different airport departments – including operations, marketing, security, commercial, retail, and communications – for regular meetings and training.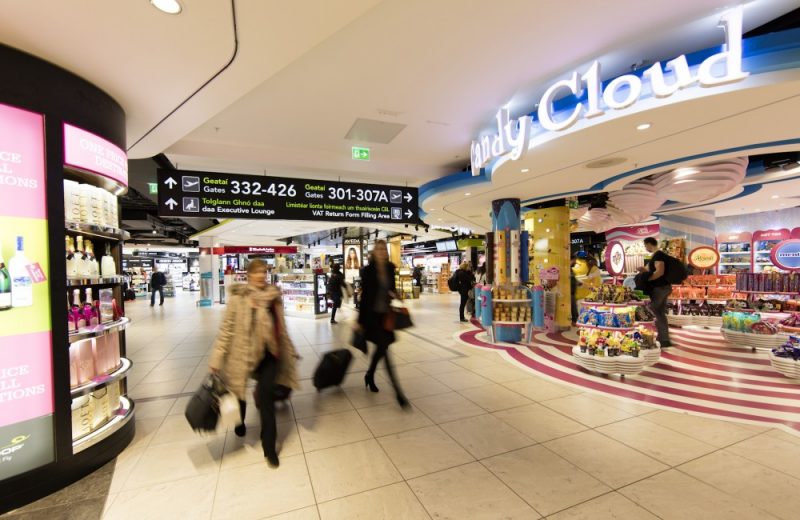 Dublin Airport's 'China-Ready' group is working to improve the passenger journey for Chinese travelers
"We have developed extensive market research on the Chinese outbound tourist, their preferences, behaviors, and motivations to travel, and compiled comprehensive benchmarking reports against best-practice case studies, not only in the airport and aviation industry, but also going beyond – to the hospitality and tourism high-performers," explains O'Donnell.
As part of the 'China-Ready' initiative, Dublin Airport's duty-free shops have already started accepting Alipay, making it "one of the few airports in Europe to provide a Chinese e-payment solution and possibly the first to have it operational prior to a direct flight commencing," remarks O'Donnell. With the importance and popularity of duty-free shopping for Chinese tourists in mind, Dublin Airport is also working to hire Mandarin-speaking shopping ambassadors and to provide tax-free shopping refund facilities near the departure gate.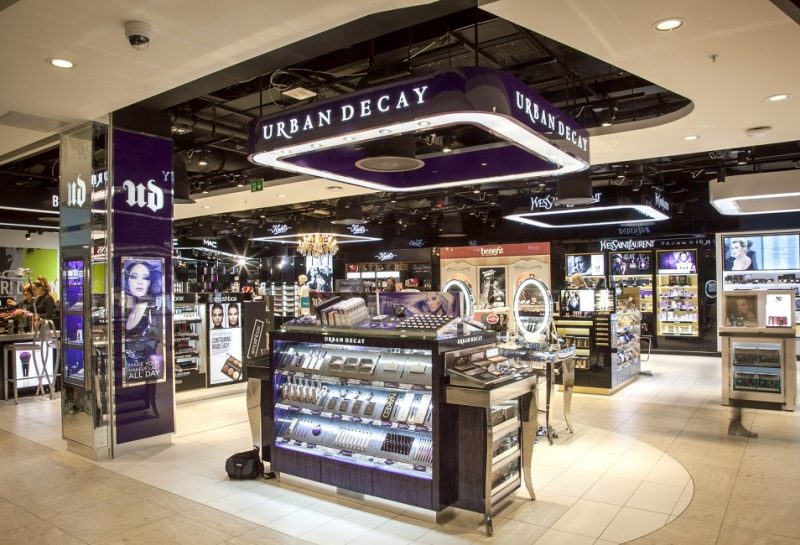 Dublin Airport's duty-free shops, The Loop, already accept Alipay
As to other airport facilities, O'Donnell says they are creating Mandarin-language signage in key locations, as well as coordinating with suppliers "to provide hot water near the gates, and to upgrade our food and beverage, lounge, and shopping offers in the future to be even more attractive to the Chinese visitors."
Dublin Airport already stands out for its Western social media accounts, and has won awards for its Twitter and Instagram accounts on multiple occasions. Of course, the Chinese social media landscape is quite different both in terms of platforms and content, so this will be a new challenge for the airport to take on. They are launching their own WeChat account in early April "that will be tailored and personalized to the Chinese audience. It will be a platform to drive engagement between the Chinese passengers, Dublin Airport and Ireland, with both exciting tourism content and informative tools to make their journey as smooth and pleasant as possible," says O'Donnell, adding that the WeChat account will also inform passengers about retail promotions at the airport.
What to expect?
Direct flights, especially when combined with a concerted marketing effort, have a potentially enormous impact on Chinese tourism. Take Israel as an example, which got its first direct flights to China in 2016. That same year, the number of Chinese tourists surged 68.6%, from 47,004 in 2015 to 79,268. It didn't stop there, either – the number of direct flights continued to grow into 2017, and so too, the tourists: 2017 saw another 41% increase, to 113,000. At the same time, Israel also reformed its visa policies for Chinese citizens, and promoted new marketing initiatives, but Ireland is certainly engaged in marketing, and also benefits from its UK short-stay visa agreement.
In addition to a quantitative change, both Tourism Ireland and Dublin Airport see potential for a shift in how Chinese travel to Ireland. O'Donnell says she expects even greater segmentation, as well as the continued growth of FIT. In addition to an increase in independent travelers, Tourism Ireland is also expecting longer-stay tour groups. Both of these changes will likely create opportunities for tourism that extends beyond Dublin and Belfast and their major attractions, to areas of natural beauty that should resonate well with new generations of more adventurous Chinese tourists.
O'Donnell says she hopes that growing numbers and market segmentation, including FIT and business travelers, "will spread the word about the beauty of Ireland back home in China, feeding a very healthy cycle for tourism to Ireland."
Knowing what a large impact direct flights can have, Ireland's tourism bodies and Dublin Airport have done extensive work to make sure the word gets out in the Chinese market, with both digital initiatives and B2B marketing. At the same time, they have also prepared their on-the-ground capabilities to accommodate their new arrivals – who may even turn out to be their best marketing channels in the end.