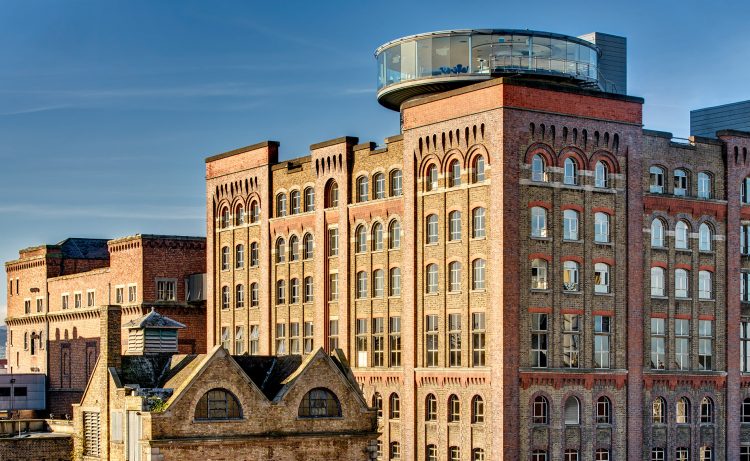 Ireland's no. 1 tourism attraction, Dublin's Guinness Storehouse has gone from almost no Chinese visitors to 47,000 in less than a decade. We talked to Business Development Manager Fiona Herald to learn how they're increasing Chinese tourism numbers – and what Chinese tourists think of the "Black Stuff".
How did you get involved in marketing to China?
I've been Business Development Manager at Guinness Storehouse for 10 years. About 7 or so years ago there was a lot of chat in the industry about the potential of the Chinese market. As I explored this more deeply I felt very strongly that China had a real opportunity for Guinness Storehouse. Guinness Storehouse ticked a lot of boxes for Chinese tourists. Firstly, the Guinness brand had a presence in China where the drink was positioned in the premium imported beer category, and made here at St James's Gate in Dublin. I learned that Chinese loved iconic brands and they also are motivated to visit "must see" attractions. For all these reasons I put together a strategy positioning Guinness Storehouse as the place to visit on an itinerary to Dublin & Ireland. I got buy-in from the rest of the business. This was really important, because I knew the market wasn't going to provide a return overnight, so it was a long term investment and commitment.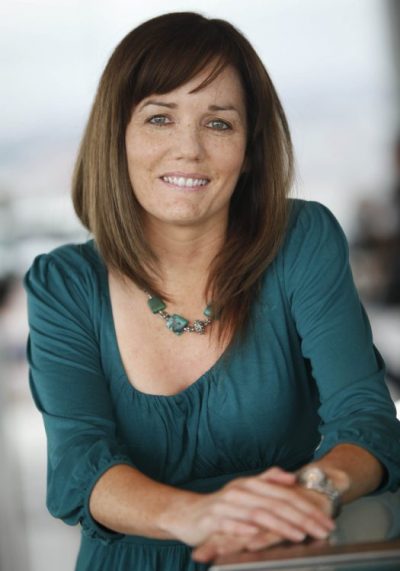 Guinness Storehouse Business Development Manager, Fiona Herald
How many Chinese visitors do you receive annually?
China is now our 9th biggest market, and in 2017 we welcomed 47,000 visitors from China & Hong Kong. We also track business from other Asian regions, and there has been substantial growth in business from Taiwan, Malaysia, Singapore and South Korea. China and Hong Kong represents about 3% of overall business to Guinness Storehouse. Interestingly, in 2017 we welcomed more Chinese visitors than visitors from Canada, Australia & New Zealand.
Has the number of Chinese visitors to the Guinness Storehouse changed much in the last three years?
There has been significant growth in Chinese visitors to Guinness Storehouse over the last three years. In terms of overall business, Guinness Storehouse is Ireland's number one tourist attraction, and in 2017 we welcomed 1.71 million. Back in 2010-2011 Guinness Storehouse had virtually no Chinese visitors, to almost 50,000 visitors in the space of a few years. If you look specifically at the last three years, Guinness Storehouse business from China has actually grown by 54%.
Can you describe a typical Chinese visitor to the Guinness Storehouse? Are they more likely to be traveling independently or as part of a group?
I know as the market grows and develops and as the Chinese visitor becomes a more experienced traveler, I can see there will be growth in the independent travel segment. However, currently our key source market from China is B2B, specifically business from travel agents and tour operators. I know from engaging in the market that travel agents play a vital role in arranging travel abroad, with major reasons for consumers preferring to use an agent including convenience, language barriers, visa preparation, knowledge gaps and value. Analyzing the business we receive, we know that about 77% of Guinness Storehouse [Chinese] business is via the travel trade channel – specifically via Chinese agents based in China but largely via the UK inbound market. Guinness Storehouse is featured as part of UK and Ireland itinerary or perhaps part of a larger European itinerary. There are also a significant number of visitors via Chinese Destination Management Companies based in Ireland.
We heard that if you have a visa to the UK, you can visit Ireland without an additional Schengen visa?
Currently a short-stay visa scheme allows Chinese who have a short-term UK visa, to come to Ireland without the need for a separate Irish visa. Under the British Irish Visa Scheme, visitors from China can travel freely within the common travel area that is Ireland and UK using either an Irish or UK short-stay visa endorsed with "BIVS". This scheme operates through a reciprocal visa arrangement, whereby Ireland and UK recognize short-stay visas issued by the other for travel to their jurisdiction.
So you're getting mostly tour groups – what kind of size are the tour groups?
Of the 77% of current business generated by the travel trade – over 71% are groups over 15 persons and 6% are groups of 15 or less. There has been a trend of bigger group sizes over the last few years. Coach series as part of UK and Ireland programs are growing, and many are running at full capacity of up to 50 pax per group. Several years ago, groups were much smaller.
What about age demographics?
Group visitors tend to be older. I know a significant number of visitors to the Storehouse are under 35, but for the groups sector the age profile is older and more like 40+. The age profile is likely to reduce as the independent travel sector increases and Chinese become more comfortable with planning a visit here.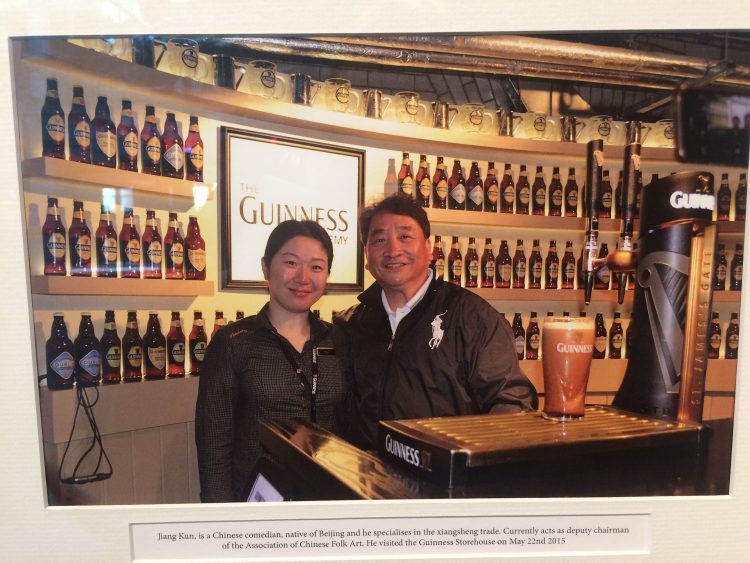 Chinese comedian Jiang Kun features on Guinness' 'wall of fame'
Why do you think the Guinness Storehouse is one of the most popular attractions in Ireland for Chinese visitors?
Guinness is an iconic global brand, and Guinness Storehouse as the Home of Guinness in Dublin would be considered the "must see" attraction on any visit to Ireland. When I first traveled to China and spoke with tour operators and travel agents, it was amazing as there limited awareness on Ireland, but the agents' faces would always light up when I showed a photo of the iconic pint. I find there is a real genuine interest and love for Guinness. Over the years the awareness on Guinness Storehouse has grown, with many agents having visited on familiarization or educational trips, and seeing and experiencing first-hand the Home of Guinness. As the agents' knowledge grows so too does the conversations with agents. Agents are asking probing questions like what special experiential tours can be offered or what's new since they last visited.
How did you first reach out to the Chinese travel industry?
China is located 8,000km from Ireland, with a population of 1.35 billion people, 31 provinces, 656 cities, 48,000 dialects and the largest outbound travel market in the world. Initially the size and scale of this market blew me away. However, thankfully Tourism Ireland offered the tourism industry in Ireland a low-cost entry option into the market via country club membership including participation in China Sales Missions. It was through these sales missions that I was able to meet the key players in the market and I set about building relationships and connections.
Over the last few years I've also worked closely with Chinese incoming operators in the UK and with specialist Irish-based Chinese tour operators and Destination Management Companies. While most of our focus has been on B2B proactive sales and education, we have also welcomed media from China.
It sounds like what you're doing is really working, and the more groups you get, the more word of mouth it will generate. You might not have a WeChat account, but every Chinese visitor who comes here does, and they'll be posting about you on their Moments and giving you free advertising that way.
The Chinese are very active on social media – the most active in the world. I see it as an extension of guanxi, and these social connections and relationships are crucially important and highly influential for Chinese. Although currently Guinness Storehouse does not have a WeChat account, there are plans in the future to develop this.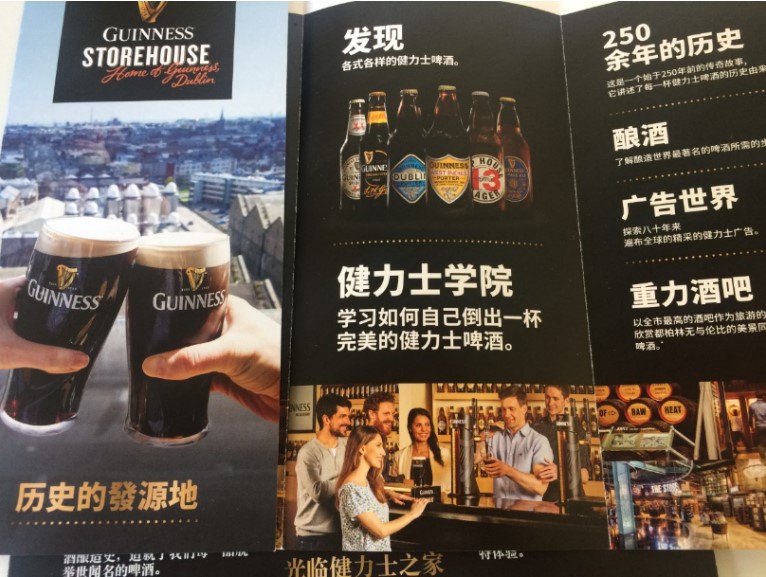 Guinness Storehouse offers informational brochures in Simplified and Traditional Chinese

Do most of your Chinese visitors speak English?
Most visitors from mainland China do not speak English. From a sales perspective, when selling Guinness Storehouse to the B2B sector many travel agency staff would speak English, particularly in Beijing and Shanghai, but mainly I've used translators to assist at such business meetings. My Chinese doesn't extend beyond nǐ hǎo.
We knew that if we wanted to welcome Chinese visitors to the Home of Guinness and immerse them in a Guinness experience we needed to talk their language and become "Chinese Friendly". So we do have Chinese speaking staff, Mandarin and Cantonese promotional brochures, sales collateral, website, audio tours etc. Also we have rolled out cultural awareness training with all our staff so they get a better understanding of the cultural differences and etiquette, particularly around food and drink.
You said you adapted the catering – do you offer Chinese dishes?
It's really funny, when I first engaged with the market, I was told Chinese don't like cheese, don't eat dairy, prefer eating Chinese food and lots of other stereotypes, generalizations and do's and don'ts of a Chinese visitor. From my experience there is a willingness to try other things. For instance, our bestselling dish is beef and Guinness stew, and Chinese visitors love this along with lashings of Irish butter on Guinness bread. So tastes are changing. I do think tour guides can be very influential in helping visitors experiment and try something different. The Guinness food items sell well in our retail store particularly Guinness chocolate and Guinness crisps.
Is there anything you see as unique about Chinese visitors, compared to those from other countries?
The Chinese and Asian culture is different from the Western culture, and we have tried to embrace this at Guinness Storehouse. I have to say I've really enjoyed getting to know the market and have built strong and loyal relationships with clients. I would say yes the culture is different, but something that Chinese visitors have in common with all our visitors is that they are here on holiday and want to enjoy themselves, learn more about Guinness and of course have a pint!
Guinness Storehouse is committed to this market for the long haul. This year is an exciting year with new direct route with Cathay Pacific from Dublin to Hong Kong service four times per week from this June. There is also lots of chat about direct flight from mainland China, and this will be a game changer.
What do they think of the beer?
At the end of the tour, visitors get to enjoy a complimentary pint of Guinness in Gravity Bar with panoramic views over the city. With high visitor satisfaction ratings from surveys conducted and the fact that an ever increasing number of Chinese are visiting, is proof that they have enjoyed the whole experience, including the Guinness!