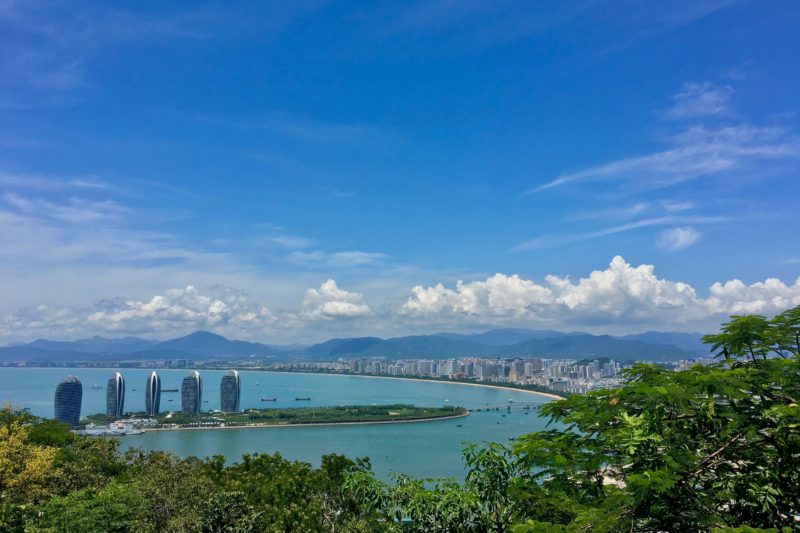 Despite a disappointing Chinese New Year for domestic tourism, Hainan (pictured) still came out on top as destination, with record-breaking duty free sales
Heading into 2021, China was on track for a surge in domestic travel for the Lunar New Year public holiday (11-17 February). While this didn't exactly come to fruition due to COVID outbreaks and travel restrictions, local travel and consumer spending data from the week show strong promise of a continued recovery.
Decrease in Domestic Travel
Trips by rail, air, road, and water routes were down -34.8% year-on-year during the Chinese New Year public holiday week, and down -76.8% compared to 2019.
The holiday period saw 3.57 million air passengers, a -45.16% year-on-year decrease, and a -71.7% decrease compared to 2019. Flights are usually at 96.17% capacity during the CNY period, but this year they were at 57.51%. The holiday period saw -51.64% fewer flights than in 2020, and -57.72% fewer flights compared to 2019.
Stay Local ≠ Stay Home
Based on data from Amap, mobility was actually up by 162% compared to last year, and 80% of those who traveled over the CNY period were local residents. According to a report released by the China Tourism Academy and China Telecom, 86.8% of CNY travelers stayed within their home province. Continuing the self-driving trend that was so prominent in 2020, car rental was up 82% year on year, according to Ctrip, with an average rental period of five days.
Ctrip reported a 300% increase in ticket purchases for local attractions. Lvmama reported that online searches for museums in Henan were up 500% year on year. Theme parks, such as Shanghai Disney, were especially popular, according to Lvmama. Tongcheng saw double the booking volume for local attractions compared to CNY 2019.
Beijing was one of the top cities for local travel. According to the Beijing Culture and Tourism Bureau, from 11-17 February, Beijing's 147 attractions received 7.81 million visits, 3.7 times more than in 2020, and 83.8% of 2019's numbers. Spending at these attractions nearly doubled compared to 2019, and was nine times higher than in 2020.
While long-distance travel was off the table, that didn't stop Chinese consumers from treating themselves in other ways during the holiday period. Spending on retail and F&B was up 28.7% year on year, reaching pre-pandemic levels. CNY cinema box office sales surpassed 8 billion yuan, a new record.
Accommodation: The Staycation Effect
Local hotel bookings were up 660% year on year, with a 190% increase in hotel transaction volume. According to Ctrip, 60% of hotel bookings were for 4- and 5-star properties, with an average cost of RMB2,906 (US$449) per night. Tongcheng-eLong reported that more than 80% of hotel guest were local area residents. Lvmama reported an 80% year-on-year increase in reservations of high-end and theme park hotels.
It wasn't just luxury hotels that got bookings for CNY 2021. Chinese homesharing platform Muniao said that bookings reached 90% of 2019's volume for Chinese New Year, and were 22 times higher than in 2020.
Hainan Is Still a Hotspot
Without the travel restrictions that held back Chinese New Year 2021's anticipated tourism surge, Hainan was definitely the destination to watch. The island province was the second-most popular province for flight bookings as of mid-January. And in the end, it still stood out as a travel hotspot.
Hainan's resort city Sanya was the no. 1 CNY 2021 travel destination according to travel website Mafengwo. It was the 3rd most popular destination for homesharing platform Tujia, and the 8th most popular city for homesharing rentals on Muniao. Sanya was also the most popular city for car rental and self-driving trips during CNY 2021, according to Ctrip, with an increase in car rentals of more than 100%.
More than a beach destination, Hainan has also established itself as a duty free powerhouse since 2020, and duty free sales during Chinese New Year 2021 actually surpassed those from China's October holiday in 2020, with RMB 1.5 billion in sales ($232.27 million), compared to RMB 1.04 billion ($155.3 million) last October.
What's Next?
By 19 February, after the public holiday had ended, so too did China's mini COVID wave. On that day, there remained only three areas in China designated as "medium risk" and none as "high risk."
China's 2020 recovery and trend of last-minute bookings means that domestic travel should now bounce back easily – unless there are new COVID-19 outbreaks. And even if there are, these outbreaks tend to be contained quickly. The next public holiday period in China is a three-day weekend in early April, for Qingming Festival, followed by a five-day holiday at the start of May. (Click here to check China's full 2021 public holiday calendar)
The China Tourism Academy projects 4.1 billion domestic trips in 2021, an increase of 42% over 2020. They project outbound travel to increase by 70% compared to 2020's 20 million trips, but so far, no international travel restrictions have been lifted – with the exception of travel to Macau.
Sources:
新加坡商务会议专用设施启用,商务旅客可无需隔离停留14天;2020年度国内旅游人数同比下降52.1% | 日读
荐文 | 盘点2021春节文旅体市场:红色旅游、文博游走热,冰雪、电竞成扶持重点领域
春节7天全国发送旅客9841.6万人次;​春节酒店表现:三四线城市抗跌,城市周边度假火爆 | 日读
报告 | 从全面复苏走向高质量发展——2020年旅游经济运行分析与2021年发展预测(中国旅游经济蓝皮书No.13)

Trip.com report: Local trips and staycation a hit during Spring Festival, with ballooning demand for scenic spot ticketing
China's air passenger numbers down 45% year-on-year over Lunar New Year