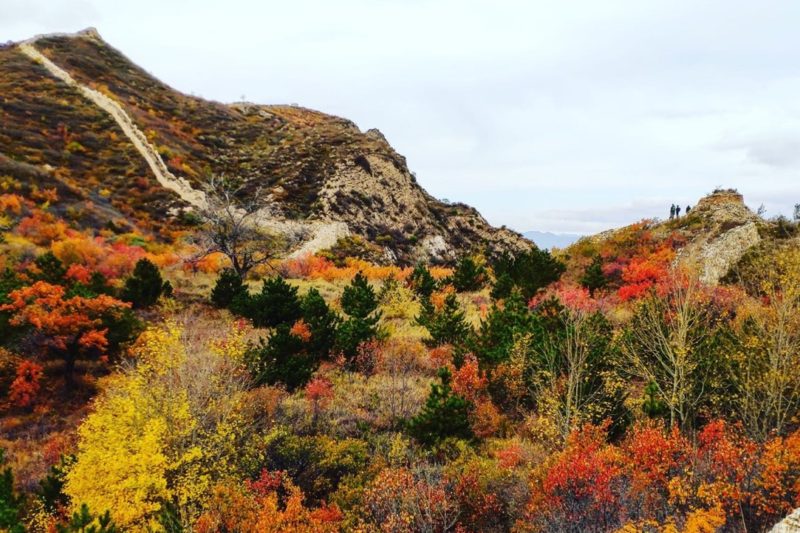 The Great Wall in October. Photo by Bora Shnitman.
China's 2021 National Day holiday (1-7 October) was expected to see 650 million trips, with OTA Tongcheng projecting that travel would recover to 80% or more of pre-pandemic levels. But the results of the Golden Week holiday fell short, with just 515 million domestic trips – a 1.5% decline compared to last year, and just 70.1% of 2019's numbers.
What happened?
Although around three-quarters of Chinese are fully vaccinated, outbreaks throughout the summer and leading up to the holiday are key to understanding the decline in travel. Cross-provincial travel from medium- to high-risk areas was banned, and group tours in Fujian Province canceled. Additionally, teachers, students, and their families in some areas were advised not to travel over the holiday period. Restrictions are stringent and can be imposed quickly – last week, hundreds of tourists to Xinjiang were trapped in their cars for more than 30 hours after a few positive cases were detected in the region.
Moreover, while the first week of October is usually accompanied by excellent weather, this year saw heavy rains across northern China, including flooding that partially destroyed the old city wall of Pingyao, a popular tourist destination.
Continuing trends
Local travel has been central to China's domestic tourism industry all year, and definitely stood out this past week. The Civil Aviation Association of China reported a 19.6% year on year decline in flights during the 2021 October holiday period. Travel website Mafengwo reported that 40% of holiday travel was local, and Meituan said 74% of attraction ticket sales were for travel within one's home province.
Small group travel and outdoor activities such as camping remained popular, while uncertainty about travel restrictions and a tendency to stay closer to home is making travelers more spontaneous. Qunar reported that flight bookings are being made later than ever, and trips over the holiday tended to be short – just 1-2 nights. Short video platform Douyin reported a ten-fold increase in searches for small group travel and attraction recommendations during the holiday, compared to last year, showing not only that travelers were making last-minute plans, but also Douyin's increasing importance as a travel information source.
Camping has been a major post-pandemic tourism trend in China. Photo by Bora Shnitman.
Live streaming and online "cloud travel" emerged early in the pandemic as a way for Chinese travelers to satisfy their wanderlust digitally, and this programming is still popular – Douyin reported that travel live streams during Golden Week were most popular with the post-80s generation, accounting for 40% of viewers.
The winners
Tourism spending – at RMB 389 billion, was down 4.7% year on year, not even reaching 60% of 2019's level. The major exception to this is Hainan, the tropical island and duty free shopping paradise. Duty free shops in the capital city of Haikou reported a 66.9% increase in spending compared to last year, with a 61.6% increase in the number of shoppers (some 180k between 1-7 October 2021).
Beyond Hainan, Mafengwo reported that Chengdu was the most popular flight destination on its platform, with the Chengdu panda reserve the country's top attraction. Meituan highlighted Universal Beijing Resort as another of the top attractions in the country. Meanwhile, while Chongqing was again the most popular city in China for travel content on Douyin, videos of off-the-beaten-track nature destinations in Guizhou Province – Ahsilisi and Ge Tu Lake – showed the biggest increase in likes.
For accommodation, it was high-end hotels and homesharing that did the best. Ctrip reported an 80% increase in bookings for high-end hotels for the holiday week, compared to the week before. Meanwhile, Qunar said that revenue from homesharing accommodation was up by nearly 50% compared to 2019.