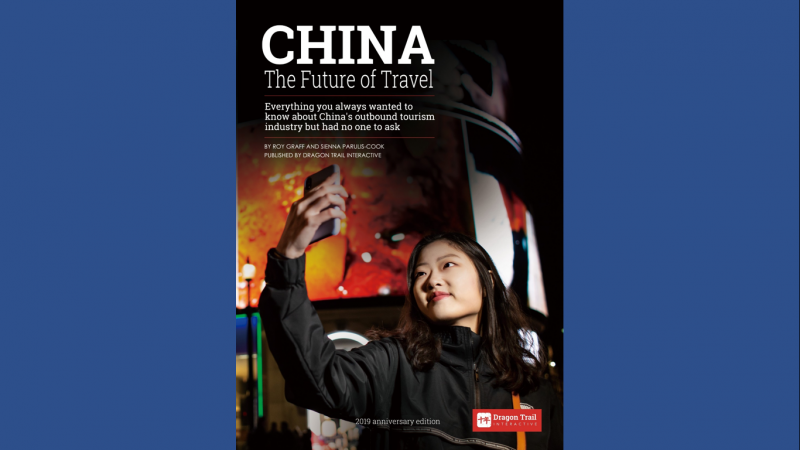 Published by Dragon Trail Interactive, the newly revised handbook to Chinese outbound travel is a vital tool for the global tourism and hospitality industries
London, July 24, 2019 –  China is the world's largest and highest-spending outbound tourism market, growing six-fold from 32 million trips in 2005 to 180 million projected for 2019. As Chinese tourism has grown, it has also become increasingly complex and diverse – the stereotype of large busloads of group tourists following a flag-waving tour guide is no longer applicable for many destinations and businesses. Online and mobile travel now dominates, and independent travel has overtaken group tourism.
"The Western hospitality and tourism industry will need to keep pace with the changes and anticipate what's coming next to continue to take advantage of the boom in Chinese tourism," says Roy Graff, co-author of the new edition. Sponsored by the leading Chinese digital tourism marketing agency Dragon Trail Interactive, the book is intended to bring clarity and insights to tourism, hospitality, and travel retail industry professionals, as well as academics.
Since it was first published in 2005, and through the subsequent updated editions in 2008 and 2015, China, the Future of Travel has been a vital, practical handbook for the tourism industry. The content of the 2019 edition has been completely reviewed, revised, and expanded, and includes brand new case studies and interviews with leading industry experts.
The travel industry professional's definitive guide to Chinese tourists and the travel trade, and an essential tool for effective promotion and marketing in China, China, the Future of Travel includes chapters on:
– The Chinese tourism industry, government tourism bodies, and tourism laws and policies
– PR and media, including crisis management
– Digital marketing, including online travel and Chinese social media
– Understanding Chinese consumers, including age segments, geographical differences within China, niche market segments, and consumer behavior
– Global destinations for Chinese travelers
– Working with the Chinese travel trade, including trade media, trade events in China, and tips on business negotiations and etiquette
– Projections for China's tourism in the next five years
Please click here for your free electronic copy of China, the Future of Travel.
Click here to purchase a print copy:
About the authors
Roy Graff currently serves as Managing Director – EMEA at Dragon Trail Interactive. His tourism career began in 1995, working for an NTO in Taipei. He graduated with a degree in Chinese and Economics from SOAS in 1998 and has been working in the Chinese tourism industry ever since. Between 2003-2005, Roy established the Chinese independent travel division for GTA, a global travel wholesaler. In 2005 he founded the market entry consultancy ChinaContact, based in London. He served in Director roles at Expedia and Travel Leaders Group, and joined Dragon Trail Interactive to open their European office in 2017.
Sienna Parulis-Cook has worked as Communications Manager for Dragon Trail Interactive since 2017, creating educational resources on Chinese outbound tourism and the Chinese digital landscape. With a lifelong interest in Chinese history and culture, Sienna holds a master's degree in Chinese Studies from SOAS, and lived and worked in Beijing between 2006 and 2014. She also leads Mandarin-language tours for groups of independent and semi-independent Chinese travelers in the UK.
Roy and Sienna are both available for interviews and can be reached at communications@dragontrail.com.
Dragon Trail Interactive is an award-winning digital marketing and solutions agency helping travel organizations reach and connect with affluent consumers and the travel trade in China. Founded in 2009 by industry veterans, Dragon Trail Interactive was one of the first digital marketing agencies to recognize the significance of the Chinese outbound travel market to international destinations and the tremendous potential of Chinese social media as a way to tap into that market. The company's clients include national and regional destination marketing organizations, hotels, airlines, cruise lines, attractions, and other tourism brands around the world.