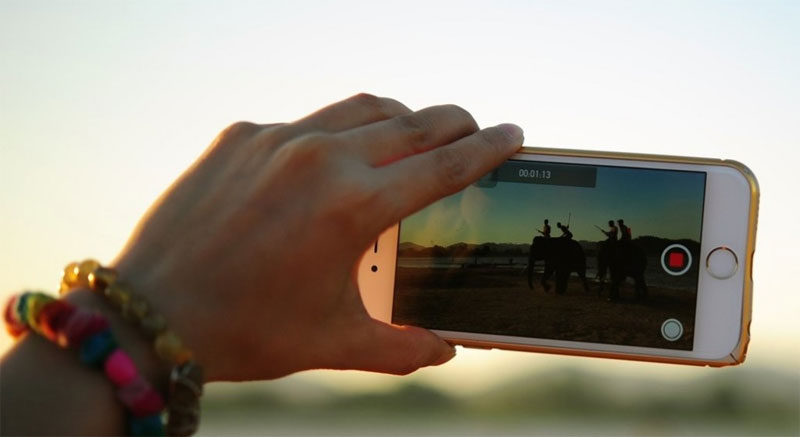 With 565 million users as of June 2017, video is an emerging and increasingly important form of content marketing in China. In fact, watching videos now ranks fourth for online activities among Chinese internet users, after instant messaging, search and online news. In this guide, we'll introduce you to China's top online video platforms, the three different forms of video content, and examples of how each can be effectively used by the outbound travel industry.
Long-form videos
As of December 2016, the three most popular long-form Chinese video platforms are Tencent Video, iQiyi and Youku. These platforms look similar to YouTube, but they are used more to watch professionally produced content rather than amateur videos uploaded by users.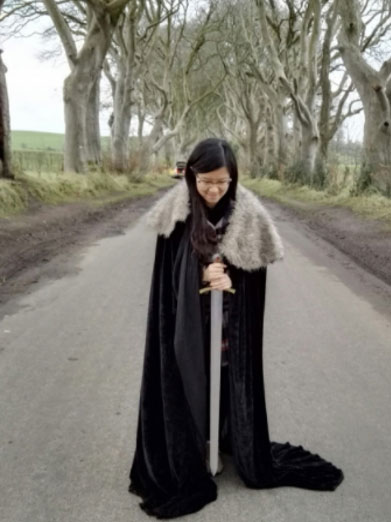 Lu Yingying (SCMP)
It's common for people in China to watch TV shows and even movies online, and this kind of content can have a major influence on Chinese tourists' choice of destinations. For example, travel reality shows like Sisters Over Flowers, where a group of well-known Chinese actresses and models travel to different destinations to complete challenges, has been shot in Turkey, Dubai and Italy, among many other overseas locations. This kind of exposure can be excellent soft marketing. Foreign TV shows that are popular in China can also influence Chinese tourists' travel plans – at least up until the recent ban on group travel to South Korea, locations featured in South Korean soap operas that are popular in China drew many Chinese tourists. Then there's 24-year-old Lu Yingying, who rose to fame in 2016 when she set out to travel to all of the filming locations for Game of Thrones and create an online Chinese-language guide for other fans of the show.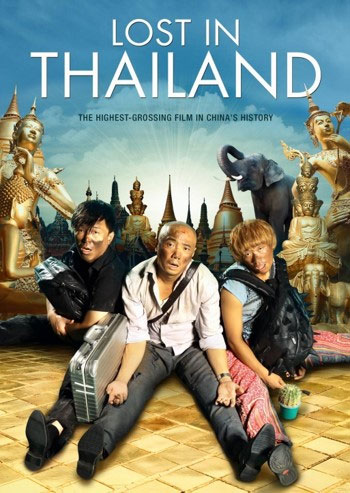 Films have also had a big impact on Chinese tourism. One well-known example is Lost in Thailand, the 2012 Chinese comedy that was followed by two consecutive years of 60% growth in Chinese tourism to Thailand. Similarly, Beijing Love Story has sparked interest in Greece, especially Santorini, and the 2016 Japanese anime film Your Name transformed the small, remote town of Hida into a hotspot for Chinese tourists.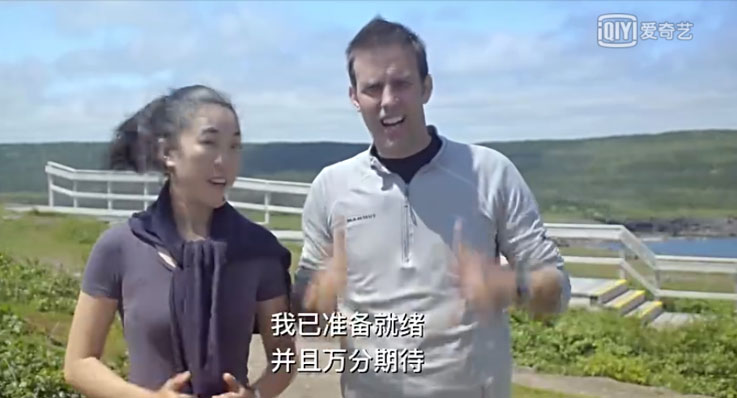 When it comes to the travel industry, Destination Canada is a good example of an NTO that has been effectively using long-form video for years, starting in 2013. The Travel Around Canada series, later called Jia You, introduces viewers to different parts of Canada with videos of around 20-30 minutes, featuring Chinese celebrities and Canadians who are well known in China, such as motorcyclist Ryan Pyle and male model Godfrey Gao. These videos are available to watch on Youku, Tencent Video and iQiyi.
Short-form videos
There were 153 million short video views in China in 2016, and by the end of 2017, that number is expected to rise to 242 million, representing 58.2% growth. Short videos, averaging about 5-10 minutes, together with live streaming, are also what has saved Chinese social media platform Weibo. After a long decline that started around 2013, Weibo has been rising in monthly active users and advertising revenue since 2016, and this can be largely attributed to video content – Q3 2017 saw an average of 1.8 billion short videos posted every day on Weibo, a 740% year-on-year increase.
Short video users are fairly young, with 70% under the age of 34, and 43% in the 24-30 age bracket. 62% of short-form video viewers are female. It's worth noting that these demographics are also very similar to the Chinese outbound travel market, which is about 55% female and up to 60% millennial.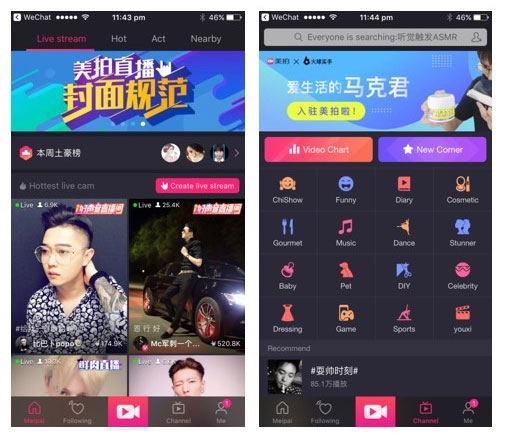 Meipai
The most popular platforms are Kuaishou, Miaopai and Meipai. With Kuaishou mostly popular in third- and fourth-tier cities, Meipai and Miaopai are therefore the best platforms for reaching affluent users. Unlike long-form videos, short-form videos are usually user-generated rather than professionally produced, and Meipai and Miaopai both allow users to add effects and edit their videos in the apps before uploading. One of the only meaningful distinctions between these platforms is that Meipai has an integrated live streaming function whereas Miaopai does not. This is because Miaopai is owned by and linked to Weibo, which uses Yizhibo as its live streaming platform.
This year, Destination Canada launched a short video series, allowing the NTO to target a younger audience and create content around topical issues. The 4-6 minute videos, under the series name Canada Station, are uploaded onto both Meipai and Miaopai, and promoted on social media. With videos ranging from a guide to Canadian national parks to street interviews about Canada with people in Beijing, Canada Station has so far received over 50 million page views. Destination Canada has also taken advantage of the popularity of short videos for user-generated content by holding a competition where followers had to create and submit their own short video clip, and the winner got to travel to Canada to create a video.
Many other travel brands have also embraced short video for promotional purposes. Organised by Travel Daily and Dragon Trail, the Tripshow video competition in September 2017 asked travel brands to submit a professionally produced short video about their product. The four finalists were Chinese travel search engine iGola, tour company Thomas Cook, Discover Los Angeles and the Bavaria Tourism Board.
Live streaming
Live streaming was the hot topic in Chinese digital news in 2016, and the industry is valued at US$3 billion, with 50% of China's online population having used live streaming at least once. It works well for entertainment and lifestyle content and especially suits event coverage. The demographics for live streaming are also young (as of December, 2016, 75.6% were under the age of 36), but differ from short-form videos when it comes to gender ratios – while 80% of live streamers in China are female, 80% of viewers are male.
The most popular live streaming apps are YY.com, Yingke and Weibo's Yizhibo, but commerce giants Tmall and JD.com also have their own live streaming platforms, which they use to convert viewers into buyers by broadcasting content such as cosmetics tutorials or fashion shows with prompts to purchase the featured items.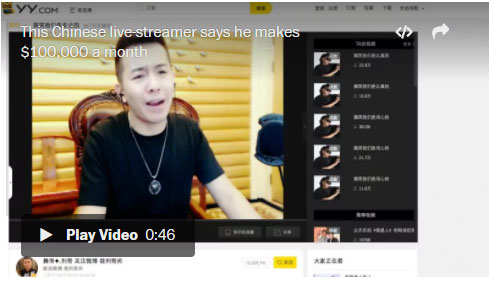 Brother Li makes US$100,000 live streaming about his life in Northeast China
Professional live streamers have shot to fame over the last several years, with examples like Brother Li, the former mechanic from northeast China, who now has 13 million followers and claims to make US$100,000 a month. Apart from making money directly through selling products off the back of live streaming, as pearl seller Pearl Bro has done (he made US$4.8 million in 2016!), live streamers also earn money when viewers pay to give them virtual gifts and chat with them online.
Despite live streaming's popularity, it's come under threat since the end of 2016, when the Chinese government started to crack down on live streaming content that it deemed "immoral." Now, live streaming platforms must be officially registered and self-monitored, which has resulted in declining growth and revenue.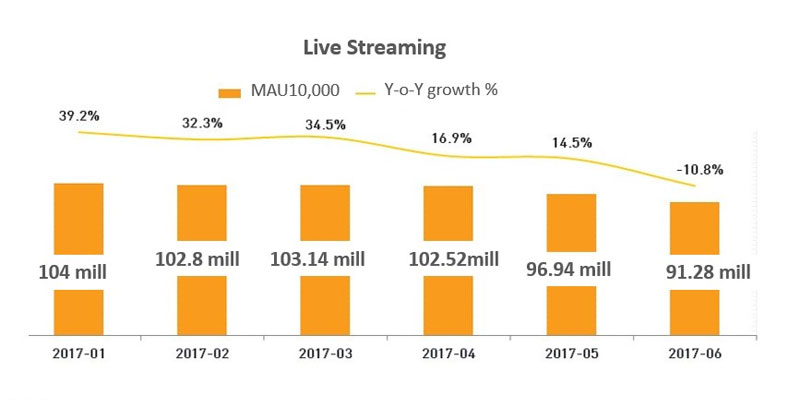 That said, live streaming still works very well for events, exclusive locations and luxury goods, and users particularly enjoy its authenticity. In China, the Hilton hotel brand has engaged local KOLs to live stream from different Hilton venues, and the Canadian Embassy in Beijing live streamed its celebrations of the country's 150th anniversary this summer.
Based on its growth over the last few years, it's safe to say that video will continue to be one of the preferred methods of content consumption in China for quite some time. The medium's versatility also means that it can be used in many different ways and to target different market segments, whether it's getting your destination featured in a TV show, live streaming a hotel opening, or enlisting your Chinese followers to do your marketing for you by producing their own short videos.
Stay tuned for our upcoming top tips on video marketing in China, or catch up on our video marketing webinar on YouTube.