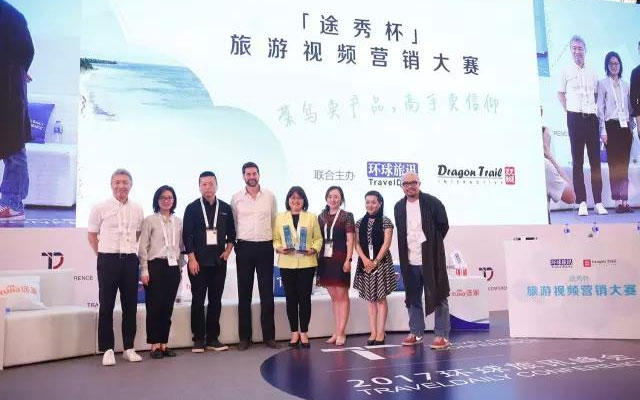 Video content is quickly emerging as one of the most valuable tools for marketing in China in general, and especially for the tourism industry. Video allows tourism marketers to inspire would-be travelers with the sights, sounds and feel of a destination, and to promote a certain travel experience alongside a brand concept and featured products.
To pick up on this trend and promote development and innovation in the field of tourism video marketing, Travel Daily and Dragon Trail Interactive launched the 2017 Tripshow Marketing Competition in August 2017 to find the best, most innovative travel video of the year. Four finalists showed their work at China's largest travel distribution conference, the Travel Daily Conference, on September 13, and a winner was chosen by a panel of industry judges and audience vote.
Let's take a look at the four finalists!
Thomas Cook: Another Way to Say "Thank You"
As one of the oldest travel agencies in the world, Thomas Cook officially entered the Chinese market last year. The video, Another Way to Say "Thank You", focuses on family and customized tours, with the story of a son treating his elderly mother to a trip to visit the Northern Lights. According to Thomas Cook's head of digital marketing, the video has already been promoted on all kinds of video platforms and social media channels in China.
Bavaria Tourism Board: Take a Seat
Bavaria is one of the richest regions in Germany, as well as the birthplace of world-famous auto brand BMW. In the video Take a Seat, the audience follows the perspective of a chair to see Bavarian mountains, rivers and castles, as well as the famous German beer, food and culture.
iGola: Not So Far Away
In the video, Not So Far Away, Chinese travel search engine iGola wants to share the message that people can find flight tickets to anywhere in the world using their technology. The video takes audiences to different locations, from Shanghai to the Philippines. According to the founder of iGola, Zhang Yan, the cost of the video production was around RMB400,000 (about US$60,900). The video has been promoted on video platforms and pre-movie adverts, resulting in 80% month-on-month growth in traffic.
Los Angeles Tourism & Convention Board: Everyone Is Welcome
Los Angeles Tourism & Convention Board prepared a special welcome ceremony for tourists from everywhere in the world on May 6th, 2017. Thousands of people joined together in LA to make "welcome" signs in different languages to express that everyone is welcome in LA. The video also promotes the inclusivity and diversity of LA, where residents come from more than 140 countries and speak 224 languages.
Los Angeles Tourism & Convention Board won both Best Creative Marketing Video and Most Popular Marketing Video. Voting was open to all of the 1,000-plus attendees of the Travel Daily Conference, and the winner was chosen by a combination of the popular vote and those cast by a panel of industry experts. The judge panel included Tony Ma, Chairman & President, Sunmei Group; Tony Liu, Chairman & Chief Creative Officer, M&C Saatchi aeiou; Jennifer Lee, CBO, Tujia; Roy Graff, Managing Director EMEA, Dragon Trail Interactive; and Ryan Tsui, Co-Founder, Shots Around.
Disclaimer: Los Angeles Tourism & Convention Board is a client of Dragon Trail Interactive.