Now in its seventh year, Hotels.com's annual Chinese International Travel Monitor sheds valuable light on Chinese outbound tourists' preferences for travel destinations, activities, and accommodation, as well as how they book, spend and share their travel experiences. The full report is well worth reading, and we've summarized some of the most interesting and meaningful findings here.
1. Travel Is Going Gourmet
Based on Dragon Trail's own WeChat rankings for the first half of 2018 (our Q2 report will be out next week), we already know that food is the most popular theme for travel-related content posted by official accounts on WeChat this year. So it's not surprising to see food identified by CITM survey respondents as one of their main motivating factors for travel. 69% said they wanted to try local delicacies while traveling abroad, and – at 61% – local cuisine was tied with safety for the number one consideration when deciding where to travel. 80% said they wanted to try "quirky" local dishes like snails or deep-fried Mars bars. This interest in food is not evenly distributed around the world, though. While 56% cited local cuisine as a key consideration when choosing a travel destination in Asia, this was only 26% for Africa and 29% for the Middle East.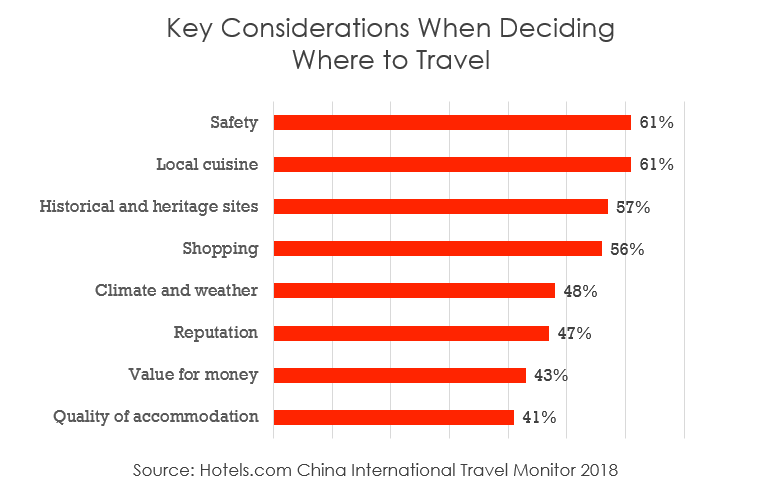 2. Shopping Is Localizing
Shopping is still an integral part of the Chinese outbound travel experience, with 96% saying they shop while abroad. However, there is rising interest in shopping in local stores for unique items. 65% of travelers surveyed for CITM said they wanted to visit small, local, authentic shops, and 43% said they planned to shop for authentic local items.
3. The '90s Generation Has Arrived
With the generation born in the 1990s now entering the workforce, their incomes have increased dramatically, and they are spending a lot of those new incomes on travel. In the past year, the post-90s generation has increased their travel spending by a staggering 80%, and they are spending 36% of their incomes on travel – compared to 28% for all respondents.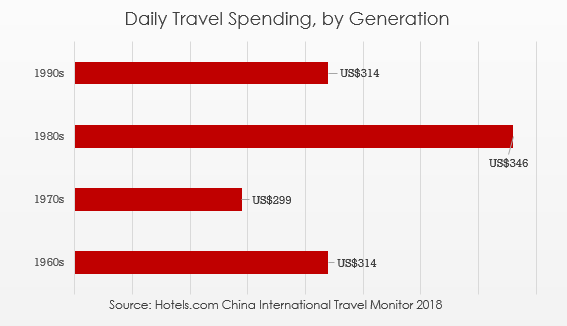 4. But the 1980s Aren't Over
While the 1990s generation takes off as travel consumers, the 1980s generation still has the biggest spenders, shelling out an average of US$346 per day while traveling, compared to an average of US$320 for all travelers. 1980s travel spending also rose 50% year on year, which is less than the '90s generation, but still significant. The '80s and '90s generations are both interested in local culture, with 38% of post-90s and 35% of post-80s saying they had attended a cultural event while traveling overseas in the past 12 months.
5. Film & TV Have a Major Impact
There are countless examples of how film and television have led to Chinese travel booms around the world, from South Korea to Ireland. To cite one shocking figure, when an episode of the Chinese reality TV show "Chinese Restaurant" filmed in Koh Tao was aired in July 2017, searches for Thai island were up 547% the next day on Chinese travel website Mafengwo. The CITM report supports this understanding of the influence of film and TV – 62% of respondents said this media inspired them to travel, followed by 52% influenced by social media, and 51% influenced by video sharing. The influence of TV and film was even more pronounced for certain destinations – for 69% of visitors to North America, 68% to France, 72% to the UK and 73% to Latin America. Learn more about video marketing for China here.
6. Demand for Mobile Payments Is Growing
Mobile payments are huge in China now, and respondents in the CITM survey used Alipay 18% more than last year, and WeChat Pay 13% more. They're also increasingly demanding that these payment methods are accepted internationally. 44% said that Chinese mobile payment acceptance made them feel welcome in a destination – making it an equally important factor as Mandarin-speaking shop assistants. In hotels, 59% said that WeChat QR code scanning capabilities could be improved, and 57% wanted improvement in mobile payment acceptance. This was even more pronounced in certain markets – 66% and 64% said they were dissatisfied by WeChat QR scanning functionality in Oceania and North America, respectively. Learn more about Chinese mobile payments here.
7. Social Media Is Part of the Travel Experience
52% of Chinese travelers said that social media is a key influence in their travel decisions, and social media use while abroad is huge, too. 60% of respondents said they posts 3-5 times per day on social media while traveling, and 16% said they posted more than 5 times per day!
8. They're Ready to Explore
As Chinese travelers become more internationally experienced, they want to continue exploring and seeking out new destinations. The CITM report found that 60% of respondents said that they intend to travel to a country they have never been to before in the next 12 months. 49% planned to travel to Asia, 46% to Europe, 36% to North America, 35% to Oceania, 13% to Latin America, 11% to Africa, and 10% to the Middle East.