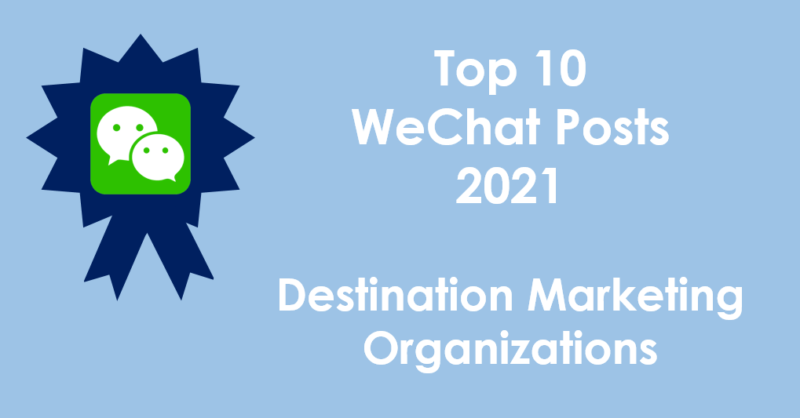 Updated 19 January, 2022
Which municipal and regional tourism boards published the most-read WeChat articles in 2021? As a top destination for mainland Chinese tourism, Hong Kong accounted for six out of the 10 WeChat articles with the highest number of views. But all four of the most popular articles of this past year were published by Forever Edinburgh, which has perfected a winning strategy of working with local Chinese students to put together compelling written, photographic, and even musical content.
The articles are ranked by the number of views they received by the end of the week they were posted, but we've also included the total number of views as of 14 December. As in 2020, we've separated out articles published by the Macao Government Tourism Organization as the account is such an outlier – scroll to the end of this article to see all of Macau's WeChat posts that received more than 100,000 views each this year.
Here are the top 10 posts of 2021:
10. Hong Kong Tourism Board
Sunsets in Hong Kong
6,830 views for the week of 3-9 July. 7,647 views as of 14 December.
This post recommended lots of beautiful spots to watch the sunset from Hong Kong, illustrated with photos sourced from Xiaohongshu.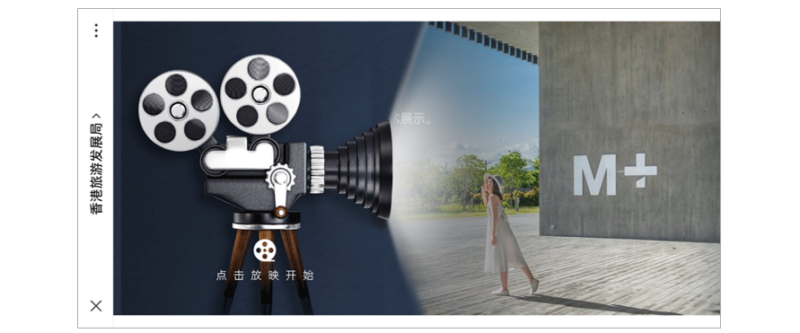 Hong Kong promoted the new M+ museum in West Kowloon with a film reel-style animated post
9. Hong Kong Tourism Board
This West Kowloon "blockbuster" will be released soon
6,872 views for the week of 4-10 December. 6,926 views as of 15 December.
This post introduces Hong Kong's new M+ museum of visual culture, which opened in November 2021. Rather than a traditional article, to access this content, readers need to turn their phones horizontally and press "play", while watching the photos and information stream across the screen like a film projection.
8. Hong Kong Tourism Board
Short video: Let's meet again in Hong Kong
7,018 views for the week of 20-26 February. 7k views as of 14 December.
This one-minute tourism marketing video inspires with a quick tour through the many amazing things to discover in Hong Kong, from shopping to luxury hotels to fields of sunflowers.
7. Hong Kong Tourism Board
The "wild" side of Hong Kong
8,306 views for the week of 11-17 September. 9,114 views as of 14 December.
Hong Kong may be known for its bright lights and skyscrapers, but this article showed off the nature that's easily accessible from the bustling metropolis, with photos of empty beaches, striking rock formations, and deep canyons.


Hong Kong's top WeChat content (left to right): Sunsets, a tourism marketing video, the SAR's "wild" side, an article by KOLs Traveling Sisters, and an online tribute concert to Leslie Cheung
6. Hong Kong Tourism Board
Hong Kong, long time no see!
8,639 views for the week of 10-16 April. 14.6k views as of 14 December.
A guest post by travel KOL account "Traveling Sisters" – an account with more than one million followers, whose Brand Founder joined Dragon Trail's August 2020 webinar as a guest speaker. The blog and accompanying video discussed Hong Kong's identity as both a Chinese and international food heaven, its mix of modernity and tradition, and access to urban and natural destinations.
5. Hong Kong Tourism Board
In Loving Memory of Leslie Cheung online concert
8,908 views for the week of 27 March-2 April. 9,198 views as of 14 December.
On 1 April, Hong Kong musicians came together to pay tribute to Cantopop icon Leslie Cheung on the 18th anniversary of his death, with a concert live streamed on digital platforms for fans all over the world.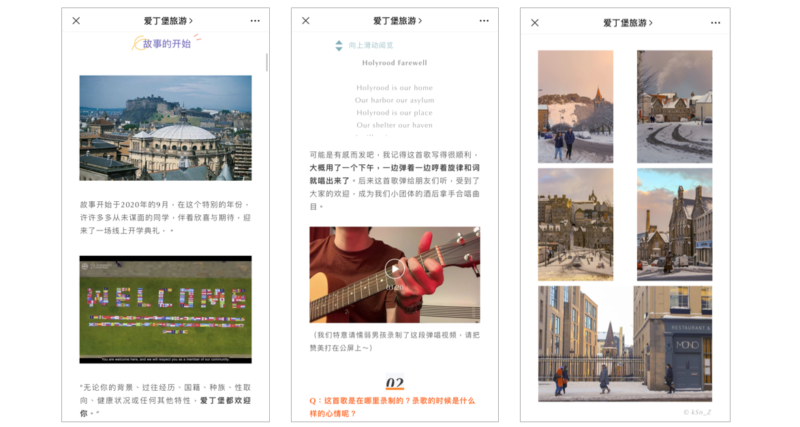 Edinburgh worked with the city's Chinese student community to create WeChat posts with written, photographic, and even musical content that attracted standout readership numbers
4. Forever Edinburgh
2021 Edinburgh Photographer of the Year competition
11,186 views for the week of 18-24 December.
This competition featured the stunning work of 30 photographers in Edinburgh, and readers had the chance to vote for their favorite. Prizes were awarded to the top eight contestants.
3. Forever Edinburgh
"Hollyrood Farewell" + interview with Chinese student songwriter
12,854 views for the week of 17-23 April. 14.4k views as of 14 December.
Written in English, "Hollyrood Farewell" is local Chinese student's original song about living in the Scottish capital. Forever Edinburgh interviewed the musician about his inspirations and how he created the piece of music, and posted this alongside the lyrics and a video of the song being performed.

2. Forever Edinburgh
You meet Edinburgh, and Edinburgh also meets you: A student's story
20,111 views for the week of 21-27 August. 22.8k views as of 14 December.
A student's story of arriving in Edinburgh, getting to know it through the seasons, and top recommendations submitted by readers for places they'll miss most in the city.
1. Forever Edinburgh
Congratulations, graduates! Your Edinburgh story hasn't ended
26,012 views for the week of 27 November-3 December. 26.9k views as of 14 December.
This essay looked back on studying in Edinburgh over the last year, illustrated with dozens of photos by students, and ending with messages from Chinese graduates. From snowy days to spring flowers, countryside scenes to local supermarkets, the article is a souvenir for departing students.
Macao Government Tourism Office: Articles with 100,000+ views in 2021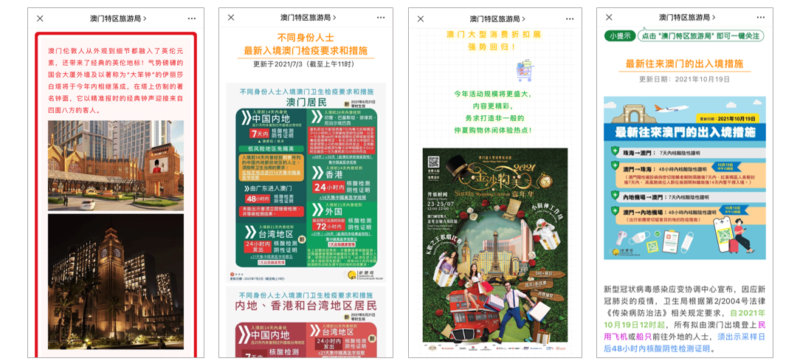 Although most of Macao's top articles were about travel regulations, posts about the new Londoner Hotel and Sands Shopping Carnival also surpassed 100,000 views
In total, Macao published 13 articles that surpassed the 100,000 view mark in the first week, the highest number of views recorded on WeChat data. While the SAR teamed up with all-star live streamers, promoted special events, and created holiday travel guides throughout the year, the most-read posts were generally informational articles with updates about quarantines, entry restrictions, and testing requirements.
Week of 16-22 January
50% off coupons for Macau hotels are back, with prize drawings every day!
Week of 20-26 February
The Londoner Macao is a new daka destination
Week of 22-28 May
From 22 May, arrivals from certain areas in Guangzhou will need to quarantine for 14 days
Week of 29 May-4 June
Updated entry regulations
Week of 5-11 June
Quarantine requirements for arrivals from Guangzhou or Foshan
Week of 3-9 July
Updated entry requirements
Week of 10-16 July
Macao's mega-sale Sands Shopping Carnival is back
Week of 24-30 July
Updated entry rules for mainland visitors
Week of 31 July-6 August
Updated entry rules for mainland visitors
Week of 14-20 August
From 18 August, Macau is completely reopen
Week of 2-8 October
From 6 October, anyone leaving Macau will need a PCR test from within the last 24 hours
Week of 16-22 October
Changes to the Zhuhai-Macao border crossing from 19 October
Week of 6-12 November
Information about the rule that non-resident visitors must have a minimum of MOP$5,000