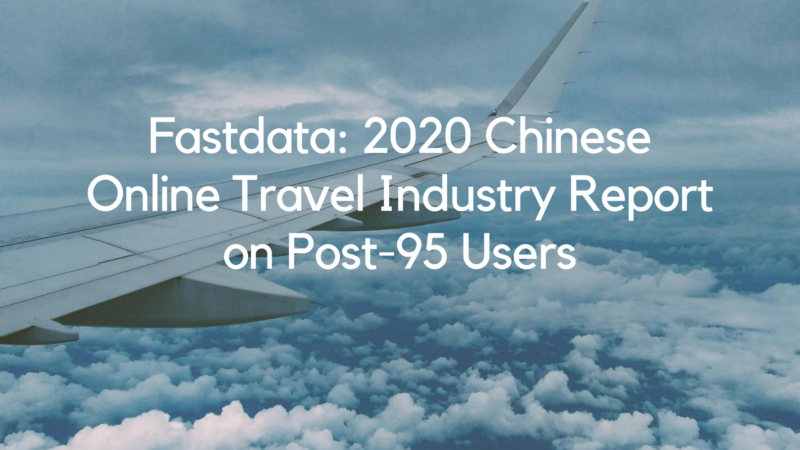 Fastdata's July report looks at the post-95 generation, born between 1995 and 1999, and currently aged 20-25 years old. The report offers comparisons with mobile phone and online travel platform use among post-95s and older generations. Click here to read the full report (in Chinese).
As of May 2020, post-95s make up 19.3% of Chinese internet users, and are the most active generation of internet users. Post-95s' screen time is higher than any other generation, at 5.54 hours per day. This contrasts to 4.77 hours per day for those born between 1980-1984 (post-80s), 5.26 hours per day for post-85s (1985-1989), and 5.43 hours per day for post-90s (1990-1994).

There were a total pf 125.75 million active online travel app users in China in May, up from a low of 60.48M in February, and approaching the 147.25M online travel app users in January 2020.

As China's post-95 generation gets older and emerges as a consumer market for travel, they have started using online travel platforms, with pronounced growth over the last two years.
New users of online travel platforms are also increasingly likely to come from cities classified as third-tier or below – residents of these lower-tier cities made up 42.5% of new users of Chinese online travel platforms in May 2017, and 70.3% in May 2020.

While Ctrip (Trip.com Group) is the market-leading OTA in China, among post-95s, it has less brand recognition than other OTA platforms. Comparing users born between 1980 and 1999, the 1980s generation has the highest rate of brand familiarity with Ctrip. For post-95s, Qunar has the highest brand recognition (99.6%), followed by Fliggy, then Ctrip (95.7%), Meituan, and Tongcheng.
However, for user retention, Ctrip scores the highest among post-95s, followed by Qunar.

Young travelers are helping to drive the recovery of domestic tourism in China. The report includes information on accommodation preferences among different segments of the youth travel market in China during the first half of 2020. Of course, some of these preferences are likely influenced by buying power (the post-85 generation has been in the workforce for the past decade, whereas not all post-95s will have started working yet, for example). The influence of COVID-19 on accommodation preferences is likely to have both long-term and short-term impacts on traveler choices, but it's too early to tell which will be long-lasting or temporary.