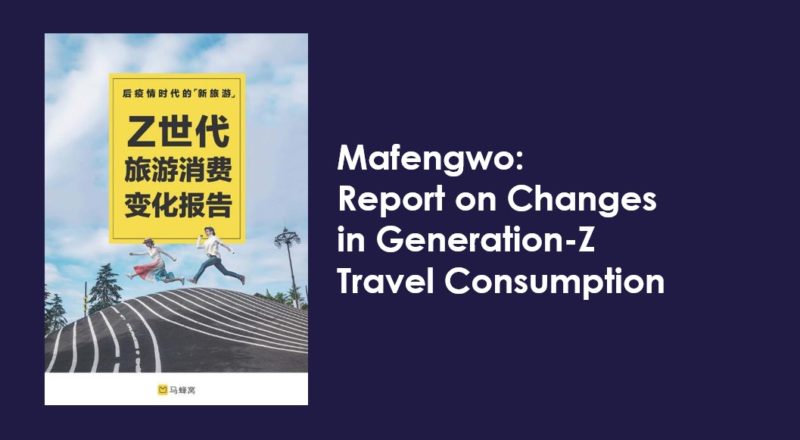 Generation Z is a unique group that was born and developed at the same time as the internet, and a driving force in China's current and future consumption trends. Online travel platform Mafengwo's July 2020 report examines how this group of young travelers' preferences have changed because of the COVID-19 crisis.
The report shows the enduring popularity of travel among this generation as a way to explore individual, niche interests – as well as an undiminished appetite for travel. Other important findings are the willingness to increase travel budgets, and other changes due to increased concerns for safety.
The report also reveals a shift away from interest in outbound travel. As with other market research at this time, it remains to be seen if these trends are part of long-term changes, or simply a temporary reaction to the current climate and limitations on international travel.
Click here to download the full report (in Chinese).
Strong demand for domestic travel, increased travel spending

COVID-19 constricted Gen-Z's travel, but it didn't reduce their travel aspirations. Border closures and travel restrictions have cooled Gen-Z's attitude towards overseas tourism, but their fervor for domestic travel has increased, and overall travel plans have grown rather than reduced.
47.2% of young people say that the virus has had little impact on their travel budgets. More encouraging is that 16.77% of survey respondents say that their travel budgets have not only not been reduced, but they actually plan to spend more on their quality of travel. Increased travel budgets will largely go towards food and accommodation – areas most closely associated with hygiene and safety.

Compared to the generation of travelers before, Gen-Z's travel is more frequent, with 45.34% traveling two or three times a year, and 12.42% traveling four or more times every year. These numbers are much higher than other age groups.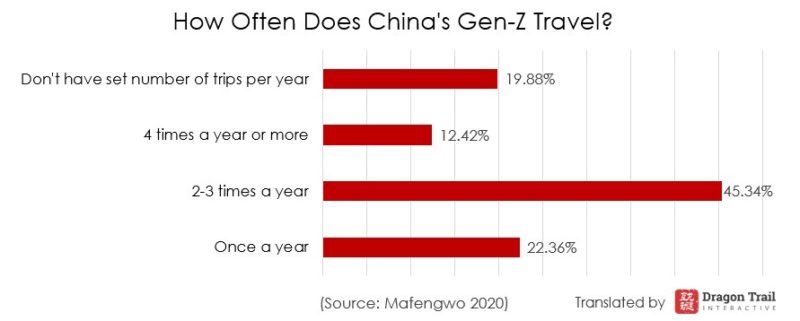 In terms of domestic travel, Gen-Z's decision making period has changed slightly due to the COVID-19 crisis. Before the virus, 36.06% of young people took a spontaneous "say go, just go" approach to travel. Now, that number is 29.19%, but young travelers' average travel decision making period for domestic trips hasn't changed radically.
In comparison, Gen-Z's attitude to travel overseas is very wary. According to the report, most young people would now plan at least a half a year in advance before traveling overseas. Those who would travel abroad spontaneously have fallen from 4.35% to just 1.86%. These findings don't just reflect current attitudes, but current realities – with most parts of the world still not open to international tourism arrivals, limited flights, temporary closure of visa centers and other obstacles, it is only logical that travelers will need more time to make travel plans.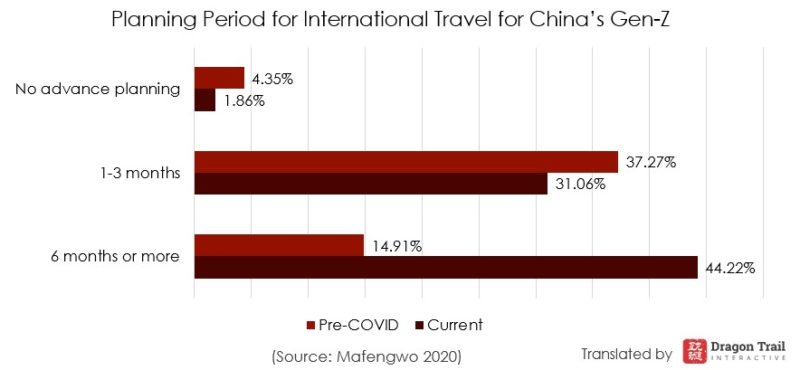 Top priorities for post-COVID travel: Individualization and peace of mind

Mafengwo's survey and interviews reveal that Gen-Z is still seeking out new, trendy, and cool travel experiences, but their priorities have changed since the COVID-19 outbreak, with caution and hygiene now much more important than before.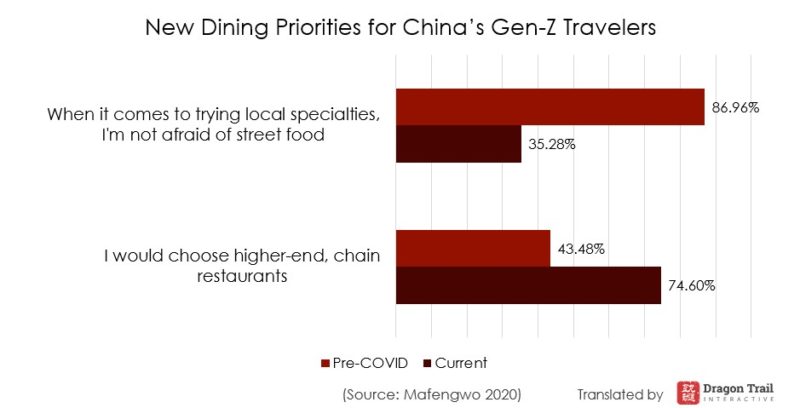 Gen-Z's travel behavior and consumption preferences have changed in other ways, too. Compared to previously hot destinations and well known sites, now they're more likely to seek individualized and small group experiences.
Interests are their most important factor for travel. More than 40% of survey respondents said they have chosen a travel destination because of a TV show or animation. Young travelers also place high priority on ritual travel experiences – for example, there are some young people who want to visit every roller coaster in the world, or visit the zoo as their first priority wherever they go.
Daka or "check-in" travel is a key trend. The report reveals, 87.17% of survey respondents have to daka every experience by photographing themselves at the location for social media, or have a daka checklist. Among these, museums are the place they most like to daka, while theme parks and cafés are also popular.
Online inspiration
As the "always online" generation, Gen-Z's consumption of short video content is significantly higher than other generations, and live streams have also become a new source of travel inspiration.
The top 10 list of the most popular live streams on Mafengwo's own platform is diverse – topped with two live streams from theme parks (Happy Valley and Disneyland), pandas in Chengdu, eating roast lamb, and a trip to a beautiful bookstore. Peru and South Africa are the two outbound destinations to make the top 10 lists for Mafengwo live streams among young travelers.
For China's young travelers, the end of the trip doesn't mean the end of the journey – sharing on social media extends the travel experience. 85.09% of survey respondents say they share travel content on social media. Among these, close to 60% said they like to share information and interesting stories while traveling, and around half share their itineraries after the trip has been completed.