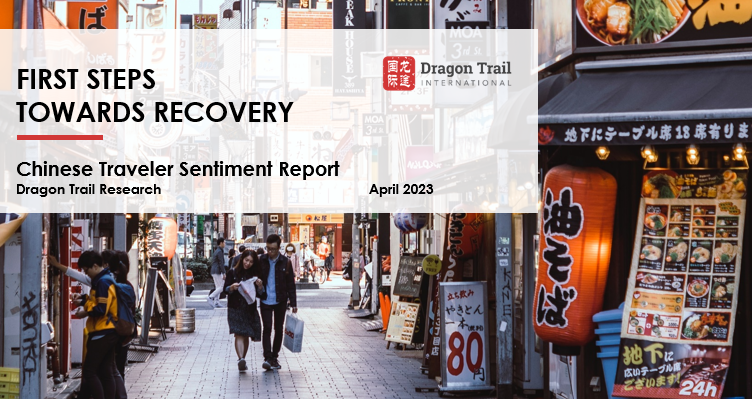 Cover image: Redd F for Unsplash
Between 4-7 April 2023, Dragon Trail Research surveyed 1,012 mainland Chinese travelers about their travel plans and preferences. Our findings reveal important insights about Chinese traveler sentiment, as well as data-driven advice on what travel brands can do to nurture the recovery of Chinese outbound tourism.
Click here to view and download the full report

(Users in China: if you cannot open the above link, please contact us directly to receive your copy of the report)
Three months after China dropped inbound quarantine and reopened borders for outbound tourism, and just two months after the first pilot program to resume outbound group and package travel, many are waiting for the recovery of Chinese outbound tourism to pick up speed.
The good news as we look forward to China's May Labor Day holiday and summer travel season, is that many circumstances have improved. COVID-related travel restrictions on passengers from China have been dropped. International flight capacity is slowly recovering. The list of countries to which Chinese travel agencies can sell tours and packages has increased to 60.
At this point, what can the travel industry do to encourage an acceleration of China's outbound tourism recovery? Quite a lot, according to our survey results. More than half of travelers either want to go abroad in 2023 but haven't booked yet, or are unsure if they will travel outbound. Fears about safety outside China stand out as the most important factor keeping travelers at home. These findings offer clear indications and highlight opportunities for the travel industry to address concerns and encourage those potential bookings to be made.
Survey results about travel products, and a deep-dive on accommodation provide more actionable steps for product creation, services, and marketing that will most appeal to outbound Chinese travelers.
Before the pandemic, the Chinese outbound tourism market was the largest and highest-spending in the world. But destinations and businesses eager for its return would be advised to take a proactive rather than a passive approach. Winning back this market is certainly possible, but only with a clear understanding of travelers' concerns and desires at this stage in China's reopening.
These are our 7 top takeaways from the report:
1) Travel plans for 2023 are still largely undecided
Only three months into reopening, there is still a high degree of uncertainty – as well as opportunity for travel brands to influence consumers' future decisions. 26% say they hope to travel outbound but haven't booked a trip yet, with a further 27% unsure as to whether or not they will travel outbound before the end of 2023. Addressing and appealing to these travelers could bring high rewards for the rest of the year and beyond.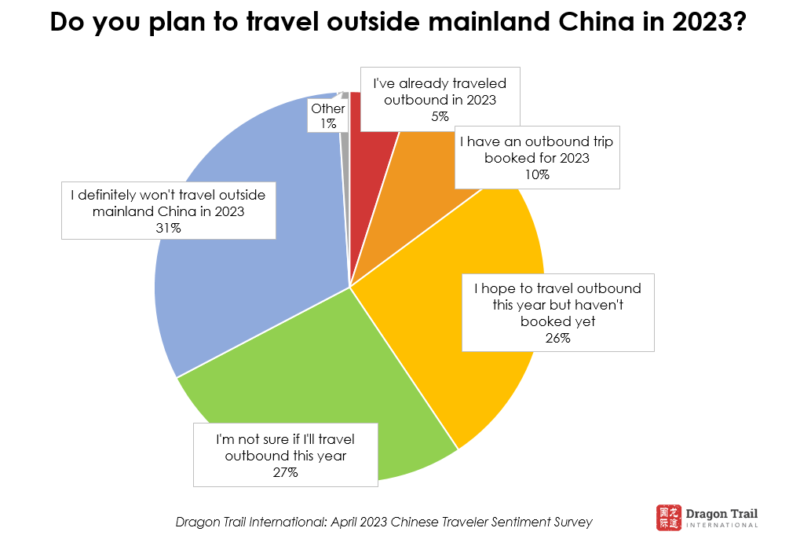 2) Safety is the biggest concern holding back Chinese travelers
The biggest factor preventing Chinese travelers from leaving home is concern about safety. Unlike obstacles of limited time or money, safety concerns are something that can be addressed directly by tourism brands. Safety, stability, and friendliness should be core messages in both consumer and trade marketing, to assuage fears about venturing beyond mainland China.
3) Food, landmarks, and local experiences are top reasons to travel
When asked about their purpose for traveling abroad, trying local food and visiting landmarks were the top priorities, with each chosen by 56% of survey respondents. 52% said they wanted to experience local life.
4) Asia is the leading destination, but travelers want to see the world
75% of travelers said they planned to visit Asian destinations in 2023, with Hong Kong, Macau, and Thailand topping the list. But altogether, survey respondents named 44 destinations around the world, including every continent. The diversity of the list shows that there is interest well beyond short-haul favorites.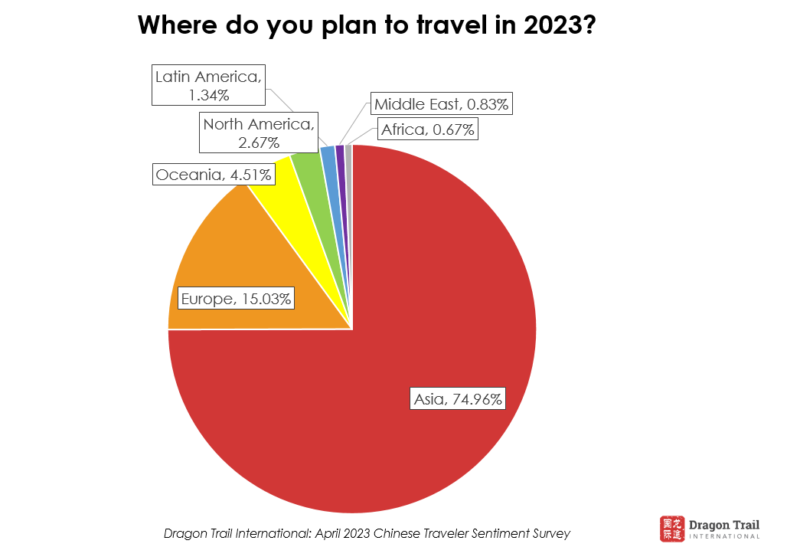 5) Northeast Asian destinations have remained popular, despite restrictions
Japan and South Korea took the 4th and 5th slots on the list of intended travel destinations for 2023, and Northeast Asia was ranked highest among global regions for future travel prospects. Restrictions placed on Chinese travelers by Japan and Korea were widely discussed in January 2023, but these countries have nevertheless retained their appeal for many.
6) Full-service products are in demand
Although independent travel has been on the rise for some time, 61% of survey respondents said they would opt for full-service products that include visas, flights, accommodation, and a tour guide. There is still much opportunity for travel agents and tour operators to attract the Chinese outbound market with the right products
7) Tried-and-tested advice for hotels remains relevant today
Many recommendations for hotels hoping to cater to the Chinese market remain the same as in years or even decades past. Consumers placed high value on hotels that have Chinese-speaking staff (51%), and provide electric kettles or hot water (50%). Our survey also shows that Chinese breakfast options are important to nearly one-third of travelers when choosing accommodation.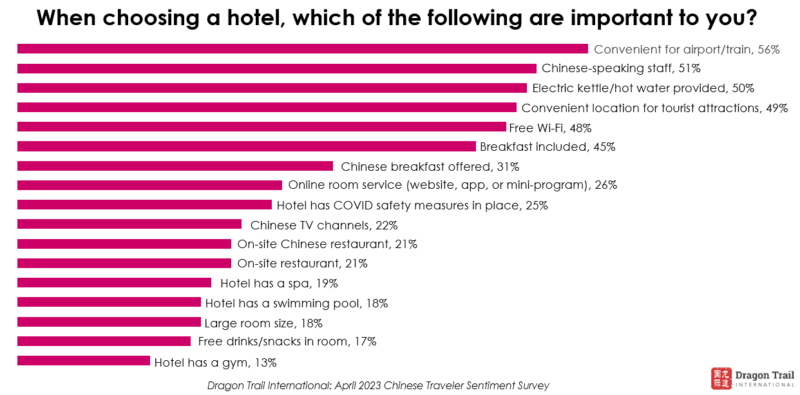 About this report
The April 2023 Chinese Traveler Sentiment Report is published by Dragon Trail Research (a division of Dragon Trail International), based on our own survey of 1,012 Chinese travelers in first-tier, new first-tier, and second-tier cities throughout China. In addition to these reports, Dragon Trail Research also offers a number of services to travel brands and businesses, including bespoke consumer and trade surveys, focus groups and more. Please click here or contact us for more information on how we can help you get the information you need on China's travel market.
About Dragon Trail
Dragon Trail Research is a division of Dragon Trail International, an award-winning marketing solutions company with roots in China and extensive experience in the global travel and MICE sectors. Since 2009, our international team of digital solutions and marketing specialists has been helping leading brands around the world to become more globally connected and competitive. Our clients span the travel, MICE, education, and trade sectors, including national and regional destination marketing organizations, event organizers, international organizations, hotels, airlines, cruise lines, attractions, retailers and more.