June 10, 2019 – Chinese travel-focused digital marketing agency Dragon Trail Interactive has launched The Next Travel Market (TNTM), an online B2B trade show for buyers and sellers of outbound travel from China.
TNTM was created specifically to solve the pain points of global client marketing, and offers an innovative solution for the global tourism market to connect to the Chinese travel trade on a new, digitally powered platform.

Please click here if you are unable to view the video
TNTM is an always-on, online trade show, hosted on WeChat and desktop computers, where the Chinese travel trade conducts business every day. Exhibitors will have an online booth, where they can connect and do business with 250 hosted buyers and 35,000 trade visitors, through WeChat-based chat rooms. The chat supports text, images, and file transfer, and automatic translation is set up to ensure efficient communication. Every major exhibitor will be guaranteed 20 hosted buyer appointments, with leading Chinese travel agencies such as CTS, CITS, Ctrip, Qunar, and Tongcheng-eLong.
The exhibitor hub also includes a customizable profile, where travel brands can share their written descriptions and contact information, images, videos, presentations, and more. Exhibitors have access to the profiles of all visitors and buyers who check in at their exhibition space, so you don't have to worry about missing out on connections due to time differences or scheduling constraints, and all of the interactions between exhibitors and buyers and visitors are logged for reporting.

TNTM layout and exhibitor hub (exhibitor names displayed are for demonstration purposes only)

Exhibitors can also conduct live online presentations through WeChat-based webinars to introduce products and services to trade visitors. During these webinars, exhibitors will be able to receive real-time questions from sellers, and the presentation will also have a playback option for ongoing availability.
TNTM is not meant to replace traditional offline trade shows, but to complement them, and help suppliers and operators to build relationships with partners. The online platform allows exhibitors to connect with tens of thousands of travel agents from all over China, without worrying about the logistics of long-distance travel or organizing a road show, making it cost-effective, easy to use, and highly efficient. TNTM is also environmentally sustainable, helping to save the resources required for business travel and trade event organization
Dragon Trail will support the business development of TNTM and its exhibitors, with our strong buyer relationships and media channels in China, including our In-and-Outbound B2B trade media publication, and over 20 travel-focused WeChat groups, with over 10,000 industry elites, as well as our trade database of over 35,000 registered travel agents.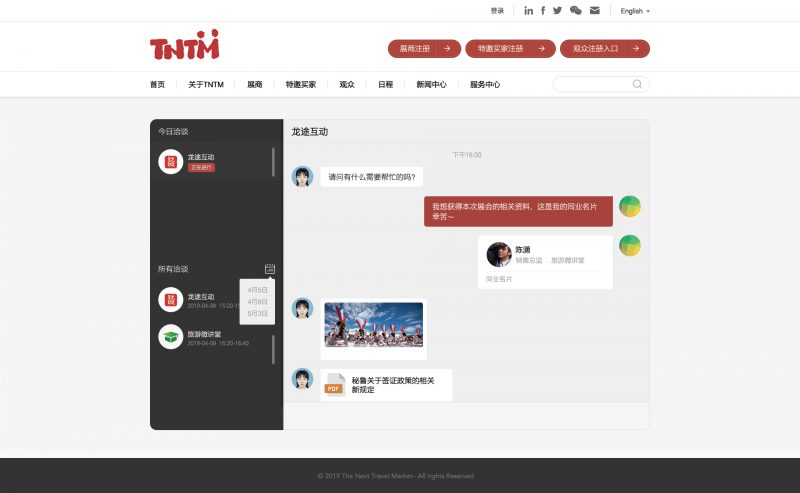 At TNTM, exhibitors can meet with hosted buyers and share resources via private chat rooms
TNTM will provide services to travel suppliers worldwide, including destinations, airlines, hotels, cruise lines, car rental companies, technology platforms, and other travel brands. Our debut exhibitors include Visit California, Europcar, Emirates Holidays, and Viking Cruises.
TNTM will run continuously throughout the year, and exhibitor hubs are available for promotion periods of eight weeks at a time.
To learn more about TNTM, please visit www.thenextravelmarket.com, or contact us directly at TNTM@Dragontrail.com
About Dragon Trail Interactive:
Dragon Trail Interactive is an award-winning digital marketing and solutions agency for the travel industry, helping travel and tourism organizations reach and connect with China's affluent consumers online.
Founded in 2009, the company has offices in Beijing, Shanghai, Xi'an, London (UK), and Lexington (USA).