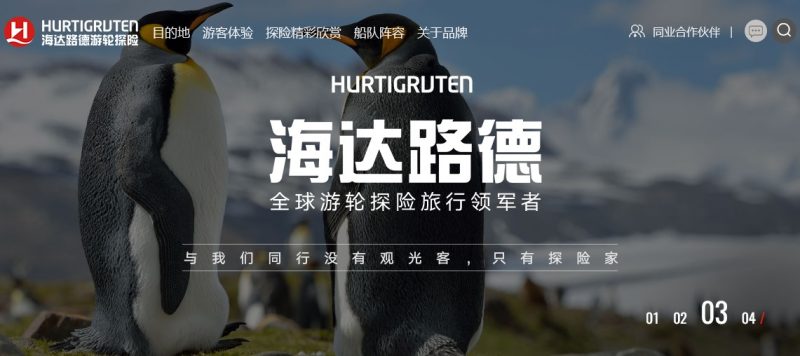 Adventure cruise operator Hurtigruten is tapping into Chinese consumers' surging interest in polar travel, with a newly launched Chinese website (hurtigruten.cn) focused on tours of Antarctica, South America, the Arctic region of Canada, the Northwest Passage, Greenland, Iceland, Norway and Svalbard.
The Chinese-language and Chinese-hosted website was created by Dragon Trail Interactive, appointed by Hurtigruten in July 2017 to bolster its digital marketing presence in China. With a rich array of stunning imagery, the website introduces Chinese travelers to the destinations they can visit with Hurtigruten, alongside information on the Norwegian cruise company's 125-year history, fleet and team.
Detailed information on the experiences that are available before, during and after Hurtigruten's cruises will whet travelers' appetites for adventure, with everything from dogsledding and staying in an ice hotel, to city tours and even photography classes. Photo galleries and written descriptions introduce viewers to Hurtigruten's ships, the different kinds of cabins available, and dining options on board.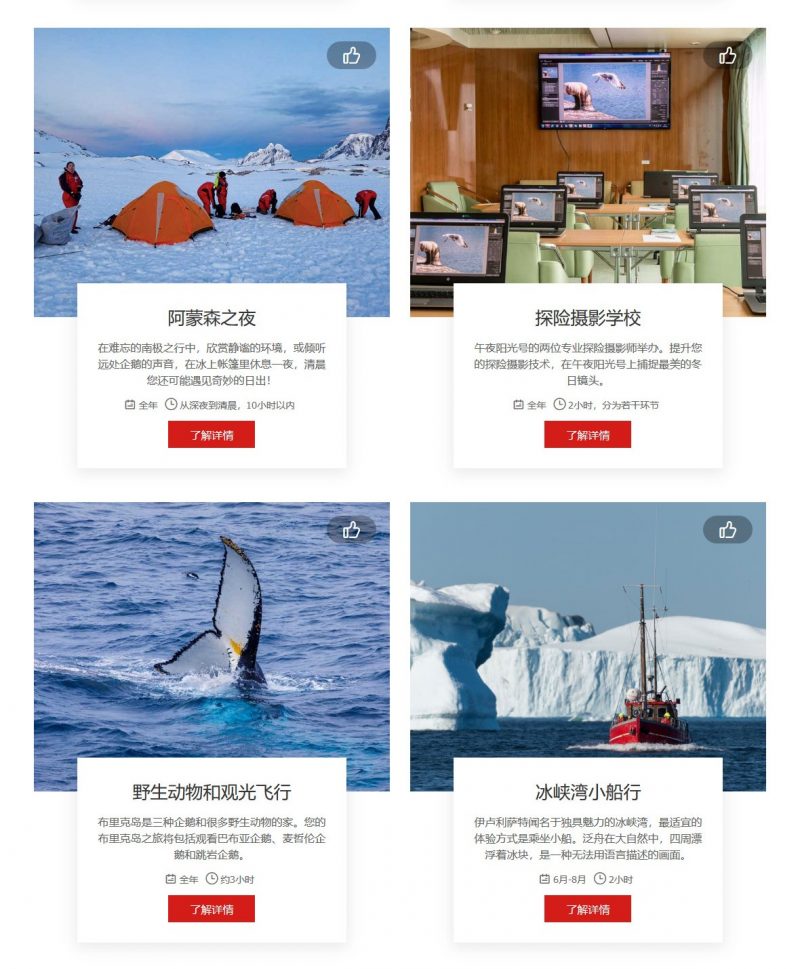 Travelers can learn about and book experiences as part of their Hurtigruten cruise

The website offers many interactive functionalities, where users can like articles and photos, share information on Chinese social media WeChat, Weibo, QQ and Qzone, search, and subscribe to Hurtigruten's newsletter.
Additionally, Hurtigruten's new website also includes a B2B section (hurtigruten.cn/business) with information about and contact information for Hurtigruten's sales representatives based in Asia, including offices in Singapore, Taiwan, Hong Kong and Mainland China. As Chinese luxury travelers often have little time to research and book their own trips, they are more likely to work with a travel agent to create a tailor-made travel itinerary. This function of Hurtigruten's website makes that process easier for travel agents servicing HNWI clients in Greater China and Singapore.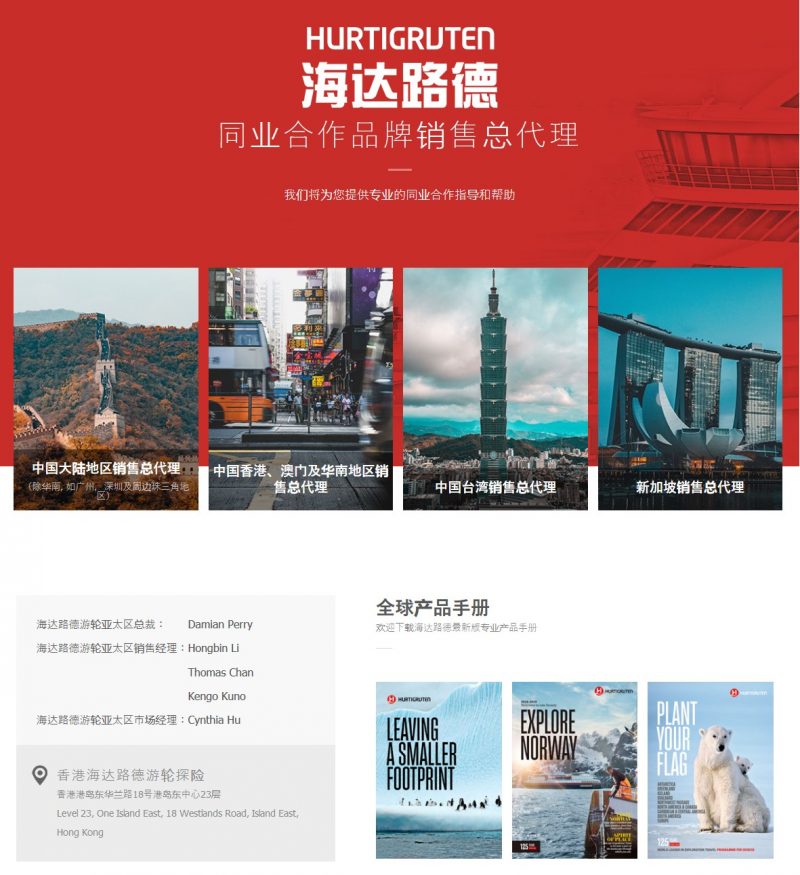 B2B section on Hurtigruten.cn
"We are very excited to launch hurtigruten.cn. It is a truly localized Chinese website, designed from the ground up with the content needs and usability of the Chinese consumer in mind, hosted in China and complies with all local regulations. I'm confident that it will become a cornerstone of Hurtigruten's digital marketing strategy in China as the company pushes hard into the cruise and adventure travel markets in China," said George Cao, CEO and co-founder of Dragon Trail Interactive.
"Expedition cruising is one of the fastest growing segments in travel and China is one of the most dynamic travel markets in the world. Hurtigruten.cn should be an important window to engage local travel industry partners and consumers in China," said Cynthia Hu, Regional Marketing Manager for Hurtigruten.
Polar travel's popularity in China
Interest in polar travel has taken off among luxury Chinese travelers in recent years. According to the International Association of Antarctica Tour Operators (IAATO), China became the second largest source of visitors to Antarctica in 2016, with nearly 4,000 travelers – up from just 100 in 2008.
One 2017 report from Chinese OTA Ctrip showed that 90% of wealthy Chinese travelers are interested in visiting polar regions. Another Ctrip report from the same year revealed a 400% year-on-year increase in Chinese northern lights tourism to destinations like Norway, Finland and Canada.
About Hurtigruten

Founded in 1893 and headquartered in Norway, Hurtigruten is a world leader in exploration travel and the biggest player in the polar regions. The company has a unique heritage in cold water cruising and the highest maritime reputation. Following the Norse explorers, Hurtigruten takes adventure travelers to the most breathtaking and remote corners of the world. Guests drive snowmobiles, ride in dogsleds, and go snowshoeing, hiking, and kayaking.
In the northern hemisphere, guests drift through beautiful fjords, marvel at the northern lights, seek out polar bears, and visit the land of the Midnight Sun. In the southern hemisphere, Hurtigruten sails to Antarctica, along both coasts of South America, on the mighty Amazon and through the Panama Canal. Guests engage in a range of adventurous excursions, visit penguins, watch whales, and pass by amazing landscapes and glaciers.