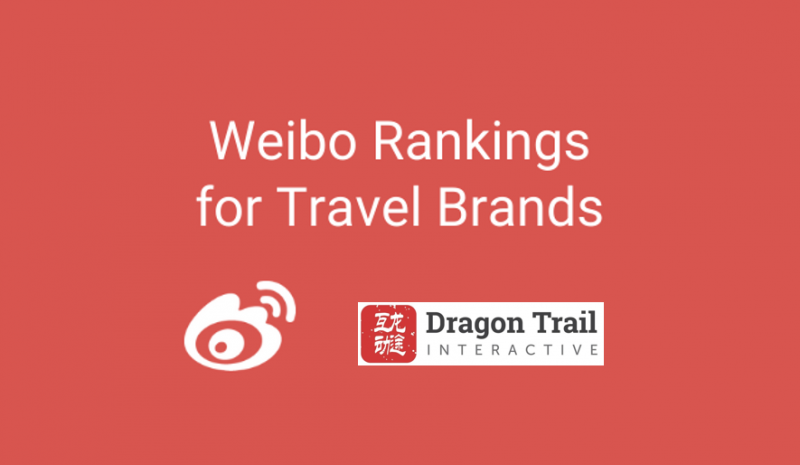 23 October, 2019 – Tourism-focused digital marketing agency Dragon Trail Interactive is now tracking international travel brands' performance on Chinese social media platform Sina Weibo, establishing industry benchmarks and providing new insights into best practice for tourism marketing on Chinese social media.
The rankings cover six categories: national tourism organizations (NTOs), regional and municipal destination marketing organizations (DMOs), airlines, cruise lines, museums and attractions, and international hotel brands. Brands are ranked based on the total number of interactions with their Weibo content, including likes, reposts, and comments. Weekly rankings tables also include the number of followers for the account, number of posts, and the engagement rate. From January 2020, quarterly reports will identify leading accounts and content trends, and analyze data on the different categories of interaction (likes, reposts, and comments).
The new Weibo Rankings are an addition to Dragon Trail Interactive's well established and industry leading rankings for tourism brands on China's leading social media platform, WeChat. From January 2017, Dragon Trail has tracked NTOs, DMOs, airlines, and cruise lines on WeChat, ranking each of the four categories by total number of article views each week – data which is publicly available on WeChat, but not on Weibo. In April 2018, Dragon Trail added two new categories to its WeChat Rankings: museums and attractions, and international hotel brands. In addition to releasing weekly rankings, Dragon Trail publishes quarterly and annual reports on WeChat performance, including the leading accounts, most popular article topics, and other trends. These rankings and reports help inform strategy and illuminate consumer preferences for leading travel brands around the world. Data from Dragon Trail's WeChat Rankings have been used and reported on by travel industry media including Skift, PhocusWire, Jing Travel, Travel Daily China, TOM, and more.
Dragon Trail has collected and published weekly Weibo Rankings data since the week of 9 September, 2019. As of mid-October, we can see a much stronger presence of giveaways on Weibo than on WeChat, as these require interaction and so can easily achieve high engagement rates. Although celebrity content is popular on WeChat, too, it's even more prevalent among top-performing Weibo accounts. Based on the top accounts over the first six weeks, the strongest tourism brands on Weibo include the Tourism Board of Thailand, Turespaña, Tourism Ireland, NYC, Dubai Tourism, Texas Tourism, Emirates Airline, AirAsia, Iberia Airlines, Royal Caribbean International, Viking Cruises, Dream Cruises, the Art Institute of Chicago, the V&A Museum, Radisson, and Bvlgari Hotels.
Weekly WeChat and Weibo Rankings data can be viewed on the Dragon Trail Interactive website at www.dragontrail.com/resources/brand-rankings. The first quarterly Weibo Rankings Report, based on Q4 2019 data, will be published in January 2020. 
What is Sina Weibo?
Launched in 2009, Sina Weibo is a Chinese micro-blogging platform often compared to Twitter. It has enjoyed a strong performance in the past several years, with notable revenue and follower growth. Sina Weibo surpassed Twitter in market value in 2016 and in users in 2017. As of December 2018, Weibo had 462 million monthly active users, 194 million of whom express an interest in travel. It is particularly popular with Chinese born in the 1990s, and is the preferred social media channel for influencers – also known as KOLs or 'Key Opinion Leaders' – in China thanks to its relative ease in reaching a large audience.
What is WeChat?
Launched in 2011 by Chinese internet giant Tencent, WeChat is China's number one social media platform, used by more than 1 billion monthly active users. An entire digital ecosystem, the app comprises chat, social sharing, official accounts that publish content, e-commerce, payments, light apps called mini-programs, and more.
For information about this release please contact:
Ms. Sienna Parulis-Cook
Associate Director of Communications, Dragon Trail Interactive
Tel. + 44 (0)7472 335524
Email: sienna.pc@dragontrail.com
About Dragon Trail Interactive
Founded in 2009, Dragon Trail Interactive is an award-winning digital marketing agency and travel technology company that helps global travel and tourism organizations reach and connect with Chinese travelers and consumers online. In addition to providing integrated consumer marketing services, Dragon Trail continuously develops proprietary technology applications and platforms through its team of in-house engineers, including B2B travel marketing platforms for mobile channels. We help international travel businesses connect with the Chinese travel trade on China's premier social media channels, including WeChat and Weibo. The company is headquartered in Beijing and has offices in Shanghai, Xi'an, London, and Lexington, KY.