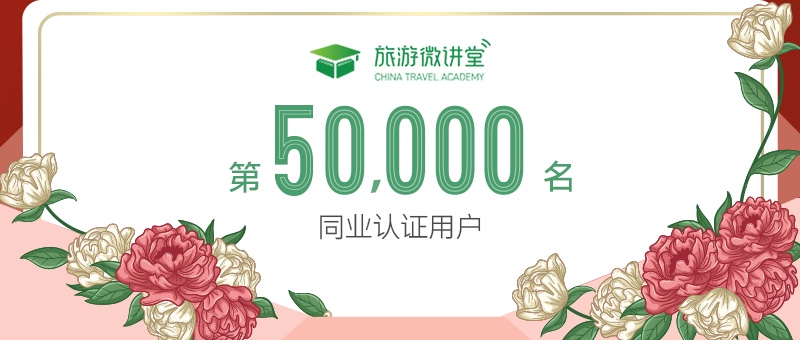 On February 25, 2020, China Travel Academy (CTA) welcomed its 50,000th registered user. Since CTA's launch in 2015, official institutions and tourism brands in more than 60 destinations around the world have used the mobile-first e-learning platform, developed by Dragon Trail Interactive, to train more than 40,000 tourism experts. These experts work in thousands of tourism enterprises throughout China, and have become the backbone of destination marketing through the travel trade.
In light of the coronavirus crisis and its dramatic impacts on the Chinese tourism industry, and with most Chinese travel agents working from home, Dragon Trail decided to make CTA available to travel agencies free of charge from 7 February, 2020, to assist tourism enterprises in training content development and management, and to hold in-house training. The CTA enterprise management platform is also helping agencies to track the progress of staff learning and data management. As of 26 February, nearly 50 travel agencies have successfully opened accounts to organize staff training. As a result of this and the high demand for remote training during this time, CTA attracted around 10,000 new registered travel trade users in February alone.
CTA awarded a certificate and a gift to the 50,000th registered user, Jeff Chen, South China Product BU Marketing Director at TongCheng International Travel Service Co., Ltd..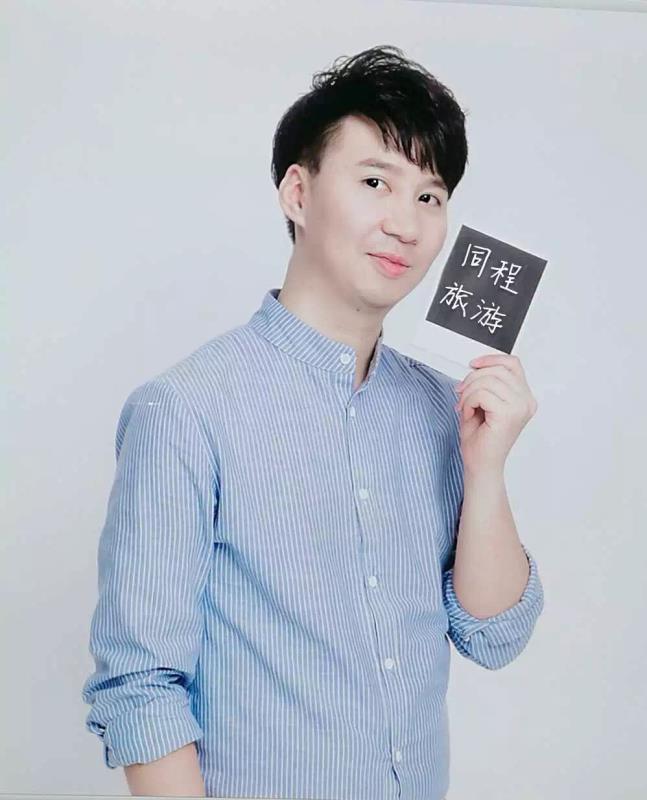 TongCheng's Jeff Chen was the 50,000th verified travel trade professional to sign up for Dragon Trail's China Travel Academy (CTA) training platform, on 25 February, 2020
"I first heard about CTA in October 2019 when my colleagues were using it," Chen said. "I kept it in mind as I was busy with marketing at the time. It's an honor to be the 50,000th registered user, and I will recommend this platform to partners in the travel industry. I believe people in the travel industry are tenacious and tough, and we will improve ourselves during the crisis and bounce back afterwards."
Referring to the reasons for using CTA, he said that "CTA provides a very easy platform for our practitioners to learn and obtain professional certification. We can use the flexible pace of training to enhance our knowledge and test whether we have really absorbed and achieved learning results anytime, anywhere. Official certification from tourism boards can build a professional image for us, which is very helpful for our daily work. The live-streamed training, knowledge updates, and auxiliary learning support tools are also very important to us."
At present, CTA has nearly 150 online courses, covering destinations, cruise lines, airlines, hotels, car rental companies, local travel agencies and more. The platform provides two forms of training: CTA is a self-study platform based on images, videos, text, and a testing system, and CTA Live is a live webinar presentation with an interactive Q&A.
In addition to serving travel agencies, the platform also provides a professional training system for content management, partner learning management, and data analysis for destinations and travel brands. Unlike other audio and video live-stream platforms, CTA users are required to complete real-name verification and professional authentication.
The Los Angeles Tourism and Convention Board has been offering "LA Angel" training courses through CTA since October 2015, and currently has four courses online. In order to motivate and encourage users, all courses offer e-certificates and paper certificates. From 2018, CTA also awards the Goldman Trophy to users who have completed all four courses and passed the test. The trophy, engraved with the user's name, is very popular.
Kate Chang, Regional Director of China for the Los Angeles Tourism and Convention Board, said that tens of thousands of tourism operators have registered and participated in the Los Angeles travel experts online training program, and more than 3,000 have been awarded the Goldman Trophy.
"CTA brings together products and resources training from many destinations, so it's like a supermarket for training resources for tourism operators," said Chang. "It's very convenient for them to learn at their own pace, and have access to an in-depth understanding of destination resources. Recently, we tried the CTA Live webinars, and the results were great."
Visit Sweden was the first destination to launch courses on CTA. In 2014, the tourism board worked together with Dragon Trail interactive to launch the first-ever WeChat-based training course for tourism experts in China, and they have continued to offer CTA courses ever since. Visit Sweden's training programs enhance travel agents' knowledge of and appreciation of the destination through well-produced high-definition videos, and motivate participation with gifts from Sweden. More than 6,000 tourism operators have completed the Swedish Tourism Expert Course on CTA, with more than 1,900 participants taking part in the CTA Live course.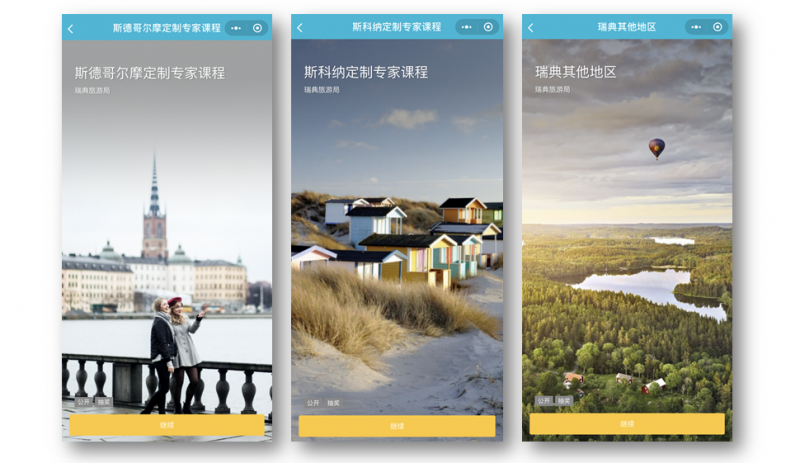 Visit Sweden's CTA and CTA Live training programs are available through one WeChat mini-program
The Travel Trade Manager at Visit Sweden's China Office, Peng Dan, said that CTA is suitable for professional skills and knowledge training within the travel industry, and Visit Sweden will continue to launch new expert training programs and public courses.
"Our partners can use this platform to pass information about new products onto domestic travel operators, and ask questions online, and travel partners can also effectively provide feedback on new products through Q&A. this is very helpful and delivers results for both sides," he said. "At the same time, this platform provides material support for travel partners to develop new products – tour operators can review saved courses anytime, anywhere, according to their own needs, and can also download and use product manuals to improve productivity."
CTA courses were officially launched on the Ctrip Store Academy in November 2019, with 12 courses launched so far. Luo Fei, Training Director of Shanghai Ctrip International Travel Service Co., Ltd., said, "Compared with other training platforms, the training content and lecturers on CTA are more official and authoritative, and the lecturers' explanations are more in-depth and detailed, so users are more proactive in their learning. Users can scan the QR code to watch the live-streamed courses directly, which makes it easier to learn. Users can also watch recordings of the courses. CTA helps us to track users' progress by providing detailed weekly data reports, and some of the more popular destinations can offer training on travel products."
"Since the crisis began," she said, "in order to strengthen staff knowledge and enrich their learning during this time, we changed our recommendation to take one course per month, to taking one course per day, including both CTA and our own courses. Ctrip store staff are taking online courses through the Ctrip University App and the CTA WeChat mini-program, by scanning the QR code on our promotional posters."
China International Travel Service (CITS) Co., Ltd. (Guangdong) is also a long-term CTA user. "The company has been encouraging employees to build up professional knowledge through this platform, and now the free enterprise management back-end can help training organizations to quickly track the progress of staff learning, and recommend specific courses," said Ellen Li, Deputy Director of Training.
"There are not many professional courses for the tourism industry at present, and the courses on CTA are from official destination marketing organizations and are very targeted," she added. From February 22, CTA training courses have been formally incorporated into CITS's company training system, with a weekly course recommendation for employees.
"We've known about CTA for a few years and liked the tourism expert courses offered on this platform. We have been promoting the courses among our employees, mainly by focusing on the expert certificate numbers, to encourage everyone to learn," said Li Li, training manager of Liaoning Comfort International Travel Service Co., Ltd. "Now, we have opened an enterprise management account, and have also added courses to provide employees with various training resources."
"During the quarantine period, we were excited to hear the news that the CTA platform was opening free of charge," said Xue Kun, Deputy General Manager of China Southern International Travel Hubei Co., Ltd. "We quickly opened the enterprise account on February 18, and the next day we shared the customized user entrance to staff in our WeChat group, so we could quickly start learning and improving ourselves."
"Five years ago, our idea was to use an innovative platform to help Visit Sweden improve the efficiency of online training," said George Cao, CEO & Co-founder of Dragon Trail Interactive. "Over the past few years, we are pleased to see that our pioneering training and communication methods have been accepted by the entire industry. On 25 February, in the midst of the travel industry being hit by the impact of the coronavirus outbreak, we welcomed the 50,000th real-name registered user to the platform. We are very grateful to our more than 50,000 Chinese tourism industry peers and more than 60 clients around the world for their trust and continued support. As a technology and creative company in the tourism industry, we will continue to innovate and contribute to the industry's recovery with platforms including online training, online road shows, online summits, online travel exhibitions, and new products that are currently being developed."
Please contact us to discuss how CTA and CTA Live can help you reach the Chinese travel trade and enhance your B2B marketing strategy.
Related articles:
Sweden Trains Chinese Travel Trade with WeChat Mini-Program
Reach the Chinese Travel Trade with Live, WeChat Roadshows
China Travel Academy: A Fresh Way to Work with the China Travel Trade