The travel market and consumer marketing in China are both developing at a breathtaking pace, but conversely, strategies for trade marketing in the travel industry have barely changed for decades. WeChat-based China Travel Academy was developed by Dragon Trail Interactive to give destinations a fresh way to reach out to travel agents in China, while maximizing convenience, engagement and ease of use.
How CTA works 
The China Travel Academy is hosted on China's most popular social media platform, WeChat, which has nearly 940 million monthly active users – almost 90% of whom use the app for daily work communication. The educational programs are aimed at informing travel agents about a destination and thus teaching them to sell it to their clients. The content might include modules on visa information, airlines, destination cities, culture and natural landscape. Destinations can leverage the CTA platform to create and promote their courses to the trade, and can also work together with Dragon Trail Interactive to select the content for their program to match with their own marketing strategy – for example, PromPeru's CTA training program includes 17 different experiences and major attractions that have particular resonance with high-end Chinese visitors, from major scenic landmarks and ancient culture, to world-famous cuisine and soft adventure activities. In addition to text and photos, the CTA platform supports videos and audio for rich and engaging content. With all CTA programs, there are quizzes to pass at the end of each module and incentives offered throughout the course to ensure completion. Upon finishing the course, travel agents will also be given an official certification.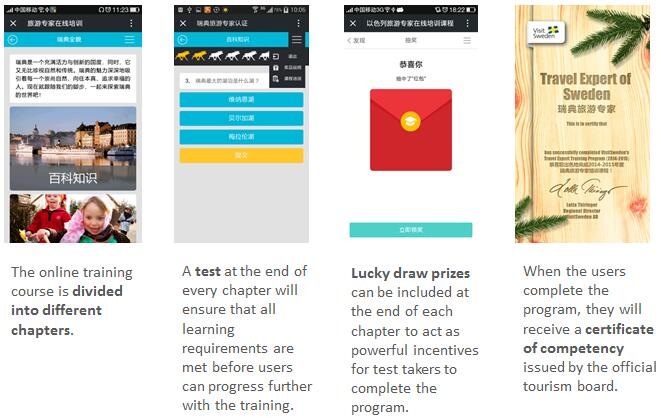 "We wanted to have a new way to train the travel trade," says Lynn Li, Country Manager China for Visit Sweden, which enlisted Dragon Trail Interactive to help them develop the first China Travel Academy program. The original program was so successful that Visit Sweden launched a second one just a year later.
Since then, China Travel Academy has launched programs for countries, cities and regions throughout Europe, the Middle East, North and South America, many of which have since launched a second edition of the course. China Travel Academy also counts hotel groups such as Accor as clients, along with car rental service Hertz and cruise company Norwegian Cruise Line.
Why CTA works
This approach to working with the Chinese travel trade is so successful because it was developed to be as convenient as possible. Travel agents in China are incredibly busy, so it is crucial to make marketing towards them as easy as possible. Since the courses are completed on a mobile platform, agents can study at any time – while commuting, eating lunch, at home or in the office. Their progress is saved, so they don't have to worry about losing their work or having to re-login. The incentives are also an important plus – "The China Travel Academy is more attractive as we can get free gifts after completing every course, which makes us more willing to study," admits Beijing-based travel agent Tian Shan, who has completed nine CTA courses to date.
The platform is also more convenient for destinations, as creating just one program can reach travel agents all over China and takes the work out of pitching to individual agencies or agents, or trying to ensure that offline events will be well attended by the travel trade.
Getting the word out 
After already running so many WeChat courses and collecting data on the users, China Travel Academy has amassed a database of 30,000 Chinese travel agents (updated November 2018). New CTA courses can be advertised directly to this pool via email, and destinations can reach more agents by including information on CTA in all online communications with the trade – including their website, WeChat menu, EDMs and other social platforms – and by encouraging offline-to-online interaction by providing QR codes at offline events to promote the online training program.
Furthermore, the thousands of CTA users also engage in effective peer-to-peer promotion. "Once there is a new course launched, I can see many friends from the travel trade would share the news on WeChat Moments or in WeChat groups. Then people like me would learn about the course," says Tian Shan.
Monitoring results & building ongoing engagementFrom the destination's perspective, CTA is not only an efficient way to expand the reach of the travel agents they are currently working with, but it is also a powerful tool to identify the most engaged travel agents and to build a CRM database for ongoing communications. CTA's backend allows destinations to monitor and analyze the course's uptake and completion rate, identifying the best performing agencies and individuals, as well as the geographical areas most interested in their products. Users' comments and the course's most difficult questions provide destinations with qualitative insights about the trade.
Destinations can also build on their CTA courses to create additional ways of providing information to the travel trade. For example, Visit Sweden decided to upload all of the itineraries that agents learned through their CTA courses to an online product catalogue, allowing agents to easily search for products such as the top 10 luxury hotels in Stockholm, Sweden's top 10 family activities, or the top five experiences in Goteborg.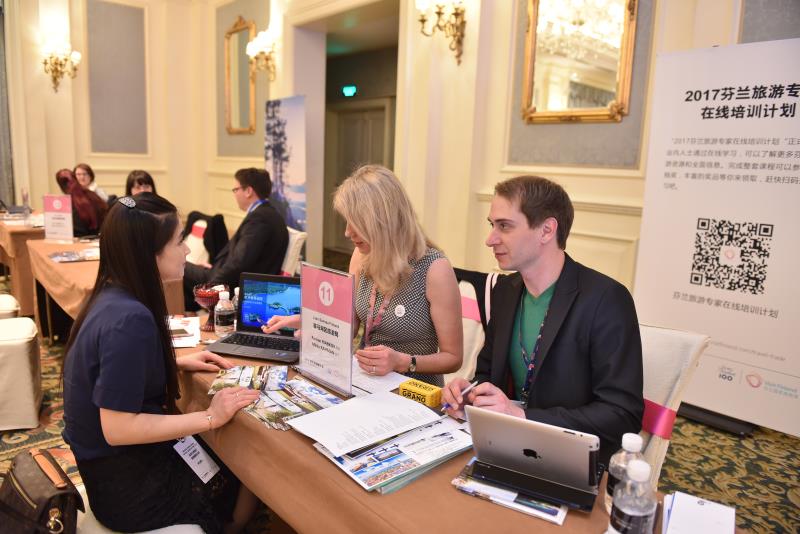 Visit Finland CTA Course Launch Event
CTA clients
So far, China Travel Academy courses have been designed for: Accor Hotels, Atout France, ProColombia, Destination Canada, German National Tourist Board, Aerolineas Argentinas, Greek National Tourism Organization, Hertz, Israel Ministry of Tourism, Los Angeles Tourism & Convention Board, Norwegian Cruise Line, PromPeru, Scandinavia Tourist Board, Thailand Tourism Authority, Visit Monaco, Visit Sweden, Kenya Tourism Board and Visit Finland.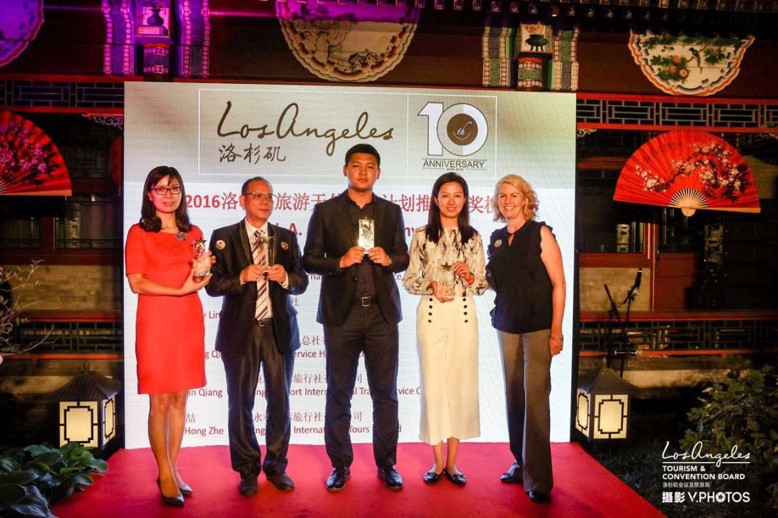 Los Angeles Tourism & Convention Board CTA Awards