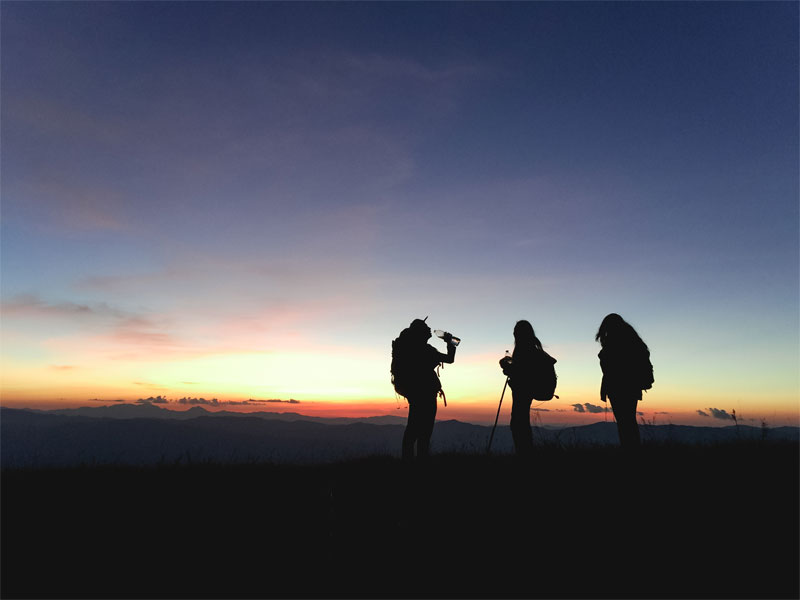 Women may only make up 48.1 percent of China's total population, but they dominate outbound travel. According to the China Tourism Academy's statistics, women make up 56 percent of Chinese outbound travelers. Moreover, their share of Chinese overseas spending is even more significant. A 2016 study by Skyscanner and UnionPay Smart showed that women make up an astonishing 86 percent of Chinese outbound shopping. Why are Chinese women more likely to travel and spend abroad than men, and how should the travel industry respond?
Chinese online travel agency (OTA) Tuniu reported that 62 percent of its 2016 clients were female, and that female customers were much more likely to make multiple trips abroad. This gender imbalance is repeated for other major OTAs as well. Mafengwo, which includes both domestic and international travel, has 57% female users. For Qyer, which is purely for outbound travel, 68% of users are female.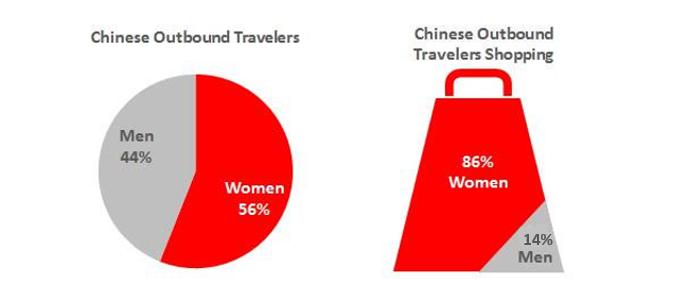 The World Tourism Cities Federation's 2014-2015 report, which found that women made up 56.5 percent of Chinese outbound tourists, also reported that 71.68 percent of outbound tourists were married with young children, so it's not just single women traveling abroad. Vina Wei, a Chinese woman who was born in the 1980s and lives in Beijing, says that while her single female friends are more likely to travel overseas than those that are married, even married women might opt to go abroad without their husbands. "Some of my girlfriends leave their boyfriends or husbands at home, mainly because they want to travel with other girlfriends, or because their boyfriend or husband isn't interested in where they are going," she says.
Wei has traveled abroad together with other female friends to Thailand, South Korea, the US, the UK and continental Europe. Although she has also traveled with male friends, she says her female friends are more likely to travel internationally. "I think women tend to have better language skills. To travel internationally, you need to be able to communicate with local people," she explains. This point about language skills was also recently echoed by an expert from Chinese OTA Ctrip, who noted that young Chinese women can generally speak English and travel independently. Chinese women do tend to outperform men academically when it comes to languages, which can positively influence their career options as well as their ability to travel abroad.
However, it's not just that Chinese women are traveling more overseas – they are traveling more domestically as well. This month, Ctrip reported that 58 percent of customers in the agency's Chinese self-guided and group tours are women. In the first six months of 2017, the OTA revealed that 14 percent of their female customers chose to travel alone, compared to 10 percent of men. As well as linguistic abilities, women, especially in the post-70s and 80s generations that currently make up the majority of Chinese travelers, are thought to be more adventurous. "Women are more curious about the world. There are a lot of men who like to stay home nowadays," says Wei.
At the Hotel Markazi in Tehran, 50 to 80 percent of the guests are Chinese, thanks to its good reputation on Chinese travel sites. "It's very interesting that most of the guests are ladies," commented the hotel's manager, Fatima, in a 2016 interview. "Yesterday we had a group of Chinese ladies, and I asked them, 'Why is it usually Chinese ladies who come to Iran?' The girl told me it's because the boys stay at home and play games on the computer, but the girls like travel."
One question when it comes to female travel is always safety, and Ctrip's recent report noted that women travelers may face higher security risks. At the same time, they announced four new safety-related services: A global travel SOS system, local guides, travel companions and travel insurance. Although Chinese women are traveling abroad in large numbers, safety concerns do influence their choice of destinations. "It really depends on where I am traveling to," says Wei when asked if she ever worries about her safety as a female traveler. "For instance, I will never travel alone to India. But I am never worried when I visit Japan, because I know it's very safe there." Wen Yanming, a 35 year old Beijinger who visited Iran in 2006, decided to look for travel companions online, as she was concerned about the safety of traveling there alone. She first formed a group of four women and two men altogether, but when the group realized that Iran was a safer destination than they had originally thought, the female travelers proceeded with the trip on their own.
In terms of spending, fragrances and beauty products are the most popular overseas shopping category for Chinese tourists, followed by clothing and accessories, according to Fung Global's 2016 study. There is a lot of interest in foreign cosmetics brands, especially Asian brands, because of their perceived quality and trustworthiness. South Korean beauty brands in particular have been well marketed to Chinese women through social media, and because of their use on Korean television series that are popular in China and endorsement by popular South Korean celebrities. Luxury taxes in China make imported cosmetics far more expensive that they are overseas, especially compared to their price at duty free shops – where 32.2 percent of Chinese tourists do the majority of their overseas shopping, according to Fung Global.
Given the overall numbers and their importance for overseas retailers, tailoring Chinese-focused marketing strategies to target women is definitely worth consideration. This might mean making sure to feature images of women prominently in marketing materials, or offering and promoting information about destination safety to ensure that women feel secure about traveling there. Additionally, brands and destinations that work with travel KOLs or Chinese celebrities should choose those who have particular appeal to women, or travel KOLs who are women and could be more relatable for potential visitors. Having a destination featured in a film or TV series that is particularly popular among women – such as the Chinese romantic comedy film set in Seattle, Finding Mr. Right – could help popularize a destination with more female travelers. Finally, International Women's Day on March 8 is celebrated – and commercialized – quite seriously in China, and provides a good opportunity for social media posts or even special promotions.