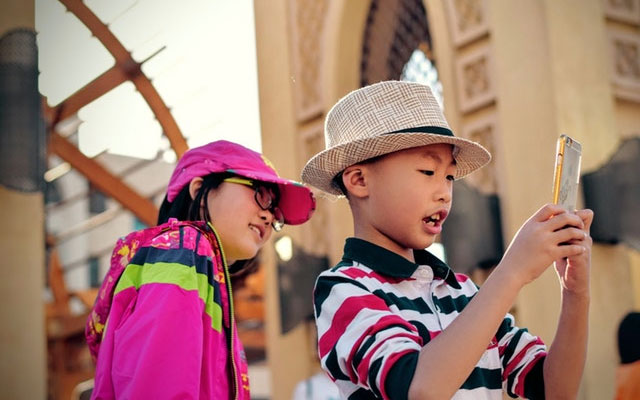 Family travel is one of the most important areas of the Chinese outbound travel market – in fact, it was the "fastest-growing segment in China's outbound travel market" for Chinese New Year 2017 (Forbes), with an 18 percent year-on-year increase in groups of up to four family members, and family travel making up over half of all overseas Chinese travel over the Chinese New Year holiday.
But what does 'family travel', in the Chinese context, really mean? It's more diverse than just parents traveling with young children, with family groups comprising different generations and configurations. This creates more opportunities for catering to different kinds of Chinese family tourism and for understanding how family tourism influences the overall Chinese outbound travel market.
Types of family groups
Hotels.com's 2017 China International Travel Market (CITM) report showed that 67% of Chinese travelers born in the 1970s travel with children. The percentage for the 1980s generation was 52%, and for the generation born in the 1960s, it's 40%.
For families with young children, a 2015 report by Chinese OTA LY.com and online portal for mothers, mama.cn, estimated a potential market of 80 million families made up of parents traveling with children aged 3-10. The report showed that 75% of parents wanted to take their children on a family trip overseas, and that 70% of children going abroad with their parents are aged between 3 to 10 years old.
But older Chinese are much more likely to travel with their parents overseas than their cohorts in the west. The post 70s and 80s generations might travel together with their parents and do the activities their parents want to do on long-haul trips, and they may also pay for their parents to travel abroad – either with them or on their own. Travelers from the post 70s or 80s generation might also travel with three generations altogether – the "6+1s" travel configuration that includes two sets of grandparents, the parents and one young child.
Finally, there are post 90s millennials who travel together with their post 60s generation parents. This arrangement is significantly influenced by finances, as the recent CITM report showed that 34% of post 90s millennials do not yet have income of their own, so they must rely on their parents to fund their travel – 35 percent without an income reported traveling together with their parents, compared to 21 percent of those who do have an income.
Parents' influence on their children
Adult children traveling together with their parents make travel decisions based on the needs of the older generation. A 2016 study by Wego showed that young professionals were very considerate of their aging parents while traveling together, booking better airline seats for their parents and opting to stay at hotels that serve Chinese food to make sure their parents were comfortable and happy.
Younger millennials also travel together with their parents and are influenced by their parents when it comes to making decisions about travel, but for different reasons. According to the CITM report, Chinese millennials born in the 90s ranked their parents the 6th most important influencer on their travels, compared to 13th for other age groups. As mentioned early, this is partly because their travel may be financed by their parents, which increases the influence that parents have. 32% of post 90s millennials without income considered their parents to be a major influence on their travel decisions, versus 25% of those with income.
Children's influence on their parents
Children also influence their parents' travel decisions, in different ways depending on the age makeup of the family group. Parents traveling with younger children make decisions based on their offspring, with the LY.com and mama.cn study revealing that 60% of parents said that their destination was decided by their children, with another 15% choosing the destination based on other family members' recommendations. But this doesn't mean that the parents are simply giving in to their children's whims when it comes to deciding on a travel destination, but rather that the destination is chosen with the children's needs – especially their education – in mind. Less than 2% said they chose the destination based on the child's request. 35% of parents in the study said they thought outbound family travel could enrich their children's knowledge, and more than 30% of parents hoped traveling overseas would improve their children's language skills.
The CITM study revealed that parents' travel habits are also influenced by their older children, with post 60s parents who had traveled together with their children showing different preferences for future travel than parents who hadn't traveled with their children. Parents who had traveled together with their post 90s children had a much greater appetite for adventure, and were more likely to want to do a theme tour, eco tour, private luxury tour or backpacking.
This post 60s generation is becoming more adventurous on the whole, with plans for backpacking more than tripling from 6 to 21 percent since last year, and interest in eco tours doubling from 12 to 25 percent. This generation is getting more independent, too – 45 percent of post 60s did group travel in 2016, but only 12 percent said they planned to do so in the next 12 months. Still, the influence of their children is undeniable. Most significantly, 24 percent of post 60s who had traveled with children in the past 12 months said they would do a private luxury tour, compared to 17 who hadn't traveled with their children. For eco tourism, the difference was 23 percent who hadn't traveled with children, versus 29 percent of those who had.
Attracting the family travel segment
Family travel is a significant portion of Chinese outbound travel, but to understand its potential, it's important to first realize how diverse this segment of the market is. The needs of the market are very much influenced by which generations are traveling together. For example, a child born in the 1980s traveling with parents born in the 1950s may care most about giving their parents a comfortable experience, whereas a family with a child born in the 1990s traveling with parents born in the 1960s is more likely to consider adventure tourism, and parents born in the 1970s or 80s traveling with young children will be thinking about the educational value of the trip for their children. These kinds of differences create a complex picture, but also one with opportunities for many different kinds of destinations and travel products. Destinations interested in attracting family tourism from China would do well to consider exactly which generations and kinds of family groups they would appeal to most, and focusing their marketing with these families in mind.