American cruise company, Norwegian Cruise Lines, launched a ship especially for the Chinese market during the summer of 2017. The backdrop to this is that China is now the world's second largest cruise market, and the field is becoming increasingly competitive – so Norwegian Joy stands out for being explicitly Chinese. In addition to having all the signs in Chinese, there are also Chinese restaurants, the buffet is about half if not more Chinese food, films shown on deck during the day are subtitled in Chinese, and large screens air music videos of Chinese pop stars in the evenings. There are KTV rooms and a casino area, plus lots of duty free shopping, a ping pong room, and mahjong sets that you can borrow for free and play anywhere on the ship.
I ended up on a four-day cruise from Shanghai to Okinawa and back as part of my annual company meeting. Alongside my 75-odd co-workers, the other passengers on the cruise were for the most part Shanghainese. Senior citizens were definitely dominant – as I imagine they are on any cruise ship in the world, but there were also many families with young children, and the cruise provides a stress-free way for Chinese adults to travel with both their children and their aging parents, safe in the knowledge that there's plenty to do on the ship for everyone. The few other foreign-faces on the ship were mostly staff and crew – in addition to the many Chinese staff, those from the Philippines and Indonesia also exuded overwhelming hospitality and friendliness.
The day started with a long taxi ride from Pudong Airport, where I had just flown in from Heathrow. Shanghai is actually home to the world's busiest cargo port, and large trucks zoomed alongside us on the highway. Tour groups assemble in a big tent outside the port terminal, where you can drop off suitcases for them to be taken to your room. Then you go into the main building to check in to the cruise, get your room card, and go through immigration and customs.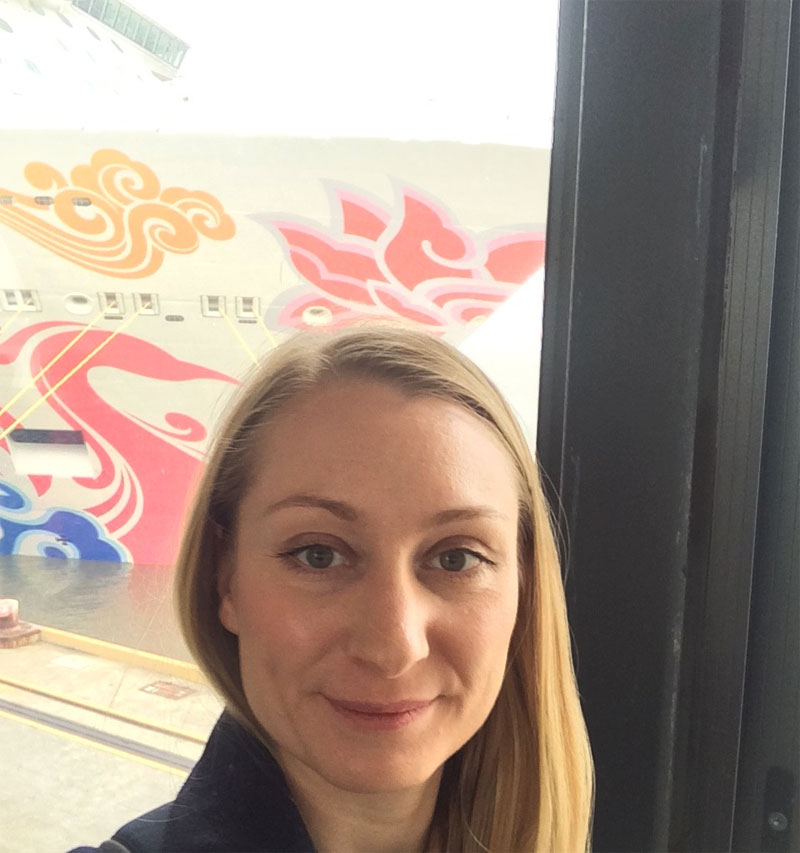 Finally, you pass through a doorway with 'Norwegian Joy' written on a digital screen above. This is where the fun starts. You walk down a long corridor with views of the ship you are about to embark, a behemoth of a vessel that can carry 5,000 people, bright white and emblazoned with a red bird and swirling yellow and blue clouds. The selfies begin in earnest. Then you cross a bridge and you are on the ship! The staff is dancing and jumping and greeting you with enthusiasm. First impressions on board are lush, multi-patterned carpets and golden elevators.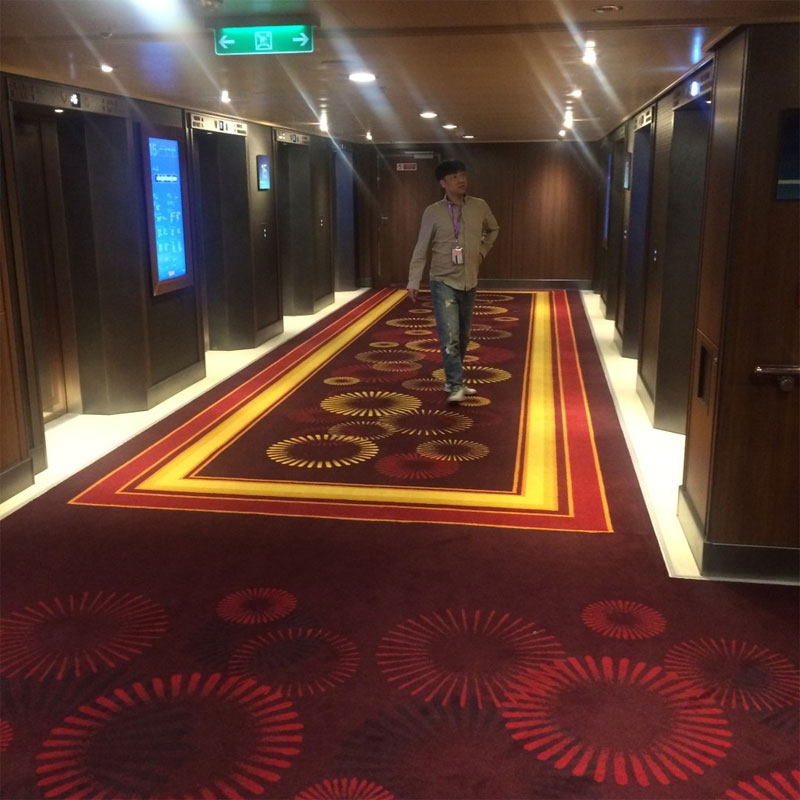 On the 10th floor was my room, down a very long hallway. The rooms are lovely and modern, which you'd expect from such a new ship. There's a sofa in each room, and comfortable beds, and a balcony with chairs – though unfortunately sailing in early December meant we didn't use ours much. The bathroom is clean and the shower's temperature and water pressure are good – a far cry from my only other cruise experience, down the Yangtze River in 2006, where the shower cubicle doubled as a squat toilet (and that was in the nicer rooms!).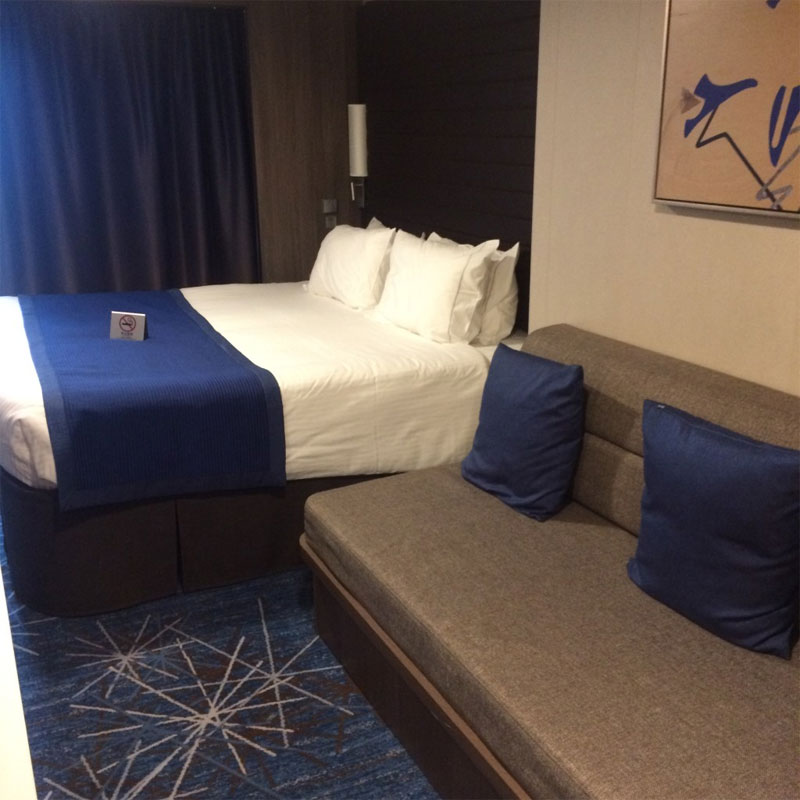 As soon as everyone arrives, it's straight to the buffet. There are a number of restaurants that you pay for, including the Italian La Cucina, and an American diner where you eat in booths that resemble vintage red convertibles. We also tried a teppanyaki restaurant with an elaborate show by the chef that involved singing while using the salt and pepper shakers as percussion. But the free buffet was actually my favorite eatery. There are noodle soup stations, and salad bars, and Chinese hot and cold dishes, and chicken drumsticks, and pasta, and sandwiches, and a kids' corner with hot dogs and burgers and French fries, and bread and cheese and cold cuts, and fresh fruit, and so much dessert. The self-serve soft serve ice cream was a hit with me and with all ages of Chinese passengers. There's hot water and cold water and nice juices and a selection of teas – chosen specifically to suit a Chinese audience. Finding a table can be a challenge, especially around 6pm, but as the evening progresses, as well as other times of day, it all empties out, and there are some beautiful sea views, too.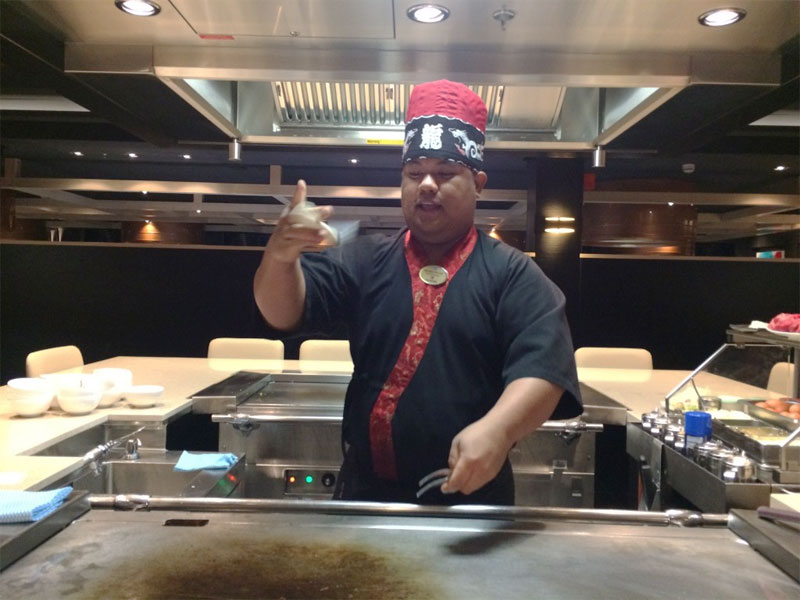 That night we explored the ship. We passed by the Italian restaurant and a gym, and a hallway art gallery, and arrived at the glossy black and golden doors of an "American-style steakhouse" and looped back through duty free, which was gleaming white, with cosmetics and watches and diamonds at different counters. In the center of the ship between the 8th to 6th floors, there is a glass spiral staircase and an impressive elongated chandelier that were both a different color or combination of colors every time I passed by.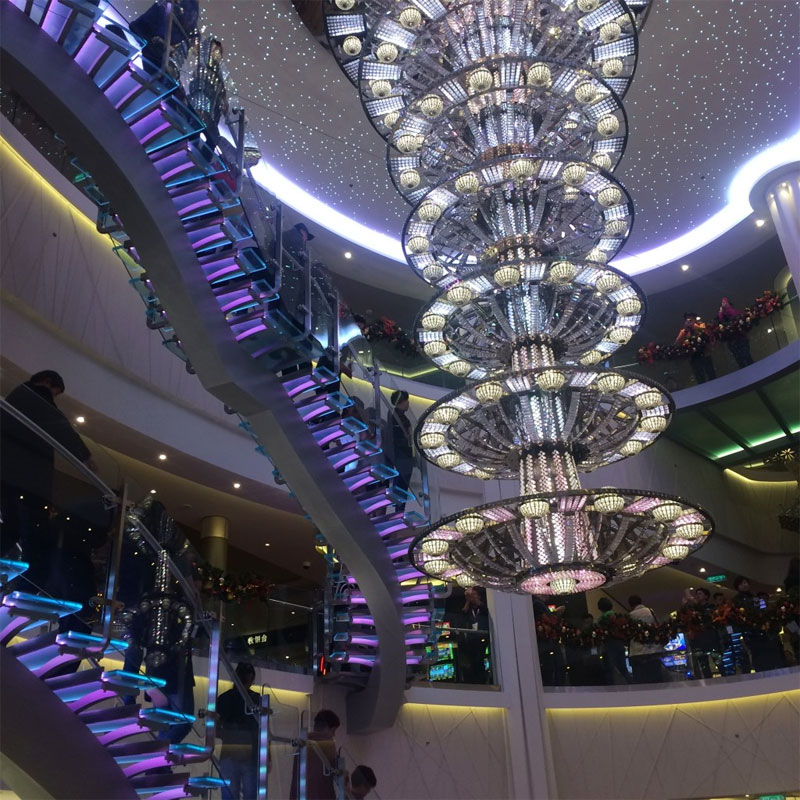 Outside the buffet restaurant on the 16th floor was a large open-air deck with astroturf and croquet, as well as a huge blue water slide that veered off the edge of the ship in one place where it went clear. There was an assortment of small swimming pools and hot tubs, and these really did get used, especially during the day. At the very top of the ship was a popular go-karting track.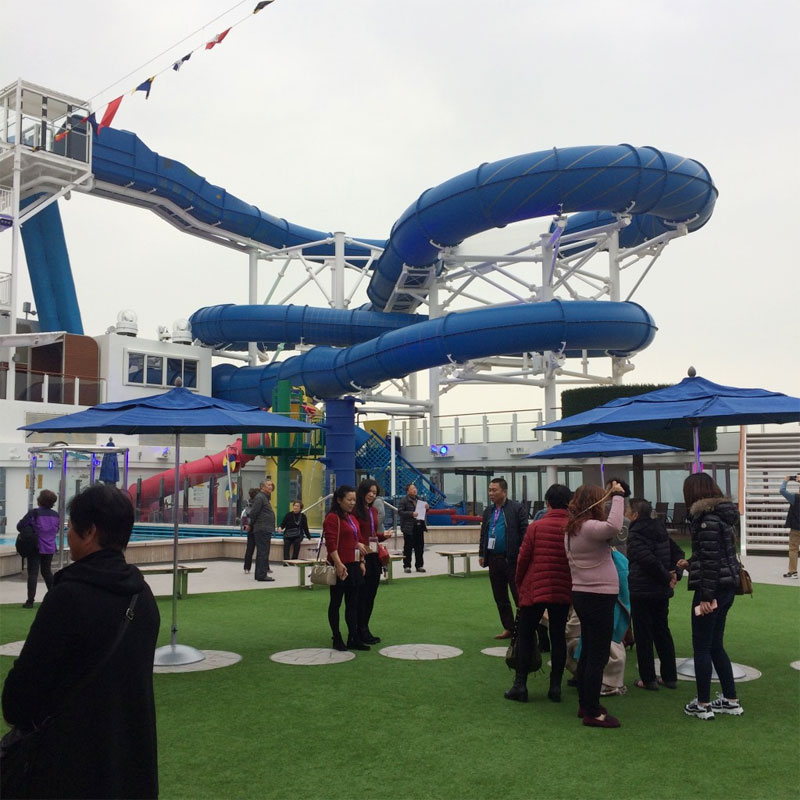 The destination of the cruise, reached on the third day, was Okinawa. After disembarking, we boarded a tour bus, and drove across the island guided by a Japanese-resident, Chinese-born tour guide. Our first stop was a small area of rocky coast line, where we all got off to take windy selfies by the sea, before returning to tents of souvenirs and Hawaiian shirts. The next stop was the Shurijo Castle, a tourist attraction in a sleepy town with ice cream stands, convenience stores, and a Methodist church that has served as both a temple and a WWII sniper tower over the course of its history. The final two bus stops of the afternoon were both shopping-related, first to a duty free outlet specializing in cosmetics, and then to the city of Naha, where the tour guide led us to a department store, but we enjoyed walking in the opposite direction down the main street of fun tourist shops with souvenirs and local delicacies, and discovering a covered market full of beautiful gifts.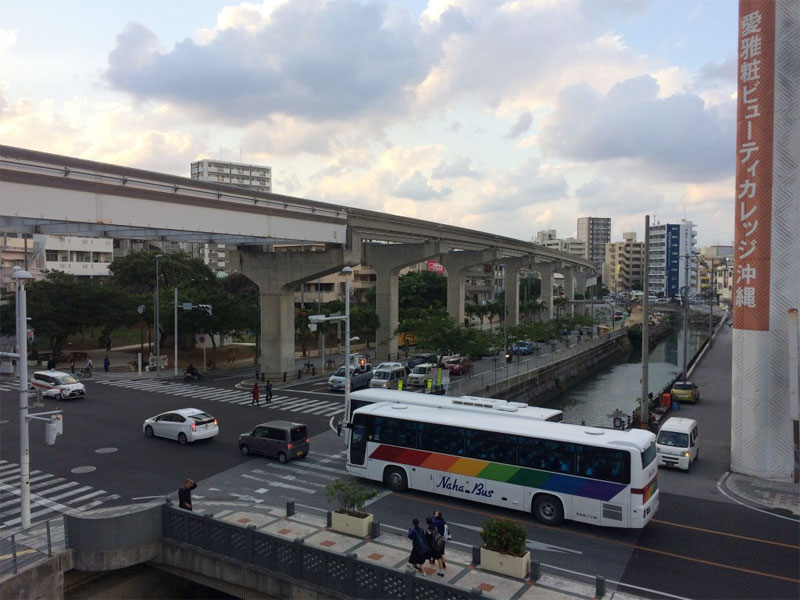 Dancing is a popular activity on board Norwegian Joy. The evening after departing from Okinawa, we wandered out onto the 16th floor deck to find ourselves in the midst of a dance party. Professional dancers and an MC moved enthusiastically around a stage area, while the deck was packed with passengers. Lights flashed. Middle aged women and men waved glow sticks, clapped their hands and bounced up and down to electronic dance music, some with their faces painted with phosphorescent patterns. I found myself smiling at one woman who looked close to 80 years old, with bobbed, permed hair and a green cardigan. But my smirking turned to a mix of shame and admiration when I calculated that while my 20s were spent partying freely around the world, hers had taken place during an era of famine and political upheaval. What an experience it must be for someone growing up during times of hardship to dance aboard a luxury cruise ship and indulge in all-you-can-eat plates of shrimp. After my change of heart, I attached myself to a conga line, and in the end, the party seemed to end all too soon.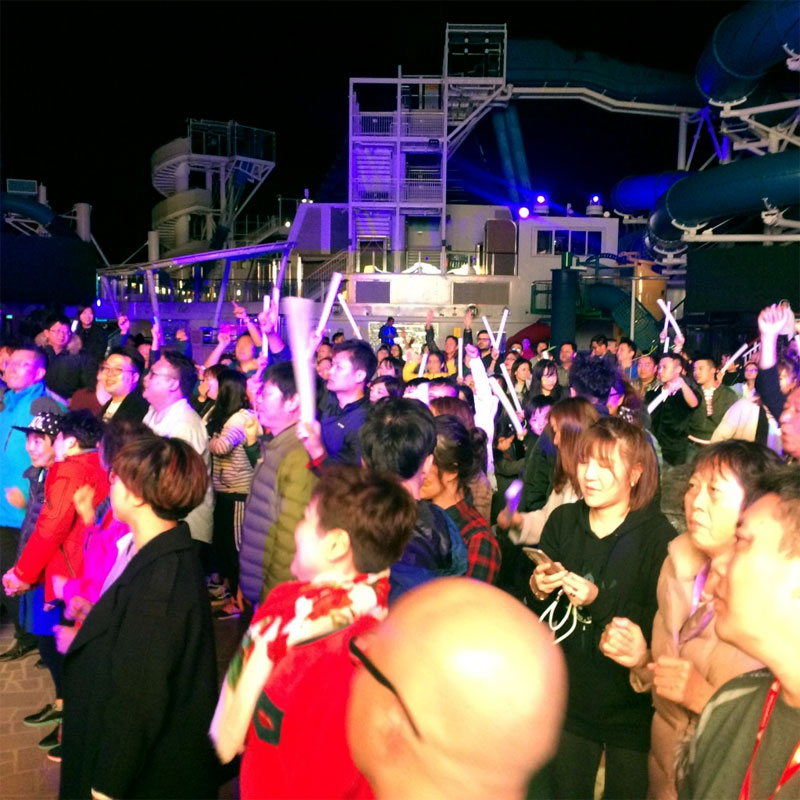 The karaoke rooms were all booked up for the entirety of the trip by the beginning of the first night, to our great disappointment, but at the "Supper Club" discotheque next door to the KTV, we shook our hips to reggaeton and performed the Macarena with a group of friendly middle aged men who claimed it was "destiny" that we'd met and danced together on the cruise on our last evening. Near midnight, I asked them if they thought we were back in China, they replied: "Definitely – they've already closed the casino."
I only walked through it briefly, but the on-board casino – which opened as soon as we entered international waters and closed when we left them, as gambling is forbidden in China – was another popular entertainment spot, with women at the slot machines and men at the blackjack tables.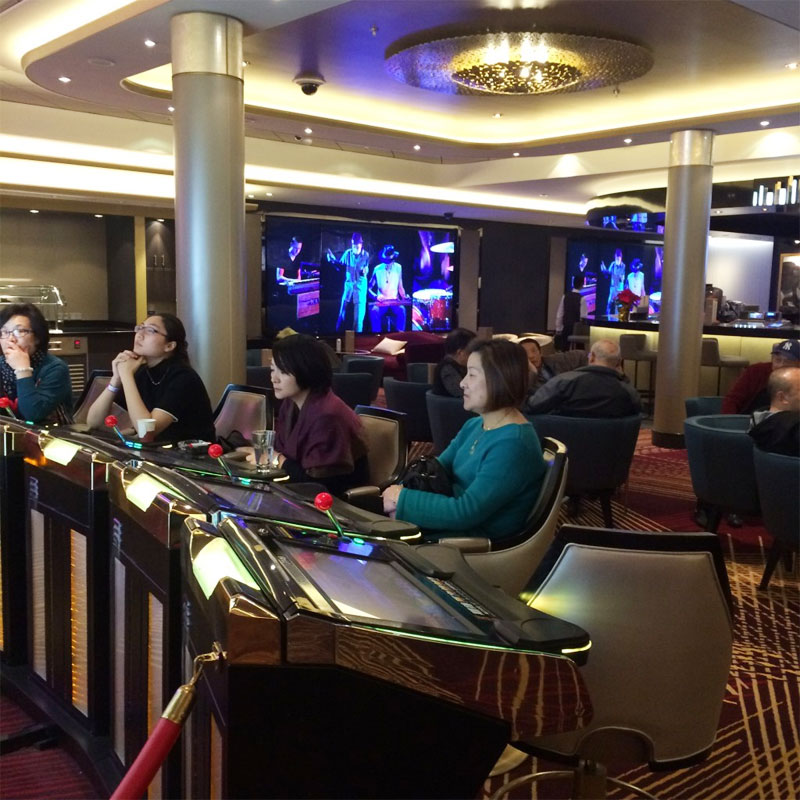 Like an actual casino, Norwegian Joy also offers plenty of live entertainment, with dance shows and magicians in an enormous theater. On the night we went, the show was a mix of magic, dance and acrobatics, with glittering costumes and dramatic music. Ballerinas wearing aquamarine flippers were hoisted high above the stage on acrobatic silks, while the music went bloop bloop bloop bloop in an underwater serenade. Then yellow-clad dancers took to trapezes, sparkly men leapt across the stage fanning fake snow that fell faintly over the audience, spiky ice queens rose from stages set within the audience, and the show was over.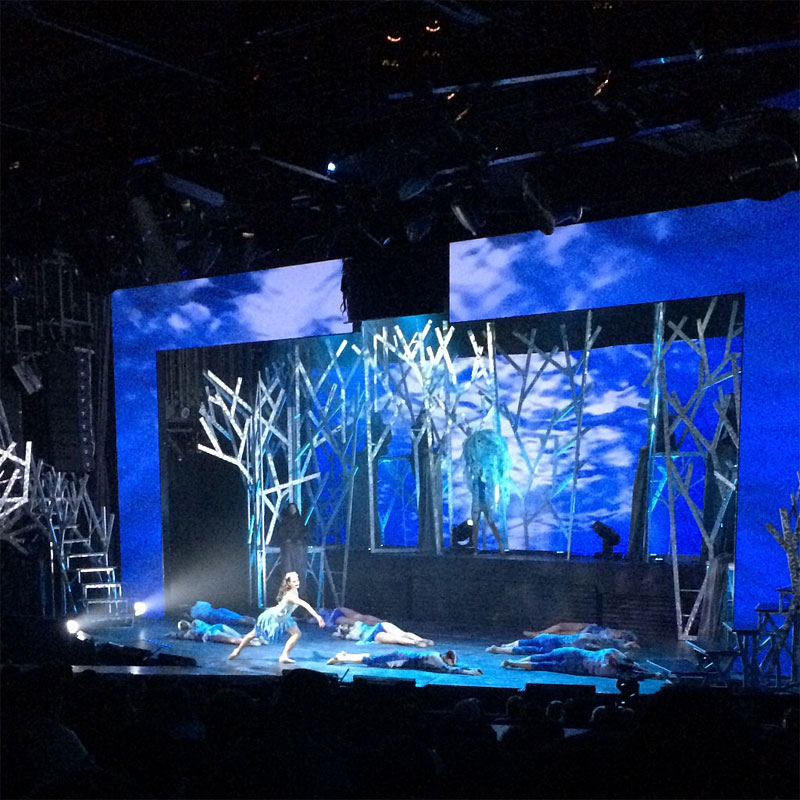 On the last day, we ate our final buffet breakfast, assembled at 'Manhattan' restaurant with our suitcases, and followed the crowds clutching stacks of Japanese-purchased rice cookers and bags of duty free purchases, and we were back where it all began at the port building. Two days later, I still felt like I was going up and down from the ship, and still had Shakira's "Whenever, Wherever" stuck in my head.
Post script: It wasn't until we got back that I learned that Thomas aka Afu, a German guy famous in China for his funny videos about Shanghainese culture, had taken Norwegian Joy just a few weeks before, and filmed an episode of his online show about it. You can watch that here.