Virtual events were already happening pre-pandemic, but 2020 put their development into hyper-drive. There's been a learning curve for providers and users alike, but the progress has been phenomenal as the world adjusts to new ways of doing business, exchanging ideas, and making connections. As we head into 2021, it's clear that virtual events are here to stay, with new developments of hybrid and O2O events already getting started.
Based on our experience hosting more than 20 virtual trade shows, sales missions, and conferences in 2020, in addition to exhibiting at and attending many other digital events, here are the answers to seven essential questions that will help you get the most out of your virtual event experiences in 2021 and beyond.
1. How can you avoid screen fatigue at your next virtual event?

Dial up engagement with quizzes, polls, and lucky draws throughout the event
Screen fatigue is one of the biggest issues for virtual events, but there are key techniques and features to keep visitors engaged. Here are three that are easily actionable:
– Interaction: Run live event sessions with interactive Q&A, and introduce regular polls, quizzes, and lucky draws to keep users engaged while also gathering useful data that can be used post-event.
– On-demand content: While holding live sessions is a good idea to dial up interaction and give people the feeling that they're really at an event, make sure to provide this content for on-demand playback so delegates can break up meetings with conference sessions and vice versa, according to their own schedule and time zone.
– Time limits: Conferences should ideally be broken up into sessions of no longer than two hours, to enable viewers to stay focused and engaged.
2. How do you keep buyers engaged and avoid no-shows for business appointments?


This buyer incentive scheme helped deliver a 90% meeting completion rate and 94% appointment satisfaction rate for IT&CM and CTW China 2020
Traditional offline events often suffer the problem of no-shows, but virtual gives us more opportunities to experiment with engagement tactics and incentives for the buyers based on verifiable data. Because we're tracking the engagement going on in the platform for a virtual event, we can start to think about offering business missions or games to reward attendance at conferences and networking sessions – but especially to incentivize completing meetings.
Case study: In August 2020, IT&CM and CTW China had around 2,500 appointments completed in just two days, with a 90% completion rate, which is much higher than often the typical offline event. Even more important was the 94% appointment satisfaction rate – this meant the meeting lasted for at least 12 minutes of a 20-minute time slot, and the meeting was rated as good or above by the exhibitor.
How was this achieved? After every virtual 1-on-1 meeting, a pop-up survey asked exhibitors to rate the buyer. Buyers got bonus points if they achieved an average rating of good or above by the end of the event. Rewards included eligibility for lucky draw prizes to be rewarded at scheduled times – increasing engagement at those times as well – and automated refunds of the buyer admission fee in increments via WeChat. Only the most engaged buyers might win back their entire admission fee.
3. What are the most critical steps in the lead up to launching an event?

A walk-through demo video can make a huge difference for the prospective exhibitor and for the user experience
Attending a virtual event as an exhibitor or visitor is still a new experience, and training is absolutely critical – we recommend a mix of training activities and styles, including:
– A written step-by-step guide
– A guided walk-through demo video
– Live customer service during the event, such as live chat
A good platform will have an intuitive user experience, but training and support are still absolutely necessary. It's astounding how often technical problems come down to an issue with microphone and audio settings on someone's device as they start their meetings, which could be avoided through pre-event training and testing.
Moreover, it's not only important to provide demos and written instructions before the event, but also make sure that these are easily accessible once delegates sign on to the event platform, to ensure that exhibitors and buyers don't spend the first day just trying to figure out where everything is and how it works. Offering live customer service during the event, just like you'd have an information desk staffed by real people during a traditional event, can also help a lot and make exhibitors feel they're being looked after.
4. How can you attract sponsors to virtual events?


Virtual events can offer more value to sponsors than traditional offline events
Virtual events open up new and possibly more lucrative sponsor revenue streams than offline events. Instead of lanyards and banners with no way to track engagement, all exposure at an online event is 100% trackable. Some ideas for exposure for sponsors:
– A media banner or a sponsored video that plays in the buyer portal for pre-scheduled appointments, where exhibitors and buyers are going to be constantly watching.
– Running sponsored videos during conference and networking sessions.
– Recommending sponsors with prominent positions in search results.
– Giving sponsors higher visibility on the exhibition map, such as a default view that always goes to that exhibitor when someone enters the trade show.
Apart from the revenue and credibility, sponsors also have a lot of industry resources, so they can help you recruit your audience or even your buyers. Digital will even allow you to run campaigns with them to track their recruitment performance and reward them – for example, you could give them more virtual meetings or reduce the price of their sponsorship package.
5. How do you have successful virtual meetings?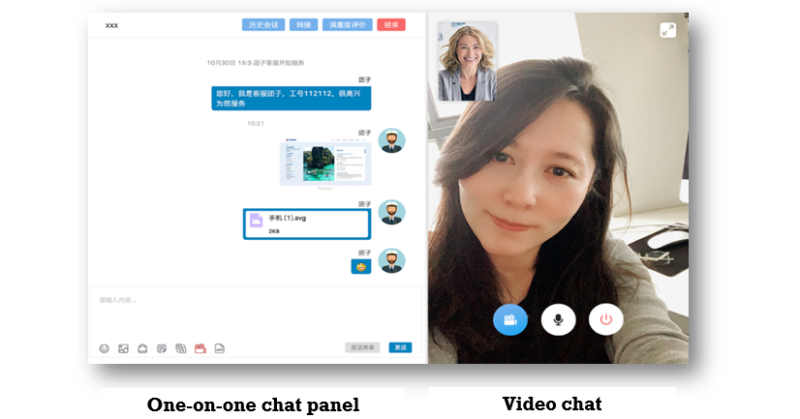 Probably the main challenge of an online event is trying to recreate the interpersonal exchange you have in a face to face meeting. But this is actually an area where virtual events offer some opportunities to improve on the effectiveness of in-person meetings. Here's how:
– A choice of chat or video call gives participants more choice in how they communicate.
– Built-in translation functions can support international business and improve the effectiveness of meetings.
– Instead of carrying around your laptop all day at an exhibition, you can easily and directly share and show videos and slides in the online meeting room, and transfer over files instead of printing brochures or loading up USBs with your latest decks.
– Having the meeting saved automatically allows you to focus more, as you'll be able to easily refer back later to meeting logs. With contact details already saved through the matchmaking system, you can spend the meeting time focused on business instead.
Top tip: Specifically for exhibitors pitching to buyers, although you can transfer as many files as you want via online chat, be careful not to overload them with content. Present your best and most up-to-date product pitch, and use the chat interface to send them clear, useful marketing and sales collateral that they can use with their customers.
6. What do organizers need to do after the event is over?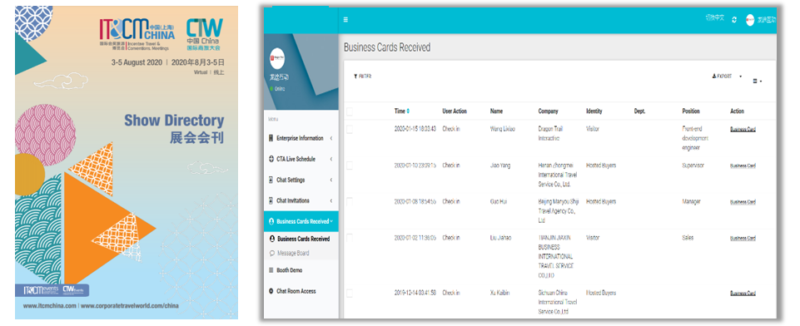 Post-show, delegates should be able to easily access data and other useful information
After the event wrap, it's important to keep the engagement going. Within 5-10 days, we recommend sending all delegates a thank you email with the following:
– Show directory: This should include all of the information on the show's buyers and sellers, as a complement to what they're able to export themselves.
– Post-event survey: If you've got a good platform and you've been doing lots of survey and polls during the event, you can aggregate these for a post-event report. But another post-event survey is a great way to collect more data, and it's this data on which your next event's sales performance relies on.
– Options to maintain digital presence: Virtual events are not just something that happens and then go away like an offline event – consider more platform-oriented models and options for exhibitors and visitors to maintain their presence and continue to get value out of that presence beyond the event activation, and start pitching those ideas to delegates now.
– Event report: Finish off the event with a professional report synthesizing the top level data, in addition to what delegate can export themselves from their account. This also helps them to report up the line to their managers and leaders about the value of the event.
7. What's next – won't events go back to normal after the pandemic is over?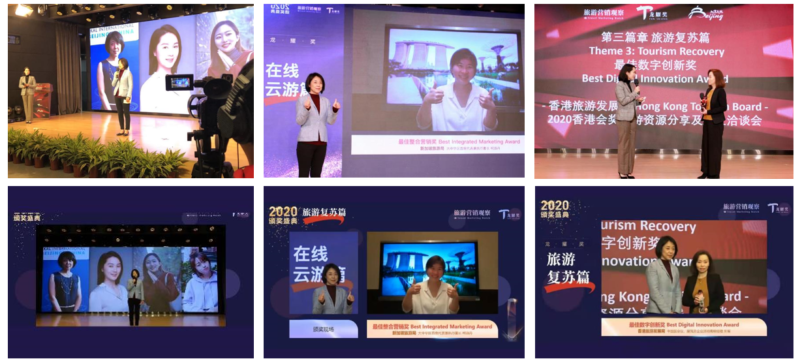 Hybrid online-offline events are the most viable model going into 2021
We believe firmly that digital events are here to stay, and the world is not going to go back to business events as usual in 2021 and beyond. However, it's most likely that instead of staying online-only or going back to exactly how things were before, we'll enter an age of hybrid and online-to-offline events. Why do we think this?
– First, virtual events were already being developed and rolled out pre-COVID, and there are so many compelling reasons to use them that it's unrealistic to think they'll disappear with the virus.
– Second, between concerns around our environmental climate and our economic climate, we cannot expect business travel to bounce back to 2019 levels. With current estimates that business travel will be cut by up anywhere from 19% to more than 50%, it's clear that there will be a significant decline, at least in the near-term.
– Third, recovery is already and will continue to be uneven. For example, at the end of 2020, there are plenty of offline industry events already happening in China – but not so in Europe. To ensure maximum attendance and optimize business development among different regions, hybrid events will provide the ideal solution.
– Fourth, the data we can collect from online events can make them more valuable, both in terms of facilitating business, and in terms of delivering the kinds of presentation content that people are really interested in. We can then target people with more personalized content and understand what resonates with the most – probably better than we can from the feedback from an offline event.
For an essential how-to on virtual events from start to finish, watch Dragon Trail's December 2020 webinar. Please contact us directly if you'd like to receive the presentation slides.
Thinking of organizing a virtual event in 2021? Contact Dragon Trail at communications@dragontrail.com to learn more about our experience and capabilities hosting sales missions, trade shows, conferences, hybrid events and more, including case studies and platform demos.