The potential effects of the US-China trade war on tourism have many in the US travel industry nervous and uncertain. On one hand, there's the possibility that tariffs on steel and soybeans won't affect Chinese tourism numbers to the US at all. But on the other, a combination of angry Chinese nationalism and government policy could deliver a substantial blow. Although no one knows definitively what the actual outcome will be, we've talked to Chinese travelers and taken a look at best and worst case scenarios to shed more light on the situation. From what we've learned, Chinese as yet don't seem to connect the trade war with their own US travel plans – but we cannot rule out the possibility of a "Trump slump" for Chinese tourism, and the effects of the trade war on currency could have far greater effects around the world than any official tourism policy might.
Will it or won't it? The potential tourism fall-out from the US-China trade war
It's easy to understand why the US tourism industry would be nervous – absolutely no one knows how the trade war will affect Chinese tourism, and its estimated annual US$33 billion worth of revenue. Earlier in the year, Jing Travel argued in a number of articles (see here, here, and here) that Chinese tourism wouldn't be affected, even if the Chinese government decides to impose a group travel ban for tourists to the US, such as the one that devastated South Korea's Chinese inbound market in 2017, and sent Jeju island from Asia's top cruise destination to its 65th in just one year. But more recently, Jing Travel and the South China Morning Post have both written about the possibility for tourism to become one of China's most valuable weapons in the trade war, pointing to a recent Chinese embassy warning about safety in the US, the decision of multiple US airlines to start referring to Taiwan as part of China, and other examples that show just how powerful and important the clout of Chinese outbound tourism really is. Just this week, Reuters reported on nationalism on the streets of Beijing and Shanghai, with 28% of respondents in a straw poll stating that they will start boycotting US goods.
But do Chinese tourists really care?
In her recent interviews with Chinese tourists in New York City, Michaela Mentasti (formerly of Dragon Trail) found that no one was concerned at all by the trade war, and that sentiment towards the US was still positive. Moreover, according to Ctrip, Chinese visa applications for the US are up 33% this summer compared to last (though visa refusal rates are reportedly higher, too). Dragon Trail also interviewed Chinese citizens, spread across the country, and including both those who had and hadn't previously visited the US. Not one of our 10 interviewees said that the trade war would make them less likely to visit the US. However, there are other issues that could be more worrying for the US inbound market, and other explanations for ForwardKeys' July 2018 data showing a 9% year-on-year decrease in Chinese bookings to the US.
Safety
Not one of Dragon Trail's interviewees or the tourists interviewed in New York had heard of the official travel warning from the Chinese Embassy in Washington, DC. But those we spoke with in China did cite gun crime, robberies and even racial violence as problems in the US. Significantly, while the five interviewees who had visited the US said that these issues were not enough to put them off traveling there again, the five who hadn't been to the US all said that they would be concerned about their safety. An Ran, a 30-year-old from Hubei who has traveled to the US, said he thought the US was "safe enough to travel, but I'm not sure if it's safe to live there". Just two weeks ago, a Chinese tourist was killed in a random shooting in Kansas City, and if the Chinese government does decide to go after outbound tourism to the US, stories like these will undoubtedly get significant media coverage.
The "Trump slump"  
Last year, it seemed like China was immune to the "Trump slump" that affected other inbound tourism markets to the US, but was that just premature optimism? Nine out of 10 of Dragon Trail's interviewees answered affirmatively to the question: 'Has anything President Trump said or done made you less likely to want to visit the US?' Admittedly, our sample size is small, but includes a range of ages and respondents from different parts of China. "What he has said and done repels me," said Zhang Wenhao, a 26-year-old from Beijing.
Several respondents were concerned about Trump's unwillingness to address gun violence, and said he made the US unsafe. "President Trump doesn't do anything with gun control, and doesn't think they should be limiting gun sales of any kind in America, either," said Fan Lili, a 53-year-old from Beijing.
Others said they found Trump to be unwelcoming and xenophobic. "President Trump doesn't seem to welcome foreigners, especially non-white foreigners. I would prefer to visit Canada," said Zhang Mohan, a 30-year-old from Beijing. It bears pointing out that in contrast to a decline in Chinese visitors to the US, Canada is enjoying 15% year-on-year growth so far in 2018. However, Zhang Mohan did admit that he would consider visiting the US again, and neither he nor any of the other respondents who had traveled to America said that US or US-China politics had impacted their trips in the past.
Other risks
What happens if the Chinese government does ultimately decide to issue a travel ban like the one placed on South Korea last year, or to encourage angry nationalism rather than the relatively moderate tone that's been adopted so far? A travel ban would be much less likely to hurt the US market than the South Korean one, which attracts less-experienced travelers and can be severely impacted by a simple prohibition on cruise travel. The long-term effects are also questionable. For example, in August-September 2012, Japanese businesses had to temporarily close down in Beijing and other Chinese cities as angry protestors took to the streets over the Diaoyu Islands conflict, with multiple incidents of violence. By last year, Chinese tourism to and spending in Japan had reached record highs, with deep historical animosities and territorial disputes failing to dissuade Chinese travelers from wanting to visit the island nation.
Most worrying for the tourism industry – and not just the US one – is how the US-China trade war is already and will continue to affect the value of the RMB. The Chinese currency is already down, which threatens tourism numbers and spending in Europe as well as in the US. Ultimately, a devalued RMB could affect travelers' decisions far more than high-level economic policy or rhetoric would.
How to prepare
Currencies rise and fall, as do periods of nationalism and political tensions. While it's only natural that US tourism brands are feeling uncertain about the short-term future of Chinese inbound tourism, focusing on long-term growth and preparedness is the best strategy. If recent incidents of violence in the US and behavior of its president make would-be Chinese visitors feel unsafe and unwelcome, the job of tourism marketers is to do just the opposite. Provide easily accessible information on safety to cut through alarmist reports and warnings, and create campaigns that show off how friendly your destination really is.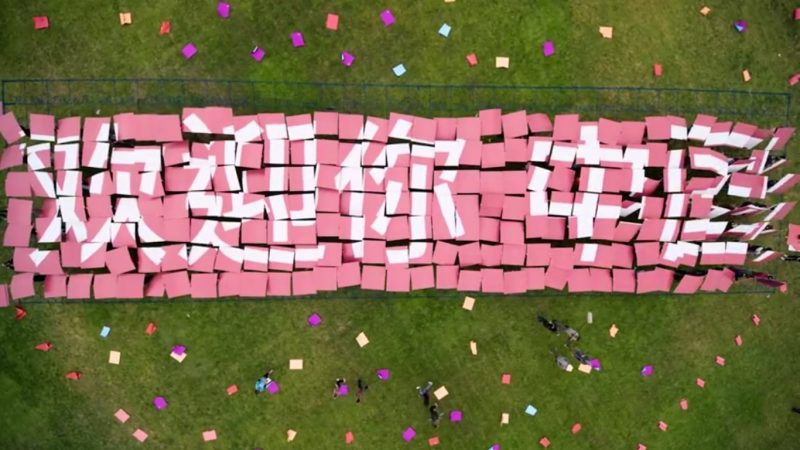 Los Angeles citizens spell out "Welcome, China" in L.A.'s 2017 'Everyone is Welcome' campaign video
Los Angeles' 2017 'Everyone is Welcome' campaign is a perfect example of this – the city's tourism board produced a short video to promote L.A. as a diverse and welcoming destination, specifically addressing the Chinese market, as well as others. Los Angeles also attracted a record-breaking 1.1 million Chinese tourists in 2017, a healthy 6% increase from the year before.
Rather than pulling back from marketing to Chinese tourists, now is the time to counteract negative external factors, stay optimistic about the ever-expanding Chinese outbound travel market, and prepare for better days ahead.