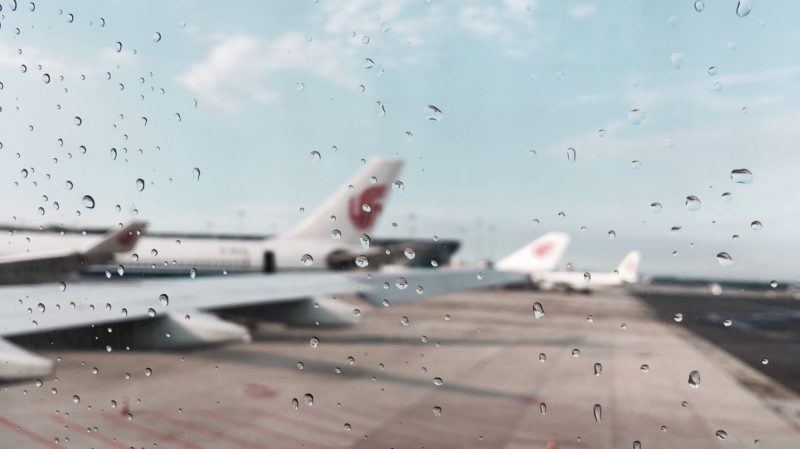 Is sunshine coming for China's travel industry this autumn, after the storm of summer's COVID outbreak?
ForwardKeys' and Dragon Trail International's recent findings reveal that the Chinese travel market is not only super resilient but desperate for revenge travel, even if it is only within China!
Dragon Trail International's fourth Chinese Traveler Sentiment Survey found that more Chinese are resuming pre-pandemic travel behaviors, despite the persistent concern for safety.
43% of survey respondents said they would "travel cautiously," up from 31% in Dragon Trail's March 2021 survey. The proportion who said they wouldn't travel dropped from 39% in March to 32%, while those who said they were "eager to travel" stayed the same at 20% of respondents.
Looking at the latest travel data, ForwardKeys reveals that Chinese domestic bookings for air travel have rebounded quickly after the recent outbreak of Covid-19 was brought under control. Therefore, the demand is converted into bookings.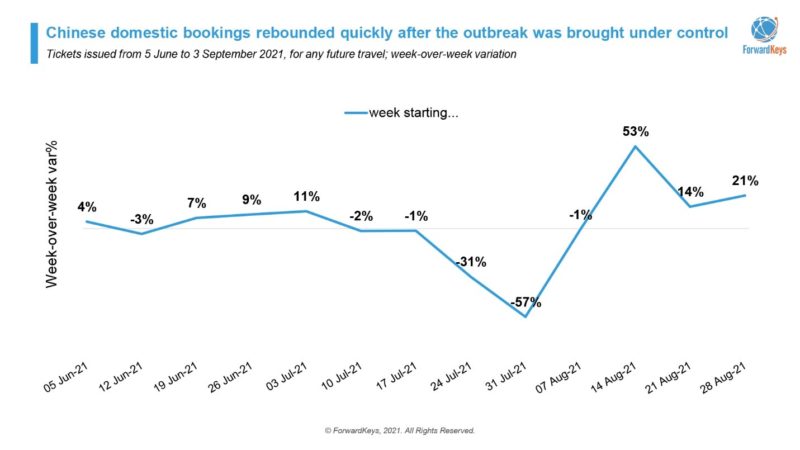 "We believed Chinese domestic travel would rebound quickly, as we saw that happen earlier this year. Lunar New Year travel was also badly affected by the outbreak of COVID but came back quickly when all high and medium-risk areas had been cleared in late February," says Nancy Dai, China Market Expert at ForwardKeys.
"Looking at air tickets issued for any future travel, we see the strongest decline in early August during the largest outbreak since 2020. However, the situation was contained by mid-August. On the 23rd of August, no new locally transmitted COVID cases were reported for the first time since July. From the week of 14 August, issued tickets increased 53% week-over-week. We will continue to see positive figures in the coming weeks as more last-minute bookings take place," Dai adds.
Furthermore, 71% of those surveyed by Dragon Trail International said they planned to travel during the upcoming National Day holiday in October. While the largest proportion said they planned to travel locally, a growing number are now willing to go further. The top cross-provincial tourism destinations were Yunnan, Beijing, Hunan, Zhejiang, Sichuan, Shanghai, Shaanxi, Hainan, Fujian, and Chongqing.
Just like in Europe and the Caribbean, travel reactivation is being led by "sun and sea" leisure destinations. Nature (74%) and island & beach trips (56%) were the most sought-after themes for domestic travel.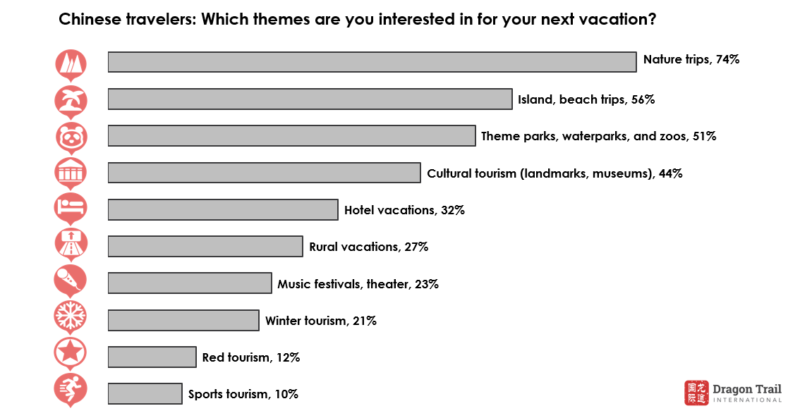 While outbound tourism is still not possible, Dragon Trail's survey also highlighted sustained interest in dreaming about international travel. "The number of new cases at destinations have a direct impact on safety concerns, but Chinese travelers are learning to balance risk and desires. Our latest sentiment survey revealed growing frustration around restrictions and inconveniences, paired with a stronger desire to relax from constant worrying," said Mengfan Wang, Dragon Trail's Manager of Research. "81% of Chinese travelers responded positively to information about outbound destinations. Travelers were fascinated by different cultures, gastronomy, and laid-back scenery such as beaches and nature." In fact, international beach and island travel was the second most popular activity that respondents said they wanted to do on their next outbound trip, after trying local food.
Whether this desire to travel for the upcoming National Day holiday in October translates to real air bookings, is still a big question and will be addressed on September 23 at the joint webinar with ForwardKeys at 9am WEST/BST sharp. Further findings from Dragon Trail's Chinese Traveler Sentiment Survey to be unveiled during the webinar include attitudes towards inbound travel to China, the top factors impacting outbound travel plans, and perceptions of safety for 15 outbound destinations.