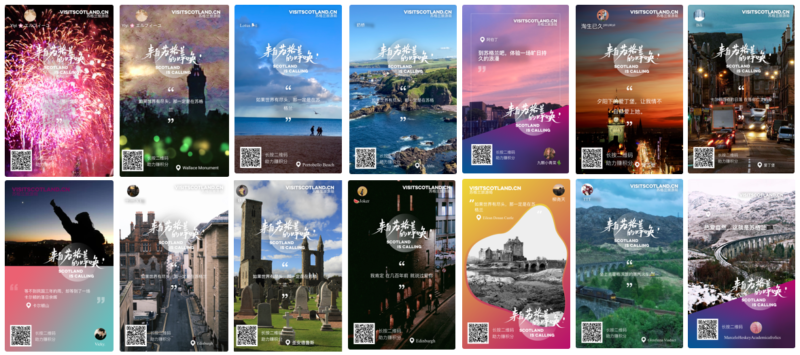 Followers of VisitScotland on Weibo and WeChat created more than 300 unique posters as part of 2021's "Scotland is Calling" campaign
Launched at the end of 2021, VisitScotland's "Scotland is Calling" campaign invited Weibo and WeChat users to share their memories of Scotland by creating and sharing unique posters. Executed by Dragon Trail International, the campaign encouraged UK-based Chinese students to travel in Scotland during the winter holidays, in addition to inspiring long-term travel demand in China. With a specially developed campaign page, organic and paid social media promotion, and a competition, the campaign spread virally on Chinese social media, with more than 3 million post views.
Results of the campaign included:
– Nearly 14k participants
– More than 3 million post views
– Nearly 21k new followers for VisitScotland's WeChat and Weibo accounts
– More than 300 unique, user-created posters to promote VisitScotland
VisitScotland's Market Development Manager, Hazel Sellar said, "this campaign, which was devised and executed by Dragon Trail, helped us to reach an important audience of UK-based Chinese people who are currently able and keen to explore Scotland. We were also able to encourage more user participation on our channels, which gives our followers an opportunity to be part of the conversation and part of our online community. It also helps us to build trust with our followers and engender brand loyalty through authentic stories and real conversations."
UGC and Engagement
The campaign encouraged participation and the creation of user-generated content, by asking followers of VisitScotland's Chinese social media channels to put together and share promotional posters for Scotland through an H5 campaign site.
Users had the choice of uploading their own images and captions, or using the default images and captions offered on the campaign site. Four different poster templates were created so that users could choose the one that best fit their image size and orientation. All poster designs included logos for VisitScotland and the campaign, and followed the tourism board's brand guidelines, to be easily recognized across multiple channels.
Users then accrued points for sharing their poster designs and recruiting friends to share them as well, to maximize exposure. Those with the highest scores at the end of the campaign were awarded high-stakes prizes including a free trip to the Highlands, afternoon tea experiences in luxury hotels around Edinburgh, Historic Scotland membership, a free experience at Johnnie Walker Princes Street, and tartan souvenirs.
Multi-Channel Promotion
From 16 November-14 December 2021, we released six articles on WeChat and 14 posts on Weibo, to promote the campaign and call on fans to participate. Four WeChat articles and four Weibo posts were boosted by media buy.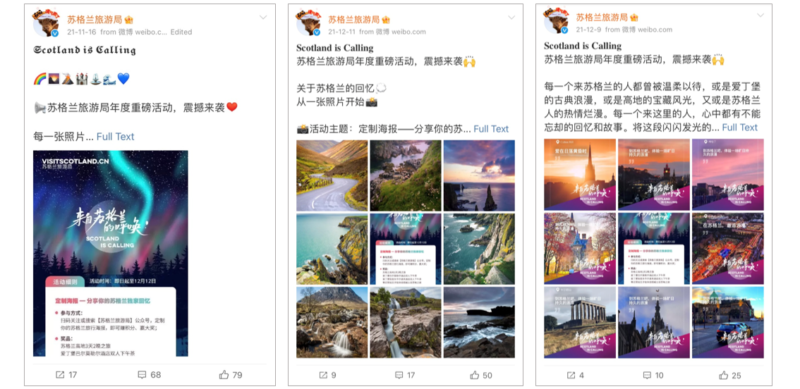 Weibo posts announcing and promoting VisitScotland's campaign
WeChat content addressed different themes like outdoor sports, romance, history & culture, and gastronomy. Weibo posts focused on visuals of the posters, prizes and competition, and sharing personal experiences and photos from Scotland.
Audience Targeting
On WeChat, we developed and set up user journeys for different scenarios, to lead users to participate in the campaign more efficiently. This included customized messages to promote the campaign to new account followers, those who helped to share their friend's posters, and follow-up messages to poster creators to let them know when their friends had helped them to share their content.

Promotional posts (left) and two of the winning photo entries (right), shared on VisitScotland's WeChat account
During the campaign, both Weibo and WeChat ads were targeted to: Residents of 1st and 2nd tier cities, and provincial capitals; users aged 20-50 and with advanced education; and those with certain interests including outbound travel, various places in Scotland, and Harry Potter. Although WeChat advertising does not allow for geotargeting in Europe due to GDPR regulations, Weibo ads were targeted specifically to users located in the UK.
We also used Weibo "supertopic" hashtags to promote news of the event to users following Scottish universities, such as the University of Edinburgh, University of Glasgow, University of Aberdeen, University of Dundee, University of St Andrews, and University of Strathclyde.
Additionally, we sent more than 1,000 private messages to Weibo users who had previously posted content related to traveling in Scotland, inviting them to take part. Most responded to our invitations, resulting in greater campaign participation and friendly interactions between Chinese travelers and VisitScotland.
Outcomes
The campaign generated more than 300 original posters, created and promoted by nearly 14k Chinese social media users. It also added nearly 21k new followers to VisitScotland's WeChat and Weibo accounts within one month.
In addition to the posters, the campaign led to very positive, active engagement with users. VisitScotland's fans expressed their desire to travel in Scotland, positive memories of past experiences in the country, and their love for the tourism board's account and content.
"Because of your activities, I dug up photos from 10 years ago, full of memories. Thank you very much!" wrote one user on WeChat. As managers of VisitScotland's Chinese social media accounts, we replied to almost every comment to maintain a good interaction with followers. On Weibo, followers also engaged with the campaign by asking for useful travel information, such as visa application requirements.