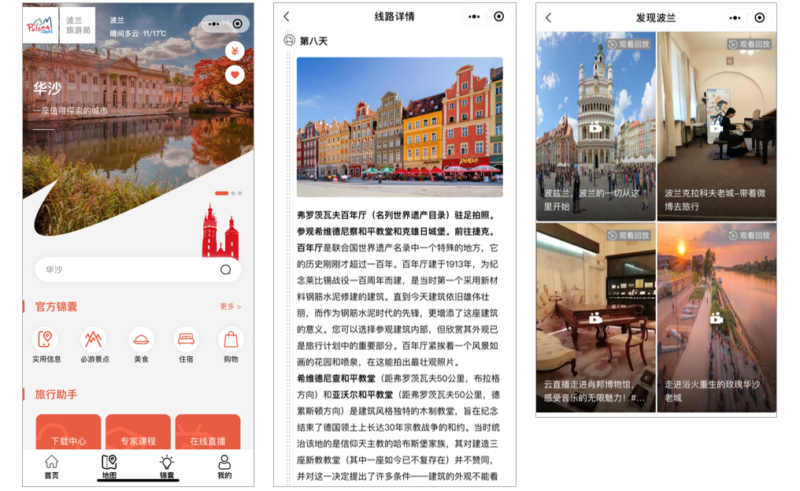 The Polish National Tourist Office's WeChat mini-program, launched for Chinese New Year 2021, includes destination information and listings, maps, itineraries, live streaming broadcasts, resources for the Chinese travel trade and more
Tourism may have temporarily stopped in 2020, but the Polish National Tourist Office did not. Realizing that the pandemic could accelerate the transformation of Chinese tourism, and that they had to be ready for it, the tourism board has used the downtime to develop numerous new projects – including a WeChat mini-program launched for Chinese New Year 2021.
Preparing for the Chinese tourists of tomorrow
Before the pandemic, Chinese tourism to Poland was already growing substantially, from 60,500 visitors in 2015 to 137,000 in 2019. "Traditionally Poland was a popular choice for group tours traveling through a couple of countries in Central Eastern Europe, focusing only on the most important tourist sights," says Zuzanna Gutkowska, Acting Director at the Polish National Tourist Office in Beijing. But by the end of 2019, the country started to see a shift in travel patterns, with more in-depth travel, single-destination, and themed tours. "We predict that this trend will be strengthened further," says Gutkowska. "I would say that the pandemic … accelerated changes that were already happening. Which means that we as tourism organizations and hospitality industry representatives have to catch up with the market and do it soon."
In 2020, the tourism board did much to stay caught up with the Chinese market and get ready for changes ahead. With the surge of interest in small, customized tours in China and growth of thematic travel, they developed in-depth resources on offerings beyond the typical Polish travel itineraries and worked on building partnership with travel agencies that focused on customized trips. To accommodate the growth in FIT, the Polish National Tourist Office opened accounts on Oasis, Little Red Book, and Qyer, as well as developing content on OTA platforms.
The other major project has been the development of a WeChat mini-program in cooperation with Dragon Trail Interactive, which officially launched just before Chinese New Year. This has been a long-term goal of the Polish National Tourist Office, and Gutkowska says they started gathering information for it in 2019, with the idea of creating a resource that could be used by both consumers and the Chinese travel trade. "The amount of reliable travel information in Chinese about European destinations is still rather sparse and spread among different platforms. This way we can be sure that people planning a visit to Poland will find all of the needed information in one place and that they can trust the source of that information."
The mini-program: functions and highlights
The mini-program is intended to help both individual travelers and the travel trade to put together trips to Poland, with an immense amount of practical information, background on the country's history, geography, and culture, plus inspirational resources.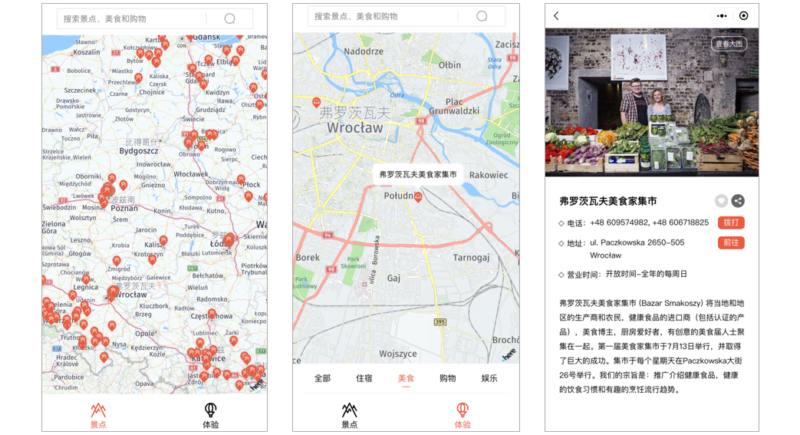 An interactive map helps travelers to find sightseeing attractions and experiences, hotels, restaurants, and shops throughout Poland
The most important part of the mini-program, says Gutkowska, is the extensive collection of detailed Point of Interest (POI) listings for sightseeing attractions and experiences, hotels, restaurants, and shopping – each with its own profile page including photos, a written introduction, contact information, and opening hours. In total, there are more than 400 POIs catalogued in the mini-program at the time of writing, with many more waiting to be translated and added. They're searchable by category, and can also be found through the mini-program's interactive map, which gives both an overview of the entire country, as well as the ability to zoom in for detailed city navigation. Major place names are written both in Chinese and Polish for ease of use, and the map is dotted with icons to show the POIs, which can be opened with a tap of the finger, and easily saved to users' favorites folder, to help with trip planning.
City profiles introduce major destinations throughout Poland, while the itineraries section offers themed suggestions for organizing a tour of the country. At present, there are three itineraries, with more to come. These include an eight-day tour of Poland's major cities, as well as a 14-day in-depth tour. The third itinerary at the launch of the mini-program is based around Renaissance-era mathematician and astronomer Nicolaus Copernicus (Kopernik). "If you ask any Chinese person about what famous Polish people they know, without hesitation they would list: Chopin, Maria Skłodowska-Curie and Copernicus. Our office recognizes that those three figures from Polish history are also one of the best symbols of Polish culture, our ambassadors abroad. Thus, we are working on introducing places in Poland connected to them," says Gutkowska, adding that "they are perfect for educational trips for school children." The Copernicus itinerary is just a start, she says, with a Chopin tour coming next.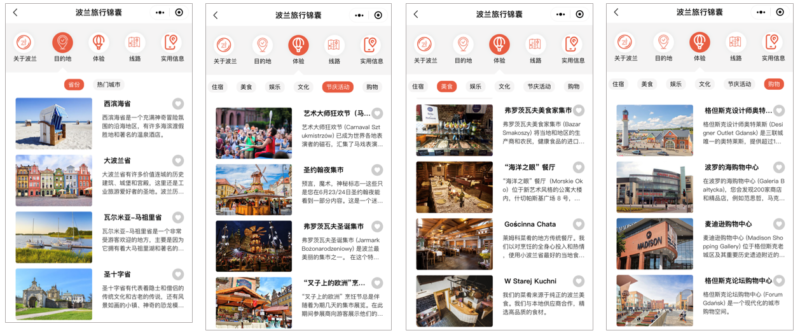 Poland's WeChat mini-program launched with a catalogue of 400 points of interest, with more to come
The itineraries, destination information, and POI listings can be helpful to both consumers and travel agents when researching and planning trips to Poland. More specifically for the travel trade is a link from the mini-program to Poland's e-learning courses on the CTA WeChat-based training platform. Other resources on the mini-program include a collection of live-streams to give users a taste of what it's like to visit Poland, and a library of downloadable brochures. The mini-program also includes updated weather and currency exchange information, and there are future plans to launch a UGC section, where people will be able to share their Polish travel memories.
Promotion
The tourism board will promote the launch of the mini-program through its social media accounts, to get out the message to travelers and travel agents who are already engaging with their content online. It will also be easily searchable on WeChat for those looking for information on Poland.
In the future, promotion of the mini-program will have a strong offline component, with QR codes and posters displayed in Polish consulates, visa offices, and tourist information centers in China, as well as travel brochures and major attractions in Poland. Gutkowska says she also hopes to partner with Polish Airlines to display the QR code for easy download by Chinese already en route to Poland.
New products for a post-pandemic Poland
"With the typical Chinese tourist model in mind, we are going to continue promoting city tourism, UNESCO sites and all of the must-see places in Poland," says Gutkowska. However, when Chinese travelers return to Europe, the Polish National Tourism Board has two additional areas to promote: nature and wellness.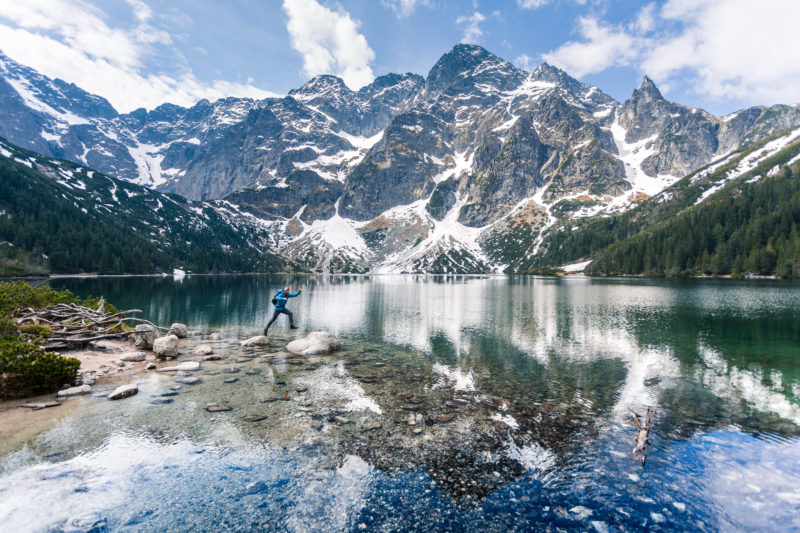 Nature and wellness are new focus areas for Poland's post-pandemic tourism promotion. (Photo by Lukasz Warzecha, courtesy of the Polish National Tourist Office)
Changes in Chinese travel habits in 2020 as a result of the pandemic "will require preparations and further development on the side of our hospitality facilities to prepare those more remote attractions for Chinese tourists. It will also require more promotional effort to reach potential customers with information about ways to spend holidays in Poland close to the nature," says Gutkowska. She's confident that Poland stands out as an ideal destination for nature tourism, with the Baltic Sea in the north and Tatra Mountains in the south, plus many other outdoor attractions that are easily accessible from major cities.
The tourism board has identified a newfound focus on health and wellness as another opportunity, and will promote wellbeing tourism as a main theme for 2021, working with Chinese tour operators to introduce new travel products that include natural scenery and health resorts. Wellness will also be the topic of a new course on Poland's B2B e-learning platform, and destinations like thermal hot springs in the mountains and luxury spas in the country's lake district will feature in an ongoing B2C campaign promoting Europe to Chinese FITs.
Scan the QR code below to try out Poland's new WeChat mini-program: