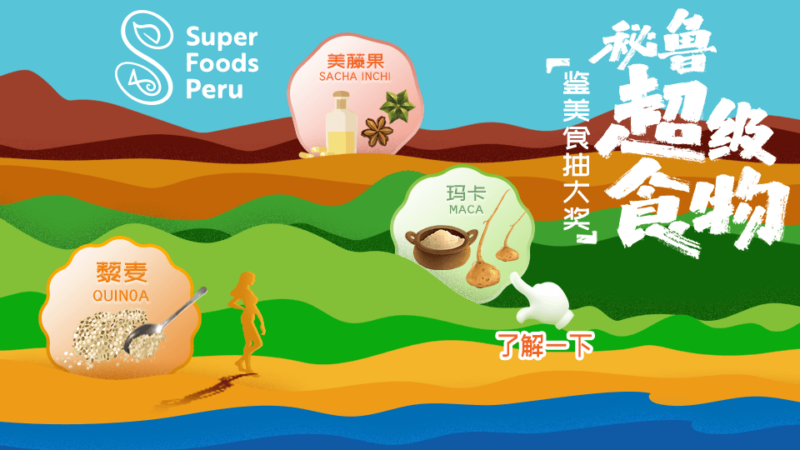 In November 2021, Dragon Trail launched a six-week campaign to increase awareness in the Chinese market about specialty food products from Peru. While Peru has resonance in China as a tourism destination, Chinese consumers are less likely to make a strong connection between the country and its superfoods, such as quinoa and maca.
Using a combination of a WeChat engagement campaign supported by banner ads, and KOL and KOC promotion on WeChat, Weibo, and Xiaohongshu/RED, we targeted a core consumer group of young, conscious consumers who view food as a lifestyle choice.
At-a-Glance Results
– +20,000 users and more than 22,000 page views for the WeChat H5 microsite
– Promotion with 5 KOLs and 30 KOCs across 3 social media platforms
– KOL and KOC content attracted 4.08M views and 12,268 interactions
– Nearly 34,000 banner ad clicks and 96 million ad impressions
Dragon Trail's past work with PromPerú has focused on tourism, and this was our first campaign for the exports side of PromPerú's work. In the absence of Chinese outbound tourism, promoting superfoods can help to give Chinese consumers a taste of Peru, and establish brand recognition that expands Peru's Chinese market and potential to attract future visitors.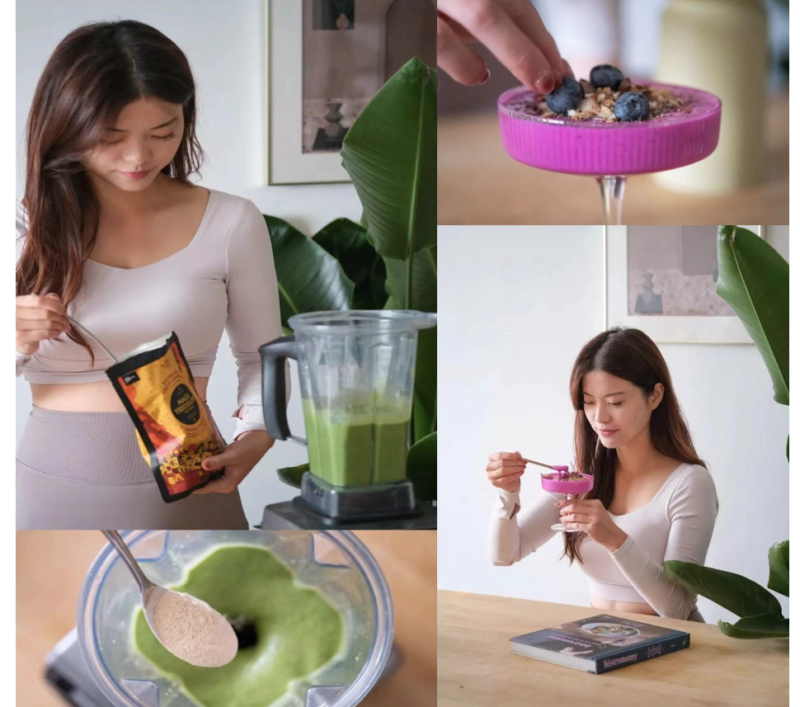 Promotion of quinoa and maca root powder by a fitness and food blogger @EATwithVinie on WeChat
WeChat Engagement Campaign
On November 22, we launched a brand new H5 engagement campaign via WeChat. The main objective of this microsite was to raise awareness of the origins, uses and benefits of Perú's superfoods. This engagement campaign attracted +20,000 users, generating more than 22,000 page views.
We selected three Peruvian superfoods (quinoa, sacha inchi, and maca) and created detailed pages for each of these products. The pages provided content both on the products and their backstories, in order to educate users about their provenance, purity, and cultural heritage, and to connect these foods to Perú.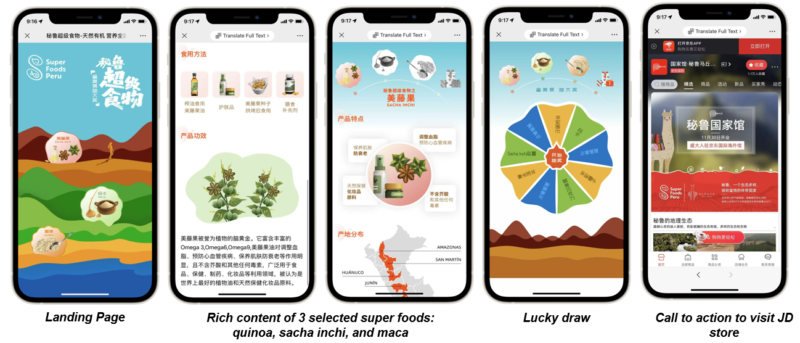 After learning about the selected superfoods, users had a chance to participate in a lucky draw to win Peruvian specialty gifts – including all of the promoted food products. In addition, the campaign also featured a call to action to visit Peru's JD e-commerce pavilion, where they could purchase Peruvian superfoods.
KOL and KOC Campaign
We worked with a total of five KOLs and 30 KOCs to drive large exposure and interaction by distributing rich content on social media platforms WeChat, Weibo and Xiaohongshu/RED. This content supported the communication goal of educating consumers about the connection between the superfoods and Peru, and on the benefits and uses of superfoods for daily and healthy lifestyles, as well for family concerns. The influencers were chosen to cover different themes, including lifestyle, fashion & beauty, fitness, "mums", and foodies. The coverage mainly targeted female consumers and young mothers in first-tier Chinese cities.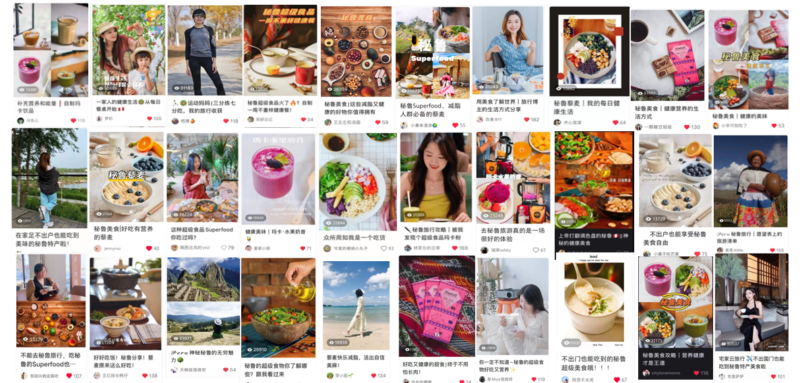 Posts on Xiaohongshu/RED by Chinese KOCs promoting Peruvian superfoods
With two WeChat articles, three Weibo posts and 30 Xiaohongshu posts, the campaign attracted more than 4 million views and 12,000 interactions. Our results revealed that while posts from fitness and lifestyle-focused KOLs received the greatest audience engagement in terms of comments and shares, working with fashion and beauty KOLs achieved the highest exposure levels.
WeChat Ad Campaign
Complementing the microsite and influencer campaign, we also ran a WeChat banner ad campaign. Results here greatly surpassed expectations, thanks to call-to-action and other key messages to encourage a higher click through rate, eye-catching design, use of a new format of banner ads, and setting broader targeting criteria than in tourism-related campaigns – thus decreasing the media bidding price.