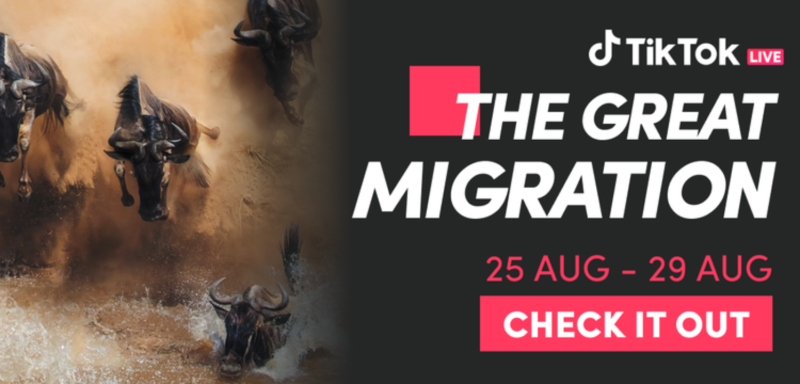 Dragon Trail is proud to have completed our first project working with TikTok, helping the Kenya Tourism Board (KTB) and African Wildlife Foundation (AWF) to promote a five-day live stream exclusive to ByteDance, and broadcast across TikTok, Douyin, Xigua, and Toutiao. Focused on East Africa's Great Migration, the live streams were watched by 4.11 million viewers in more than 80 countries, with content produced by top-tier professional photographers with the support of tech experts and scientists, and support from the Kenya Tourism Board and numerous international organizations.
The Campaign
For five days from 25-29 August 2021, global audiences could tune into daily live streaming broadcasts on tiktok.africa of the Great Migration in Kenya – the largest terrestrial mammal migration on earth. A partnership between TikTok and the Kenya Tourism Board, the campaign not only shared this unique sight with a global audience, but also educated the TikTok, Douyin, Xigua, and Toutiao communities on the importance of biodiversity conservation and wildlife protection.
The TikTok live streams were hosted by Jeffrey Wu, an award-winning wildlife photographer, media professional, and Magical Kenya Brand Partner. Meanwhile, live streams for the Chinese audience on Douyin and Xigua were hosted by Wu's wife and fellow wildlife photographer, Yun Wang. For five hours each day, viewers watched the Great Migration at Masai Mara National Park, as well as a three-day safari live stream, featuring cultural facts and information about Kenya. Viewers witnessed one of nature's most spectacular events as giraffes, elephants, big cats and other wildlife crossed into Kenya in search of new grazing lands and water. Many thousands of wildebeest made treacherous river crossings, including a nail-biting encounter between a baby wildebeest and a crocodile.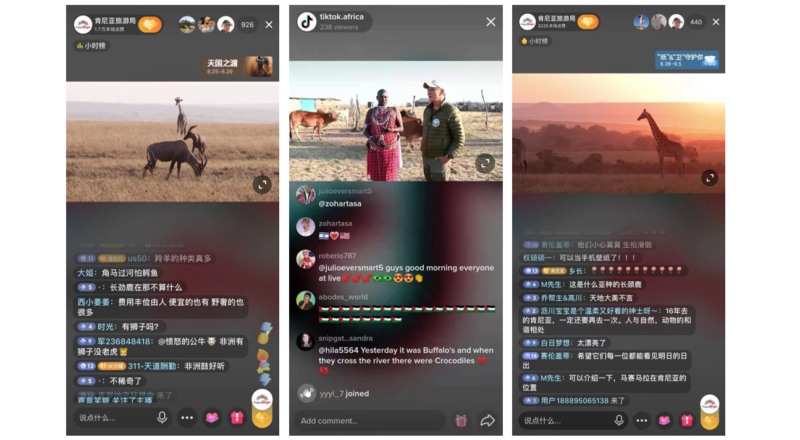 Live streams across TikTok, Douyin, Xigua, and Toutiao took global audiences to Kenya to learn about biodiversity and conservation, and showcase Kenya as a must-see destination
Wu was also joined by a number of VIP guests to speak about Kenya as a destination, and to raise awareness about the need for conservation and inspire action towards wildlife protection worldwide. Guests included Nagib Balala, Cabinet Secretary for Tourism of Kenya; Betty Radier, CEO of Kenya Tourism Board; Nancy Githaiga, African Wildlife Foundation, Kenya Country Director; Dr. Mohanjeet Brar, Managing Director of Mara Wildlife Habitat Fund; Dr. Elena Chelysheva, leading research scientist, project manager of Mara-Meru Cheetah Project; Marc Goss, CEO and Chief Pilot of Mara Elephant Project; and Christine Koshal, Senior Chef Park Administrator.
The Results
On TikTok, 3.49 million viewers tuned in from 82 countries throughout Asia, North America, Oceania, Africa, the Middle East, Europe, South and Central America, and the Caribbean. Over the course of the week, the tiktok.africa account gained 43.9k new followers. TikTok helped to promote the hashtag #GreatMigration in 20 countries, reaching 240 million total views, and this number is still increasing. NGOs like the Conservation International, IFAW, UNFCCC, and the African Wildlife Foundation also posted content to support the campaign.
On the Chinese social media side, the campaign received more than 435k unique views on Douyin, and 177k unique views on Toutiao. The hashtag also made it to the Toutiao "hot list" of trending topics for the week.
From the launch of the campaign, Kenya Tourism Board has gained nearly 40k followers on Douyin and TikTok.
Our Work
This was a truly global campaign, streaming to viewers around the world on TikTok and extending into China on Douyin and other Bytedance platforms. Working closely with Bytedance's global and Chinese teams, Dragon Trail:
– Set up TikTok and Douyin accounts for KTB and a TikTok account for AWF
– Created original video content for KTB and AWF, and secured substantial media resources from Bytedance that helped KTB and AWF gain nearly 40,000 followers globally
– Created the global campaign call-out video for TikTok, which was viewed +305,000 times.
"Being able to launch AWF's TikTok channel in such a meaningful way via a thoughtful campaign that integrated all of the exciting aspects of viewing this iconic wildlife migration with the programmatic side of conservation, was the highlight of this effort for us. It is very rare when you can make something both awe-inspiring and educational, and this live stream afforded the opportunity to do just that — and needless to say it was one we couldn't pass up when Dragon Trail approached us with the campaign," says Gayane Margaryan, Director, Marketing & Creative for African Wildlife Foundation.
Stay tuned for more TikTok projects as Dragon Trail International continues in our global expansion, bringing our expertise forged in China's innovative digital ecosystem to the world with our multi-national team.
Digital Marketing for Good
The #GreatMigration campaign is part of the TikTok for Good initiative, through which TikTok leverages the immense power of its platform to shine a light on and raise support for important social and environmental causes. TikTok for Good helps government and charitable organizations to promote hashtag topics, and provides assistance with analytics and account management.
This initiative is particularly important for reaching younger generations, given the immense popularity of TikTok and Douyin with Gen-Z. "To achieve our goals, AWF needs an engaged and passionate cohort of young people who are advocating for conservation, and platforms like TikTok help us reach these younger audiences," says Margaryan. "When we look at youth on the African continent, this goal becomes even more urgent as we seek to support African youth in raising their voices to advocate for their natural heritage."
Animal footage is always popular on both TikTok and Chinese social media, and the Great Migration provided the perfect opportunity to deliver interesting and inspiring content, while also focusing on conservation and sustainability.
Partnerships are another key to success on TikTok. The diverse but complementary channels of TikTok Africa, KTB, AWF and other expert organizations not only drove traffic but also provided a huge boost to awareness of AWF's work in Kenya and to Kenya itself as a must-see destination.
Click here to learn more about Dragon Trail's work with the African Wildlife Foundation, and contact us to find out how we can help support your brand or organization on TikTok, Douyin, and other ByteDance platforms.