With the start of the 2021-2022 academic year coming soon, ForwardKeys and Dragon Trail International look at the strong correlation between Chinese flight booking trends and travel restrictions for students, alongside student-focused promotions from international airlines.
With outbound tourism from China still on hold, international airlines have turned their attention to one group of Chinese who will be traveling overseas in the upcoming months: students. At the same time, booking data from ForwardKeys for one-way tickets departing from mainland China between 16 August and 30 September show a strong correlation to the openness and popularity of the destination country for Chinese students.
More than 700,000 Chinese studied abroad in 2019, and Chinese account for the largest group of international students to many countries around the world, including the US, the UK, Australia, Germany, and Japan. While travel restrictions mean we shouldn't expect to reach pre-pandemic levels this year, there will still be a sizable number of Chinese students leaving the country to start the 2021-2022 academic year.
Click here for a roundup of travel rules for students for the top 10 destinations for Chinese to study abroad.
Forward bookings strongest for the UK
With one of the most relaxed entry policies and a 21% increase in Chinese applications for undergraduate programs this year, the UK stands to be one of the most major destinations. One-way tickets issued as of 7 August for travel from mainland China to the UK between 16 August and 30 September are just 19.5% behind the same period in 2019.
Flights to the US, which had 372,532 Chinese students during the 2019-2020 academic year, are 22.0% behind 2019's numbers.
In contrast, bookings to Australia, New Zealand, and Japan are all more than 80% below the same period in 2019. Although China is the main source of international students to all three countries, current travel restrictions do not allow the entry of students from overseas.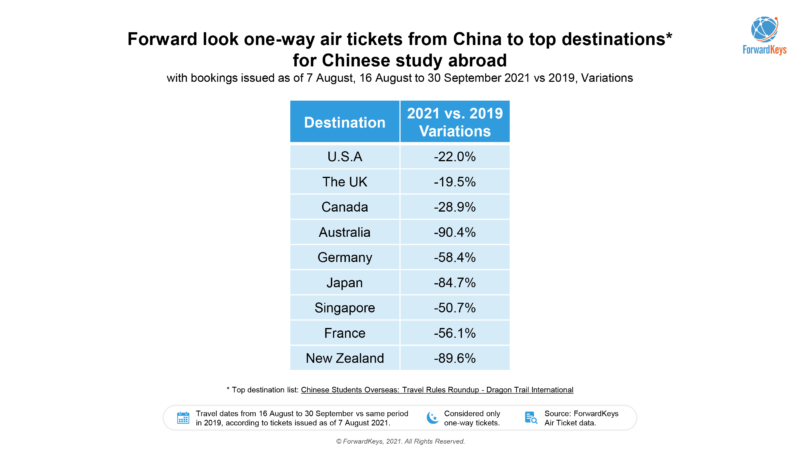 Hong Kong – A transit hub for Chinese students to reach the UK

According to issued one-way tickets for travel from mainland China to the UK between 16 August and 30 September 2021, travelers flying directly only account for 3%. 81% will transfer at one hub before reaching the destination, with the rest transferring twice.
Hong Kong acts as a major hub, with 42% of transfer passengers transiting through HKG. Cathay Pacific has promotions for students and has added flights to London and Manchester for August and September from major cities in mainland China transferring in Hong Kong.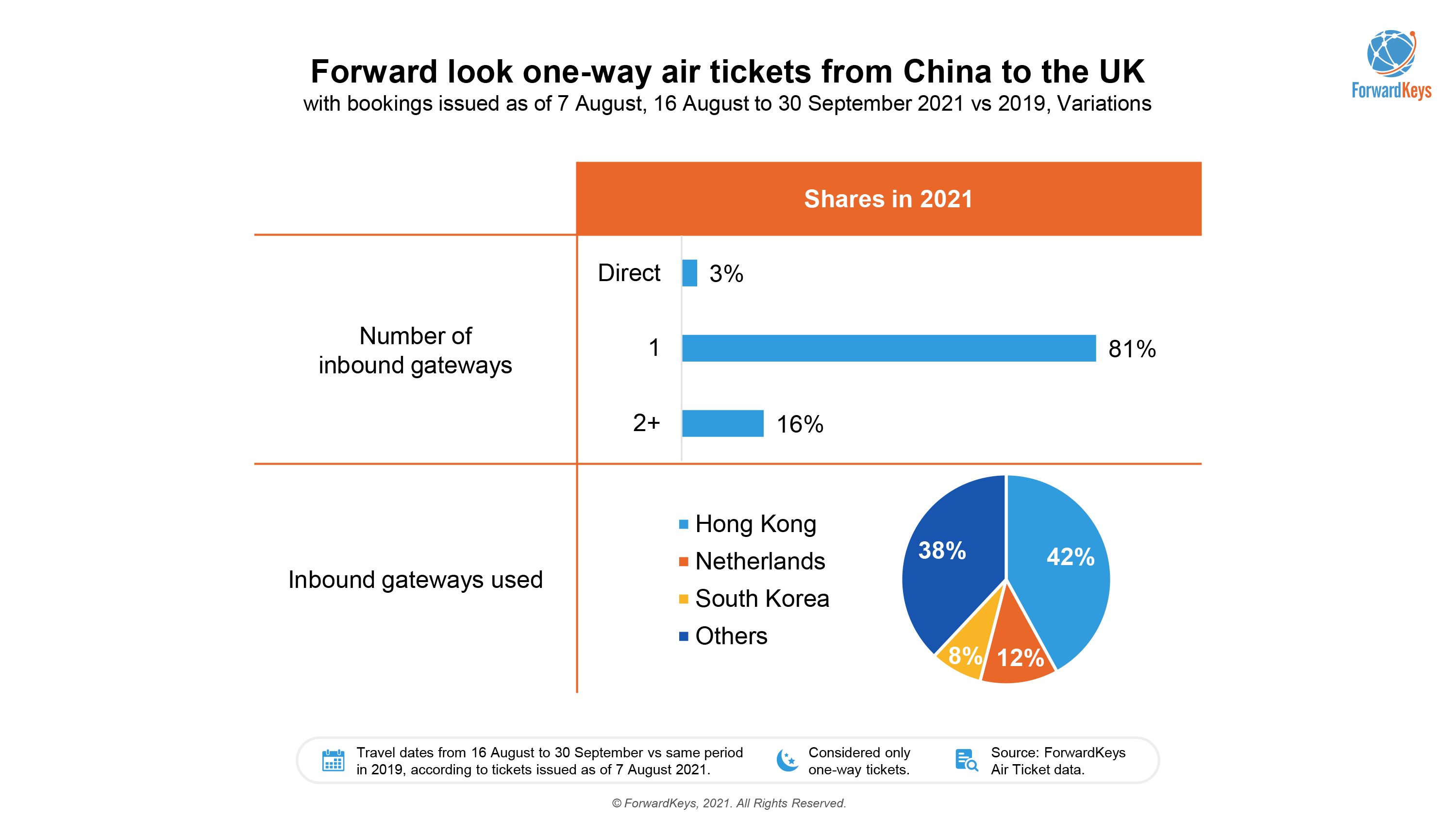 International airlines target students on WeChat
On WeChat, articles targeting Chinese studying abroad have been published by at least nine major long-haul international carriers, largely promoting flights to the UK and the US.
Many airlines have special promotions for students. For example, Air France and KLM both offer students aged 18-29 two pieces of luggage for free, free changes/refunds, up to 10% off on seat selection, and free airport Wi-Fi. They have also organized Chinese-speaking staff specifically to help students with flight transfers. Lufthansa offers RMB200 off one-way tickets, and RMB400 round-trip airfare. Air Canada is giving 50% discounts on any internal flights in Canada once students reach Vancouver or Toronto from Shanghai. Emirates' student deal includes those as young as 12, and extends the same discounts and benefits to accompanying parents or guardians.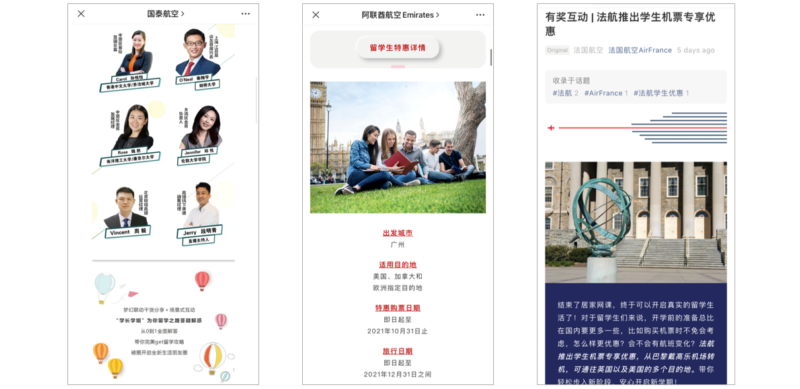 Promotion for Cathay Pacific's live streaming for students traveling abroad (left), and special offers for students flying from China on Emirates Airline (center) and Air France (right). Images: WeChat
Airlines have also made themselves sources of information for students planning to go abroad: Delta posted about the latest changes in US travel restrictions that allow students to return to the country. Finnair has published the rules for testing and entry into the UK. On 28 July, Cathay Pacific even held a live streaming session through WeChat Channels for students traveling overseas, with representatives from the University of London, Cambridge University, the Chinese University of Hong Kong, and other educational institutions to provide information and answer audience questions.
Cathay Pacific was the first international airline to promote flights for students and has been the most active throughout the summer – unlike other carriers, Cathay Pacific is not affected by China's "five one" policy that limits international airlines to operating one direct route and one flight per week to any one destination country. As flights from mainland China to Hong Kong are not covered by this policy, Cathay Pacific benefits significantly from being able to operate an increased number of transit flights from Hong Kong.
The routes promoted by airlines are by and large to the US and the UK, with most offering services to London, Manchester, Edinburgh, New York City, and Boston. Emirates and Singapore Airlines cover a wider range of European cities in their student offers, and Finnair is also promoting flights to Dublin and Chicago.
Interestingly, major Chinese airlines that operate long-haul international flights – Air China, China Eastern, and China Southern – have not published any information or promotions regarding international student travel on their social media. Reasons for this may include limitations of the "five one" policy and a focus on domestic flights.
If you enjoyed this joint article with ForwardKeys, be sure to register for our 23 September webinar via the link below.