Museums and other tourist attractions throughout China are reopening as the COVID-19 crisis subsides and domestic tourism begins to show signs of recovery. To assure visitors of safety and help prevent a second outbreak, attractions are taking special measures. These strategies provide valuable examples for museums outside of China, to help them navigate their own future recovery.
In addition to required face masks for visitors, museums are now adopting a QR code program, whereby visitors need to apply for entry online. Once an entry time has been successfully reserved, the user receives a QR code, which they scan to enter the museum. This digitization helps to manage visitor flow, and allows for contactless entry, as visitors won't have to buy a ticket face to face, or even use a public touch-screen system. Participating museums are all listed in one WeChat mini-program ("Culture and Tourism Green Code"/文旅绿码), making it easy for visitors to plan and arrange cultural activities. Click here for a full explanation and demo of the mini-program, in Chinese.
Museums and attractions across the world are currently closed due to the coronavirus crisis, and when they reopen, they may also want to take precautionary measures during the recovery period. But will the Chinese system work in other countries?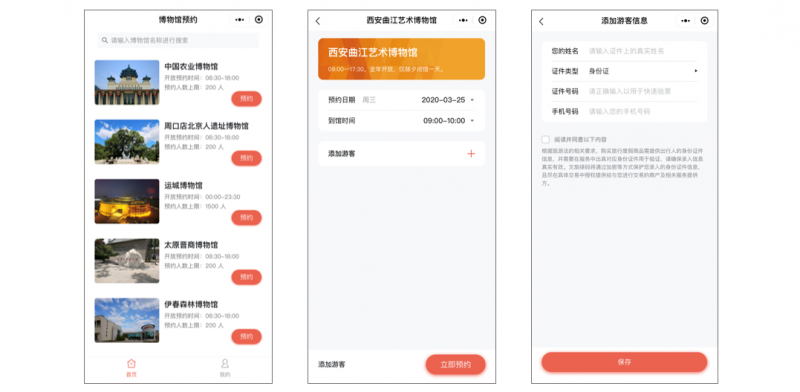 The "Culture and Tourism Green Code" mini-program: Select a museum, select a date and time to visit, and enter your personal information to book
1. Face masks
Chinese museums now require the mandatory use of face masks by visitors.
Will this work overseas? Highly unlikely. Although widespread use of face masks may help to decrease transmission of COVID-19, they are not yet common – or available to purchase – in many western countries.
2. Limited numbers
Local cultural and tourism agencies in China have introduced regulations for the initial post-crisis management of scenic spots and attractions, limiting visitor numbers to 50% of total capacity.
Will this work overseas? Yes, and it's advisable. Limiting visitor numbers during the recovery phase is an actionable policy that will help maintain increased social distancing, and will likely be appreciated by visitors accustomed to social distancing after the crisis. Plus, everyone enjoys a museum more if it's not crowded.
3. Required health declaration
In China, information about citizens' health and movements is used to issue a personal QR code. Once your QR code is green (for example, after completing 14 days of home isolation), you can use it to enter office buildings and move freely. Museums are now also creating systems where to reserve an entry time, you have to make a declaration that you have no symptoms of illness, that you haven't been to an affected area in the past 14 days, and that you haven't tested positive for coronavirus or had contact with anyone who has.
Will this work overseas? Doubtful. It is very hard to imagine requiring everyone to record their movements in an app in order to enter buildings in western countries. But asking people to confirm their health status with a simple click before booking a museum visit, seems much less invasive and more palatable. Whether or not respondents will read the full declaration and answer truthfully is another matter.
4. Online ticket booking
The "museum QR code" system being adopted in China asks you to confirm your health information, fill in your name, contact information, and national ID number, and then select a time and date for your visit. This ensures that the museum does not become too crowded, with visitor numbers controlled and spread throughout the day.
Will this work overseas? Possibly. While ID number verification is not likely to go over well in Europe or the US, asking people to book online, and then issuing a QR code for entry, has potential. However, there are some details that would need to be considered. For example, what happens to older visitors who may not be able to access the internet or use an app? And how will museums scan the QR codes? While QR codes are widely used in China, and in place for things like electronic train tickets in Europe, museums may not have the facilities to get this set up, especially over the coming months. In this case, online or advanced ticket booking could be done a different way, but without the QR code, you do lose the "contactless" benefit of the Chinese system.
5. A centralized booking system
In China, participating museums are all listed in one WeChat mini-program.
Will this work overseas? Highly dependent on the destination. In other countries, other systems would need to be devised in lieu of WeChat – would a city or museums association organize a website or app for this, for example? Or would individual museums just come up with their own system? Some cities may have the potential to organize a good centralized system, but this can't be expected everywhere.