Domestic properties in China are seeing a recovery, especially high-end hotels, offering hope to the overseas hospitality industry. Pictured: Lohkah Hotel & Spa, Xiamen (Photo courtesy of The Leading Hotels of the World)
During the COVID-19 crisis, hotels have stood out for forward thinking, quick reactions, and dynamic marketing. On China's leading social media platform WeChat, for example, international hotels more than doubled article readership rates in Q1 2020. And while many countries are still under lockdown, others now have recovery in sight. We spoke to three international hotel brands to learn about their early crisis experience with the China market, what they're doing now, and what's next for hospitality.
Early Crisis Management
When the virus first broke out in China, the first order of business was offering flexible cancellations and changes to Chinese guests and tour operators. Here, communications were key. Crown and Champa Resorts, a group of 10 resorts in the Maldives, contacted tour operators, agents, and guests with direct bookings personally to help them to amend their reservations without any extra charge. Additionally, they extended a flexible cancellation policy to encourage guests to keep their bookings until the very last minute. Crown & Champa Resorts now updates partners on the situation development and product enhancement through a weekly newsletter.
The Leading Hotels of the World, a collection of more than 400 authentic and uncommon luxury properties, sent a dedicated email communication to direct consumers, Leaders Club members, travel agency partners, and hoteliers at the end of January. At the same time, they also provided information on travel restrictions and hotel operation changes on their official website.
Constance Hotels and Resorts, with eight properties in four Indian Ocean destinations, helped Chinese guests to cancel or change their bookings, and worked with trade and press partners through their Beijing and Shanghai offices to provide clear communications on health and safety measures being taken at the hotels. 
Global Impact
Of course, these communications to help Chinese guests was only the beginning of the crisis. "When the outbreak started in China, we got to work on trying to cover the important gap that losing such an important market for an undetermined period of time meant to us," says Oliver Doger de Speville, E-Business Manager at Constance Hotels and Resorts. "We kept our marketing actions going in China but stopped certain sales actions as we had to switch our short-term strategies to other feeder markets. With the pandemic going global and bringing the world almost to a standstill, we soon realized that it was going to be hard to use any of our crisis experiences from previous situations."


In February, Crown and Champa Resorts got staff throughout their Maldives properties to film a message of support for China, creating a short video shared on Chinese social media channels
The world's tourism industry has never experienced such a far-reaching crisis like this one, but the early 2020 experience of handling the crisis for the Chinese market did create a model for dealing with a larger, global situation. "The ban on Chinese tourists and lockdown from China showed us a picture of how the same [situation] will affect … other source markets. This prepared us to swiftly adapt and educate all stakeholders, partners, and guests on crisis management at the point of destination lockdowns, flexible booking policies, and web-based conferencing with tour operators," says Lina Qi, Sales & Marketing Manager at Crown and Champa Resorts.
Marketing for a New Environment
For Constance, the keyword for handling the crisis has been "empathy." At the very start of the crisis, this guided their interaction with Chinese guests. "We asked our hotel teams to be specially attentive and empathetic, making sure we gave all necessary support and advice they needed during that unsettling time. In a few cases, we even had to assist some guests to sort out their trip back home, and did so with pleasure," said Doger de Speville.
In February, when China was at the peak of its COVID-19 crisis, empathy and support was central to many brands' approach to the Chinese market, with lots of messaging around the phrase, "Zhongguo jiayou," or "stay strong, China." Crown and Champa Resorts, for example, got staff throughout their properties to film a message of support for Wuhan and China, and then edited these clips together into a short video to share on Chinese social media channels.
Now, this kind of empathy is needed for guests and staff far beyond China. Constance Hotels and Resorts has created a line of communication around the hashtag #ConstanceWithU, sharing images from the hotel properties, friendly, interactive messages, and periodical updates from the CEO to hotel teams. "In tourism hospitality, care and dedication starts not when guests are arriving to the property, but rather when we start to make them dream through our communication efforts. #ConstanceWithU is a way to be with our guests in this moment when they can't physically be with us, make them feel that we think of them, that we empathize with their situation, and that we hope to reunite in any of our resorts as soon as the situation will allow," explains Doger de Speville.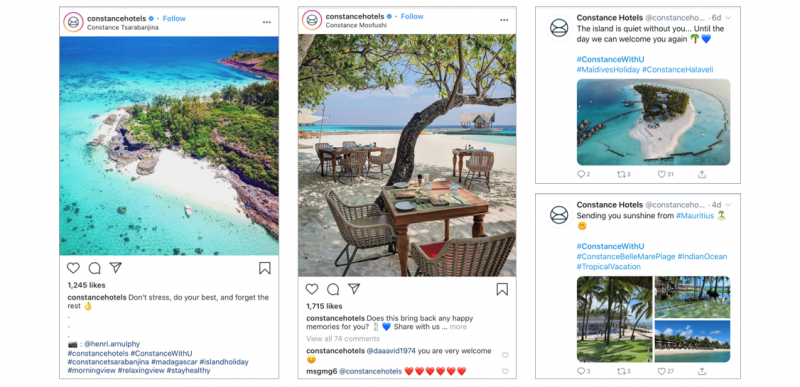 Constance Hotels and Resorts' #ConstanceWithU social media marketing aims to keep a personal connection with guests around the world

The Leading Hotels of the World have also shifted their marketing approach away from sales, and turned toward "brand marketing with story-telling." This includes a free coloring book, featuring LHW hotel and destination drawings from around the world, by artist Dallas Shaw. "Shaw also hosted a coloring class with Leading Hotels to help bring the coloring book to life," says Jane Qian, Senior Manager, PR & Marketing.
Corporate Social Responsibility
The tourism industry – especially hotels – has an opportunity to give back and help in the fight against coronavirus. This happened almost immediately in Wuhan, and there's a multitude of examples of hotels supporting their communities around the world.
In Mauritius, Constance offered one property to be used as a quarantine center for returnees from abroad. In the Seychelles, the resort group provided rooms free of charge to guests who were stranded when their hotel was taken over by the local government to be used as a quarantine center.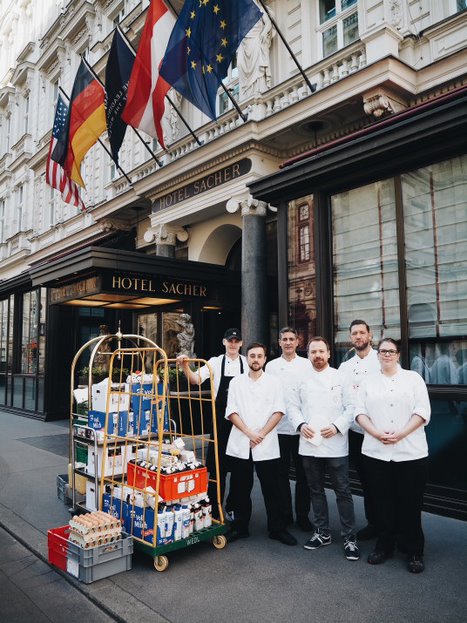 In Austria, Hotel Sacher Wien donated provisions for lunch boxes for frontline workers (Photo courtesy of The Leading Hotels of the World)
The Leading Hotels of the World properties all over Europe have found ways to give back to their local communities. In Italy, Hotel Santa Caterina, Le Sirenuse and Palazzo Avino are helping to raise funds to support southern Italian medical institutes in the development of a vaccine for COVID-19. In the Netherlands, a number of luxury Amsterdam hotels, including Leading Hotels' Conservatorium Hotel and De L'Europe Amsterdam, delivered 1,000 bouquets of Dutch tulips to eight care homes. In Austria, Hotel Sacher Wien donated provisions for lunch boxes for frontline workers, and in France, Le Bristol Paris donated 2,000 beverages and snacks from the hotel's minibars to a local hospital.
Marketing for Recovery
Even from the early stage of the outbreak in China, The Leading Hotels of the World started looking to recovery, "conducting various webinars with hoteliers and business partners, to enhance the products knowledge and get ready," says Qian. With the Chinese market now coming back, they've taken this to the next level: "With the loosening of travel restrictions in China, we also put focus on supporting domestic hotels by various initiatives to catch the business recovery."
Domestic properties in China are seeing a recovery, especially high-end hotels. This offers hope to the overseas hospitality industry, particularly in destinations that have been relatively unscathed, or managed to control the spread of COVID-19. In the Maldives, recovery is expected to be soon, says Qi, and Crown and Champa Resorts "are using social media and digital content marketing to keep the guests and tour operators informed of the destination recovery."
Once a destination is ready to reopen, they'll be looking to target source markets that are ready, too. "China seems to be ahead of many other countries, and the light at the end of the tunnel seems closer and brighter. That is why soon our communication in China will be one encouraging guests to revisit our destinations, to feel safe about the fact that the Indian Ocean has somehow been spared from the devastating effects of this pandemic, and that we are waiting for them with open arms," says Doger de Speville.