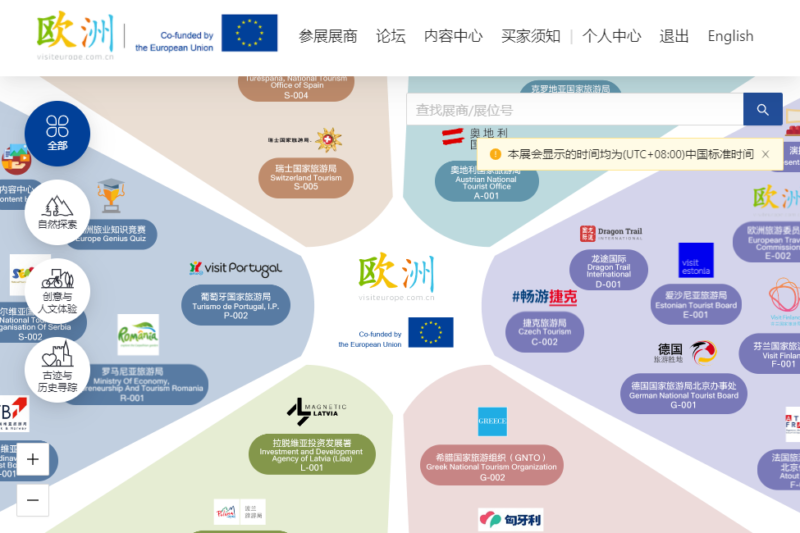 The EUROPE Virtual Travel Trade Show in China's interactive exhibition floor plan included 127 exhibitors, and could be easily sorted by the event themes of Nature, History, and Creative Cities
From 19-23 April, 2021, the European and Chinese travel industries came together to prepare for the reignition of Chinese tourism to Europe, at the EUROPE Virtual Travel Trade Show in China.
The event, organized by the European Travel Commission (ETC) with virtual event partner Dragon Trail International, and co-funded by the European Union, was attended by 127 European exhibitors, and more than 250 pre-qualified Chinese buyers. European exhibitors included 27 national tourism boards, 17 regional and municipal tourism boards, and 83 travel businesses from hospitality, transportation, entertainment and other sectors.
The event was made up of two parts: A trade-only exhibition, and the New Horizons Forum, which was open to the public. In addition to a virtual exhibition space with plentiful information available to Chinese travel agents to view and download, the trade portion of the event also featured one-on-one business appointments via chat and video call, with translation support. Over the course of four days, European exhibitors successfully held more than 1,600 business meetings with Chinese buyers, with a 95% meeting completion rate.
The New Horizons Forum, held from 19-22 April, brought together 20 thought leaders from the Chinese and European travel industry for keynote speeches and panel discussions on the future of Chinese tourism to Europe, with particular focus on the three event themes of Creative Cities, Nature & Outdoors, and History. Speakers included ETC Executive Director Eduardo Santander, President of China Tourism Academy Bin Dai, representatives from national tourism boards throughout Europe, and from China's leading outbound travel agencies.
When Chinese tourism returns to Europe, what will it look like? While Guizhen Sun, Secretary-General of China Association of Travel Services (CATS), maintained that group travel will be seen as safer and more trustworthy during the recovery period, the panelists overwhelmingly predicted an accelerated shift towards smaller groups as well as independent travel.
Speaking on a panel about history and culture, María Llinares, Tourism Counselor of Spanish Embassy in China, and Cristiano Varotti, Representative of ENIT Italian National Tourist Board in China, Head of Shanghai Office, discussed how trends like smaller group sizes and interest in a more in-depth travel experience can help popular European destinations like Spain and Italy to "demassify," dispersing tourists from hotspots associated with overtourism, and leading them to have better, more enriching trips to off-the-beaten-track destinations.
Another major point of agreement among the forum's speakers was how important digitization is to helping Chinese travelers to have better experiences. This includes inspiration and pre-trip planning channels, digital resources at tourist attractions and destinations, and mobile payments not just at businesses catering to tourists but even those that are not specifically part of the tourism industry. "Stores and supermarkets used by local people are the next target of our promotion of mobile payment services. After the pandemic, we are trying to make it easier for people to travel to the Netherlands, where there are familiar conveniences, so they don't feel like they're in a strange place and have to re-adjust. We're going to eliminate that inconvenience," shared Eddie Yang, Asia Director of Netherlands Board of Tourism and Conventions.
There will certainly be challenges ahead, the most immediate of which is the current uncertainty about the speed of vaccine rollouts and when government regulations will allow for Chinese outbound tourism to resume. Related to this are issues of visas, reciprocity in terms of vaccine recognition, and travel restrictions.
Addressing these challenges depends on governments, local health authorities, and potentially the virus itself. But moving beyond them and making the post-pandemic Chinese travel experience in Europe better than ever is something that can be achieved through the kinds of dialogues facilitated by the EUROPE Virtual Travel Trade Show in China, including both the high-level discussions in the forum and the essential conversations between Chinese buyers and European tourism providers.
"The ETC has been present in China for ten years now and we cannot overstate the importance of maintaining close ties with our Chinese counterparts, particularly in this challenging period. With such an immense market and a huge potential, Chinese outbound tourism is an opportunity but also a challenge for European DMOs and tourism businesses," said ETC Executive Director Eduardo Santander. "I am delighted to know so many of them participated in this event, eager to counter the effects of the pandemic and to restart travel and tourism. We strongly believe that this crisis cannot be addressed by any party alone and cooperation is vital to mitigate the impact of COVID-19 on the sector."
Click here to view the exhibition as a visitor and watch all forum sessions on demand.