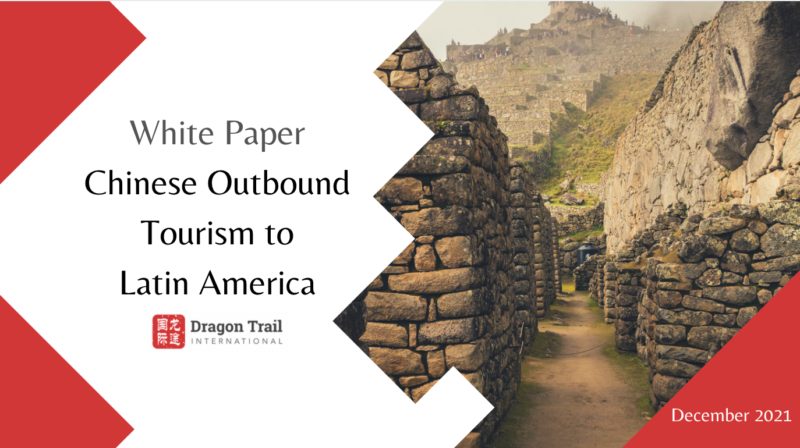 9 December, 2021 – Dragon Trail International has published a white paper on Chinese tourism to Latin America, featuring detailed country profiles with visitor information, top destinations, marketing case studies, and interviews with industry leaders.
The 55-page Spanish-language report is the first of its kind, and is aimed at Latin American destinations and tourism businesses to understand the significant growth of Chinese travel to the region in the years leading up to the pandemic, and the vast potential of this market. This information on traveler demographics, popular itineraries, and successful marketing activities is also essential to the future recovery of Chinese tourism.
In China, Latin America is seen by many as a "last continent" destination, and because of this, knowledge among Chinese travelers about this part of the world remains relatively low. This creates opportunity and urgency for Latin American destinations to shape the narrative by communicating with Chinese travelers and the Chinese travel trade. While Chinese outbound travel remains on hold at present, the tourism industry in LATAM should use this time to get "China ready" and ensure that the recovery of Chinese tourism to the region goes smoothly and builds momentum for the future.

Over the past five years, Dragon Trail has had the honor of working with many national tourism boards from the region, including Peru, Chile, Argentina, the Dominican Republic, and Panama, which has given us unique insights on the selling points and challenges for these destinations in China. This experience, and our commitment to the LATAM region, have led us to create this report as a basis for future studies.
Finally, we would like to express our sincere gratitude to Sernatur, the Costa Rican Tourism Board, Embratur, ProColombia, MITUR, and the Embassy of Mexico in China for sharing their vision and goals for the Chinese market.
Please click here to download the report
Dragon Trail International offers digital marketing solutions to help destinations and businesses around the world reach Chinese consumer and the Chinese travel trade. Check out our services here, read case studies of our work here, and contact us directly to discuss how we can take your China marketing to the next level.
En español:
Dragon Trail International ha publicado su primer informe dedicado al turismo chino en la región de América Latina, que contiene un total de 11 fichas país con datos como evolución de las llegadas de turistas chinos, destinos más populares, casos de marketing digital y entrevistas con los responsables de promoción para el mercado chino.
Aunque muchos de los países de la región cuentan con estudios de mercado, lo cierto es no existen publicaciones que traten el turismo emisor chino a América Latina de manera conjunta. Con el objetivo de ayudar a las oficinas de turismo de los destinos latinoamericanos y a su industria turística a comprender el crecimiento que ha experimentado el turismo chino en los últimos años y el gran potencial de crecimiento que presenta, hemos recopilado en este informe la información clave de este mercado a LATAM. El lector podrá comprobar fácilmente información clave como perfil demográfico, motivación del viaje, itinerarios multi-destino más frecuentes, así como casos de estudio en la promoción digital del destino en este mercado.
La región de América Latina es percibida entre muchos turistas chinos como el "último continente" a explorar. Por este motivo, existe un gran desconocimiento por parte de este mercado sobre los atractivos turísticos de la región. Este fenómeno, no obstante, brinda también la oportunidad a los destinos latinoamericanos de construir una narrativa e imagen del destino atractivas y únicas para el mercado emisor chino.
Durante los últimos años, Dragon Trail ha tenido el honor de asistir a oficinas de turismo nacionales de la región, como Perú, Chile, Argentina, República Dominicana o Panamá, lo que nos ha logrado comprender cuáles son los atractivos de este destino en China y cuáles son los retos principales a la hora de promoverlos. Por este motivo, sumado a nuestro compromiso con la región de LATAM, nos alegramos de poder compartir este pequeño trabajo y que sirva como base para futuros estudios.
Por último, nos gustaría expresar nuestro más sincero agradecimiento a los responsables de promoción turística de Sernatur, Instituto Costarricense de Turismo, Embratur, ProColombia, MITUR y Embajada de México en China por haber compartido su visión y objetivo para el mercado chino.
Si quiere ver o descargar el informe, haga click aquí
Dragon Trail International pone a disposición soluciones de marketing digital específicas para los destinos y empresas turísticas para contribuir a la promoción entre el turista chino y los profesionales del sector de este mercado. Puede conocer más de nuestros servicios aquí, leer casos de éxitos aquí y ponerse en contacto directamente con nosotros para más información. Estaremos encantados de conocer cuáles son sus necesidades para el mercado chino, así como de explorar posibles oportunidades de cooperación.